Wow! That promotional GIF on Facebook's so stunning! How'd they managed to do that?
Well, if you're not techy enough, you might think that creating such fun and intriguing GIFs is too intricate.
But, if you're familiar with Canva and its features, then you've just got a bit of exploring to do to create stunning GIFs as well.
So, if you're ready to rock this GIF-making session, let's begin!
How to Make GIF's in Canva
Tap on the "Create a New Design" button and choose "GIF." Head over to the left-side menu and add the text, graphics, and images you'd want to use. Position and edit them on the canvas before you adjust the timing of each slide/page. Then, watch the preview before hitting on the download button.
Canva GIF's: How to Create Them
Creating GIFs in Canva has never been easier!
Though it's quite technical, a little bit of your creativity's enough to make a stunning and engaging GIF for whatever purpose you have in mind.
So, here's how you can create a GIF in Canva:
Step 1: Log into your Canva account and tap on the "Create a New Design" button.
Step 2: Select the document size you'd like to use or use a custom dimension by tapping on the "Custom Size" option.
Step 3: Once you're on the editor page, head over to "Elements" and select the graphics and images you'd like to use. You can either do this by scrolling down to search for the said elements or encoding a term in the search bar.
Tap and drag on the elements you selected to your blank canvas.
But, if you're observant enough, you'll notice that under the "Graphics" part of the Elements menu, there's a section there called "Stickers" that features animated graphic elements you can use for your design.
Simply tap on the "See all" button, and then you can see a wide array of GIFs you can use to spice up your design.
And, like the other elements you added, simply click and drag on what you want to your canvas.
Step 4: If you want to add text, there are two ways to do this. You can head over to the "Text" tab on the left-side menu and click on the font style you'd like to use.
Another way (which is way easier and quicker) is to use the Canva keyboard shortcut of pressing "T" on your keyboard. This will automatically add a text box to your canvas.
Encode the text inside the text box accordingly. You can even resize the text box if you don't want to make changes with the font style and size separately.
Change the text color and create an indent if you want to.
You can even fill your text boxes with color by adding shapes behind them if you like.
Step 5: Once you're done adding text and the elements for that page, tap on whichever part of the entire page and click on "Animate" in the toolbar.
Step 6: In the menu that appears, select what kind of animation you'd like to apply for that page. Click on each one of the options until you find what fits your design the most.
Step 7: Change the timing by tapping on the stopwatch icon on the left side of the "Animate" button.
The timer's set to 5.0 seconds by default, but you can adjust it by dragging the slider or encoding the number of seconds on the box.
Step 8: Once you're satisfied with your presets, watch the preview by clicking on the "Play" button that's on the left side of the "Download" button in the toolbar.
Step 9: If you don't wish to make changes, click on the "Download" button and select "GIF" for the file type before saving your design.
And, with those simple steps, you've already created a fun GIF that's worth posting on your social media accounts!
Plus, you can add more fun to your GIFs by adding more pages to your presentation.
You simply have to tap on the "Add page" icon below the current page you're working on and follow the steps mentioned above.
Why GIFs are Fast Becoming a Trend
Everyone's (or almost) got a social media account, and it's not unusual for most of us to gravitate towards and watch posts that are in motion.
Whether it's a short video or simply a GIF, the adorable actions in that particular post lure us to watch it. And, since we're talking about GIFs, it's but right that we discuss what it is.
GIFs, or Graphic Interchange Format in long-form, is moving image that contains animation but doesn't produce sounds. Think of it like a static JPG or PNG file that you added some movements to make things more interesting.
Though videos are indeed better in creating visual appeal and audience engagement, it takes time to create them. Add the technicalities that come with the production process as well.
But, with GIFs, you don't have to be a video editor by heart. You can simply take advantage of Canva's GIF maker, and you can create animated social media posts.
Hence, it's no wonder that GIF posts for social media strategies are widely used for promotional posts. They're cheaper and easier to make than videos — without taking out the fun.
So, the next time you're wracking your brains for an idea to promote your business, why not give GIF-making a try.
Frequently Asked Questions about How to Make GIF's in Canva
Can you create GIFs on Canve even if you're using a free account?
Of course, you can! But, with the limitations of a free account, there are only a couple of animations/effects that you can use without charge. But, if you want to use Pro animations, you can still do so, but you'll have to pay for it before downloading the file on your device.
Can you create GIFs without a Canva account?
Though quite absurd, you can make GIFs even if you don't have a Canva account. You simply head over to Canva's GIF maker and creating your design there. Then, if you're planning to save your design or create more GIFs, simply link your email or Facebook account.
Can I use an animation for my GIF that has the Pro symbol on it?
You can, but you need to pay for it first before you can download your file.
Can you animate different elements individually?
Though it's quite tasking, you can. Just make sure to ungroup those elements first before you start with the process. After which, tap on the individual elements and click on the "Animate" option to select the motion style for that particular graphic, text, or image. You can even adjust the length for each animation if you like.
Can I use my images for my GIF?
Definitely! Simply head over to the "Uploads" tab on the left-side Canva menu and tap on the "Upload" button in the menu that appears. Choose where you're sourcing your image from, tap on it, and wait for the upload process to finish. Once done, click and drag it to the canvas and make the necessary edits or changes. You can then animate these pictures individually or as a whole.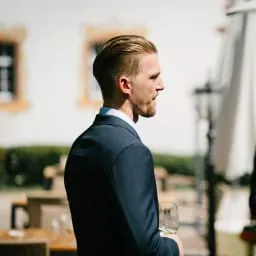 Hey guys! It's me, Marcel, aka Maschi. On MaschiTuts, it's all about tutorials! No matter the topic of the article, the goal always remains the same: Providing you guys with the most in-depth and helpful tutorials!