What thought pops into your mind when you hear the word "layer?"
If you're hungry, you'd probably think of the layers of decadent sponge and sweet icing arranged alternately on top of each other.
Yet, if you talk about layers in graphic design, the term refers to design elements — pictures, stickers, videos — that you stack on top of each other.
But, can you see the individual layers that you formed in Canva like how you see them on Photoshop and Illustrator?
How to See the Layers in Canva
Unfortunately, there is no dedicated window to view the layers of the elements you added like in Illustrator or Photoshop. In Canva, layering is simply done by grouping certain elements together and by using the "Send to back"/ and "Send to front functions.
Seeing the Layers in Canva — Possible or Not?
If you're a keen reader, you'll know that you cannot individually see the layers of the design elements on your Canva designs through a layering window.
For those of you who are familiar with photo editing tools like Illustrator or Adobe Photoshop, you'll see a specific window where you can click on the layers and adjust them.
Despite Canva's lack of a layering window, you definitely can achieve such a look by grouping elements together.
If you're not familiar with how to group layers in Canva, you can take a quick review of how it's done here.
Grouping Elements in Canva
Step 1: On the editor page, click and drag your cursor over the elements you want to group on your design.
You can also select the elements individually by holding the Shift key on your keyboard while clicking on them one by one.
Step 2: Once all the elements are selected, you'll see a faint line surrounding the said elements.
Step 3: Now, head to the editor toolbar and select the Group button to clump the elements together in a layer.
If you prefer the Canva keyboard shortcut for grouping elements, simply press Ctrl/Cmd + G together on your keyboard.
And, just like that, you've successfully grouped various design elements with ease!
If, however, you prefer to watch a video tutorial of the said process, refer to the one below.
Now that you've successfully grouped your design elements, it's time to layer them.
Layering Canva Elements
Step 1: First, click on the design element you want to adjust its position on the canvas. This element can be a photo, graphic element, text box, or video.
Or, you can select the newly-grouped layer you created earlier using the same process
You'll then see a solid blue line surrounding the element if you've successfully selected it.
Step 2: Head to the editor toolbar and select the Position button. You will then see various positioning and alignment choices you can avail of.
You can also activate the positioning menu by right-clicking on the element until you see a dropdown menu that appears.
Step 3: If you want to move that specific element or layer one level up, select the Bring Forward option.
To move a particular design element or layer more than one level so it appears at the very front of the design, choose the Bring to front option instead.
Step 4: If you want to move a particular design element or layer down one layer, choose the Send Backward option.
If you plan on bringing such element or layer behind the other design elements you have, then choose the Send to back option instead.
Step 5: Once you're satisfied with the positioning of your elements, you can now adjust their alignment in relation to the page as well.
To do this, simply click on the Position button after selecting the elements and head to the Align to Page section of the dropdown menu.
Then, select from the options available what alignment you'd like to use.
To learn more about how to align elements in Canva, please read our article on "How to use Canva rulers."
Step 6: Once you're done toggling the positioning and alignment of the layers, either go back to finishing your design or click the Download button to export your work.
And, wallah! You've successfully layered your design elements on Canva.
Though again you cannot individually see the layers, you can always have a way of arranging them through the steps mentioned above.
Frequently Asked Questions about How to See Layers in Canva
Can you still ungroup any of the elements you've grouped in Canva?
Unless you've locked the grouped elements on the canvas, you can still ungroup them. Simply select that particular group of elements and click the Ungroup button on the editor toolbar.
What design elements in Canva cannot be grouped with other design elements?
Pictures, graphic elements, videos, and text boxes are among the design elements in Canva that you can group. However, you cannot group grids and charts yet.
Can you edit the individual elements in terms of their color and size after grouping them?
Once you select the Group button, you still can edit the elements individually if it is editable. Simply click on that particular element to see what changes can you do to it.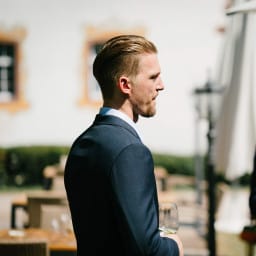 Hey guys! It's me, Marcel, aka Maschi. On MaschiTuts, it's all about tutorials! No matter the topic of the article, the goal always remains the same: Providing you guys with the most in-depth and helpful tutorials!