Wait! I want to create a notebook effect on my design without using a template or even a graphic element from Canva's gallery.
But, that involves lots of lines, and I don't even know how to draw a line in Canva.
Well, it turns out, there are two very easy methods on how you can draw lines in Canva, depending on what way you choose to do so.
How to Draw a Line in Canva
To draw a line in Canva, simply use the "Draw beta" app and then free-draw a line using your mouse. If you are looking for a perfectly straight line, you can also drag & drop pre-existing lines from Canva's very own "Elements" library.
Drawing Lines in Canva: Steps Any Beginner Should Know
What makes Canva so great is that you've got plenty of options to choose from when it comes to adding design elements to your project.
And, that includes the way you draw lines in Canva. As mentioned above, there are 2 methods on how you can draw lines in the graphic design tool.
But, whatever you choose, you'll have to know how to do the task either way. Let's start by learning the first method.
Granting that you've already created or opened a design file, let's head to the editor page.
Freehand Method of Drawing Lines in Canva
Step 1: On the editor page, head to the left side panel and select the Draw (Beta) tab.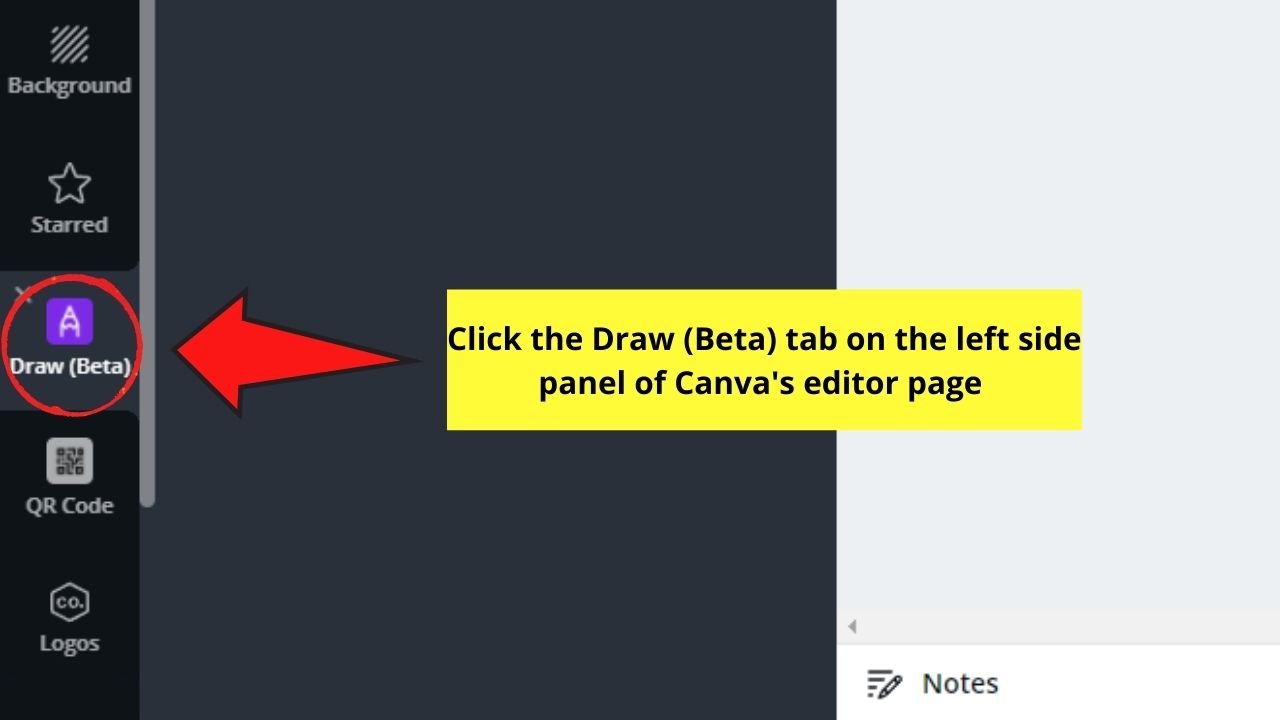 If, however, you haven't added the Draw (Beta) app, head to More and scroll through the apps and integrations in the gallery until you find it.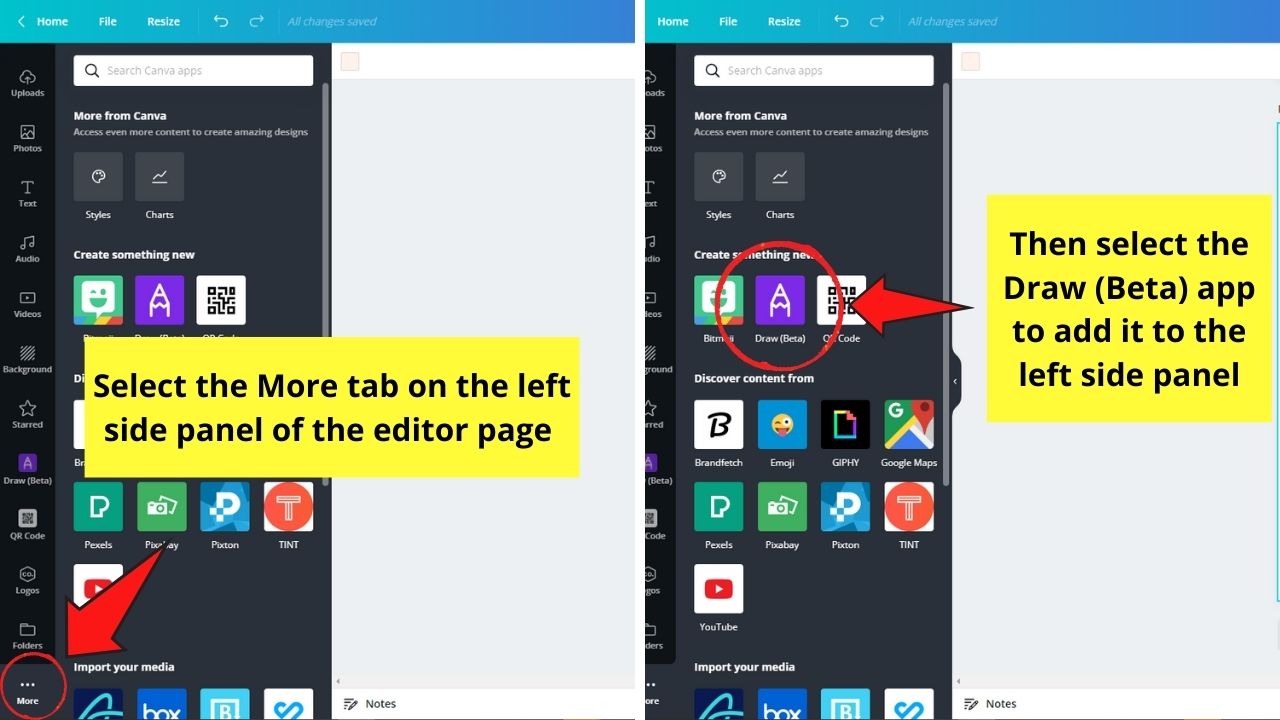 Once you've located the Draw (Beta) app, click on it to make it appear on your left side panel.
Step 2: In the Draw (Beta) gallery that appears, select what kind of brush you'll use. There are 4 options up for grabs, depending on your purpose.
Click on one of the brush options. You can adjust the brush size and its transparency by dragging the respective sliders.
You can even change the color of the line you're making by choosing from the hues available on the color gallery presented.
Step 3: After you've set how the brush stroke looks like, it's time to draw a line.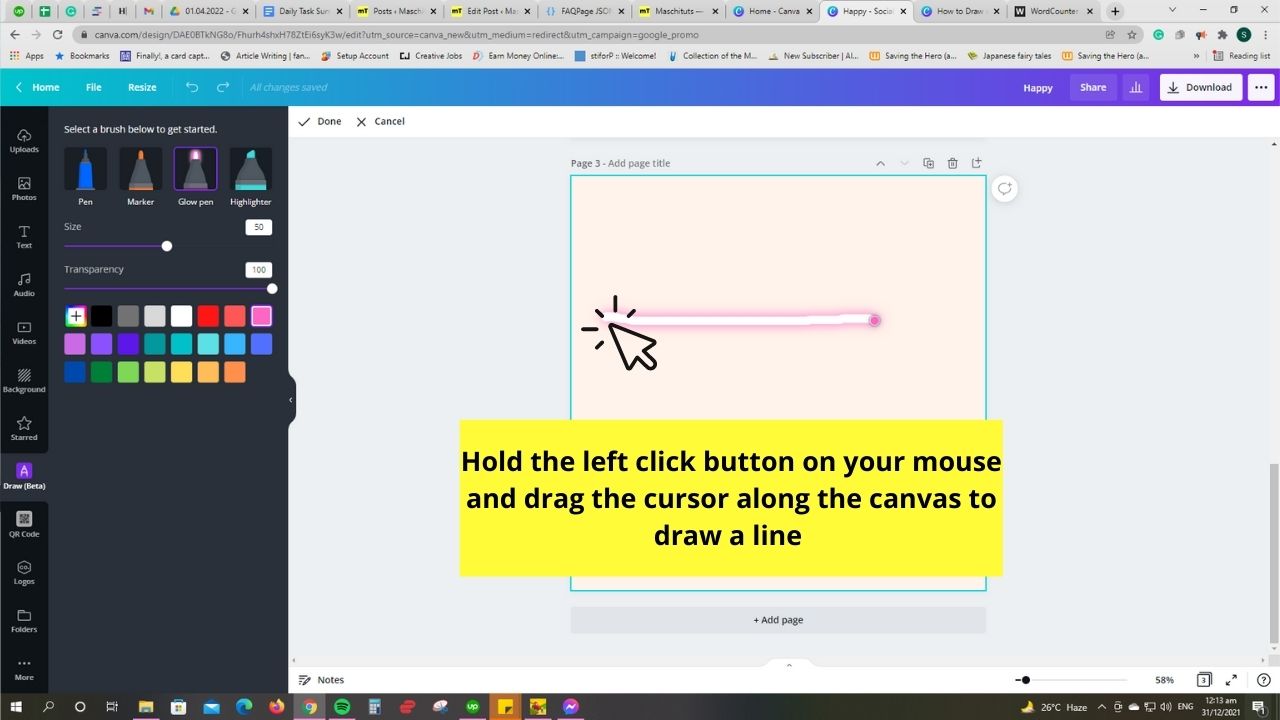 To do this step, hold the left click on your mouse as you drag the cursor across the canvas. Keep on doing this step until you've reached the desired length of the line.
Step 4: Once you're good with how the line looks like, head to the editor toolbar and select the Done button to save the changes you created.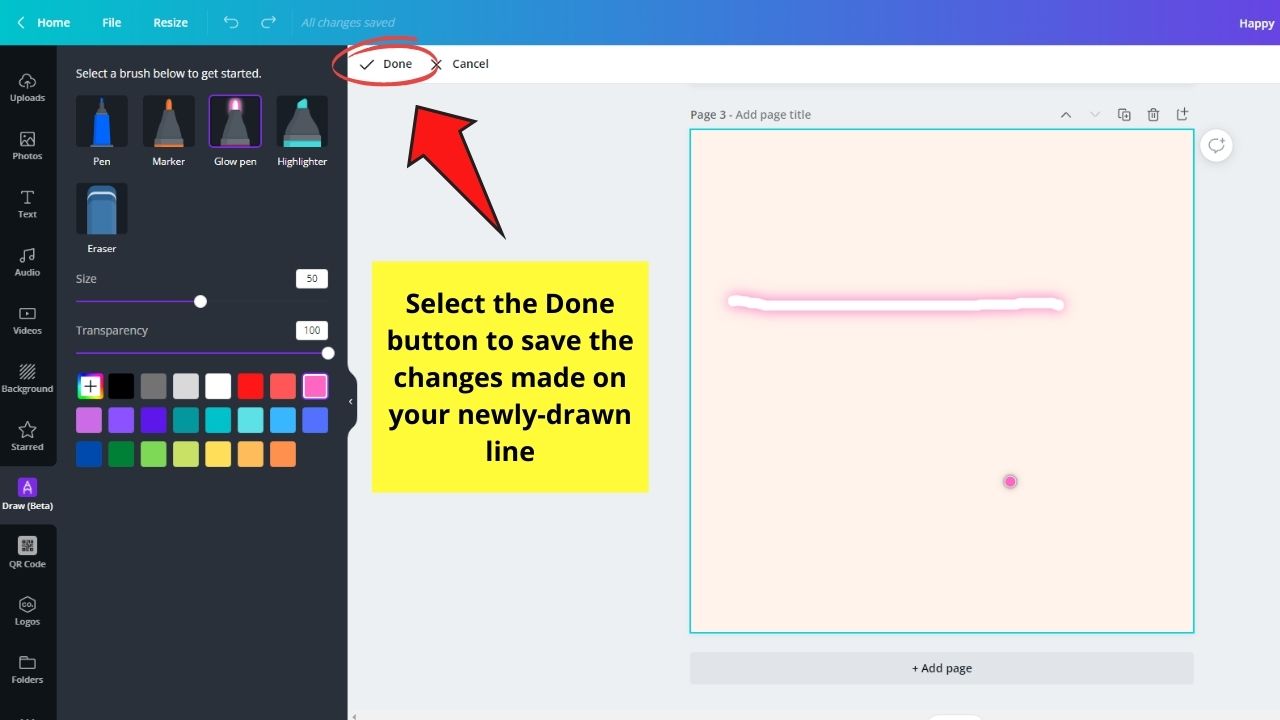 Allow Canva a few moments to refresh the page and save the newest changes you created.
If you prefer to create a straight line rather than a squiggly one, then by all means try the second method.
Drawing Perfectly Straight Lines in Canva Through Elements
Step 1: On the editor page, head to the left side panel and click the Elements tab.
Step 2: In the gallery that appears, locate the Lines & Shapes category. Once you find it, select the See all button.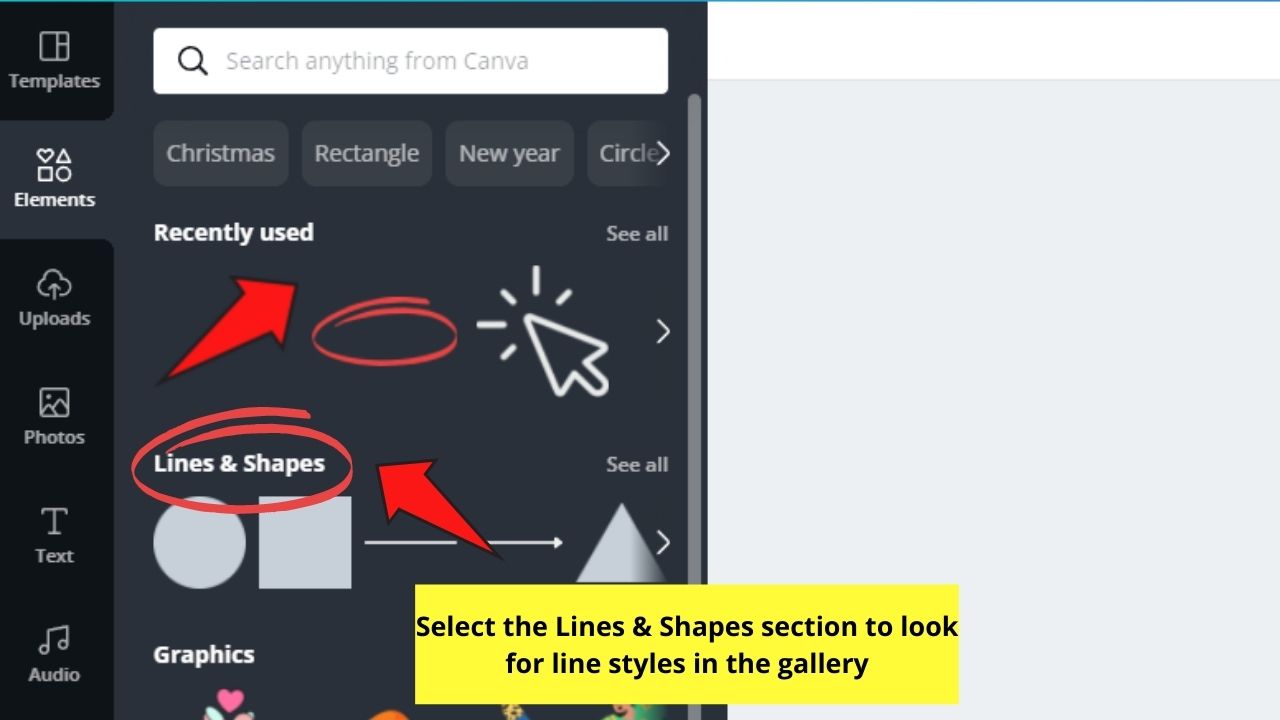 You can also browse for line styles using the search bar function.
Step 3: Once you see the line styles available in the gallery, scroll down until you see what you want to use.
For sample purposes, let's choose a simple straight line. Select that line style by dragging and dropping it on the canvas.
Step 4: If you're satisfied with the look of your line, just leave the line as it is.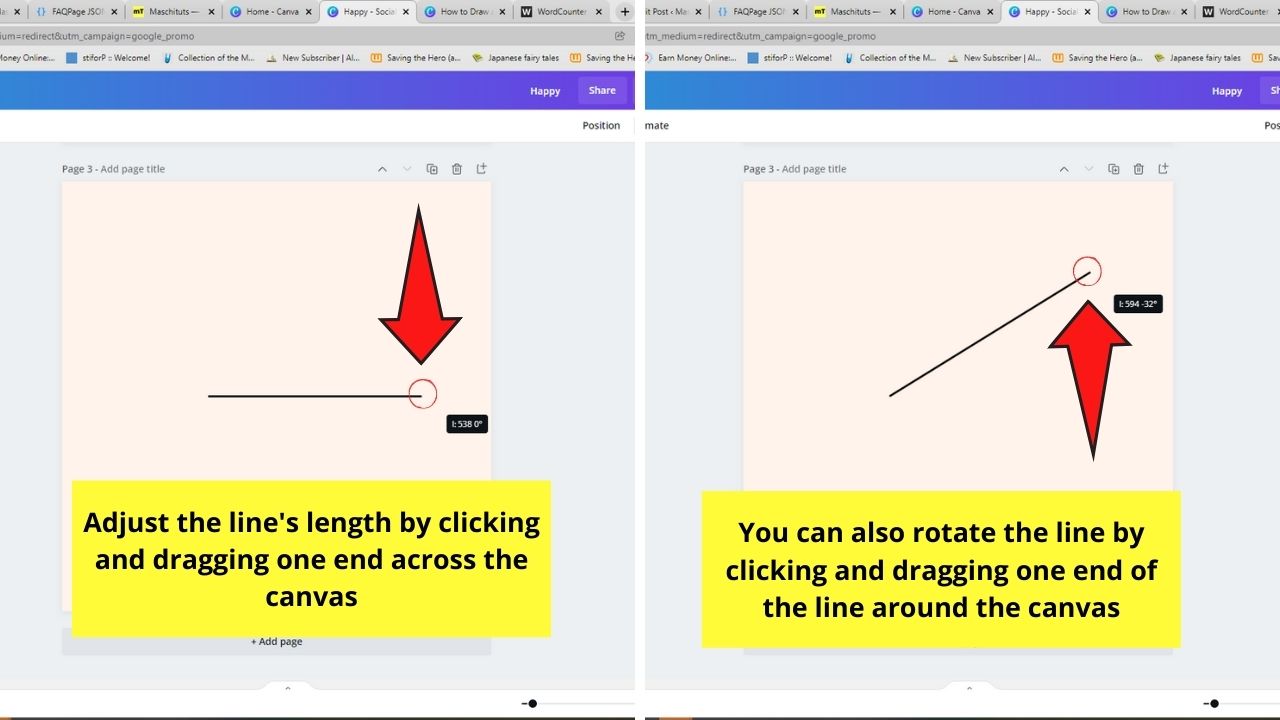 But, if you want to edit its looks, you can begin by adjusting its length. Simply click one end of the line and drag the cursor until you achieve the length you want.
You can even continue holding on to the other end of the line to rotate it.
It's also possible to rotate lines the same way you rotate elements and images in Canva through the rotate icon.
Step 5: To adjust the thickness of your line (in simpler terms, make it thinner or thicker), simply select it and head to the editor toolbar.
From there, click the Weight button. This will show you a slider that you can drag to increase or decrease the thickness of the line.
Step 6: Now, if you don't want to use a simple straight line or you just want to add more effect to your design, you can change its style.
Again, select the line by clicking on it and head to the Line Style button on the editor toolbar. From there, you'll see various line styles you can apply to the current line you're working on.
Step 7: If you want to add more fun to your line, you can even add animations to it. But first, make sure you've selected the line by clicking on it.
Then, head to the editor toolbar and select the Animate button. From there, choose what animation style you want to add to your line from the gallery.
And, just like that, you've drawn lines on Canva as professional graphic artists do. Just remember the steps I taught you, and you'll never go astray.
Frequently Asked Questions about How to Draw a Line in Canva
Can I still change the line I drew after clicking the "Done" button in Canva's Draw feature?
Unfortunately, once you hit Done, the changes made are permanent, and you can't make any more changes to the line you drew. You'll have to start from scratch and draw another line, making sure to edit every aspect of it before saving it.
If I draw a line using the Lines category in the Elements tab, can I undo any changes I've applied to it?
Unlike drawing lines with the Draw feature, you can undo any unwanted changes or mistakes made when creating one from the Elements tab. Simply click the Undo button on the menu bar, or press the Ctrl/Cmd + Z buttons on your keyboard to achieve this.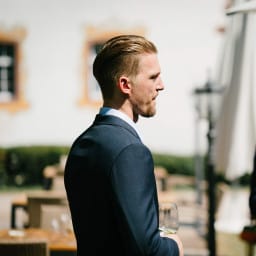 Hey guys! It's me, Marcel, aka Maschi. I earn a full-time income online and on MaschiTuts I gladly share with you guys how I stay on top of the game! I run several highly profitable blogs & websites and love to speak about these project whenever I get a chance to do so. I do this full-time and wholeheartedly. In fact, the moment I stopped working an 8-to-5 job and finally got into online business as a digital entrepreneur, is problably one of the best decisions I ever took in my life. And I would like to make sure that YOU can get on this path as well! Don't let anyone tell you that this can't be done. Sky's the limit, really…as long as you BELIEVE in it! And it all starts right here..at Maschituts!