Today we are going to look into animating presentations in Canva. Canva has a lot of great features that are ready for you to be used.
One of these features is animations. The best thing is, it can be done in one click.
But why would I need animations?
The answer is simple. They look cool and are slick and pep up your videos and designs. A very common use case for Canva animations is Instagram images, social media ads, videos and of course GIFs!
In order to animate presentations in Canva you simply go on one of the templates you have created or you choose one of the readily available templates within Canva.
When you are on the template there is an option on the top left that says "Animate". It is indicated by a group of fading-in circles.
Once you have clicked on this option you are presented with several options that you can choose from.
The available animation options in Canva are:
None
Block
Fade
Pan
Rise
Tumble
Stomp (Pro)
Baseline (Pro)
Pop (Pro)
Neon (Pro)
Scrapbook (Pro)
Some of these options are only available in the pro version of Canva as indicated by the crown sign and outlined here with Pro in brackets.
Hover over any of these options and animation will show you how the effect is going to look like. You can also directly click on any of these options and the animation in Canva is used and played for your design.
Timing for Canva Animations
There also is the option to change the timing of your animations in Canva. Besides the "Animation" option, you have an option called "Edit Timing".
The option is indicated by an alarm clock. When you select this option a slider pops up. This slider can be used to select the length of the animation in your presentation. It goes from 0.1s – 30s.
However, it is important to know that it looks like the animations have a max. length on their own. Some play just a couple of seconds.
Even if you choose 30s, most of the animations unravel faster as they seem to have a max. length on their own and that is probably a good thing.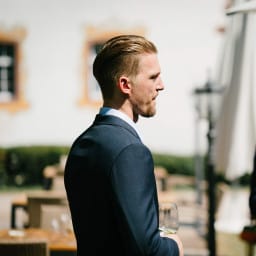 Hey guys! It's me, Marcel, aka Maschi. I earn a full-time income online and on MaschiTuts I gladly share with you guys how I stay on top of the game! I run several highly profitable blogs & websites and love to speak about these project whenever I get a chance to do so. I do this full-time and wholeheartedly. In fact, the moment I stopped working an 8-to-5 job and finally got into online business as a digital entrepreneur, is problably one of the best decisions I ever took in my life. And I would like to make sure that YOU can get on this path as well! Don't let anyone tell you that this can't be done. Sky's the limit, really…as long as you BELIEVE in it! And it all starts right here..at Maschituts!