If there's a graphic design tool that lets your creativity run loose, Canva is the one you're searching for.
With the simple click-and-drop feature, you can do various effects on your design! All you have to do is tap on your inner creative genius to bring your intended design to life.
With that, there's this one cool feature that allows you to alter the orientation of any element, text, and photos in Canva — the rotator handle.
So, if you're ready to get wowed by this simple yet incredibly nifty feature, better stay tuned and learn…
How to Rotate in Canva
To rotate in Canva, all you need to do is click on the photo, video, element, or text box you'd like to edit. After that single click, you'll find a rotating arrow handle at the bottom of that Canva element. Click and drag it to the right or the left until you achieve the effect you want.
Rotating in Canva: Step-by-Step Guidelines
If you're perplexed about how expert Canva users create incredible designs with skewed elements on them, you only have to discover what the rotate tool can do.
From the name itself, the rotate tool allows you to turn your images, elements, text, and even videos into whatever way you want them.
So, let's see how this rotate icon works on the various design elements you'll see in this graphic design tool.
Step 1: Open up a blank template on Canva by clicking on the purple "Create a Design" button on the homepage.
Step 2: Choose preset template sizes by tapping on them in the dropdown menu or input your custom sizes.
Step 3: A blank canvas will then appear. Rename your design file in the upper part of the Canva screen if you want to. Read about how to save in Canva if you're still not well-versed with this.
Step 4: To select an element to use, head over the left-side menu on your Canva screen and tap "Elements." For videos, head over to the "Videos" tab. For pictures, tap on "Photos."
Step 5: If you want to add text, click the "Text" icon in the left-sided Canva menu and choose what font to use. If you prefer a shortcut, then press "T" on your keyboard. A text box will then appear.
Step 6: Scroll down the gallery that appears to choose. Now, click on the element, video, text, or photo you have on your canvas. A rotating arrow icon then appears below the said element.
Step 7: Tap and hold the rotate icon (circle symbol). Then, drag either to the right or left to start rotating.
Step 8: Once you're satisfied with how your text, element, video, or photo looks, click on the canvas for the changes to take effect.
Pretty easy, right? What's more, you can rotate any design element you'd use in Canva up to 360 degrees to achieve the effect you're looking for.
All you need to do is tap on your creative juices, let it flow, and translate on your Canva design.
So, what're you waiting for? Start rotating in Canva now!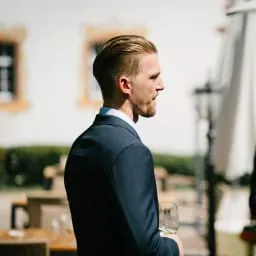 Hey guys! It's me, Marcel, aka Maschi. On MaschiTuts, it's all about tutorials! No matter the topic of the article, the goal always remains the same: Providing you guys with the most in-depth and helpful tutorials!