Designing logos, YouTube thumbnails, social media posts, and the like have never been easier, thanks to Canva.
With the tool's intuitive interface, both graphics design artists and newbies won't have a hard time creating their digital designs.
You can easily find the elements and photos you'd like to use through their gallery and take advantage of the various customization features in it.
But, what if you're a Canva Free user and you want to use a Pro element on your design?
Well, you can still use that image, but not without the Canva watermark splashed across it.
Though it's quite a bummer, there are a few (legal) ways on how you can remove those watermarks.
So, if you're ready to hear me out on how to go about the process, then better continue reading the text below.
How to remove the Canva watermark?
To remove Canva watermarks, you will need to buy the images that are not part of Canva Free. You can individually purchase the elements/pictures through the "Remove watermarks" button or buy on download. But, in most cases, upgrading to Canva Pro makes much more sense (and saves you a lot of $$$).
Removing Canva Watermarks: The Steps
There are two basic methods on how you can remove the crisscross lines.
Let's dive deeper and learn in detail how to go about the process below.
Step 1: Once you're satisfied with the layering of images and elements, head over the top Canva toolbar and click on the ellipsis (…) button.
Step 2: From the dropdown menu, click on the purple "Download" button. You can also do this by tapping the "Download" button on the left side of the ellipsis tab.
Step 3: Select the file type for your design. If there are plenty of pages, you can choose by ticking on the boxes which pages you'd like to save on your device. Click "Done" once you've chosen the pages.
Step 4: Tap on the "Premium Elements" dropdown menu to see how many elements or pictures you need to pay for.
Step 5: Click on either the "Download with Canva Pro" or "Pay and Download" buttons.
Step 6: Choose what option you'll go with to purchase the premium elements and images in your design. If you have enough Canva credits, you can also use them to buy the said items.
Step 7: Go ahead with the payment to finish the transaction.
And, that's it. You've already downloaded premium elements and images as a whole.
Are you up to learn how to go about the individual way? Better continue reading if you're that curious to find out.
Using the "Remove Watermarks" Option
Now, if you'd prefer to buy certain premium elements and pictures while you're designing, you can certainly do so through the following steps:
Step 1: Select from the "Elements" or "Photos" tabs the premium picture or element you'd like to use for your design. Once satisfied with your design, make sure that all of the changes you made on your design's saved to avoid repeating the process from scratch.
Step 2: Once you're done selecting, look for the "Remove watermarks" toggle button. A dropdown menu will then activate in Canva screen's upper right corner.
Step 3: On the dropdown menu, click on the "V" button so you can choose how many copies of the premium element or image you'd like to purchase.
Step 4: If you're decided on the number, click on the "Purchase" button.
Step 5: Choose what payment option you prefer to complete the transaction.
Step 6: Once done selecting your payment method, click on the "Pay" button to make your purchase.

Easy, right? Whether you choose to download the images one by one or as a whole, it doesn't matter much.
Just make sure that you've got enough funds to cover your Canva purchases. And, in case you're guessing, take a look at the payment options that Canva supports:
PayPal

Credit or Debit card

Canva Credits

Sofort (Germany only)

iDeal (the Netherlands only)
Other Methods to Remove Canva Watermarks
Now that you've learned the two basic ways of downloading premium pictures and elements, let's see other ways how you can achieve the same feat.
If you're the type of person who prefers less hassle, then upgrade your free Canva account for a Pro one. But what if you're in a pinch lately?
Well, good news. Canva's offering a 30-day free trial period for anyone who'd like to explore the full potential of this graphic design tool. And availing of such an offer isn't challenging to do as well.
If you don't have a Canva account yet, head over to the "Canva Pro 30-day free trial" page and click on the "Try free for 30 days" button.
From there, the Canva signup page will appear so you can create your account. If you want your account linked to your Facebook or Gmail account, you can certainly use those options as well.
After completing the registration process, a dialog box will appear with the "Try free for 30 days" button. Click on it so you can avail of your free Canva Pro trial.
But, before you can go ahead and enjoy the perks of a Canva Pro account, choose the "Monthly" plan you'd like to proceed with after the trial ends.
Input your payment details for you to tap on the "Claim my free trial" button.
After which, you're done with the process and officially a Canva Pro user for the next 30 days.
However, availing of free trials in Canva isn't only available to individuals. Even business owners can also avail of the same promo.
Only it goes by the name of Canva Enterprise.
Signing up for an Enterprise account on Canva follows the same steps as creating an individual one.
The only difference is that you can add your team members to the account after you've completed providing all the needed details.
However, if you want to have lifetime free access to Canva, better build a nonprofit organization. Though quite surprising, Canva does offer such a generous offer.
To do this, you must submit proof that your organization meets its eligibility criteria for the program. Head over to the Canva for Nonprofits page and click on the "Apply Now" button.
From there, you'll create a new Canva account for your nonprofit. Yet, before you can proceed, you need to do some crosschecking if your organization fits the bill.
Here are the criteria if you're too hesitant to visit the page itself:
Should be a registered nonprofit,

The mission of the organization's in line with community and public benefits, and

Government offices and health organizations aiding with public health
If your organization's part of the lucky three, then congratulations! Proceed with filling up the form details and submit the documents needed.
After which, tick the box indicating your agreement with the terms and conditions for you to submit your application.
Then, wait for a response via email for you to proceed and enjoy your free Canva Pro!
Teachers and students can also avail themselves of such a generous offer through the Canva for Education program. Follow the same steps as that for nonprofit organizations, and you're good to go.
Canva Licenses Defined
Now, you're all aware that the premium pics and images in Canva have licenses. And, we only know that if such an element or photo has a license, you'll need to pay for it to use it in your design.
But, what are these licenses in Canva about?
Technically, there are two known licenses in Canva: the one design use license and the multi-use or extended license.
From the terms themselves, you'll get a gist of what each license type entails.
One design use license means you're only allowed to use that image or element on a single design. No more, no less.
On the other hand, the multiple or extended license type allows users to avail of that element or photo for a certain period.
After paying, those pictures and elements you bought will be stored in the "Purchased" folder so you can have easy access to them.
If you're interested to learn more about Canva, perhaps a good reading on its affiliate marketing program will get you up and excited to try it out immediately.
Frequently Asked Questions about Removing Canva Watermarks
How do I use Canva credits in purchasing premium images and elements?
Canva credits serve as virtual tokens that you can use to buy premium elements and images for those who don't know. Buy credits from the "Pay and Download" tab, choose a credit pack, and finish by paying for the said credits. Whenever you use a premium element or picture, hit the "Remove watermarks" button and pay for it using your Canva credits.
Is it possible to pay for a particular element or image and still have watermarks on them?
Though it's rare, such an incident can still occur. If you're experiencing this, it can either mean you logged into a different Canva account or only paid for a one-design use license. In any case, you'll have to check your emails and Canva account for your purchases.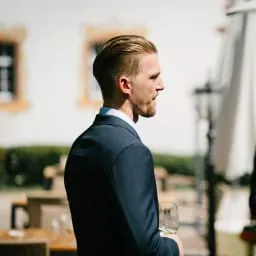 Hey guys! It's me, Marcel, aka Maschi. On MaschiTuts, it's all about tutorials! No matter the topic of the article, the goal always remains the same: Providing you guys with the most in-depth and helpful tutorials!