Whenever one hears the word Canva, the easy-to-use graphic creation tool comes to mind.
Though there are other great tools available on the internet, Canva is the number one go-to app nowadays for creating stunning designs.
While such an app's intuitive, you can do so much more with Canva other than designing, publishing, and sharing your templates online.
But is there anything you can do aside from creating designs on the tool? Can you even earn money on the side from using the app?
Well, if you want to know if Canva can become your new partner as a side gig, better continue reading below.
Does Canva have an affiliate program?
Well, for those who are new to the affiliate marketing world, you'll be surprised that Canva indeed has incorporated such a program into their tool. It's called the Canva Affiliates Program. But, while you'll feel excited to join, you need to meet specific criteria first before you can even start applying.
How to apply to the Canva Affiliates Program?
If you have the passion for design and turn that passion into a side gig, then that's enough motivation to get started.
However, Canva has a unique affiliate marketing program compared to other programs out there.
Aside from having a passion for design, you'll need to belong to one (or even more) of these categories to qualify.
Influencer
Everyone knows what an influencer is. The term refers to any person who can influence their audience's purchasing decisions with his authority on the topic.
Whether you're a blogger or an influencer on social media, what matters most is you love designing with Canva. Besides your innate passion for the tool, your enthusiasm for the tool overflows, prompting you to share it with your audience.
Educator
Since Canva has the mission of empowering the world to design, they're also transferring that power unto you.
So, if you're a design mentor, you can use this authority and knowledge with the topic to share it with the world. Of course, you'll earn extra as well for sharing and teaching your love for Canva through this program.
Having a large audience
Whether you're an influencer, a vlogger, or a blogger, the most crucial factor motivating you to continue doing what you do is your audience.
If your website's related to design and already has 1 million followers, then becoming a Canva affiliate is another great side gig for you.
Other criteria aside from the three mentioned above include:
Active on social media and other digital marketing platforms
Have a strong engagement in the design arena
Committed to regularly promote Canva on your social media platforms and marketing channels, and
You can create compelling content about design, entrepreneurship, and other related topics.
Pretty much rigorous, right? But, if you find yourself ticking off all the criteria mentioned above, hit the apply button.
Step-by-step guide in becoming a Canva Pro affiliate marketer
Unlike the meticulous criteria in becoming an affiliate marketer of Canva, applying for the program itself is relatively easy.
Head over to https://about.canva.com/affiliates/ link.
Once you're on the site, click the "Join Now" button either on the topmost part or at the bottom of the site.
Select which country you're from. This will set the form's information, making it accurate and relevant to the region you're in.
Fill out an application form with these details:
Account information (account, email, password)
Additional information (company details, if there are any)
Personal data (name, address, contact details)
Tax details (whether you're registered as an indirect taxpayer or not, as well as the corresponding number to it)
Promotional information
In this section, you're going to select your partner type according to the three categories. You can choose all three of them if you belong in more than one.
Just activate the drop-down menu and click the categories you feel best describes who you are.
Once you're done selecting your partner type, proceed to the property types section. There are three different property types you can choose from.
Websites (blog, podcast, email newsletter landing page)
Mobile (a mobile application where you plan to advertise Canva; can be Android, iOS, or both)
Social network sites (Facebook, Twitter, Instagram, LinkedIn, and Pinterest)
Whatever you choose, toggle on the buttons right beside such property types and provide the links needed.
Though the process is pretty easy, don't undermine this step. This is where Canva evaluates how suitable you are to become their partner.
Thus, make sure that the links you provide are the most active and engaged following sites you have. Otherwise, you'll blow your chances of becoming a part of this program.
Make sure to review the information you inputted on the form. This step is to avoid missing out on any essential details.
Once you've thoroughly reviewed your application form, click the Sign-up button on the bottom part of the page.
Wait for 48-72 hours for the Canva affiliate team to inform you through email whether you passed or they're denying your application.
If they approve your application, the email usually includes the guidelines, tips, and instructions in navigating your account.
But, if you didn't make the cut, you'll still receive an email from the affiliate marketing team. Some common reasons for the team to deny your application include the following:
Your platform's relatively new
The platform doesn't have a large-enough or engaged-enough audience.
The platform isn't relevant enough to design
However, while the decision's final, you can still reapply once your site meets the conditions.
How do you start promoting in Canva?
Now that you've successfully hurdled the application process, it's time you get down to the nitty-gritty of the task.
Ensure you've thoroughly read the email the affiliate team has sent you since it contains all the information you need. Here are the details you'll find in the email:
Affiliate link
Instructions
Guidelines
Impact Radius dashboard login details
Now that you've set everything, you can start with the promoting aspect. But how do you get the referral code you need?
Don't fret. Log in to your account on Impact Radius to start.
Search for the "My Brands" tab on your Impact dashboard. After which, click on the drop-down menu and find "Canva."
From there, you'll see the different ad types that you can use to promote Canva. Generally, there are two types of links you'll find here:
HTML Code
This link creates a Canva display ad/banner that will show up on your website after embedding the code on the page.
For better visibility, place these codes on your homepage, sidebar, or as a pop-up ad.
Tracking Link
This link works like the HTML code, except that it's more simplified. You can easily include this link when you're communicating with your online audience.
Like HTML codes, you can paste this text link on your blog posts, email newsletter, podcast, YouTube shownotes, and the like whenever you're talking about the app.
You can even use this as a "swipe up" link on your Instagram and social media bios.
It all depends on your creativity on where best to insert the link without openly saying to your audience you're promoting the app.
Another way to create these links is to head over the right side part of your Impact dashboard. Search for the tab that says "Create a link," and you're good to go.
How do these Canva referral links generate income for you?
Though it sounds intimidating, earning as a Canva marketing affiliate is as easy as one-two-three. Once you've inserted the links on your website, sit back and watch as the revenue kicks in.
Every person who clicks on that unique link will lead to the landing page for Canva Pro.
If that person signs up for an account, then the Canva team will use that link to track the referrals you bring to the site.
After 30 days from the first click, you'll then receive your commission! Easy, right?
Just remember, for every sign-up using your unique affiliate referral link, you'll earn $36 for a Canva Pro subscriber. Imagine that turn into $360 if you make ten referrals, or even $3,600 if you make 100 referrals in a month.
So, what are you waiting for? Sign up as a Canva Pro affiliate marketer and reap the rewards of your efforts while promoting the app on the side.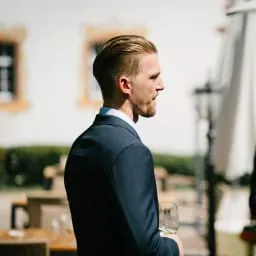 Hey guys! It's me, Marcel, aka Maschi. On MaschiTuts, it's all about tutorials! No matter the topic of the article, the goal always remains the same: Providing you guys with the most in-depth and helpful tutorials!