What makes Canva a worldwide hit?
Well, aside from its intuitive interface, Canva also allows graphic designers — both newbies and experts — to unleash their full creative potential in the platform itself.
Taking that point into perspective, Canva's been a must-have tool for everyone, especially if you're the type who loves posting unique social media posts on Facebook or Instagram.
But, have you ever thought about how they made such stunning designs?
Don't you worry about that one bit. After all, you can achieve such a feat by using the power of frames in Canva.
So, what are these frames? Are they the same as the usual picture frames we know?
Are they even related to the Canva grids?
Easy peasy on that! We're going to learn exactly what these Canva frames are, and how best we can use them to their full potential.
How to Use Frames in Canva?
To use frames in Canva, head over to the "Elements" tab. Scroll down until you find the "Frames" section or type the word itself on the search bar. Tap on the frame design you'd like to use. Then, drag the image or video you'd like to use to add them to the frame you've chosen for your design.
Step-by-Step Tutorial of Using Frames in Canva
If you're still new to Canva, you'd likely associate frames to the ones we use to display pictures. Though it's quite similar, Canva frames are more than that.
Simply put, frames serve as a fun way of cropping photos and videos in Canva. You can add images into various shapes to add a wow factor to your project.
To use Canva frames, make sure to read through the following steps:
Step 1: Set your design size by heading over the "Create a Design" button on Canva's homepage. Input the necessary values or choose from the preset template sizes.
Step 2: A blank template will then appear. Once there, go to the left-side menu and tap on"Elements."
Step 3: Once there, scroll down the side panel menu that appears until you see the "Frames" section. You can also key in the word "frames" in the search bar for a speedier process.
Step 4: Choose from the frames available in the gallery. Click on the frame you'd like to use so it will appear on your blank template.
Step 5: If you want to add more frames, you can always do so by repeating steps 3 and 4.
Step 6: Once you're all set with the frames, choose the photos you'd like to use. You can use your own pictures and upload them to Canva in the "Uploads" section. If not, then head over to the "Photos" menu and search for the picture/s you'd like to use.
But, if the "Photos" tab disappeared out of nowhere, better read an article about that problem.
Step 7: After choosing the image, drag it over to the frame until the picture's inside it. Drop the photo to add it to the frame.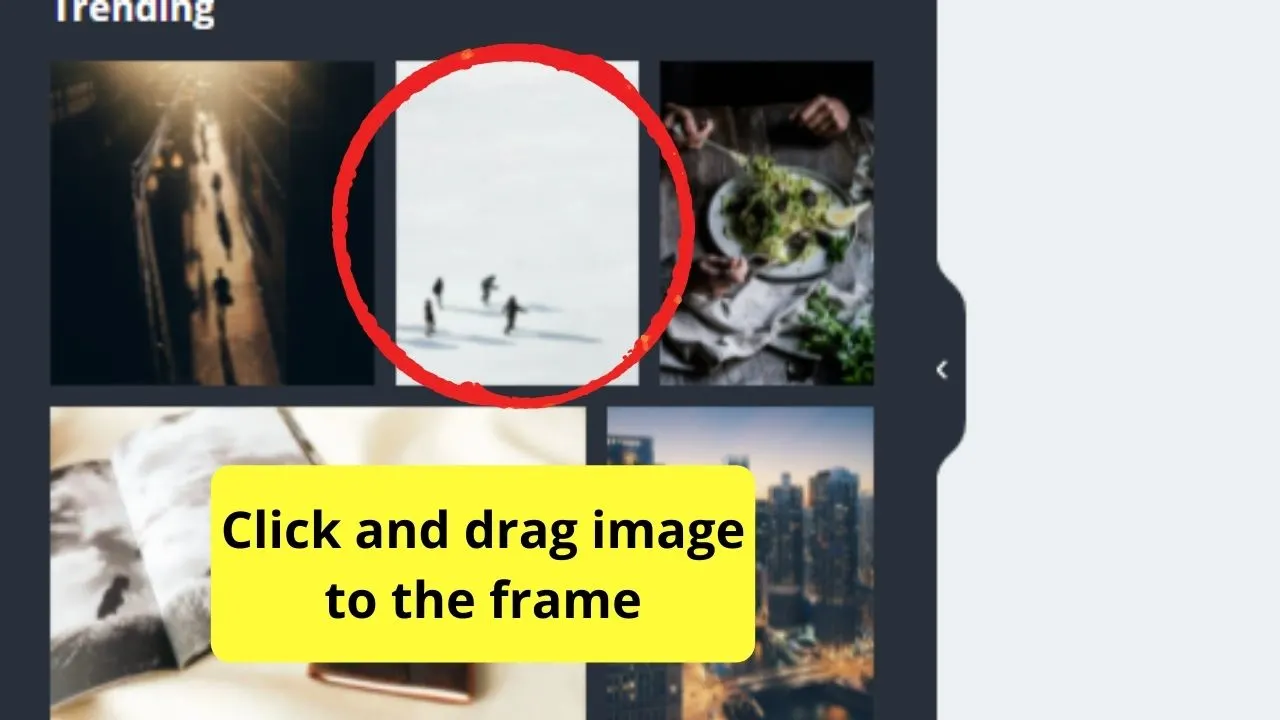 Step 8: If you're satisfied with how the image fits inside the frame, proceed by adding effects or even filters on your newest framed picture.
Step 9: If you want to reposition and resize the image inside the frame, simply double click on the photo until the background's greyed out. Use the crop marks (white handles) on the corners of the picture to drag the picture in or out of the frame.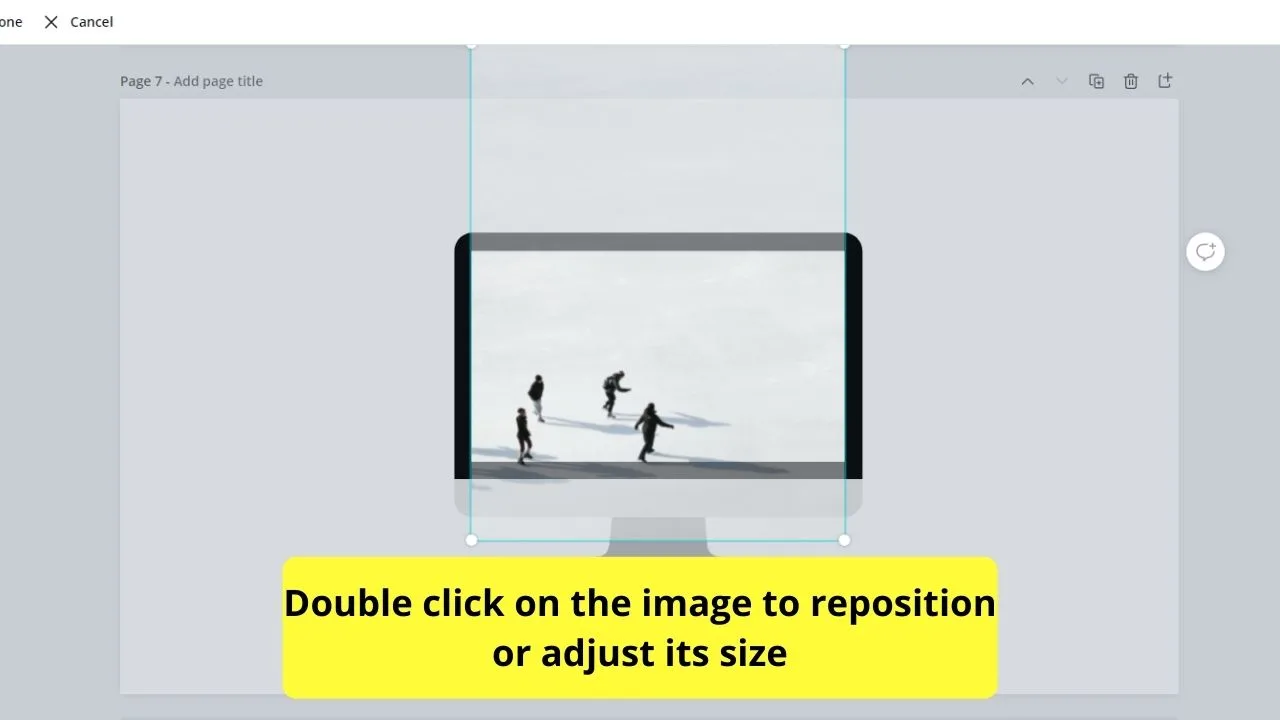 Step 10: Click on the "Done" button if you're satisfied with all the alterations you made. Save your work accordingly and download it on your device if need be.
Simple, right? But, we're just warming up on the topic as the steps mentioned above are just the basic ones that you should know.
Just, remember that not all images in Canva aren't available for free account users. But, if you want to use a premium image, learn how to remove watermarks in an article here.
Now, if you're interested to learn how to improve your skill further in using Canva frames, then better stay tuned and continue reading below.
Canva Frame Hacks You Never Knew
Now that you've mastered the basics of frame usage in Canva, it's high time to amp your skills further.
Take a look at some of the applications of Canva frames that you never knew you can do.
Adding Texture to Frames
Among all the Canva hacks you'd learn today, adding the texture element to the otherwise "boring" frame is the easiest.
With this simple trick, you can elevate your social media posts and make them classier in a way. Yet, it still depends on how artistic you can get with even the simplest frames you can find on the Canva gallery.
To achieve this feat, you need to start with choosing your background color. Simply head over to the rainbow-colored tile on the white toolbar and pick out a hue you like.
Once done, follow the steps mentioned above on how to choose a Canva frame. After which, fill the frame with another color to make it stand out from the background.
You can even use Canva gradients to spice up your design.
Depending on the frame's shape, you can choose to head over to the "Shapes" menu and choose from the available figures there, or duplicate the frame you used earlier.
Then, resize the shape or duplicated frame you've created so it'll be smaller than the first one. Center it inside the larger frame until they're perfectly aligned.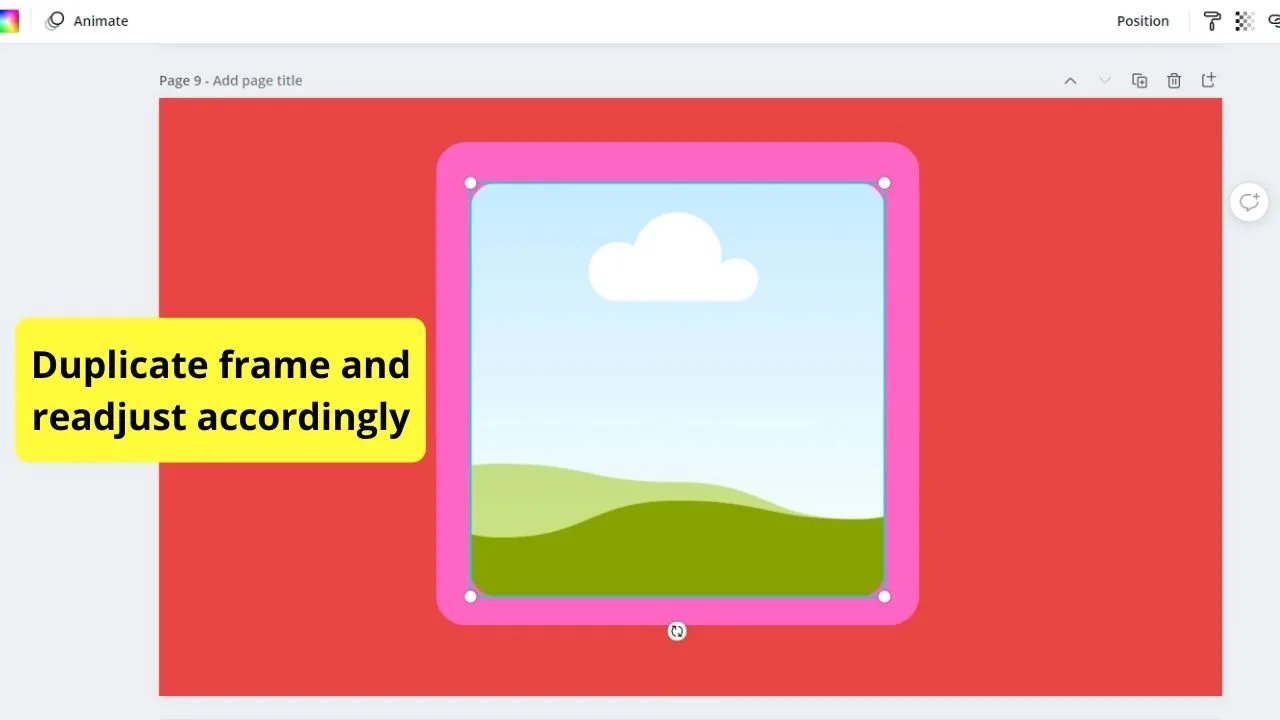 Just make sure that the fill color for this second frame you're using is similar to the one you're using for the background.
After which, you can now start adding text for quotation posts or add another image, depending, of course, on your design.
Head-Popping-Out-of-Frame Design
Now, if you're more of the eccentric type and would like your designs to stand out from the rest, you can try making a person's head pop out of a Canva frame.
Is that even possible? Well, with Canva, everything's possible.
To start with the process, choose what image you'll work with. Whether you use your own photos or pick one from Canva's "Photos" gallery, it doesn't matter.
What matters is that after you've chosen the photo you'd work with, duplicate it and place them side by side at the bottom of the blank template.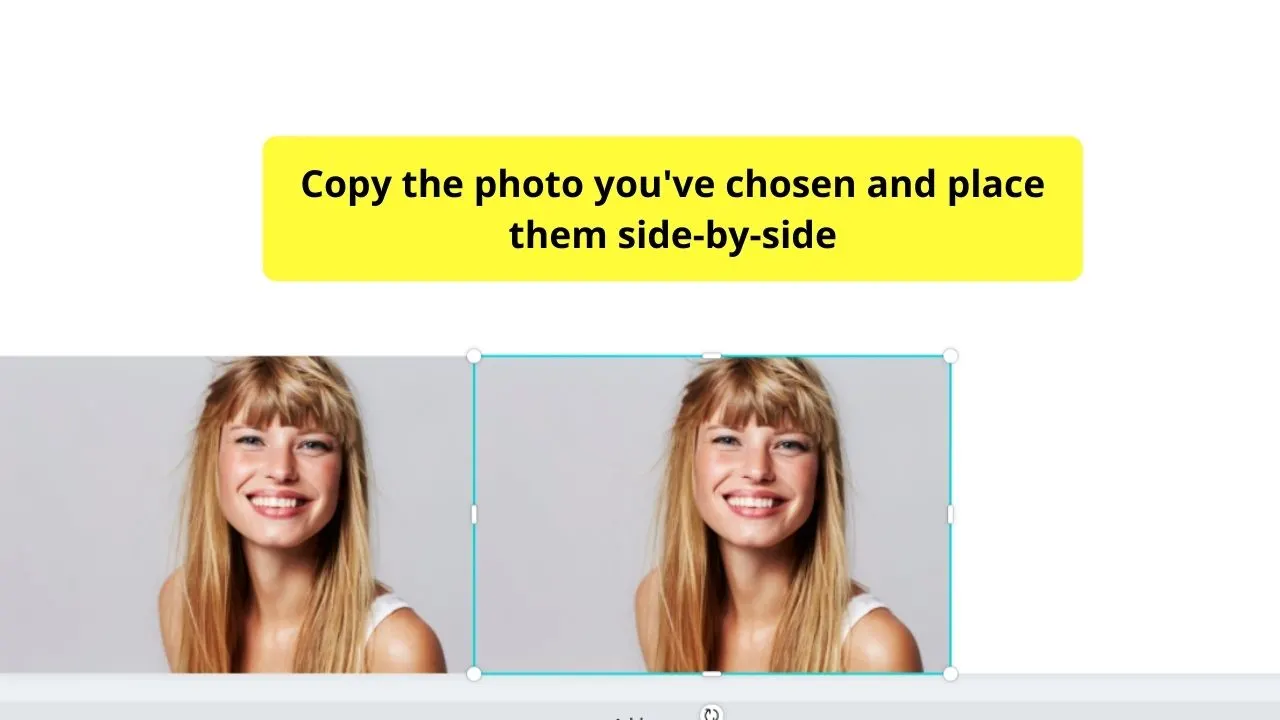 However, with one of the photos, you'll have to remove its background using Canva's background remover. To do this, simply click on the "Effects" tab on the white toolbar and choose "Background Remover."
But, do know that the background remover effect is only available in Canva Pro accounts.
After which, choose the Canva frame you'd like to work with. Add the photo with the background into the frame and position it in a way that the head juts out of the frame's outline.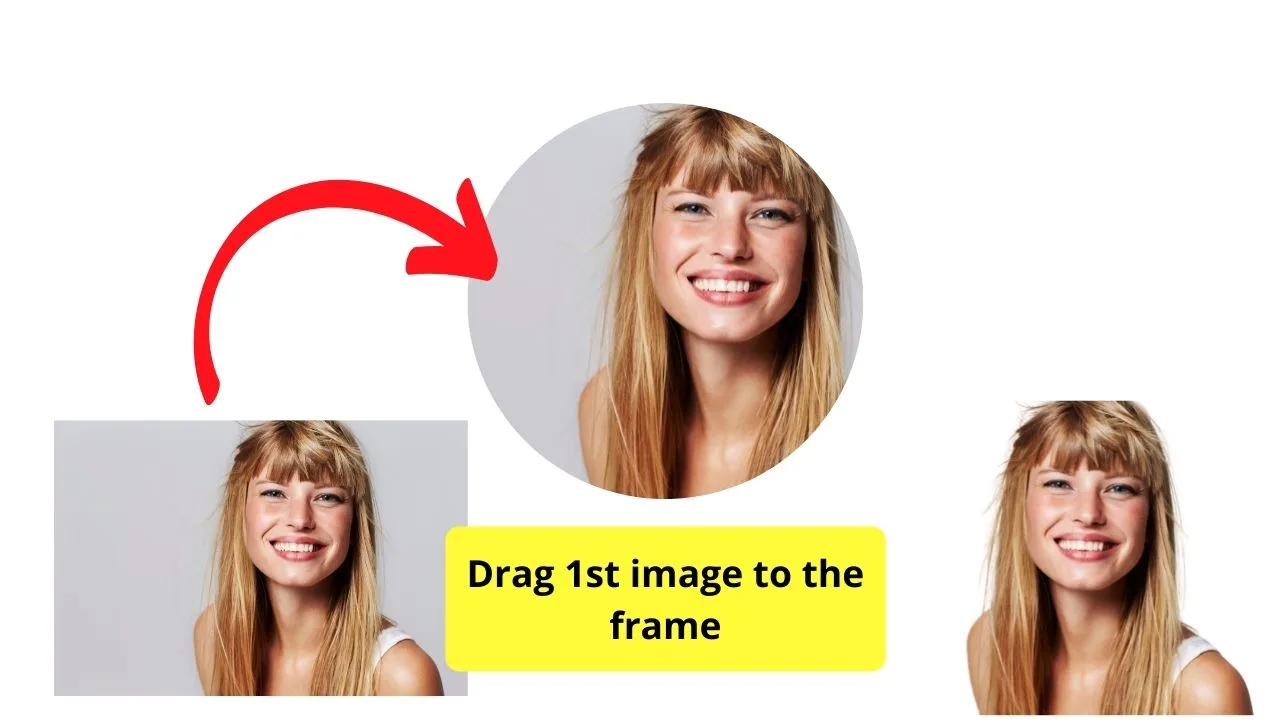 Once satisfied with the placement, place the background-less image on top of the first one and align them accordingly. You can even check their alignment by playing with the transparency.
However, unlike the first photo, you'll have to make the 2nd image's head larger so it'll pop out of the frame. If the bottom part of the image pops out of the frame as well, simply crop that part out.
Now you have a picture that you can use for your social media that's unique from the rest.
Using Single Image over Multiple Frames
Now, if you want to advance your Canva skills further, you can try this cool frame hack: using a single photo over different frames.
It might sound complicated, but it's quite simple and only requires your keen attention to detail for this to work.
Once you've set your template size, select a background you'd like to work with. After which, select what frames you'd like to use.
You can opt to use only a single frame and duplicate it, or pick out another frame from the gallery. Position them accordingly on your template.
After which, it's time to choose the images you'd use. Drag them towards the frames and readjust accordingly. The trick here is that you'll need to make the photo larger so it'll span across all the frames you've created.
Do the necessary adjustments according to the design you have in mind until you achieve your intended result.
Frequently Asked Questions about Using Frames in Canva
Can you add your own frames in Canva?
As Canva's highly open to customization, you can add your own set of frames on Canva. Tap on the "+" icon and choose "Selections." Encode "Frames" on the search bar that appears and click on the "Search" button. You then choose the frame you'd like to use for your design so it'll be uploaded to your gallery. Click on your newly uploaded frame and go about with the process of adding images and videos to it.
Is it possible to layer two or more frames in one design?
While the process is quite tedious, it's not impossible to layer frames together. All you have to do is choose what frames you'd like to use from the gallery and position them accordingly. Make use of the "Rotate" icon below each frame to adjust them accordingly. After which, you can add the images, effects, and filters that you'd like to use according to your design.


Conclusion
Frames, as mentioned earlier, is another fun way of cropping images and videos into whatever shape we can have in mind.
By mastering the basic steps of adding photos and videos into the frames, you can combine this trick with other Canva design hacks for stunning social media posts and the like.
However, if you're still unsure about your Canva skills, read on how to layer texts and elements in Canva to have a basic feel to this technique.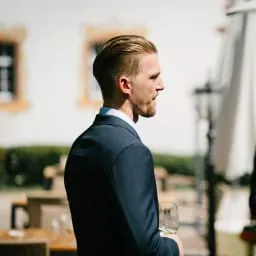 Hey guys! It's me, Marcel, aka Maschi. On MaschiTuts, it's all about tutorials! No matter the topic of the article, the goal always remains the same: Providing you guys with the most in-depth and helpful tutorials!