Looking for the best ROBLOX server on Discord?
With so many options out there, it can be overwhelming. To help you out, we've compiled a list of the top servers.
Check out their features and find the perfect community for you.
Which are the best Roblox Discord Servers?
1. LFG Global
2. Roblox Developers
3. W//Z & SB2 Wiki
4. After Change
5. Blox Global
6. Celestial Traders
7. VendexX Clan
8. Imperia
9. Platinum
10. Pristine
1. Looking For Group – LFG GLOBAL
Invite link: https://discord.com/invite/pQRef4Abac
First up, we have the LFG GLOBAL Discord server, which is a growing community of Roblox lovers. This server is in our 'top 10 list' because it is one of the most well-organized, well-managed, and well-put-together servers out there.
Upon joining the server, you will be prompted to complete a very important step before you can start messaging or participating in the server – To read the SERVER RULES.
Once you've completed that step and ticked done, the chat is accessible.
Now that you're in let's talk about some of the features of this server.

The server currently counts 3,378 members, which is a decent number for a Discord server.
We called it an organized server earlier because even though there are many game channels here, you can hardly get lost.
There are different sections for each game and separate options to get access to the different channels of a specific game. And the process is easy!
Once you've chosen your desired game, reacting with an emoji to the LFG BOT's pinned message in that respective game's section will grant you the necessary permissions to access all the text channels or voice channels for the game of your choice.
This server has its own bot, "LFG GLOBAL," which has been configured specifically for server moderation (so cool!). Other bots on this server include but are not limited to, DISBOARD, TacoShack, Dank-memer, and Anigame.
The overall environment of the server is a friendly one, where members of the community respectfully interact with one other in the text channel of the "general" section of the server.
Even though the server is easy to navigate, if you find yourself in a fix, you can always head over to the "how-to-videos" named channel in the server that serves as a 101 server guide for newbies. It has tutorial videos on how to gain access to locked channels, how to participate in the server etc.
And the best part is that you can find players from all around the world on this server and you can also find players that have an interest in many other games than Roblox!
2. Roblox Developers
Invite Link: https://discord.com/invite/TJHvu7z
The next server on our list is Roblox Developers.
Take a look at the server's official description
"Hi everyone! I would like to introduce to everyone ROBLOX Developers, a Discord for ROBLOX Developers! 😀 Why should you join? Well, let's talk about the server: A Discord for both Scripters and Builders (Or else)! ✅ Talk about ROBLOX Development with other developers! ✅ Hire developers! ✅ Ask for help to other developers! ✅ And much more… ➕ Our server is currently focusing on gaining more members! Thank you! Join today! :3"
As the description tells us, this server is a social haven for ROBLOX Developers!
The current server count for this server is set at 3,248 members. The server uses an xELA bot to count the number of members on the server.
So, if you're a ROBLOX developer and you want to pick up handy tips and tricks in game development, this is for you! The server has a whole community of servers with whom you can interact and seek answers to all your questions.
Overall, it is a friendly community of people who are always there to help each other out!
This server's features include:
Frequently hosted giveaways.

A text channel for self-roles. Self-Role Assigning allows you to assign roles to yourself based on what you do, without having to ask an admin to set them for you, for example, Designer, Creator, GFX, etc. On the backend, the server uses a "roles bot" for assigning purposes.

The chance to work. Yes! if you're good at a skill, you can add a "For Hire" title next to your role so that people know you're available for hire for a specific Roblox skill.
3. W//Z & SB2 Wiki
Invite link: https://discord.gg/wzwiki

The W//Z & SB2 Wiki is a large Roblox community that is more of a fandom because this theme-based server revolves around the game Swordburst 2 and World//Zero on Roblox.
Upon joining the server, you don't see much happening. The server seems dull, and there aren't any voice/text channels in there, but how is a raging fandom of 10,000 people this quiet?
Well, they aren't. And if you want to join the party, you'll need to present the party code. Let's learn how:
The first step towards joining the text/voice channels of the server is to read the rules for the server carefully.

After you have completed that step, head on over to the "accept-rules" text channel on the left side of your screen.

Next, type y!accept in that text channel to confirm you have read and agreed to the rules and regulations of the server.

Upon verification, the YAGPDB.xyz bot will provide you access to all the text and voice channels on the server.
This server is basically a wiki, a place where you can find all the latest information and updates on the World//Zero and SB2 games. It also serves as the best place to learn how to play these games and answer any questions that you or other players might have.
So if you play World/Zero or SB2, you know where to go now!
4. After Change
Invite link: https://discord.com/invite/ZrbD5ZDyQp
After Change is a trading and general server. Games on the Roblox platform that have a strong player base on this server are MM2, Royale High, Adopt Me, Robux.
After Change is your go-to server if you're interested in server events, daily drops, giveaways, and other fun activities.
Being the most populated server on this list, regulations are strict. Admins require that new users complete a verification step in order to gain access to the server and its features.
There is always a lot going on in this Discord server. From events and movie nights in the voice channel to trading and meme sharing. This server has it all!
Members there are also very active and responsive, making it one of the best communities for interacting with players of different games on Roblox.
You might just learn about a new game on there!
5. Blox Global
Invite link: https://discord.com/invite/6BNpKbUY3E
Blox Global is another large community server with over 20,000 members!
It is popularly known for regularly hosting giveaways for Robux, Discord events, the Discord nitro add-on, trading, and much more!
Nitro boosters get special perks if they boost this server. Some of them include the ability to change your own nickname, access to the restricted "boosters" chat, and many more perks.
Also, the server also offers paid sponsorships, with different packages for different needs and budgets.
The admins and moderators are very active on the server, always making sure all rules are being followed and you're getting the best experience on their server.
6. Celestial Traders
Invite link: https://discord.com/invite/JQDpa9GtJN
Welcome to Celestial Traders! This server is a dual-purpose server that is Roblox-based and is also a trading server at the same time. You can find like-minded players of Adopt Me! MM2, Robux, and more here. They, too, do daily drops and host events and giveaways to keep their audience engaged.
This is a very good server if you are looking to trade, or are looking for a Roblox community that you can connect or interact with.
The total population of this server is 3,002 members, with moderators and admins properly controlling the server and making sure rules are followed on a day-to-day basis.
They do so by implementing a warning system on the server.
5 warns = 1-hour on mute, which means that person cannot send messages in the text channels.
15 warns= a kick from the server.
20 warn= Banned from the server.
You can join the server directly with the link provided above.
7. VendexX Clan
Invite link: https://discord.com/invite/rsWZQycsXS
"A friendly community gaming server that is rapidly growing, we have a warming community and we welcome all genres of people into our server."
In accordance with the server's description, VendexX Clan is a small but growing community that is fair in its practices and does not discriminate on the basis of race, caste, nationality, religion, sexual orientation, or culture. They welcome all genres of people.
With just a few hundred members, this is probably the tiniest community server on our list, but that is what makes it so unique! Its members, admins, and mods are extremely friendly and are able to give all of their members individual attention regarding any problem that they might have.
The server utilizes around 22 bots. The Rhythm Bot and Groovy Bot are on music duty in the voice channels whileYAGPDB.xyz, Ticket Tool, MEE6 take on moderation responsibilities.
As far as the server's layout is concerned, no doubt it is not quite as impressive or well-moderated as compared to other mentions in this list, but it could be home for you if you're looking for a warm experience and friendly Roblox and Fortnite players to play with.
8. Imperia
Invite link: https://discord.com/invite/cVrt2xsUnb
The next server on our list is Imperia.
Imperia has around 844 total members. And much like some of the other servers mentioned above, the server has both- a Roblox player base and a Minecraft player base.
The community is very friendly, fun, and welcoming to all sorts of people who join the server.
Hosting mostly private games on Roblox and Minecraft, this server is a good place to find a small group of friends to regularly play and have a good time with.
The server's features include:
Over 27 separate text channels to talk and make friends in.

8 separate voice channels where you can listen to music, communicate with the community, or stream any game you want. Learn how to leave a voice channel here:

How to leave a voice channel on Discord

.

A great variety of fun bots to mess around with.

There are also several Discord nitro giveaways every week.

Regular events on Roblox to have fun in and interact with the community.

Regular competitions to engage with the company and

Regular updates to the server.
And if that wasn't enough, they also have movie nights and community-hosted karaoke nights every now and then!
So if this community speaks to you, be sure to check them out with the invite link provided above.
9. Platinum
Invite link: https://discord.com/invite/FB75UpW23P
This next server on our list hosts one of the best gaming communities out there.
The server isn't as fancy or as heavily decorated as compared to other bigger community servers, but it has a welcoming atmosphere unlike any other, where you can relax and play Roblox with some strangers (who might just end up becoming your friends!)

Platinum's coolest feature is definitely their bots that allow you to choose from and assign yourself a variety of roles, giving you the freedom to truly express yourself. Some of these roles are mentioned below:
Color roles, you get to color your name on the server!

Age roles

Gender roles

Notification roles (so that you're notified about game nights or movie nights, etc.)

Zodiac sign roles and many more!
So if you're looking for a place to chill and play Roblox, if you have some confessions to make, or if you want help doing homework, then this is the server for you.
10. Pristine
Invite link: https://discord.com/invite/pristine
This server is worth checking out if you're looking to trade, finding Roblox players with the same gameplay as you, or looking to participate in fun competitions, game shows, etc.
Their admins work tirelessly to ensure that the server's public voice channels are a safe place for each member and that everyone can socialize and interact with one another in the most respectful manner.
This is a pretty fun server that regularly hosts giveaways and events with huge winning prizes so people participate wholeheartedly and take away something in return.
With people from across all different time zones, this server is packed with people ( 11,000+ members). Their current goal is to reach 12,000 members.
So if you'd like to play a part in helping them reach the goal or are interested in winning some neat prizes, head over to the link above and join Pristine now!
So there you have it, folks, our top 10 Roblox server picks! Have you decided which one you want to join yet?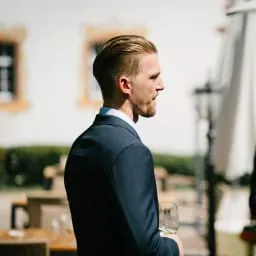 Hey guys! It's me, Marcel, aka Maschi. On MaschiTuts, it's all about tutorials! No matter the topic of the article, the goal always remains the same: Providing you guys with the most in-depth and helpful tutorials!