Discord: Made for gamers, by gamers.
Discord is a vastly popular communication software, especially among the gamer community. Launched in 2015, Discord has been critically acclaimed all over the world due to its accessible and user-friendly design.
An extremely fast, reliable and top of the line software doesn't take up much space or other resources and can even run on low-spec systems (very compatible).
Today, we'll be talking about Discord's voice channel which is where you and your teammates/friends can talk or share your screen.
Joining is easy, all you have to do is tap the channel you want to enter, and without having to call your friends individually, you can talk to any and everyone in the voice channel.
So if it's not like a phone call, how do you leave a voice channel on Discord?
How to leave a voice channel on Discord
?
When using discord on your system, be it on MacOS or Windows, you can leave a channel on Discord by simply clicking the "disconnect" button at the bottom of the discord window. The disconnect button is next to the user-settings and other options in the voice channel's control panel.
Have a look at the screenshot below for a pictorial explanation.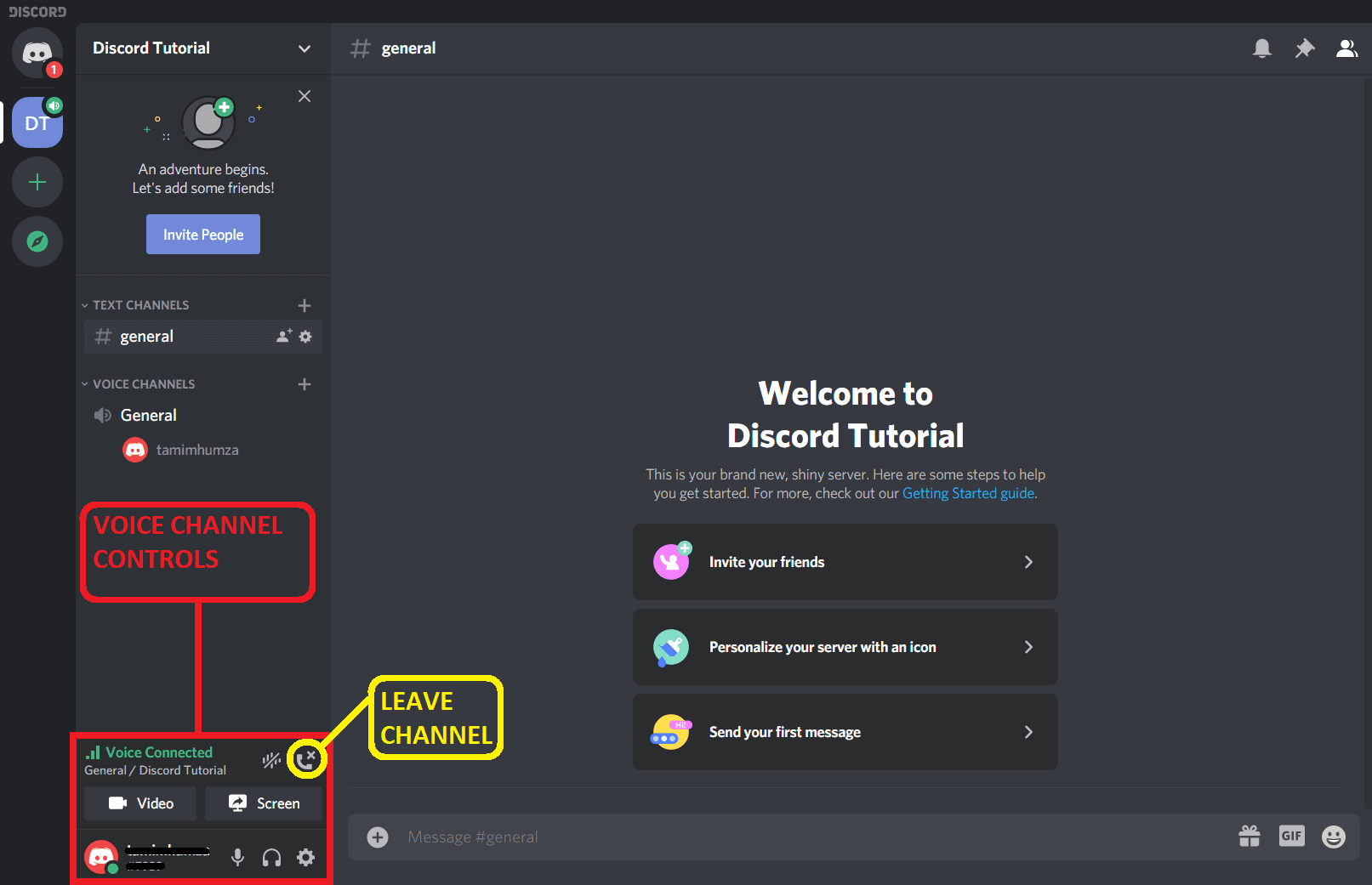 This is where the voice channel settings panel is located.
If it's still not clear where the disconnect button is, it's the tilted phone button with the cross on it as shown and highlighted in the picture.
Also, if you want to join a voice channel on a server other than the one you're currently connected to, you can click on the new voice channel that you wish to join and you'll automatically "leave" the old channel.
Why or when do we need to exit a voice-channel?
We've seen how you can leave a voice channel, but why and when do you need to exit a voice channel?
Voice channels are typically located in discord servers. Each server has voice channel(s) in it which you and your friends/teammates can join to communicate in-game, give callouts etc.
When you're done playing or talking on the voice channel, then you can click on the "disconnect" button to quit the current voice channel without actually leaving the server.
And if in case you want to join a voice channel on another server, you can always just click on the voice channel you wish to join on the other server and it will automatically exit the channel you're connected to and join the new channel.
Will quitting discord manually disconnect me from the voice channel?
Well, yes it will, and no it won't.
Let us elaborate on this. If you quit the discord application from the taskbar, it will disconnect you from the voice channel you were in.
But let's say you were to open up discord again at another time, in that case what would happen is that the application would automatically connect you to the last voice channel you were in as soon as it starts up.
Some users prefer to use this method, it saves them the hassle of reconnecting manually to their desired voice channel manually.
They could just quit discord while being connected to the voice channel, and then automatically rejoin as soon as they started the Discord application again.
How is Discord Different from TeamSpeak3?
One of the reasons why Discord immediately become popular amongst gamers (and even among teachers and students after Covid hit) was its user-friendly interface.
It is extremely easy to setup a Discord server, not to mention that every user account can create/join up to 100 discord servers! Joining a Discord server even without an invite is really easy as well, just as it should be!
Gamers with low-end computer systems could use this software for communication with friends and teammates during their gaming sessions. But what really closed the deal was the fact that, DISCORD SERVERS ARE FREE TO CREATE AND USE!
A similar, popular voice-communication software in the gamer community "Teamspeak3" really faded into the background after Discord was launched in 2015 (and significantly upgraded in the years after), just because it was complicated to set up.
You could create a teamspeak3 server on your own system, that too for free but, there was a cache. You would have to perform complicated configuration to actually get the server up and working.
And if you don't know anything about port-forwarding or permission groups etc, your only option was to rent a server, or buy it from a hosting provider.
There were different charges for different server locations (prices varied from services to service).
Discord provides you the ease of easily setting up your server in a matter of a few clicks, with multiple data centers to choose from. (Also, the servers are private. Others can only join the server via an invite specific to the server)
So if you live in Europe, you can choose the European region for your server to ensure lag-free communication.
There are more regions for other continents. Asia (India, Singapore), Russia, USA and so on.
Other nice discord features
Discord has many features. From making your own free servers to setting custom key binds/shortcuts for some basic discord tasks, it allows you the freedom to manage your server just the way you want.
Some other Discord features (apart from the ones in the section above) include, full-screen mode.
In order to enter full-screen mode on Discord, you simply have to press the shortcut keys "Command + Shift + F" if you're using Discord on MAC.
If you're using discord on Windows, press the keys "Ctrl + Shift + F" to enter full-screen mode.
If you wish to exit full-screen mode on discord, simply press "Command + Shift + F" (if you're using MAC), and press "Ctrl + Shift + F" if you're using discord on Windows. This will return you to regular discord mode.
We hope this tutorial on exiting a voice channel was helpful and that this article overall helped answer some of the questions you might have had regarding Discord. Let us know if you have any other questions or tutorial requests and we'll do a post about them!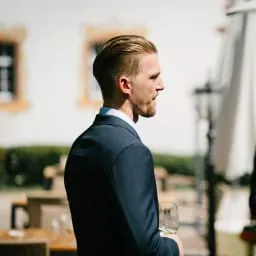 Hey guys! It's me, Marcel, aka Maschi. On MaschiTuts, it's all about tutorials! No matter the topic of the article, the goal always remains the same: Providing you guys with the most in-depth and helpful tutorials!