The popularity of Discord has skyrocketed in recent years due to its ability to provide people will large spaces called servers where they can meet and discuss similar interests.
Discord is one of the best apps on the internet for anime lovers to meet and interact with others who share a love for anime.
For lovers of My Hero Academia, there's an endless list of Discord servers you can join to get the latest news about the anime and manga and have discussions with other MHA enthusiasts. Here's a list of some of the best ones:
1. MY HERO ACADEMIA (Official Discord Partner Server)
https://discord.com/invite/myheroacademia
Where better to start than with the official MHA discord server?
This is the largest and most active MHA server on Discord, with 141,000 members and countless bots active around the clock.
Most of Discord's best and most functional bots can be found on this server.
They are used to regulate interactions between members, schedule posts and announcements, detect and alert admins to abusive behavior, and lots more.
The anime and manga of MHA are still running, so the server is quite active all day with new updates and announcements concerning future releases and installments.
There is also a channel for fans to discuss the latest episodes and chapters of both anime and manga.
Other activities and channels within the server include a role-playing channel, a showcase channel where members can display their MHA merchandise and art, and a sports and shows channel where members can discuss the latest events and trends in the sporting, movie, and anime world.
For ardent MHA fans, the official server is highly recommended as you get all news and updates about MHA frequently.
2. BNHA: Let's Hang Out!
As far as MHA discord servers with under a thousand members go, the "Let's Hang Out" server is one of the most popular and active ones.
This server has 615 members, including two admins and a few moderators.
The server has a music bot that allows all members to listen to the same music or podcast simultaneously.
There are also channels for spoilers and theories about MHA and channels where users can display their MHA artworks and share other pictures and videos.
Other channels include music, other anime, and general discussions. There's also a leaderboard that shows well-performing members in games and role-playing activities.
If you're in search of a less rowdy space than the official MHA server without losing out on important news and updates, then this server is the way to go.
They're also very friendly and welcoming to new members!
3. MY HERO ACADEMIA FANFICTION
https://disboard.org/server/join/812042207389024306
My Hero Academia Fanfiction is a less popular MHA server on Discord than the rest on this list.
Like most other anime servers, it has a diverse group of people and a broad set of functions and daily activities, and what it lacks in membership numbers, it makes up for with quality content.
The server has about 121 active users with ten bots, including popular Discord bots like MEE6, Pokemon Bot, and KaguyaBot.
These bots perform lots of server functions such as welcoming new members to the server, regulating user interactions, and setting notifications and alarms.
The server has organized activities mainly consisting of role-playing, and new members to the server are assigned characters from the MHA universe, which they'll be playing.
Members are also free to share their fanfiction ideas and stories and get feedback from other server members. They also have regular discussions about My Hero Academia and other anime when no other activities are going on.
There are separate channels for welcomes and goodbyes, role-playing, fanfictions, announcements, and Q&A between members and admins.
There are many great things about this server, but what makes it unique is the sense of familiarity among its members due to its small size.
If you're looking for a friend group of MHA lovers over a large community of people in search of news and updates, then this server is your perfect choice.
4. MY HERO ACADEMIA
https://disboard.org/server/688493662564253706
This server might share the same name as the official MHA discord server, but they're very different servers.
Besides the official My Hero Academia server, you won't find many MHA servers with large membership numbers in the thousands.
Most servers contain a few hundred people to make it easier to regulate.
However, this MHA server is one of the larger ones on Discord not affiliated with the official server with 7026 members.
While it's not as packed and active as the official server, this space is arguably the next best thing on Discord in terms of hanging out with a large group of MHA enthusiasts where you can get to share your thoughts on the anime and manga.
This server has four music bots and bots for podcasts, karaoke, announcements, welcomes, games, and lots more.
Besides anime discussions, server members also participate in fun activities like role-playing, online chess, art displays, Q&A sessions, and lots more.
The server is separated into lots of channels for different activities, making it organized and easy to navigate your way around.
If you're searching for a large server like the official one but with less crowd and more organization, this server is the way to go.
5. THE HERO ACADEMY
The Hero Academy is another relatively large server and is quite popular among the Discord anime community. The server has 6253 members with two admins and multiple emotes and bots, which regulate the server around the clock.
This server has a birthday bot that announces users' birthdays to the members In a dedicated birthday channel. There are also channels for member suggestions, giveaways, and announcements.
The discussion channel on the server has specific spaces where members can chat about the manga, MHA anime, sports, and spoilers on MHA and other animes.
There's also a media channel where members can share memes, cosplay costumes, artworks, MHA wallpapers, and lots more.
Like most other popular servers, it also has a music channel and bot where members can listen to the same song simultaneously.
What makes this server stand out from other large servers s its focus on group activities like artwork display, role-playing, games, and giveaways over being focused on MHA discussions.
Although you might not get anime and manga news as quickly as other large servers, If you want a large server with lots of fun activities to keep you busy, then this is the one for you.
6. Anime Soul
Anime Soul isn't a server explicitly dedicated to My Hero Academia; however, it's a server every MHA lover should be a part of.
It's one of the biggest anime servers on Discord, with about 495,000 members.
Frankly, if you're an anime lover, you have to be a part of Anime Soul as the server contains a lot of helpful news and updates about all the popular anime, including MHA.
It also offers you the chance to mingle with other MHA lovers and anime lovers in general.
A server of this size has a lot of bots active all day and admins who regulate server activities.
The server has an official partnership with Twitch, and members take part in gaming contests often and other activities like role-playing, artwork display, and fanfiction.
There are also channels for food, media, tech, as well as sports discussions. Most of the popular animes have their own dedicated channels, and lovers of MHA can find their own space to discuss the anime or manga within the server.
Despite it being a large server, anime soul is very well regulated to make sure all members feel welcomed.
There are bots in place to detect swear words and abusive content against members, which helps keep the server friendly during discourse.
If you are looking for some more exciting servers to join on Discord, here are a couple of suggestions for you: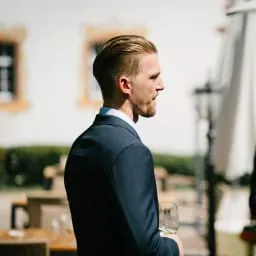 Hey guys! It's me, Marcel, aka Maschi. On MaschiTuts, it's all about tutorials! No matter the topic of the article, the goal always remains the same: Providing you guys with the most in-depth and helpful tutorials!