WordPress is one of the most famous pieces of software of the present generation.
This amazing website creation tool and standalone CMS proves to be fully convenient, while also allowing its users to learn about the basics of website development.
WordPress is by far one of the most used tools for website development.
Stats show that around 64 million websites have been created using WordPress, combined with a 5% rising in its usage almost every day since its production date, which was in 2003, almost 18 years ago!
If you are one of the users who has been just introduced into the world of WordPress and want to create a website for your business but have trouble finding out how to add a back-to-top button into WordPress, then you should continue reading on!
How do you add a back-to-top button in WordPress?
You can easily add a back-to-top button in WordPress by either using a plugin such as "WPFront Scroll Top" or "To-Top plugin" or by adding some custom code. If you are not a coder, installing a back-to-top WordPress plugin will be a much easier and more effective choice.
How to add a Back-to-Top button via a WordPress Plugin
The internet is filled with various types of WordPress plugins that you can use to add a back-to-top button. Options include the WPFront Scroll Top, To-Top plugin, Scroll top.
When you have installed any of these plugins, simply activate them and then that should already do the trick.
After that, you might need to enter the plugin settings to customize the feel and look of the back-to-top button.
Back-to-Top Button Customization
Most back-to-top button settings already come preloaded with their settings. It is your choice if you want to go with the already completed settings or want to customize them on your own. The things that you can customize are as following:
Customizable symbol
You can add a logo that best fits you. There are several logos already available on the WordPress tool, if not, then you can easily download them as well.
Pages of your choice
Many times, the back-to-top button tends to appear on all pages, but you can change this factor by choosing on which specific pages you want the button to appear.
Why you need to add a back-to-top button on WordPress
Adding a back-to-top button into your WordPress website is very important, as it increases the Search Engine Optimization of the website significantly.
You see, the thing is that most websites use long-form, heavy content to add more information to their websites and also improve user traffic.
Now, a user who for the first time has visited your website and is reading through tons of content without having the options to go back to where they were previously, will create a ton of problems for you.
To put it simply, having a back-to-top button will increase the user-friendliness of your WordPress website, which is certainly a good thing, as Google deems this very important.
And what is important to Google, should be important to you as well, unless you don't care about the (financial) success of your website.
This is why it is recommended to add a back-to-top button. It's good practice, it's that simple.
A back-to-top button is a default feature of many WordPress themes
If you don't have a back-to-top button on your WordPress website, chances are that you are using either a very simple or outdated WordPress theme.
So, instead of using a plugin or even creating custom code to solve this problem, changing to a WordPress Premium theme might be yet another good solution for you.
I always go to themeforest.com whenever I need a new WordPress theme.
Another good choice is mythemeshop.com.
Frequently asked questions about back-to-top buttons in WordPress
Does adding a back-to-top button hurt your WordPress website?
In simple words, it does not, it helps your readers in properly getting around your created website. You need this brilliant tool to better shape up your website, especially if your website contains long-end written content. It helps in better SEO traffic of your website as well.
How do you directly jump to the top of the website's page?
The best way to directly go into the top of the page is to use the Home key or the End Key. This method works with many types of browsers such as Firefox, Google, and also Internet Explorer.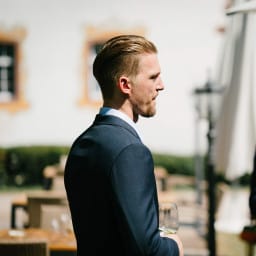 Hey guys! It's me, Marcel, aka Maschi. I earn a full-time income online and on MaschiTuts I gladly share with you guys how I stay on top of the game! I run several highly profitable blogs & websites and love to speak about these project whenever I get a chance to do so. I do this full-time and wholeheartedly. In fact, the moment I stopped working an 8-to-5 job and finally got into online business as a digital entrepreneur, is problably one of the best decisions I ever took in my life. And I would like to make sure that YOU can get on this path as well! Don't let anyone tell you that this can't be done. Sky's the limit, really…as long as you BELIEVE in it! And it all starts right here..at Maschituts!