Ever wonder how certain social media posts have that extra oomph element to them?
Well, if you're up to some learning, better read up and learn about adding borders in Canva.
You'll be surprised that it's possible to add borders not only in one but 4 superb methods!
So, if you're raring to learn all about these 4 methods, scroll down.
How To Add A Border To Canva Designs
There are 4 ways on how you can add borders to your Canva designs. First, you can use squares and rectangles. Second, you can manually add borders through lines. Third, you can search for templates that already feature borders in them. Lastly, you can search for borders through the "Elements" Canva menu.
Detailed Guide On Adding Borders To Your Canva Designs
As mentioned earlier, there are 4 ways on how you can add stunning borders to your Canva designs.
It all depends on what you find as the least time-consuming and simplest to use.
To start with, you'll have to log in to your Canva account and either create a new design or open an existing design file.
Once you've navigated to a blank canvas, here's where the magic happens.
So, buckle up as we'll learn each of the 4 methods mentioned above now.
Squares and Rectangles
Step 1: Go to the left-side Canva menu and click the "Elements" tab.
Step 2: Search for a square or rectangle by typing on the corresponding search bar that appears.
Step 3: Choose the plain-looking square or rectangle in the choices that will appear. Drag the said shape on your project.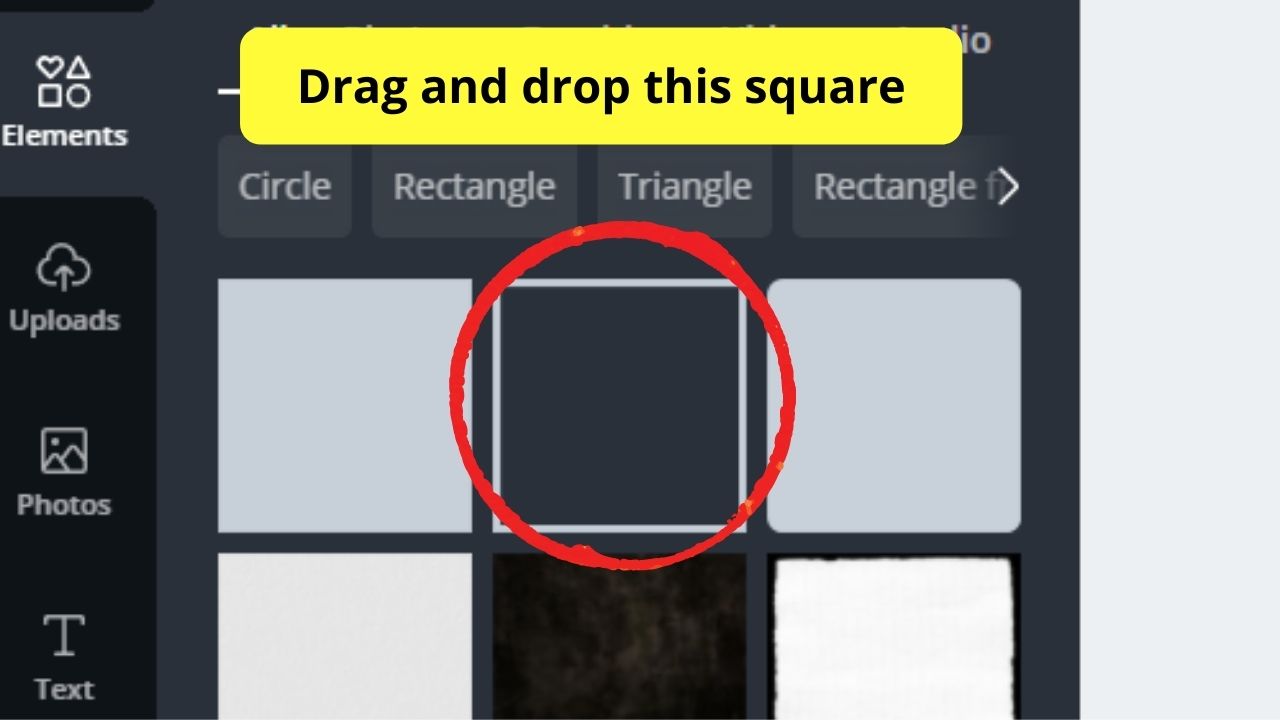 Step 4: Readjust the square or rectangle by dragging the white circles found at the corners. You can also use the white bars in the middle of the square or rectangle to make it stretch up, down, or sideways.
Step 5: If you want to change the color of the shape you're using, click on the colored box on the toolbar. Choose from the colors available in the gallery by tapping on the one you'd like to use.
Pretty easy, right?
But, if you want a more manual method than adding squares or rectangles to your design, you can use lines instead.
Traditional Line Method
Step 1: Go to the left-side Canva menu and tap on "Elements"
Step 2: On the search bar that appears, type in "lines." It will then show you different variations of the lines available in Canva.
Step 3: Choose the line you'd like to use as a border. Drag and drop the line you've chosen for your project.
Step 4: Change the line style by tweaking with the style options found at the toolbar above your editor page. You can tap on "Weight" to adjust the line's thickness or "Style" to change the line type you're using.
Step 5: If you want to adjust only the start or end of the line, you can do so by clicking on "Line start" or "Line end" respectively.
Step 6: Once you're satisfied with the changes you made on your line, make copies of it. Click on the line you've made and press the "Alt" key on your keyboard while dragging downwards. For Mac users, press on "Option" instead.
Step 7: Adjust the lines to make them fit your design. To create vertical lines, click on one of the horizontal lines and rotate it 90 degrees using the rotate handle (it looks like two arrows circling).
Step 8: Position your vertical lines accordingly on where you'd like to place them on your design.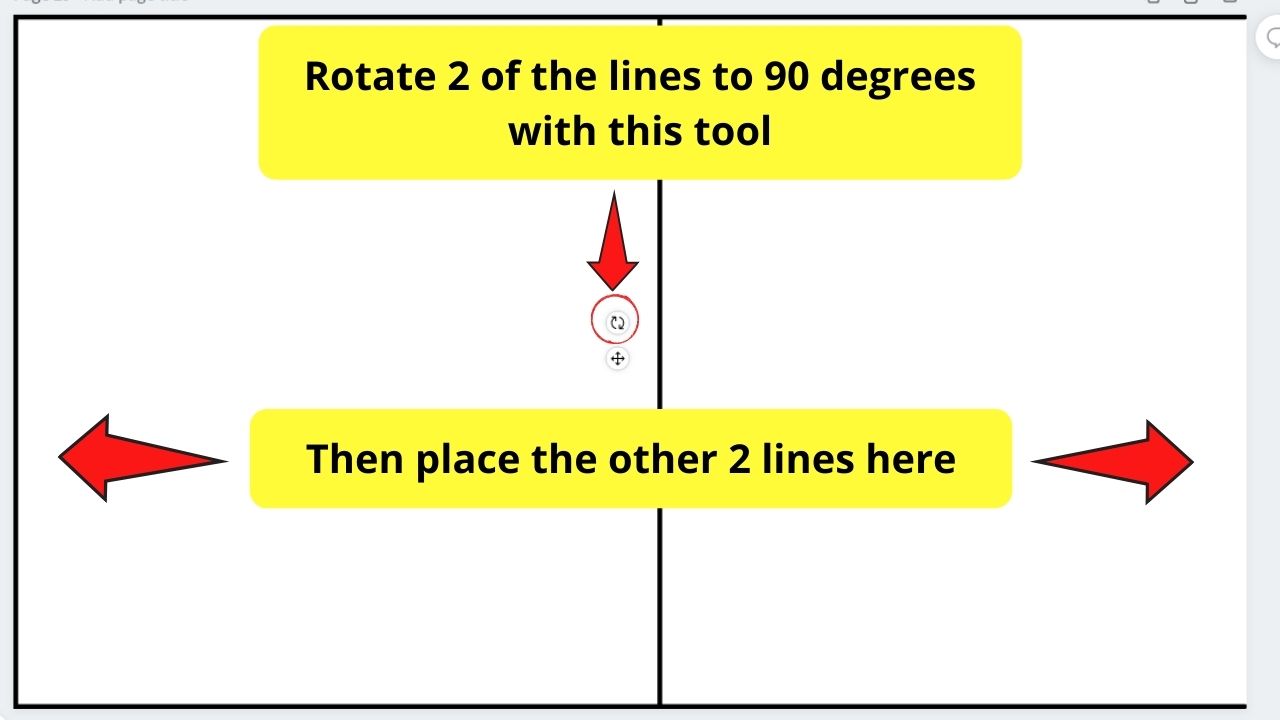 Then, you can change the lines' thickness and color in the same way that was mentioned in the squares/rectangles subsection earlier.
Quite lengthy, right?
But, no matter how labor-intensive this method is, it allows you to have total control as to how your border looks.
Now, if you're just looking for a swift border addition, then the third method might just be the one you're looking for.
Using of Templates
Step 1: On the left-side Canva menu, click on the "Templates" tab.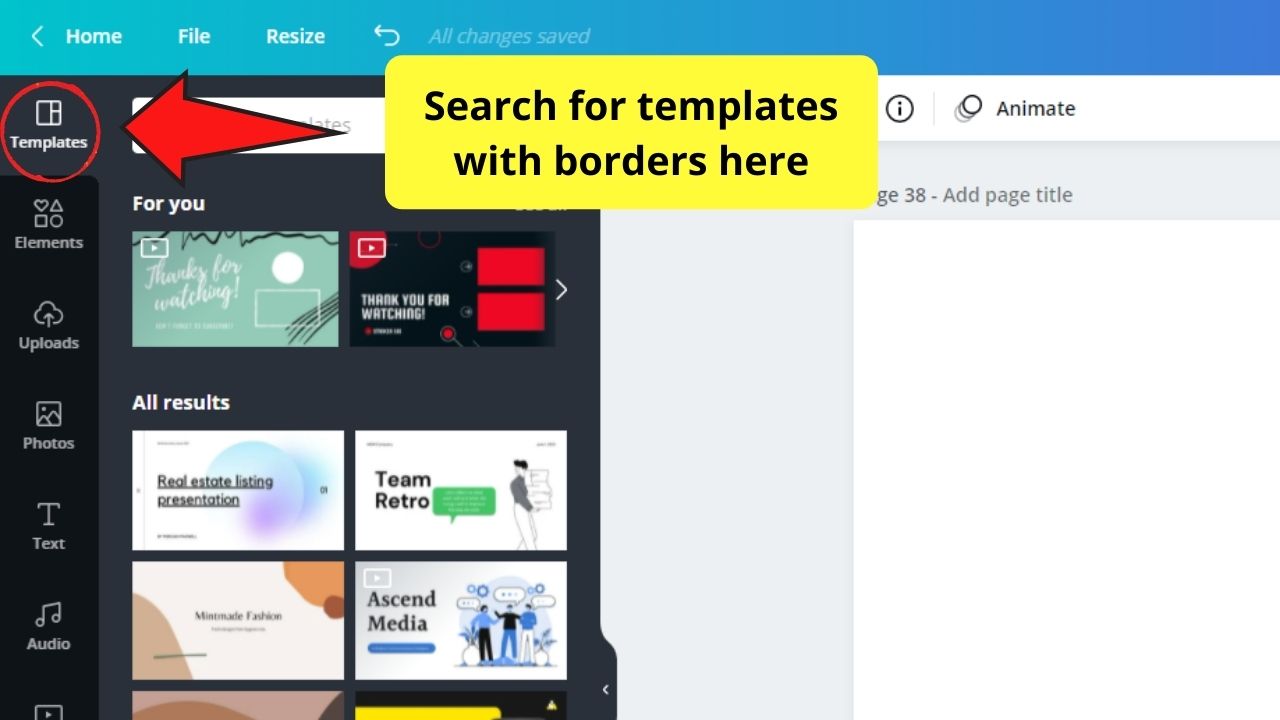 Step 2: On the gallery that appears, search for templates that have borders in them. Continue scrolling down if you haven't found the border type that you want.
Step 3: Once you've found the bordered template you'd like to use, drag and drop the said template to your project.
Step 4: Remove the elements that you won't be using by simply clicking and deleting them manually. This will leave you with the border.
Step 5: Adjust the border by clicking and dragging on the white bars and circles whichever way you want.
Sleek and swift, right?
However, if you want some additional flair on the border you'll use, better head over to the last method below.
Finding Borders in Elements
Step 1: Go to the "Elements" tab on the left-side menu of your Canva screen.
Step 2: On the search bar that appears, type in "borders." A gallery of borders will then appear.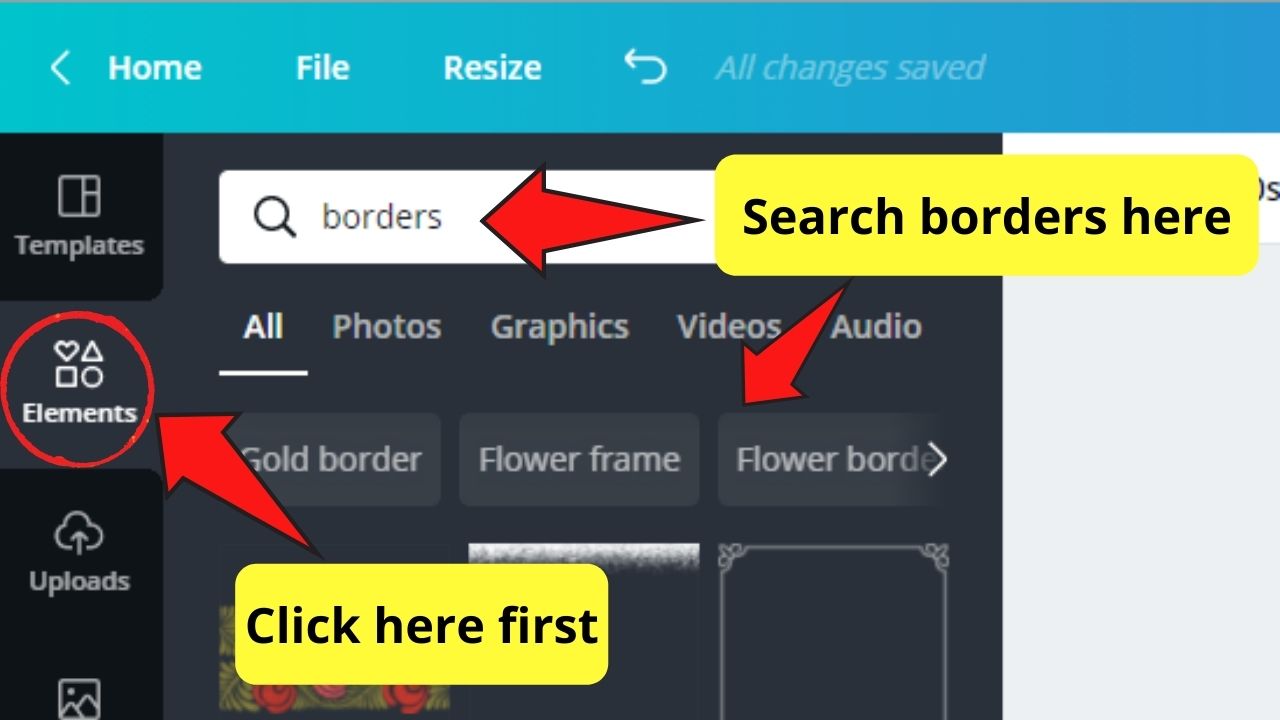 Step 3: Choose what border you'll use by scrolling down to check out the options. Another way to find a border is by tapping the border recommendations found below the search bar.
Step 4: Once you've found the border you'd like to use for your design, simply drop and drag it to your project.
Step 5: Create copies of the border you've chosen by simultaneously pressing the "Alt" or "Option" key on your keyboard and dragging the border design.
Step 6: Rotate the borders using the rotator handle to change their orientation. Once satisfied, position them accordingly on the corners of your design.
Like in other strategies mentioned, you can always change the border colors by clicking on them and tapping the rainbow-colored tile on the toolbar.
Frequently Asked Questions How To Add A Border To Canva Designs
Can you undo the changes you made to your border?
Thanks to Canva's "Undo" option, you can negate the changes you've made on your border. Just click on the left-pointing curved arrow icon to undo what you've done on your design.
Can borders be used to hold photos in them?
Unlike frames and grids, you cannot use borders to hold images inside them. Borders are only used to outline the edges of your design for a more dramatic effect.
Is it possible to use Premium borders for Canva free accounts?
Though you'll have to pay a bit, you can most certainly use Premium borders for your design. You'll just have to purchase those borders you've used first before you can download them on your device.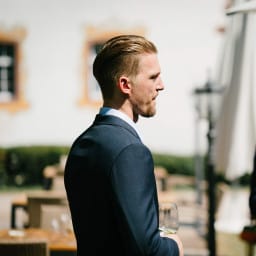 Hey guys! It's me, Marcel, aka Maschi. I earn a full-time income online and on MaschiTuts I gladly share with you guys how I stay on top of the game! I run several highly profitable blogs & websites and love to speak about these project whenever I get a chance to do so. I do this full-time and wholeheartedly. In fact, the moment I stopped working an 8-to-5 job and finally got into online business as a digital entrepreneur, is problably one of the best decisions I ever took in my life. And I would like to make sure that YOU can get on this path as well! Don't let anyone tell you that this can't be done. Sky's the limit, really…as long as you BELIEVE in it! And it all starts right here..at Maschituts!