Once you have installed WordPress on your blog host, it is totally up to you what theme you are going to use.
There are plenty of nice-looking free themes out there for you to install and enjoy.
If you are willing to take some money in your hand, you can also go with a Premium WordPress theme.
The main difference between free and premium WordPress themes
Free WordPress Themes, as the name says, are free of charge. Premium WordPress themes, on the other hand, are themes that you need to pay for (either a one-time fee or a monthly/yearly fee). A good premium WordPress theme usually costs between 50 and 80 dollars.
More differences
Premium themes come with a price tag, we know that now.
But there are surely other differences in terms of functionality & design, right?
Yes, absolutely.
But let us first have a look at what free WordPress themes bring to the table before we will actually break down what Premium themes potentially include (offer).
Free WordPress Themes
First of all, it needs to be mentioned that as far as free WordPress themes go, there is no limitation per se.
That means that free WordPress themes can potentially offer any feature.
In reality, though, free WordPress themes are often pretty basic and don't come with a whole lot of features and customization options (which is not that surprising after all).
However, if you would (first) like to focus almost exclusively on content (which is, by the way, always a great idea), a free theme will probably do.
Also, you can switch to a premium theme at any time. And switching to a premium theme is usually as simple as it gets.
All you need to do to switch from a free theme to a premium theme is to first download the premium theme and install it in your WordPress backend and then you can simply activate the new premium theme.
To activate a new theme, simply head to "Appareance" in your WordPress Dashboard and then select "Themes."
If installed properly, you should find your premium WordPress theme there and can simply activate it from there (hoover over the premium theme and click on activate to do so).
The posts that you have already crafted will simply be imported to work with your new theme.
There can obviously be some conflicts and small problems when switching themes but for the most part, this works pretty well.
Premium WordPress Themes
Premium themes usually offer more customization options than free themes.
Good premium themes will let you change about anything from the comfort of your WordPress dashboard: Performance-enhancing features, header options, footer options, typography settings, social media functions, ad management, options to improve Site Speed & much more.
Moreover, many premium themes come with multiple design templates.
They often offer a "one-click option" to install & switch between different design templates (so-called dummy content).
So, maybe they have a design in pink color, one in green color, one strictly for bloggers, one template that is also including e-commerce pages, and so on and so forth.
This dummy content can usually be installed very quickly (a few clicks are usually sufficient and it usually makes your website look exactly as the premium theme shown in the preview (most premium themes can easily be previewed).
So, chances are that you have seen that a certain premium theme offers exactly the kind of look & feel that you are looking for…
…and then you can just magically "copy" that look by simply installing the dummy content.
Once this ready-made demo-content is installed, you will obviously have to remove certain elements (usually pictures) and replace them with your own media, as the media used in the dummy content is usually copyrighted.
In any case, using a good premium theme will save you tons of time.
And even if you are a programmer, a premium theme might still be the way for you to go because it is obviously much faster to adjust an already existing and awesome theme than starting from scratch!
I think that is something we can all agree to!
So there you go! We got the most important differences between free and Premium WordPress Themes nailed down!
Now, where do you even get a premium WordPress theme?
The best places to purchase premium themes
There are a lot of different places on the internet where you can get some neat premium WordPress themes.
My favorite two places are Themeforest and MyThemeShop.
Themeforest is actually a marketplace for themes. You will find all kinds of themes there.
If you are looking for a beautiful e-commerce theme, a martial arts type of theme, a gardening-themed theme or maybe even a fishing niche theme, chances are that Themeforest got you covered.
MyThemeShop, on the other hand, is a brand that sells themes. I actually love their themes and Maschituts is actually running on a Mythemeshop theme.
On MyThemeShop, you can either buy a single theme for a one-time fee or you can subscribe to their yearly plan and use ALL their themes (they probably have over 100 themes that you can choose from).
I highly recommend MyThemeShop themes because they look beautiful, load fast, offer tons of customization options.
Moreover, MyThemeShop support is pretty amazing.
Are premium themes even worth it?
Hell, yea. They are so worth it!
Think about it. Premium themes usually cost you around 50 bucks.
What you get for 50 bucks is truly amazing: Endless customization options, a theme that usually looks good on all devices (responsive design) even support.
Well, ok. In some cases you will need to pay some more cash (yearly) in order to benefit from future updates. But still, I feel like that money is just so well invested.
At least if you are serious about blogging, you should absolutely go for a premium theme. It will make your life so much easier and your website so much prettier.
But does that mean that you need to purchase a premium theme from the get go?
Not at all. You can actually start with a free theme and then later just switch to a premium theme. That's the true beauty of WordPress!
Just always remember to remove WordPress themes from your website that are no longer needed, so to save storage space and resources.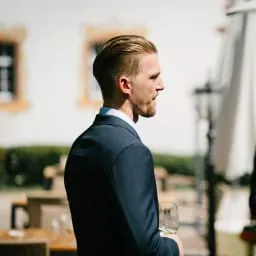 Hey guys! It's me, Marcel, aka Maschi. On MaschiTuts, it's all about tutorials! No matter the topic of the article, the goal always remains the same: Providing you guys with the most in-depth and helpful tutorials!