Premiere Pro is probably one of the most popular and also one of the most professional video editing programs out there.
That's supposed to be good, right?
Well, sort of.
On the one hand, as we are dealing with professional video software here, almost anything can be done on Premiere Pro.
On the other hand, as we have thousands of functions, options and workflows that we need to master when using Premiere Pro, even the simplest things can seem super difficult in PP.
So, even a simple question such as how can you change the level of Audio in Premiere Pro can cause us some issues.
But don't worry. Maschituts got your back!
How to Change the Volume of Audio in Premiere Pro?
There are a couple of ways you can adjust the audio volume in Premiere Pro. Probably the two easiest ways to do so are using the Audio Track Mixer or the Audio Clip Mixer.
Change the volume of audio in the Audio Track Mixer
In Premiere Pro, you are usually working on different audio tracks.
On audio track 1, you might have your voiceover.
On audio track 2, you probably have your background music.
ON audio track 3, you might want to add some special audio effects.
Now, Premiere Pro let's you adjust the volume for each of these audio tracks individually.
To do just that, within Premiere Pro, go to "Window" and then click on Audio Track Mixer.
You will now see your different audio tracks. If you followed the example as outlined above (track 1 for voiceover, etc.), you can now simply change the volume for each individual audio track by using the fader (each audio track has its own fader).
Please note that if you do indeed change the volume for an audio track, every audio clip that you will insert to this audio track will inherit the volume of the the audio track.
Change the volume of audio in the Audio Clip Mixer
Instead of changing the volume in the Audio Track Mixer, you can also change the volume for every audio clip individually.
To do so, go to "Window" and then select "Audio Clip Mixer."
The Audio clips represent the individual clips that you see in your timeline.
Imagine you have an audio file that is called voiceover.wav.
To make use of this audio file, you will first drag it into your Project folder.
Then, you will want to drag & drop this file onto one of your audio tracks. That could basically be any audio track.
Once you have done that, you will see your audio file in the form of an audio clip.
And now within the audio clip mixer, you can adjust the volume of this very clip.
And in the same fashion, you can adjust the volume of any audio clip that you have in your timeline.
One thing that is important to understand is that the audio level of your audio clip will only be reflected when your audio is playing.
That means that the playhead needs to be on the audio clip in question in order for you to see the actual audio level that your clip is playing at.
Change the Master Track Volume
Last but not least, you can also change the volume of the so-called Master Track.
The master audio track is an audio track that is always in the timeline. You won't need to add this master audio track.
It will just be there as soon as you start working on your project in Premiere Pro.
Now, it is important to understand that changing the volume of the audio master track will affect all audio material, both all audio clips and all audio tracks.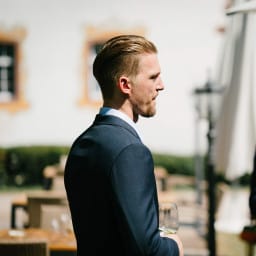 Hey guys! It's me, Marcel, aka Maschi. I earn a full-time income online and on MaschiTuts I gladly share with you guys how I stay on top of the game! I run several highly profitable blogs & websites and love to speak about these project whenever I get a chance to do so. I do this full-time and wholeheartedly. In fact, the moment I stopped working an 8-to-5 job and finally got into online business as a digital entrepreneur, is problably one of the best decisions I ever took in my life. And I would like to make sure that YOU can get on this path as well! Don't let anyone tell you that this can't be done. Sky's the limit, really…as long as you BELIEVE in it! And it all starts right here..at Maschituts!