Canva was created in Australia by Cliff Obrecht, Cameron Adams and Melanie Perkins. In the first year of its creation, it had more than 700,000 users, and the number keeps increasing.
This platform offers easy to use tools to create designs, presentations, posters, and visual content. There are templates for users who don't have much design experience.
Canva is free of cost. Well, at least the basic version is. There is also a Premium Version of Canva. It costs about 10 bucks a month (well worth the money!).
Canva was designed to offer an easy alternative to their users. The developers behind Canva have made it easy for professionals and first time users to add features such as hyperlinks to their projects.
Let's discuss how to use hyperlinks on Canva.
How to Use Hyperlinks on Canva?
You might want to add hyperlinks if you are creating a presentation or some other informative project. You can add a hyperlink to your text, pictures, or videos. Select the text you want to add a hyperlink to, click on link editor in the toolbar, type or paste the URL and click apply. Now you can simply click on linked text or picture and go directly to the linked website.
Step-by-Step Guide to Adding Hyperlinks in Canva
Here is a guide to how to add the hyperlinks in Canva:
Step 1: Open or create a design.
Step 2: Click on the element or text you want to add a hyperlink to.
Step 3: Click on the link icon on the toolbar.
Step 4: Paste or type the website URL that you want to link.
Step 5: Click on Apply to save.
Once you have added the hyperlink, you should download your design as a PDF. Only PDFs will let visitors click on the hyperlink you added.
One element can only have one hyperlink. If you want to add multiple hyperlinks for multiple lines, you must create a separate element for each of the links.
If you want to edit the hyperlink, click on the element that is hyperlinked and follow the same steps mentioned above.
Various Categories of Hyperlinks
There are a number of hyperlinks that you can add to your document using Canva.
Image hyperlink guides your subscriber to move to a new article by clicking on the image provided.
Not every platform allows you to add a hyperlink to images, but Canva does.
Text hyperlink is a form of hyperlink in which you use an expression or phrase to guide a reader to a new article. It is among the easiest ways to advertise websites.
A hyperlink that helps the subscriber to send you messages via an e-mail is called an e-mail hyperlink. You can add an e-mail hyperlink to your resume or portfolio using Canva as well.
This allows individuals to easily send you e-mails as they will not have to search for your e-mail address.
They will open your document and simply click on the e-mail address you mentioned. They will be directed to the mailbox.
How to Add Hyperlink to an Image?
You will need to pick an image you would like to hyperlink.
Upload the product image you want to add to your PDF. You can select "upload your images" that is available on the left-hand side of the page.
Select the image.
Choose link from the toolbar.
Paste the URL. Click apply.
Now you have an image that has a clickable link to your or some other website.
Hyperlink in the Footer
There are documents in which you want to add a hyperlink in footer. Adding a hyperlink in the footer will allow visitors to access your website whenever they want to regardless of the page they are on.
In earlier versions of Canva, you had to add the hyperlink manually on each footer. But now it has been updated.
You just add a hyperlink in one of the footers, and Canva will automatically detect it and add it to the rest of the pages.
Likewise, you can add a hyperlink to your e-mail address in the footer. Add the address on one page, and Canva will do the rest for you. It allows your audience to send over a message straight to your inbox.
Usefulness of Adding Hyperlinks
Adding a hyperlink to your document has huge advantages. You can add link to your website or other resources in your PDF that you can give to your fans or subscribers.
You can also add links to your social media accounts on your resume, if the position requires it.
If you have a contract with a client, you can add additional information to your agreement by placing a strategic hyperlink some place in the document.
For example, you wanted to add information about a particular project in history.Rather than writing about the project, simply choose a word from your contract and hyperlink it to the website talking about the project.
Another thing you can do is add a purchase link at the end of your portfolio.
For example, you have a website where you sell interior products. Instead of telling about it to everyone, do a simple step.
Create a portfolio in Canva and add the link to your website. This way, everyone can easily reach your website. This is undoubtedly a good marketing trick you must adopt.
Frequently Asked Questions about Hyperlinks in Canva
Do you need to pay to use hyperlink feature in Canva?
You do not have to pay for using the hyperlink feature. It is free of cost, and you must only have an account on Canva to use it. Making an account is also free.
Does the clickable hyperlink work for JPGs?
You need to know that clickable hyperlinks only work for PDFs. It does not work for JPGs or PNGs. Therefore, it is important to remember that you need to save and download your design as a PDF to access the hyperlink.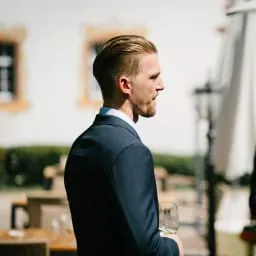 Hey guys! It's me, Marcel, aka Maschi. On MaschiTuts, it's all about tutorials! No matter the topic of the article, the goal always remains the same: Providing you guys with the most in-depth and helpful tutorials!