I've got a ton of things to do today, and I don't know where to start!
Oops, hold your horses over there! Maybe all you need is to create some sort of a checklist to guide you on what tasks you ought to do next.
Yet, how can you exactly create a checklist? Well, if you're a Canva user, you won't have to worry.
Canva's such a great graphic design tool that you don't need to become an expert to be able to use it.
Hence, all you need to do is hold that checklist design idea in mind and allow Canva to help you turn that into a reality.
How to Make a Checklist in Canva
Canva makes it easy to create checklists as it features several checklist templates that you can use and edit to your liking. You can also build your checklist from the ground up by starting from a blank template and by choosing fitting elements from Canva's vast photos & elements library.
Creating Checklists in Canva: 2 Methods
As mentioned earlier, there are 2 ways on how you can approach creating a checklist in Canva.
If you just want a quick designing process, then starting with a pre-made Canva template will do good for you.
Creating Canva Checklists from Pre-made Templates
Step 1: On Canva's home page, head to the search bar and type in it "checklist."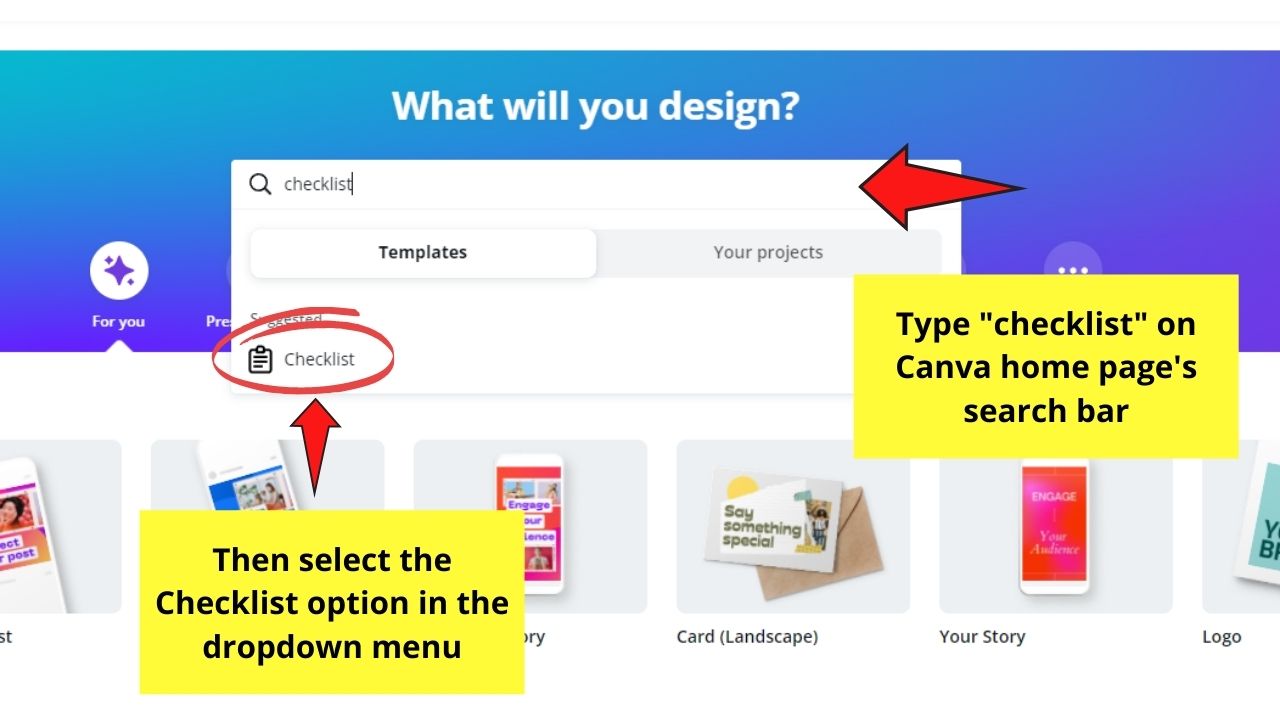 Then, select the Checklist option in the dropdown menu. This step will then lead you to the Canva checklist design gallery.
Step 2: Browse through the checklist template designs available. Once you've selected what you'll use, click on the design thumbnail.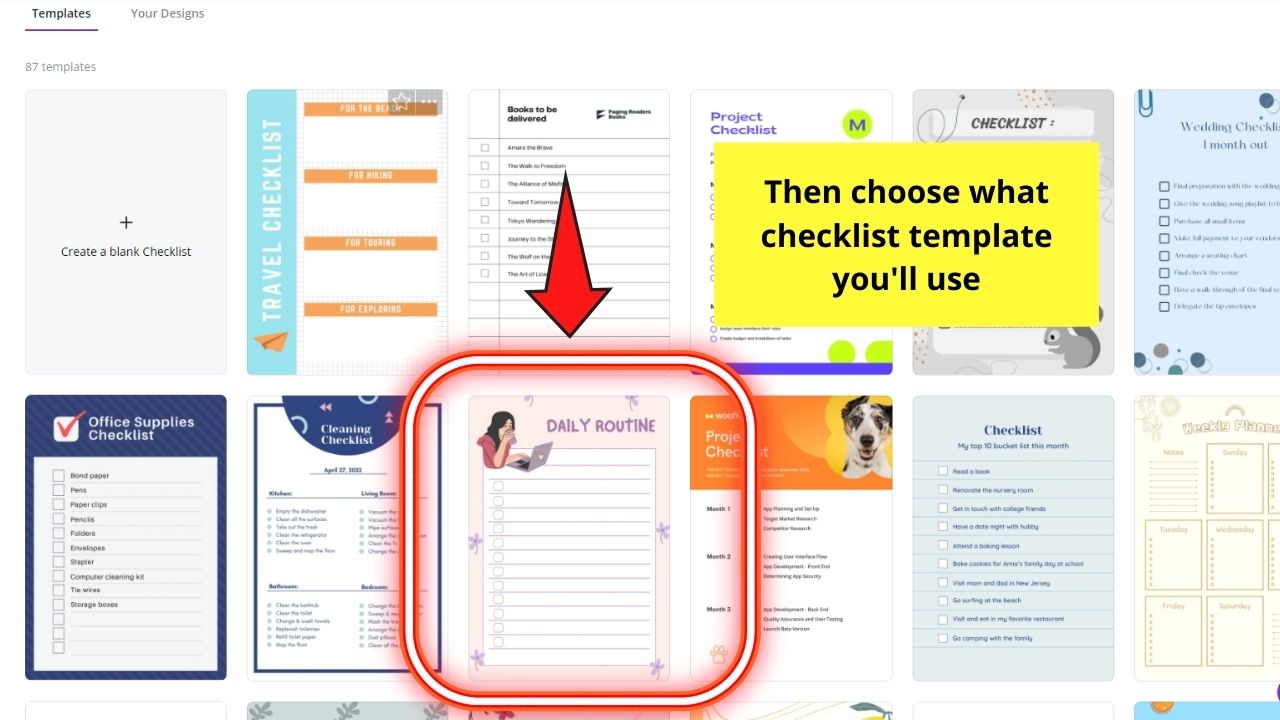 Step 3: On the editor page, begin changing the titles as well as the other design elements on the checklist template.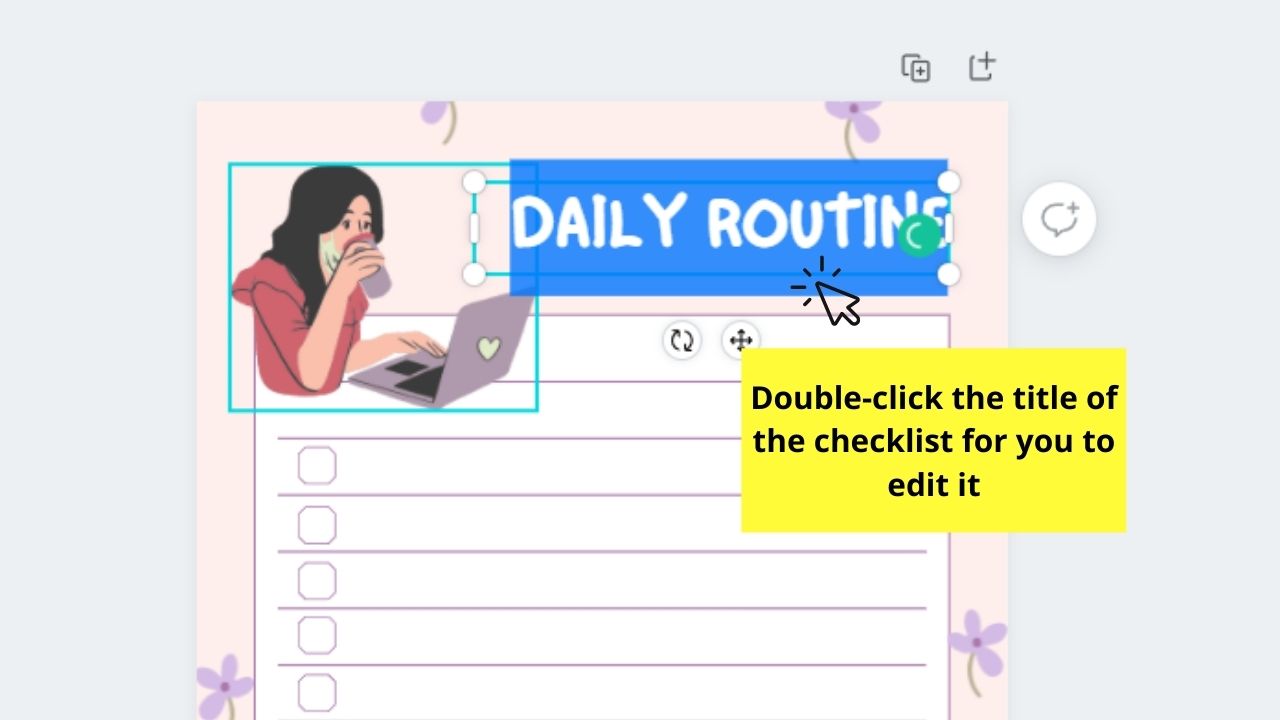 To start, edit out the main title of the checklist by double-clicking on it. You can now then type in the title that you want.
After which, change the font style, size, and color by selecting the text first and clicking on the appropriate buttons in the editor toolbar.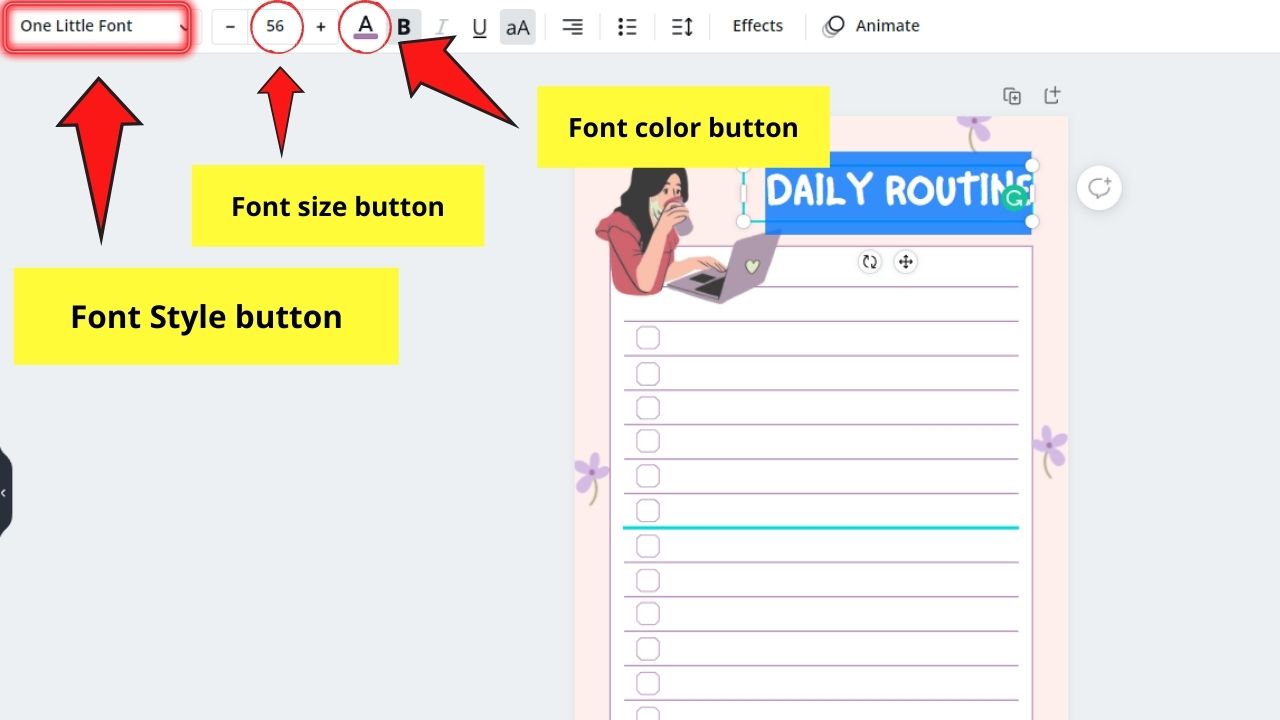 Do this to all the text components on the design.
Step 4: After editing the text part of the checklist, it's time to tackle the graphic elements found on the design.
Delete all the unwanted elements added to it and leave out those that you want to use. Do this step by highlighting those elements pressing Delete on the keyboard.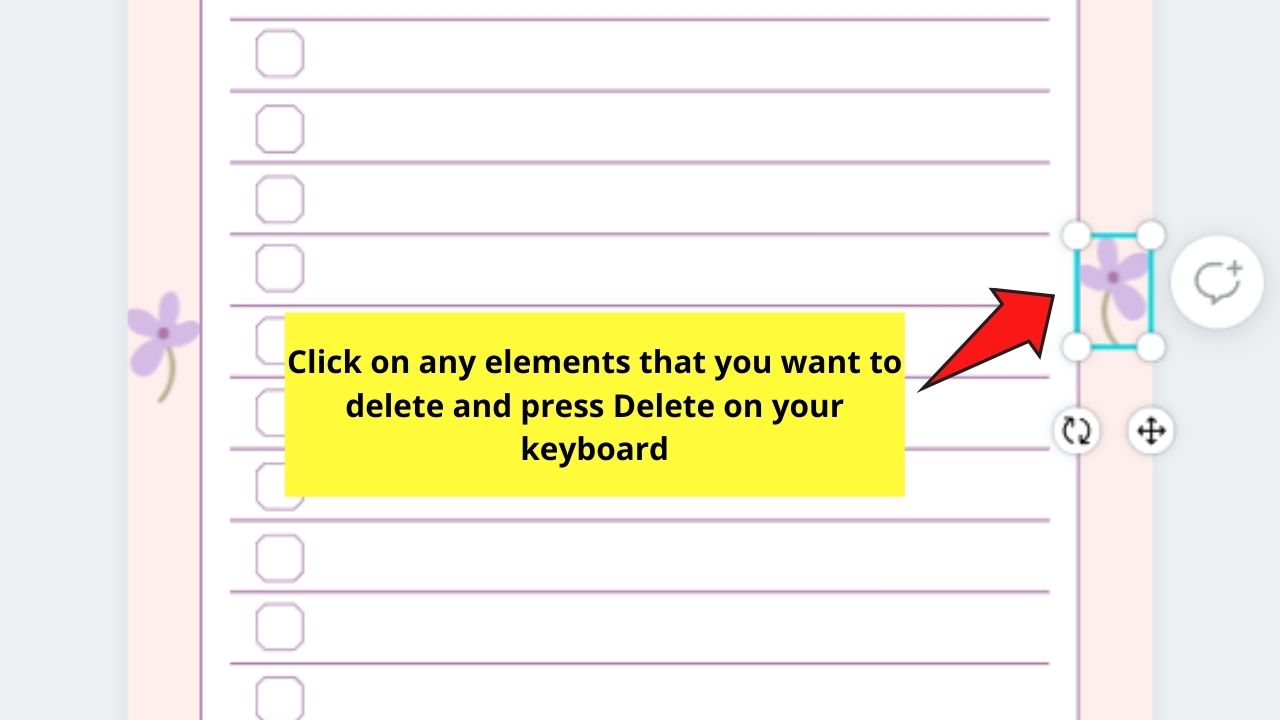 Step 5: Once you've removed all unwanted design elements, add some that you want to your project. Just head to the Elements tab on the left side panel and select from the various graphic elements available.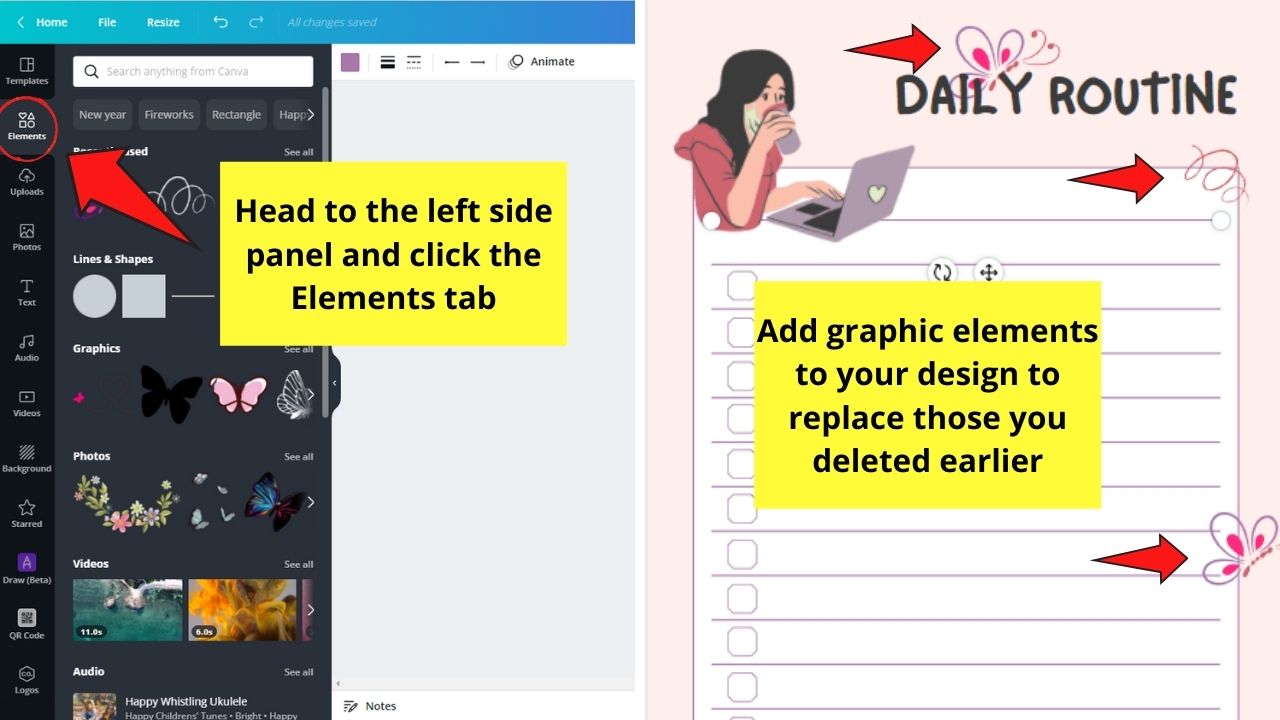 Step 6: Edit out the text beside the checkboxes if there's a need to. Just double-click on the text box for you to type in the new message on it.
Continue doing this step until you've swapped out all the text on the checklist items.
Step 7: If you don't like the color of your checklist's background, just select it and click the color picker tile on the editor toolbar.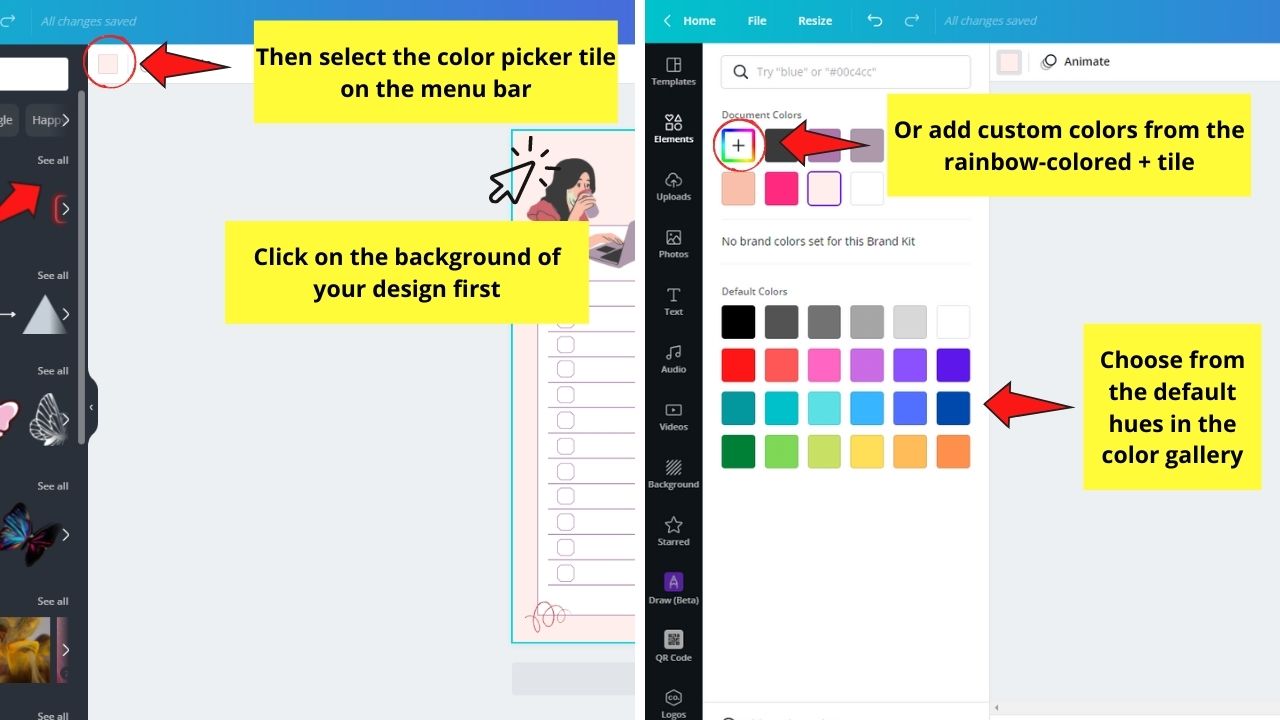 Choose what hue you'll use by selecting from the default color category or add a new one by clicking the rainbow-colored + tile.
Step 8: And, once you're satisfied with the design, click the Download button and select the file type before exporting your design.
Now, if you want to be more original, then perhaps creating checklists from a blank template works for you.
Creating Canva Checklists from Blank Templates
Step 1: After you create a new design file by choosing to start with a blank template, start by creating checkboxes.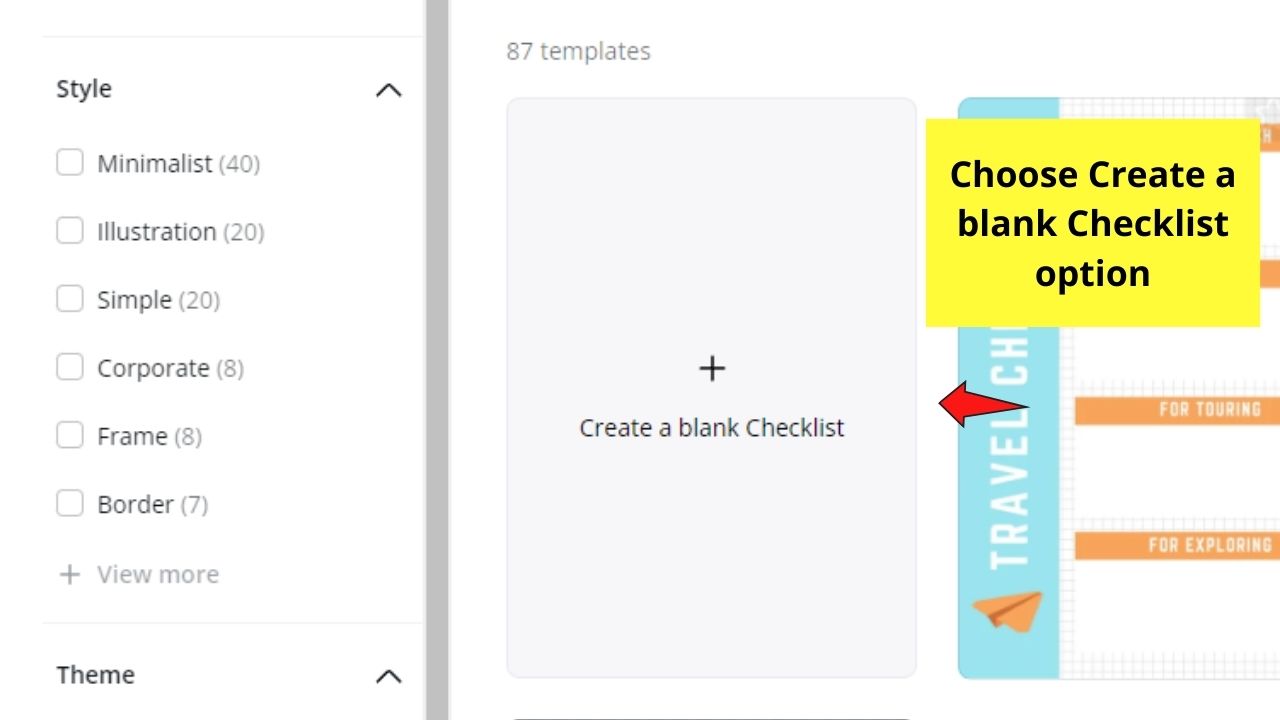 You can do this by heading to the Elements tab on the left side panel of the editor page.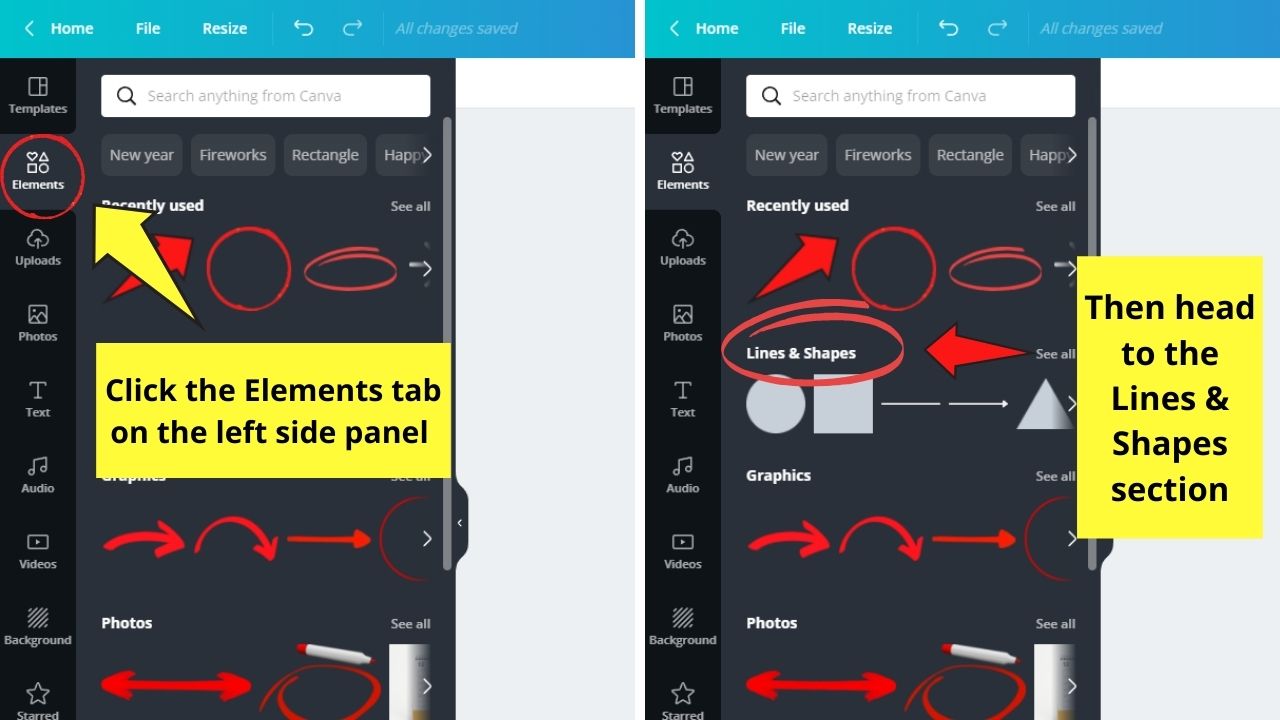 Then, go to the Lines & Shapes section and select the square shape.
Step 2: Edit the square shape by changing its colors.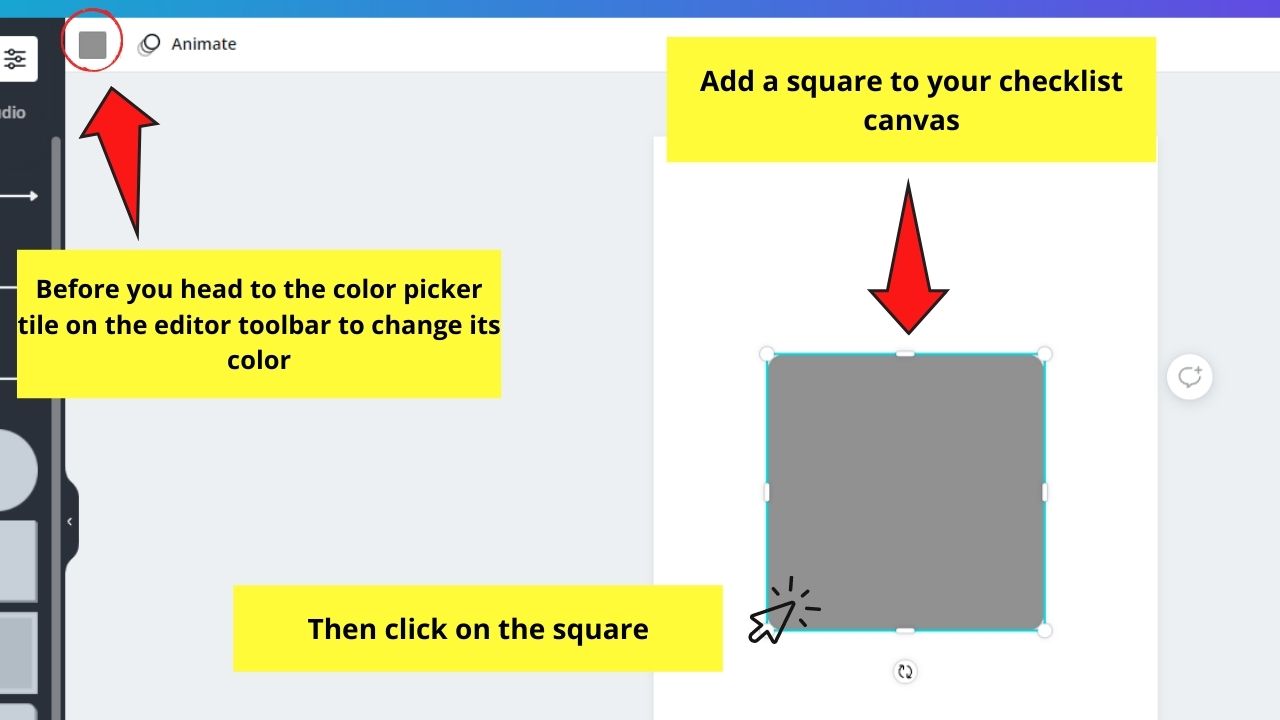 Click on the square and edit its color fill by selecting the color picker tile on the editor toolbar.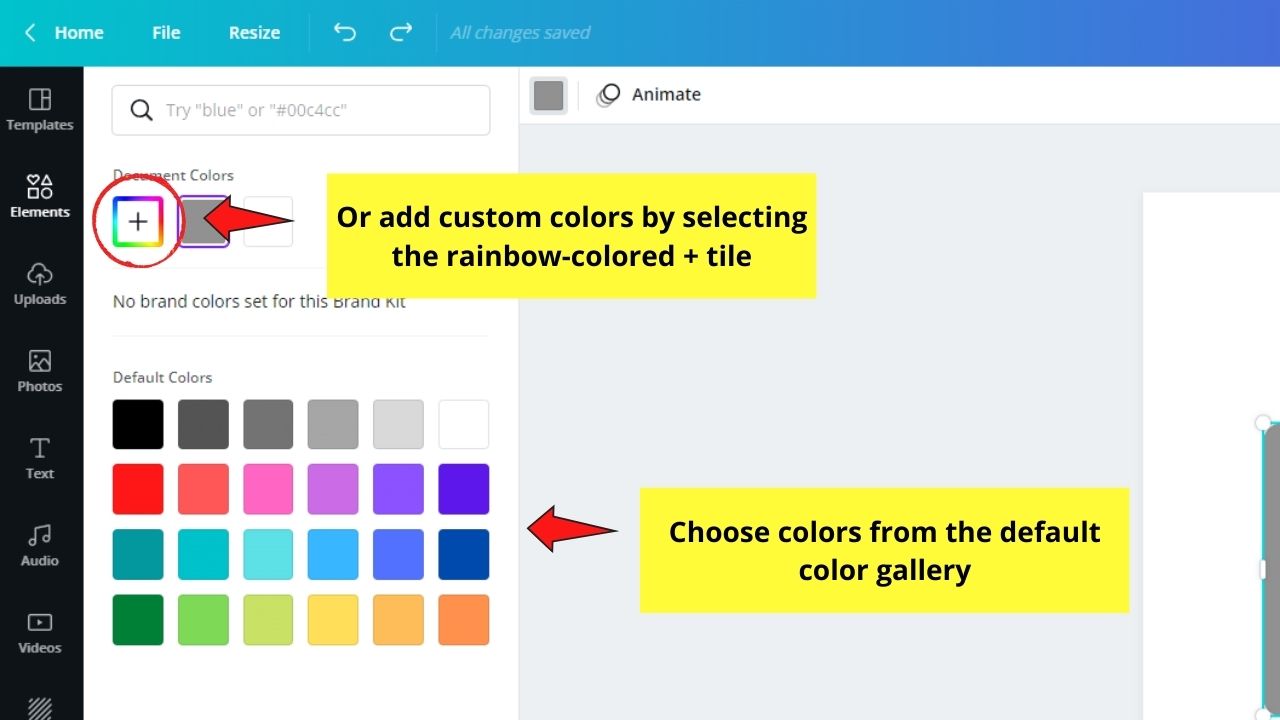 From there, you can select from a wide variety of default colors or add custom ones through the rainbow-colored + tile.
You can go ahead with adding borders to the square for a more professional look, but you can skip this step if you opt for something simple.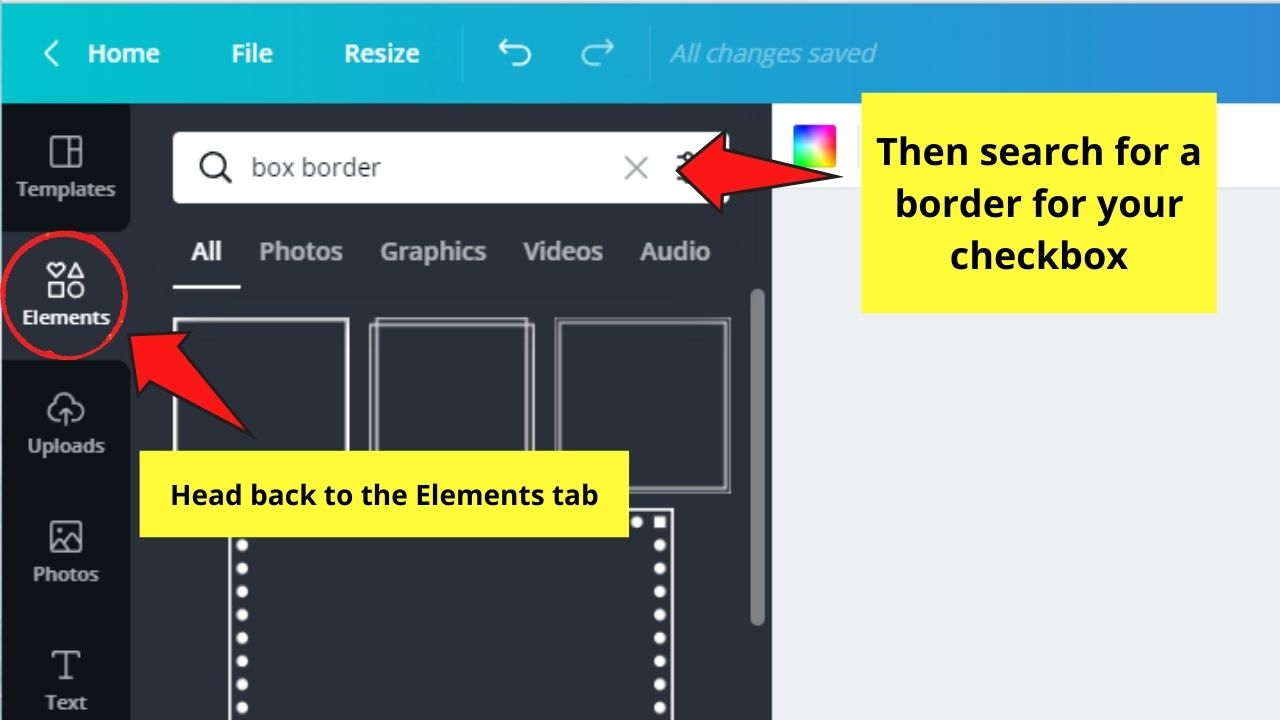 Step 3: Now, add the lines that will allow you to write off the checklist items.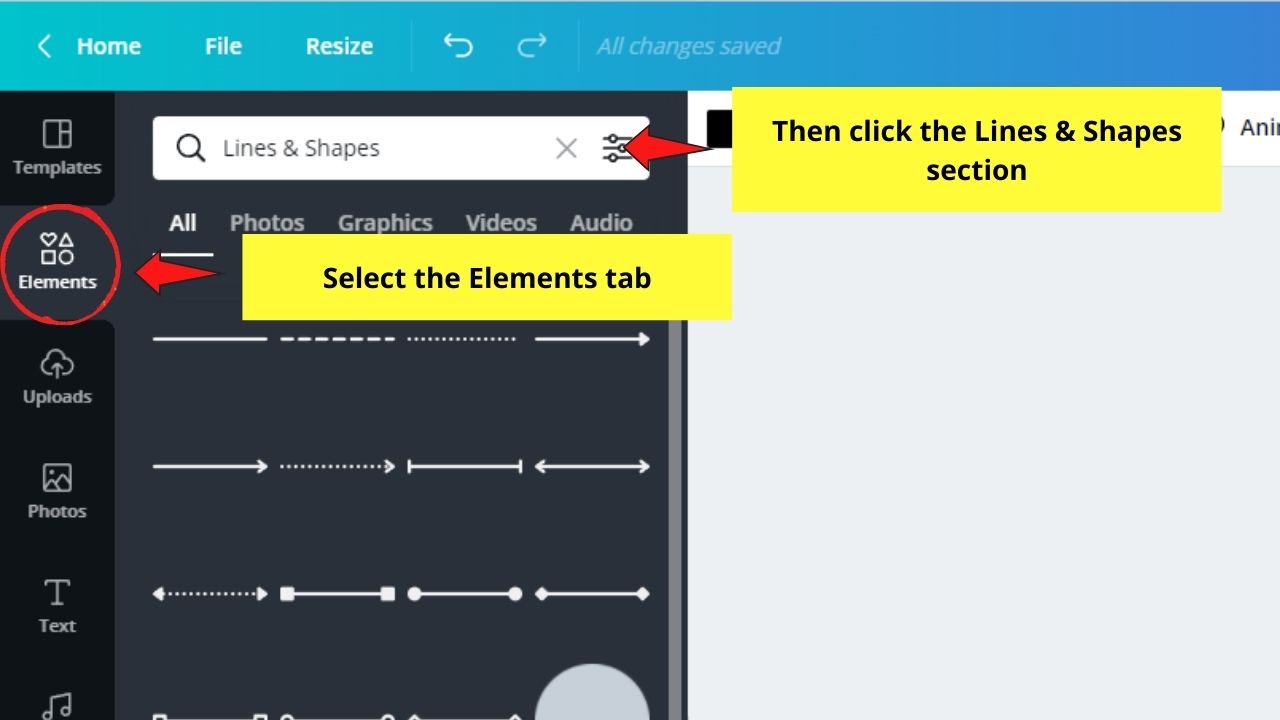 Head again to the Elements tab and go straight to the Lines & Shapes section. Then, choose what line type you'll use for your checklist.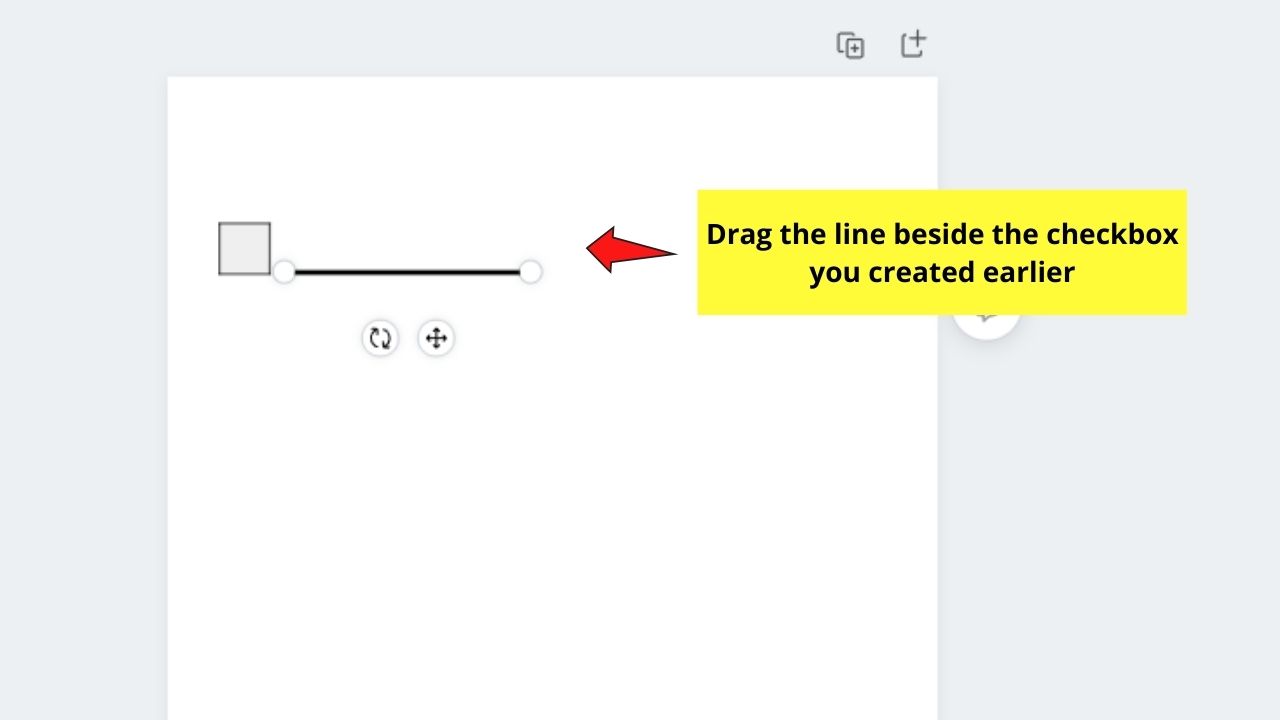 Click and drag that line style and place it beside the square you added earlier.
Step 4: Adjust the look of the line by editing its weight and length accordingly.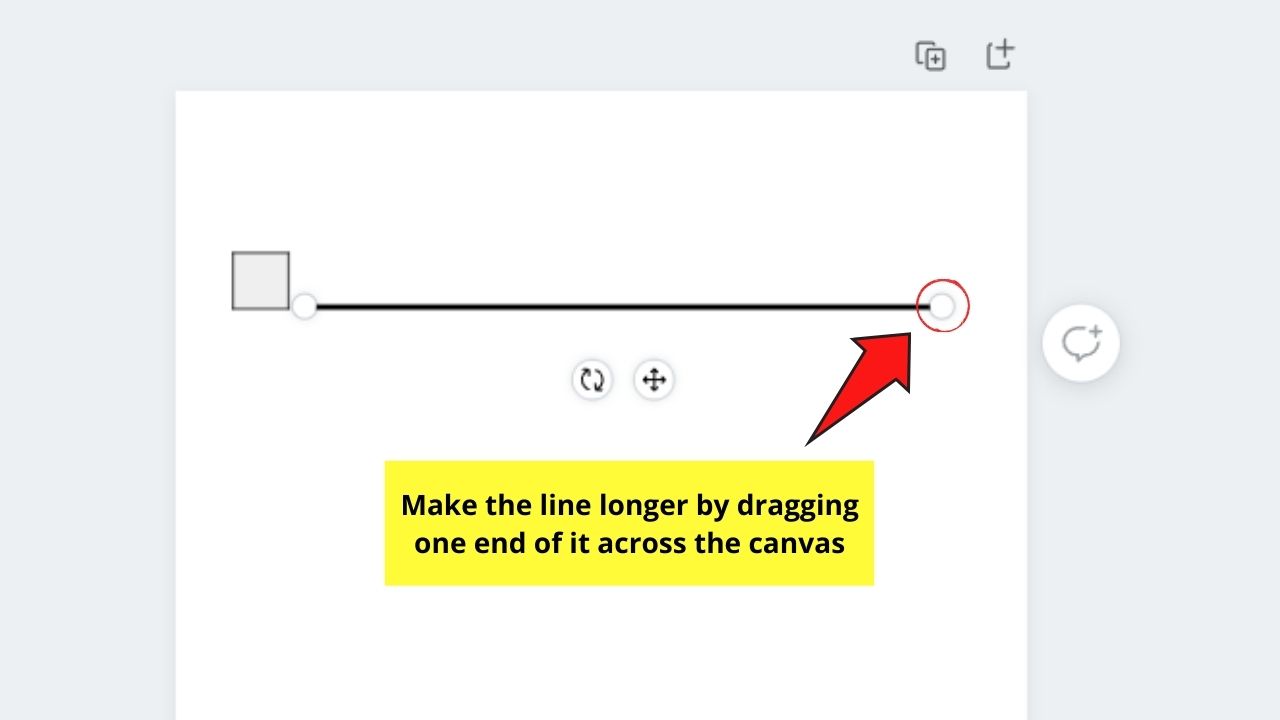 Click and drag one end of the line to adjust its length.
Once you get the line length that you want, select the line again and head to the Weight button on the editor toolbar.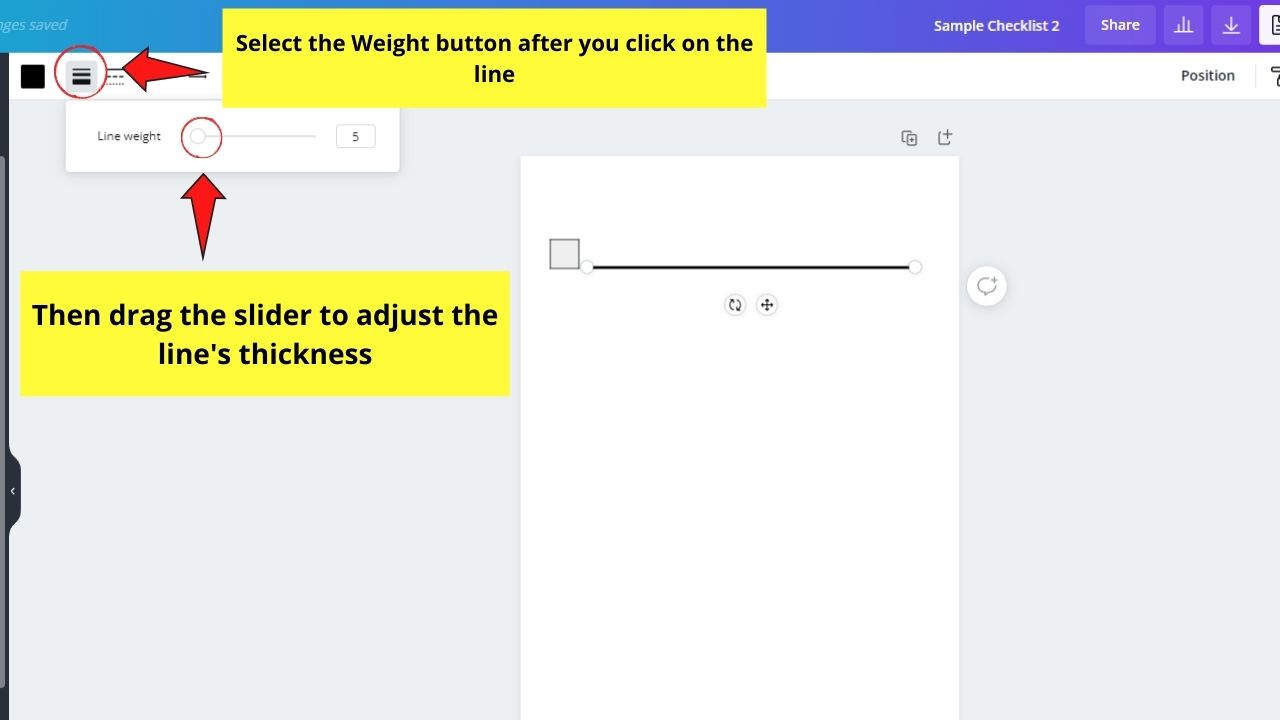 From there, drag the slider to adjust the line's thickness. Keep on dragging the slider until you reach the look you want.
You can read about How to Draw Lines in Canva for you to have a better idea of how you can go about editing lines in the tool.
Step 5: After creating your checkbox and its corresponding line, group them so you can move them as a single unit.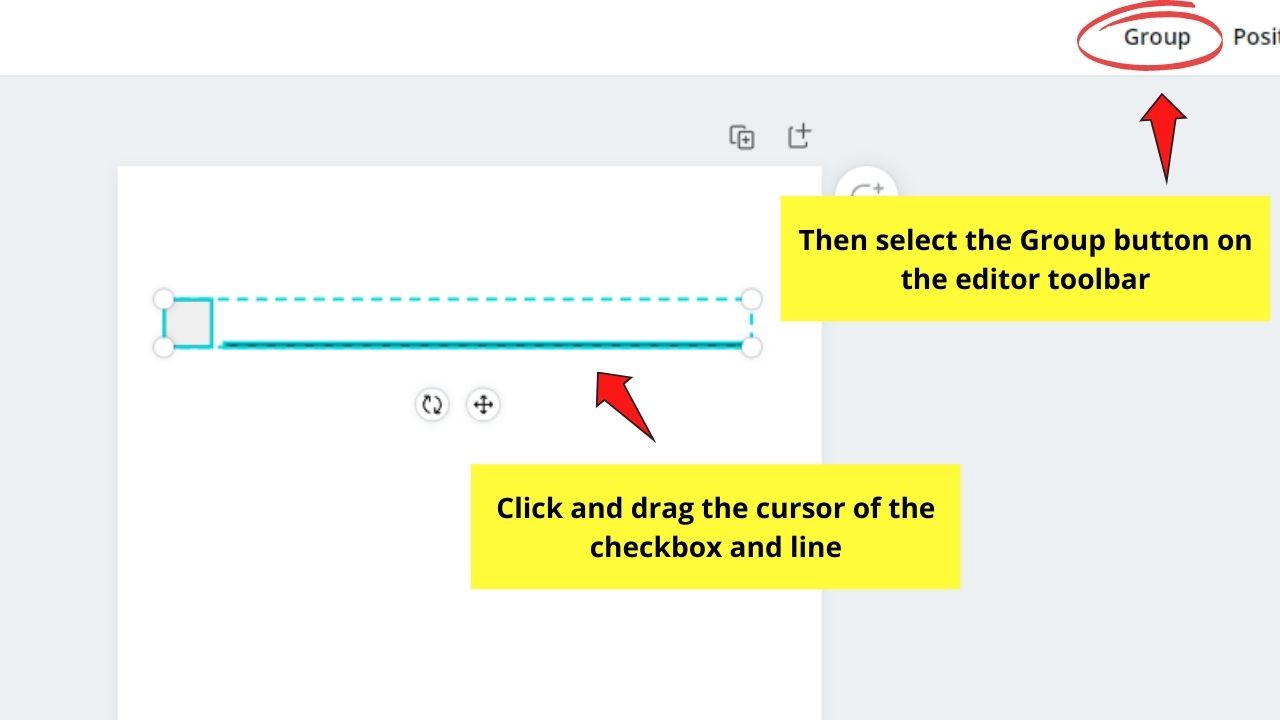 Click and drag the cursor over the checkbox and the line to highlight them before you select the Group button.
You can also press Ctrl + G together on your keyboard to activate the same function.
Step 6: If you want to add text beside the checkbox, press T on your keyboard and position the text box above the line but beside the checkbox.
Edit the text accordingly first before you proceed with grouping the elements.
Step 7: After grouping those elements, you can now duplicate them.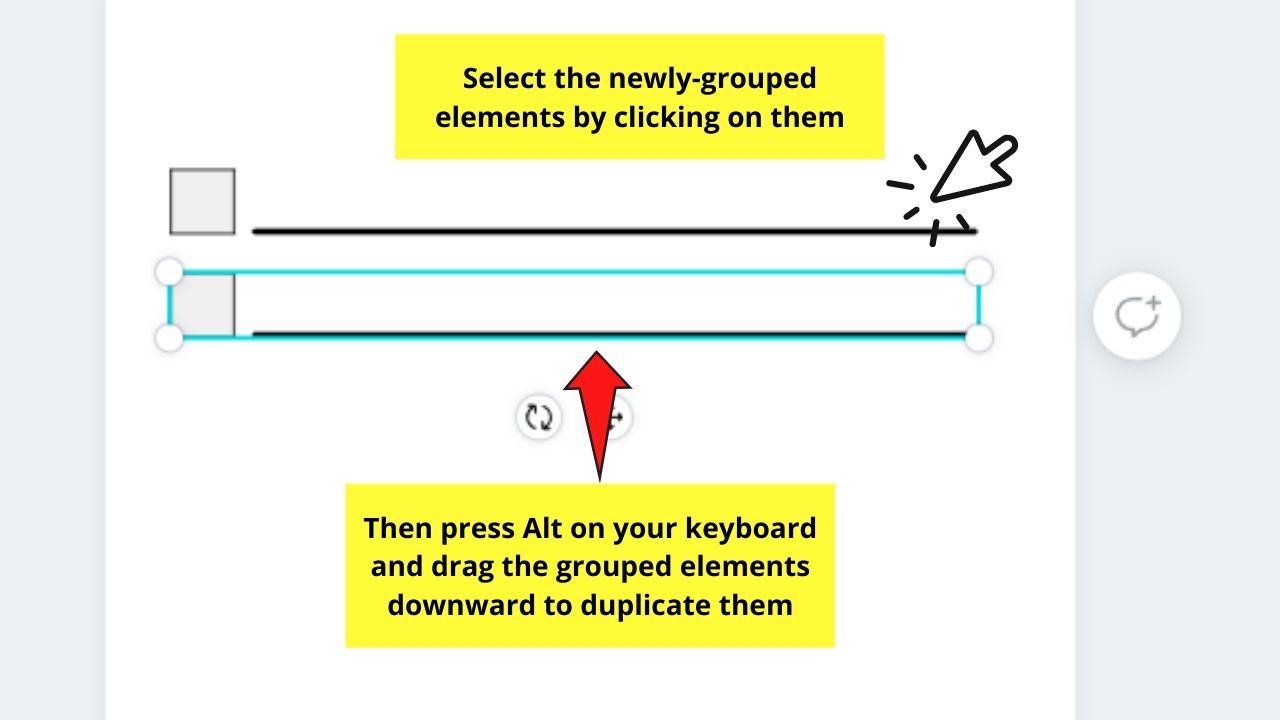 To do this step, select the newly-grouped checkbox and line before you press the Alt key and drag them downwards.
Continue with this step until you achieved the number of checklist items.
Step 8: Once you've quickly copied those items across the canvas, select them and choose the Position button.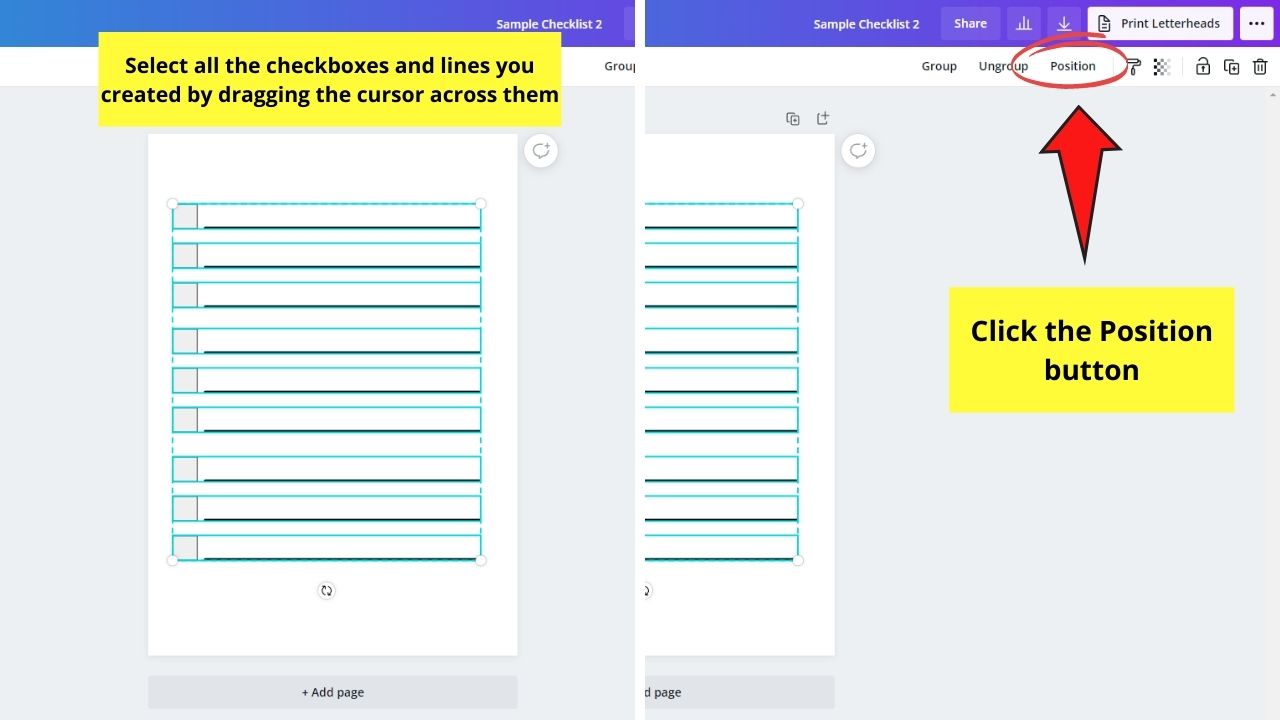 Then, select the Tidy up option so Canva will automatically align those checkboxes and lines you've created.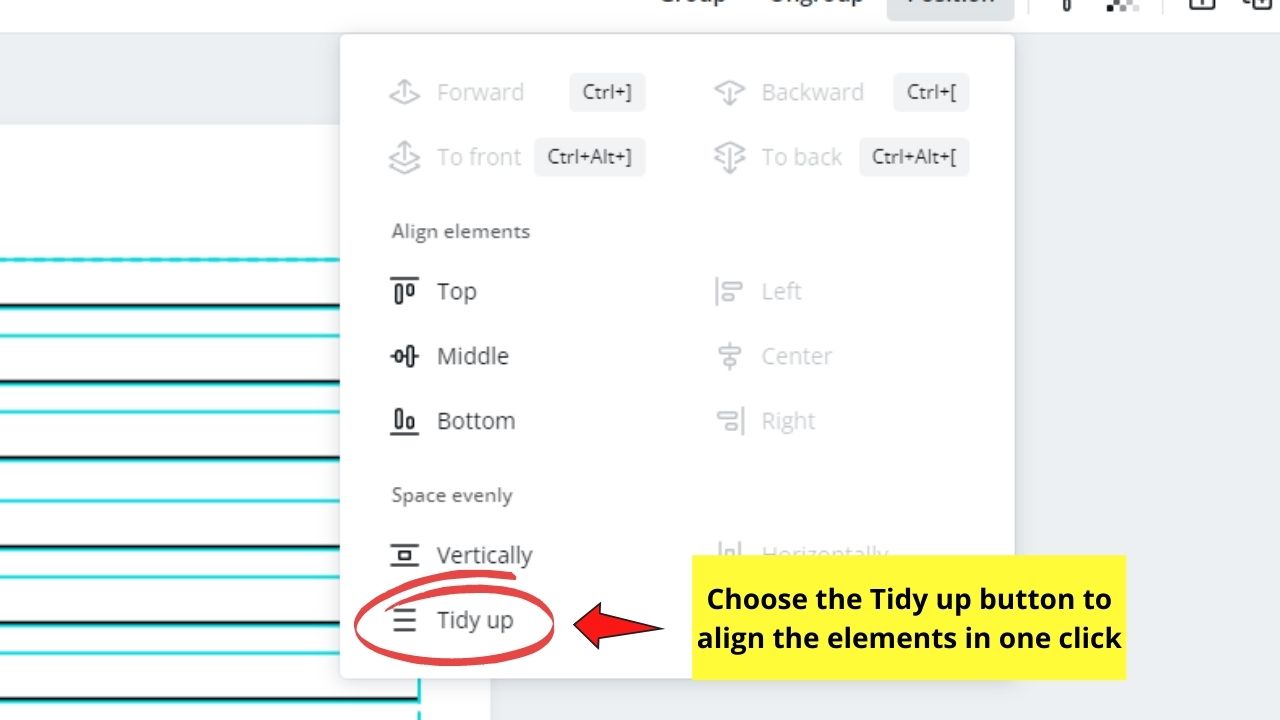 Step 9: Add a title to your checklist by pressing T on your keyboard. This move will add a textbox to your project.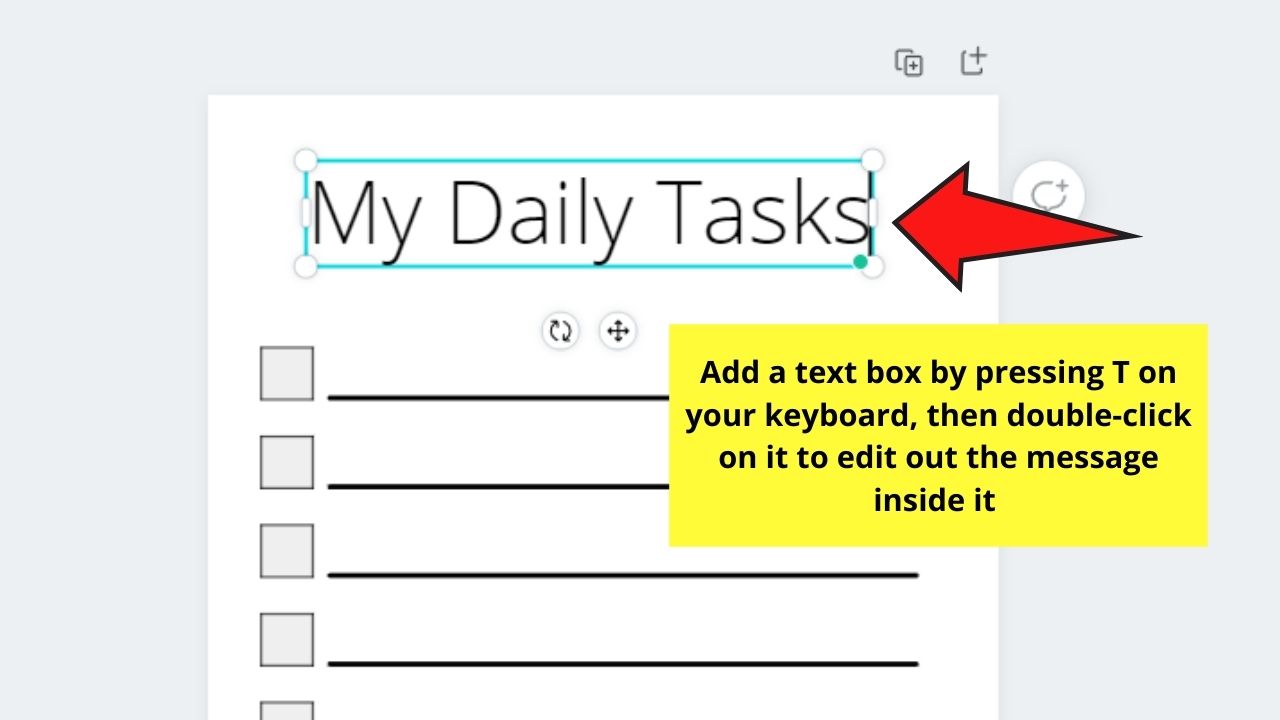 From there, you can simply type inside the text box the title you have in mind. Then, change its font style, size, and color accordingly.
Then, place that newly-created title on the top-center of your design
Step 10: If you're satisfied with how your checklist looks, save it to your device by clicking the Download button.
But, if you want to add more fun elements to the checklist design, you can head to the Elements tab and add graphic elements to it.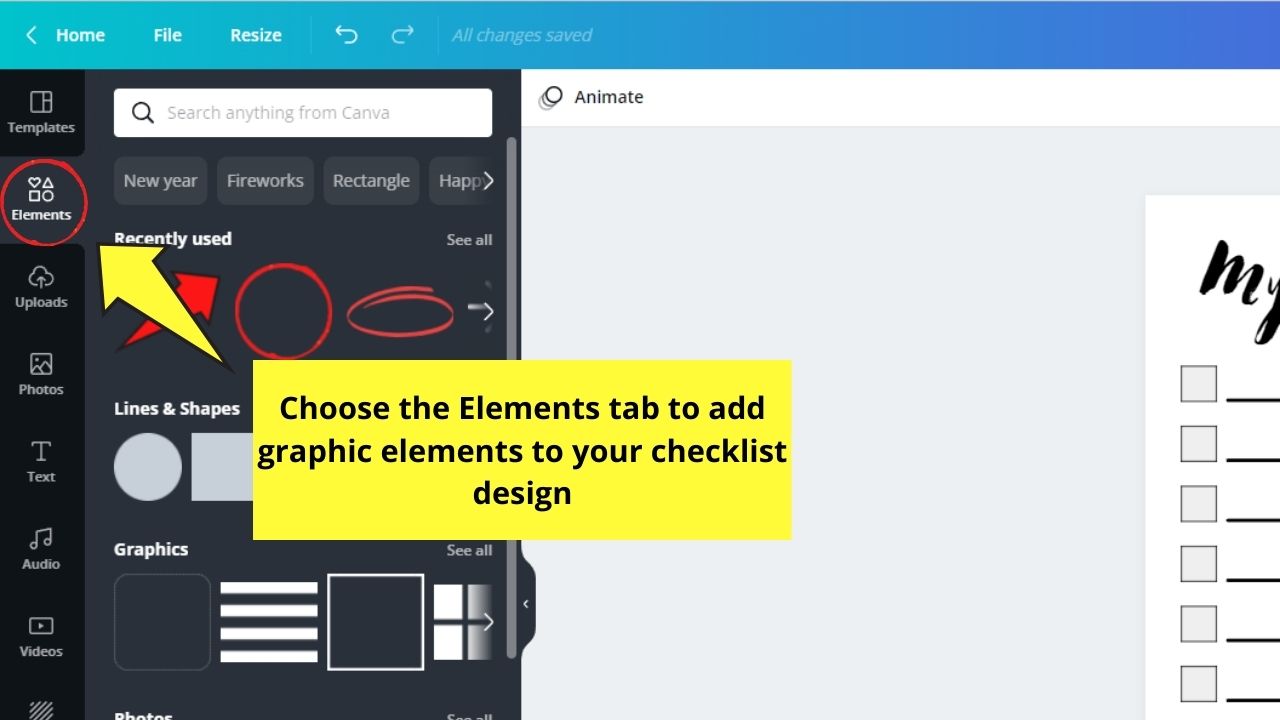 You can also change the color of the background by selecting the hues from the color picker's color gallery.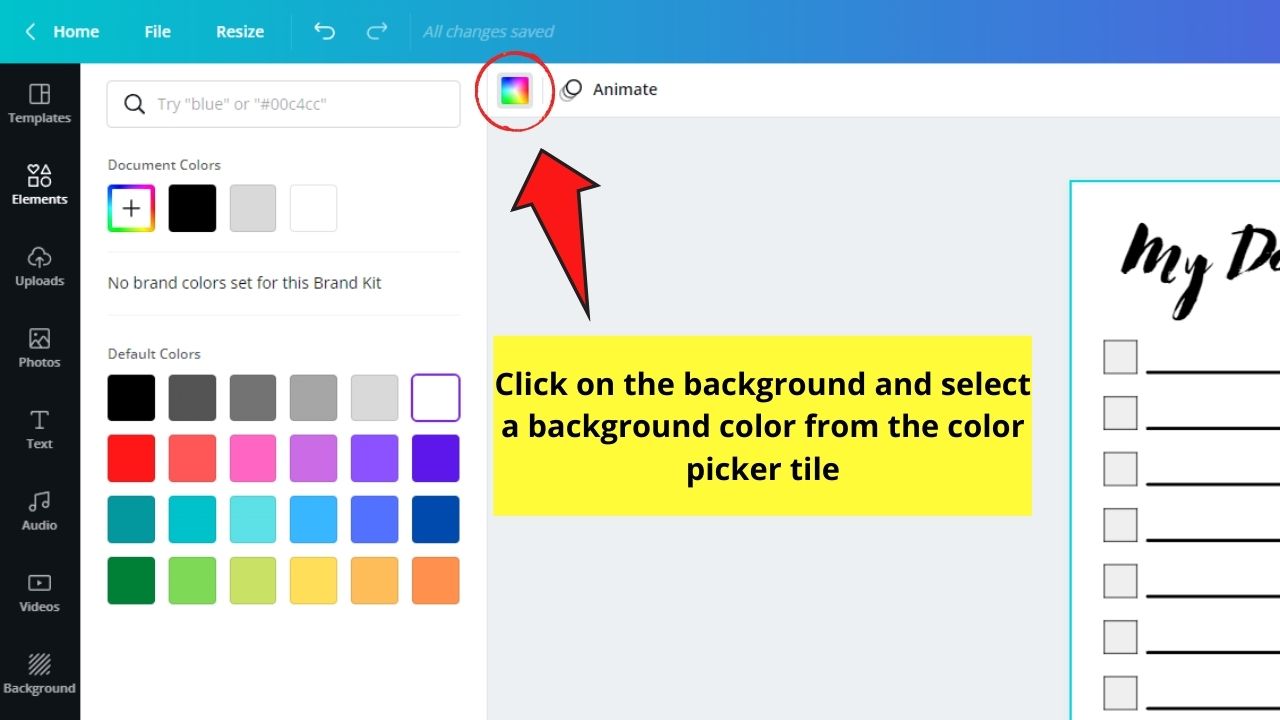 So, whether you opt to create a checklist from scratch or a template, there's nothing wrong with them.
Just follow the steps laid out earlier, and you're all set!
Frequently Asked Questions about How to Make a Checklist in Canva
What are the basic elements of a good checklist?
Since a checklist serves as a guide, it should include titles, task objectives, and detailed descriptions of those tasks. Make sure there are minimal images added to the design and don't forget about adding ample space for adding more details if needed.
Does Canva require a premium subscription to create a checklist?
There's no need to be on Canva Pro to create a checklist. But, if you're a free Canva user and you added premium design elements, make sure to pay for them first before selecting the Download button.
What's the best format for a checklist?
There's no clear-cut answer about the best format for a checklist. But, the best way of arranging your checklist items is by doing them chronologically or by priority.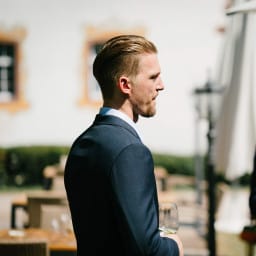 Hey guys! It's me, Marcel, aka Maschi. I earn a full-time income online and on MaschiTuts I gladly share with you guys how I stay on top of the game! I run several highly profitable blogs & websites and love to speak about these project whenever I get a chance to do so. I do this full-time and wholeheartedly. In fact, the moment I stopped working an 8-to-5 job and finally got into online business as a digital entrepreneur, is problably one of the best decisions I ever took in my life. And I would like to make sure that YOU can get on this path as well! Don't let anyone tell you that this can't be done. Sky's the limit, really…as long as you BELIEVE in it! And it all starts right here..at Maschituts!