Canva offers a wide variety of fonts but chances are that you want to upload your own custom fonts to Canva at some point.
In order to be able to upload custom fonts, it is important to note that you need to have to be at least a Canva Pro User.
The free Canva version does not have the option to create a Brand Kit using your own fonts and logos.
Let's, therefore, assume that you are using a Pro or Enterprise version of Canva going forward.
The good news is that there is a straightforward way to do so. The only thing you need is the font.ttf file that you want to upload.
In this tutorial, I will guide you through the whole process of adding your custom font to Canva.
Let's have a look at the process step by step. Spoiler alert: It is very easy and straight forward to import your own custom fonts to Canva.
How to add a custom font to Canva
The first step is to add a text field. Then you need to select the tet to get access to the available fonts in Canva.
Once you selected the text field use the dropdown to see all the available fonts.
Go to the very bottom to see the option "Upload a font".
Click on it and it will lead you to the Brand Kit view. On the right-hand side, you see the Brand fonts that you have selected.
At the very bottom, there is an option to upload your font called "Upload a font".
Click on it and select the file on your drive. You will need to make sure that the file is already unzipped as you will upload the ttf file.
I chose the free font Pacifico from Google Fonts for illustration purposes.
But you can create your own and add any font as long as it is a ttf file and you own the rights to use the font.
If the upload was successful, Canva shows you the uploaded font under, you guessed right, uploaded font.
That is basically it. You can now head back to your design.
Select any text area and search for the name of your font. In this case, I uploaded a font called "Pacifico".
When searching "Pacifico" I now find the font file that I have uploaded in the menu.
You can now choose it for your text areas and the text will be converted to your custom font in Canva.
Congratulations you have just uploaded a custom font to Canva. You can now use this font for all your projects and designs.
That was easy, wasn't it?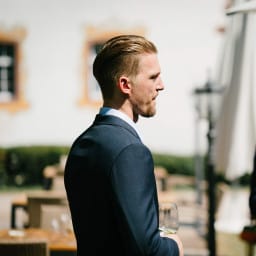 Hey guys! It's me, Marcel, aka Maschi. I earn a full-time income online and on MaschiTuts I gladly share with you guys how I stay on top of the game! I run several highly profitable blogs & websites and love to speak about these project whenever I get a chance to do so. I do this full-time and wholeheartedly. In fact, the moment I stopped working an 8-to-5 job and finally got into online business as a digital entrepreneur, is problably one of the best decisions I ever took in my life. And I would like to make sure that YOU can get on this path as well! Don't let anyone tell you that this can't be done. Sky's the limit, really…as long as you BELIEVE in it! And it all starts right here..at Maschituts!