Canva and Illustrator are two well-known design programs used by bloggers, graphic designers, and illustrators. Today I'm going over the major differences between them to help you decide which one is best for your needs.
Canva vs. Illustrator: Background
Illustrator is a professional program designed by Adobe to create graphics for business, professional and personal use. It is a robust tool for designing vector print items like logos, posters, banners, ads, icons, or infographics.
Adobe products have ruled the design industry for several years, but other design platforms have recently been introduced.
Canva is one of them, and it has gained immense popularity over the past few years.
With more than 30 million users, Canva is taking over the expensive design software mainly because the standard version is free and easy to use.
Canva caters to the needs of a smaller audience compared to Illustrator as it is created for users with minimal design skills and knowledge.
Both of them vary a lot in terms of learning. Illustrator has a deeper learning curve, but you are good to go once the basics are clear.
Canva is popular among designers and non-designers because it is a straightforward design solution that focuses on the basics of graphic design like animations, graphic icons, typography, etc.
Illustrator was introduced in 1987. Whereas Canva was released in 2012.
Key Features of Canva
Photo Enhancement – These features allow you to add effects to the images you upload or the ones offered by Canva. You can even flip, crop, and brighten the photos. Some additional options like background remover are available with the paid version of Canva.
Font Library – Just like Adobe, Canva has its own font library that has predesigned fonts for quick access. Canva also recommends fonts that complement one another.
Drag and Drop Editor –This is what makes Canva easier to use compared to other platforms. You can add any element to your design using this feature.
Animate – You can apply animation effects like fade, block, rise, and pane to your designs.
Content Planner – This feature allows you to view your scheduled content. You can even add or schedule new designs for specific dates.
Brand Kits – You can store all the brand designs (fonts, colours, or logos) in this kit.
Key Features of Adobe Illustrator
Illustrator is a full-fledged platform with several powerful tools and features. It gives you complete control over the graphics, and the templates are easier to manage for graphic or web designing. You can even create layouts for mobile applications.
Fast zoom and magnification – Illustrator offers several options for zoom control. You can use the hand tool, the menu, the zoom tool, and keyboard shortcuts to navigate your design.
Snap to Pixel – You can create customized pixel boundaries using this feature. This option can be used while drawing, scaling, or moving.
Adobe Stock – It has a huge collection of more than 90 million templates, videos, graphics, and images.
Real-time editing and drawing – This feature allows you to draw, scale, move and rotate objects.
Digitization – You can digitize your hand-drawn illustrations in Illustrator. This will convert your design into vector-based graphics that can be edited, scaled, and reused more conveniently.
Integration – Illustrator integrates with other software in the Adobe suite to create a flexible workflow. All the fonts offered in Adobe Fonts can be accessed in Illustrator.
How Do Canva and Illustrator Differ?
Type of Images
The first major difference between these two platforms is the type of images they create.
Canva creates raster images, whereas Illustrator can create both vector and raster images.
If you are wondering how does image type impact your final design, don't be confused.
Below I'm explaining the differences between raster and vector images for better understanding.
Raster images are created using pixels. These images are also referred to as bitmap images.
The scaling of a raster graphic mainly depends on the resolution, and any digital photograph is a raster image.
Vector images are made up of a complex combination of lines and points. You can scale the vector images up and down without losing quality.
Resizing is extremely important for logo designs or illustrations.
Most professional designers prefer vector graphics because they never become pixelated or blur.
Even if you rescale the original image, everything is recalculated to ensure your designs remain in the highest possible resolution.
This way, you can use the same design for a social media post and a billboard poster without worrying about the quality.
Ease to Use
If you are just starting with graphic designing or illustrations, you are wondering which of the two is easier to use.
According to my experience, Canva requires minimum skills to create graphics.
It has premade templates or designs that can be readily used. These designs can even serve as an inspiration for creating your custom graphics.
Canva is more user-friendly because it was created with a focus on non-designers.
In most cases, you do not need a professional-level course to get started with Canva.
But this is not true for Illustrator, especially if you are a new designer with limited experience.
The only drawback for Canva is it's difficult to create unique designs in Canva because, after all, you are using design elements used by others.
But Canva ensures a satisfying user experience with its simpler working environment.
Starting from college students, bloggers to designers, every other person uses Canva in some way.
The popularity of Canva has a negative impact because more people using the platform means common design elements.
Although many non-designers deem Illustrator more difficult to use than Canva, Adobe has introduced many controls that make the design experience hassle-free.
It has several robust tools like Pathfinder, shape builder, pen tool to help you design unique logos or illustrations.
In my opinion, Illustrator has a clean menu and is easier to navigate.
Therefore, it is better to use Illustrator for detailed designs because Canva will be time-consuming in that case.
If you have a small business with inexperienced designers, I would highly recommend using Canva.
It will speed up the design process and makes it easier for the team to complete the task since less time will be needed for training.
Faster turn in time might help you retain the client for more projects.
But note that Canva cannot support the scaling of designs, so I would not recommend it for designing posters or wallpapers.
Learning
You will find plenty of helpful resources on the internet to learn about Canva.
You can follow any YouTube channel or take up a course on Skillshare.
However, during my learning phase, I got immense help from the website itself.
Canva has its own Learn section on the website. It has courses, tutorials, and blogs about different design topics and using Canva.
I would recommend going through them at least once for a better understanding of the platform.
Obviously, who else can explain Canva better than the ones who created it?
Illustrator requires good practice to start designing. The practice phase can be difficult for some of us since completing a design can take a few tries.
Illustrator has a higher learning curve in the beginning. Luckily many expert designers have created basic courses to help the newcomers.
Cost
Pricing is another factor that helps you decide what is suitable for your budget.
Canva is a budget-friendly option, and the free version offers plenty of features and editing tools to create basic designs.
Illustrator does not have a free version, but it offers a free trial version that lasts for only seven days.
The paid version comes with plenty of features like Adobe Fonts, Adobe Spark, Adobe Portfolio, and 100 GB of cloud storage.
Illustrator supports design students and teachers by discounting them on the Adobe Suite.
As a student, you can enjoy up to a 60% discount by paying only US$ 19.99 per month of the first year of subscription.
Canva Pro costs US$ 12.99 per month. And Illustrator will cost you US$ 19.99 a month.
In short, Canva comes with a lower cost but limited features. Whereas Illustrator might be expensive, but it offers many tools and design features.
Importing Designs and Images
While creating any form of illustration, you will surely need to import some design elements or images.
For this reason, it is important to know which all importing formats are supported by your design platform.
In Canva, you can import PNG or JPEG files. But Illustrator allows you to import both raster and vector images to your design.
These imported graphics can also be edited within the document.
Design Options
Canva has limited features and functionality compared to Adobe Illustrator.
With Illustrator, you can create anything and everything; digital art, comic books, logos are just a few options.
The design frames and sizes are restricted in Canva, making it impossible to use the same design for different purposes.
For example, you cannot use a flyer or brochure designed in Canva for a billboard because increasing the size will pixelate the image resulting in low quality.
Canva does not help your brand stand out. In fact, your designs will most probably blend in, which kills the whole purpose of branding.
But you can tweak the designs in Illustrator according to your likings.
Illustrator can convert your imagination into reality with a precise level of detail. It's literally the most versatile illustration software so far.
The level of customization offered by both platforms varies significantly.
I would not recommend integrating several templates in Canva because that way, your designs will be unnatural and inconsistent.
You can start from scratch in Canva but keep in mind that you cannot create customized icons, frames, or other design elements.
You will have to develop your designs with everything that is already available on the website or app.
The template-based designing in Canva can both limit or challenge your creativity. It is perfect for basic and simple graphics.
For complex designs, Illustrator is the better choice by far.
Fonts
Canva has plenty of fonts already available, but you can upload your own font styles to facilitate the design process.
Illustrator has a vast library of fonts called Typekit, but you can also use fonts downloaded on your computer.
Graphic Size per Document
Each document in Canva can have multiple pages or images, but all of them will be of the same size. But for Illustrator, you can have multiple sizes in a single document.
Internet Connection
Unfortunately, Canva only works with an internet connection. However, Illustrator is installed directly on your computer or laptop, so it can be used anytime and anywhere.
You can access all the libraries, fonts, and kits on Illustrator in offline mode.
Pros and Cons
I have listed a few pros and cons for both Canva and Illustrator.
Pros of Illustrator
The helpful user interface allows the user to enjoy custom viewing and flexibility. You can have complete control of the features and adjust everything according to your needs.
The in-panel editing option allows you to work on multiple artboards. You can work and edit multiple graphics in one go to save time.
Since the program uses algorithms to create shapes, the images are completely scalable with no resolution issues. Your designs are always ready to be printed in any size.
Compared to other programs, Illustrator creates files in manageable sizes that can be shared, mailed, and reused without any storage issues.
Cons of Illustrator
For new users, training can take several months. In other words, Illustrator has a steep learning curve.
Based on the experience of some users, Illustrator offers limited support for bitmap images (raster graphics). You can vectorize these graphics, but the results can be unsatisfactory in some cases.
Pros of Canva
It is not a heavy-duty platform. Therefore, you will not have to invest in an expensive device.
Canva offers hundreds of free templates that are excellent for professional and personal use.
It will save all your designs and templates until you delete them.
Cons of Canva
There is a lack of unique designs – creating something unique is a challenge. Most designs and templates have a generic appearance.
You cannot upload your images directly to the design. Instead, you have to upload them to Canva first.
The design features in Canva only allow you to create artboards in a single size.
Why Is Illustrator Suitable for a Professional Designer?
Designs in Illustrator are customizable and can be trademarked. This is crucial if you plan on designing something for a client or business.
Any design created in Adobe Illustrator is yours if it is created from scratch with no copyright infringements or plagiarism. You can use your designs to sell them to customers or any other business use.
Anything created on Canva cannot be trademarked, which makes it difficult for you and your client to protect the designs.
Illustrator will create high-quality images that can be used in both printed and digital forms. The designs created in Canva are pixels in a certain size, so you will have a blurry design if you increase the size.
Frequently Asked Questions about Canva vs. Illustrator
What happens if I enlarge a raster graphic created using Canva?
The quality of your image or illustration will drop because it will become pixelated.
Which graphics can be edited easily?
Vector-based graphics created using Illustrator can be edited, scaled, coloured, and resized easily without any impact on the quality.
Can I use Canva for designing logos?
I would not recommend using Canva for logo design merely because it generates raster images. These images are not suitable for logo designs since the logos will be reused in different sizes and formats. But you can still use Canva to brainstorm your logo designs. Also, there are logo templates within Canva and these can be adjusted fairly quickly.
Can I create entirely unique designs using Canva?
Since Canva is template-based, oftentimes, even after changing font size, colour, or text format, you end up creating designs that resemble others. I would suggest starting your design from scratch if you want to create a truly unique design in Canva.
Will Canva files take up storage on my computer?
Another added benefit for Canva is that the files will not take a large amount of storage. So you can store hundreds of designs on your computer easily. Images can be downloaded in both .jpeg or .png format. For high resolution pictures, Canva offers downloads in .pdf format.
How to avoid losing resolution in Canva?
I would recommend designing in the largest possible size for easier resizing because you will most probably not lose the resolution in downsizing the graphics.
Can I use Canva pro on my mobile?
You should install the Canva mobile application to use it on mobile. It supports both iOS and Android systems. Once you pay for Canva, the paid version can be used on both the web browser and mobile app.
Why is Illustrator a better choice for designing posters or banners?
Most designers recommend Illustrator because it has more options for text manipulation and resizing, making it a perfect tool for designs that include text and images.
Which software is better for creating mockups of my designs?
If time and quality are your priority, I would highly suggest creating the design mockups in Adobe Illustrator.
Conclusion
Choosing a design platform depends on your end goal, budget, and project needs.
If you are looking for something simple, easy to use, and inexpensive, then choose Canva. It's a perfect budget-friendly option for marketers and online entrepreneurs.
If you are an aspiring graphic designer or someone who wants to pursue design as a profession for business purposes, I would highly recommend learning Adobe Illustrator.
I prefer Canva for blogging and social media images, but for all other professional needs, Illustrator is my go-to option.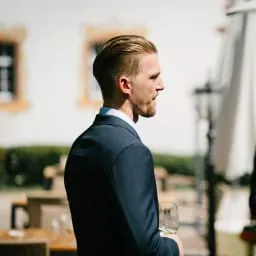 Hey guys! It's me, Marcel, aka Maschi. On MaschiTuts, it's all about tutorials! No matter the topic of the article, the goal always remains the same: Providing you guys with the most in-depth and helpful tutorials!