Where has my Canva Photo Tab gone?
If you can't find the Canva Photo tab anymore, select "More" from the left sidebar and then simply click on "Photos." This will automatically (re)add the photos tab to your left sidebar. Once you have done that, it will stay there for good.
Browse photos from the "Elements" tab
If you don't have the "photos" tab in the left sidebar, then you can actually also use the "elements" tab instead to browse through Canva's extensive photo library.
To do so, simply click on "Elements" and then input your search string. If you input "dog" for instance, these are the search results you will get.
When searching through the "Elements" tab, you will find all matching results, be it photos, graphics, videos or even audio.
To limit your search to a certain category, simply choose the category from above the search results after having typed in your query.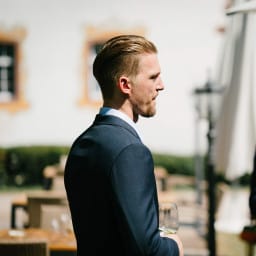 Hey guys! It's me, Marcel, aka Maschi. I earn a full-time income online and on MaschiTuts I gladly share with you guys how I stay on top of the game! I run several highly profitable blogs & websites and love to speak about these project whenever I get a chance to do so. I do this full-time and wholeheartedly. In fact, the moment I stopped working an 8-to-5 job and finally got into online business as a digital entrepreneur, is problably one of the best decisions I ever took in my life. And I would like to make sure that YOU can get on this path as well! Don't let anyone tell you that this can't be done. Sky's the limit, really…as long as you BELIEVE in it! And it all starts right here..at Maschituts!