Everyone's raving about how easy it is to design in the most intuitive graphic design tool — Canva!
Even if you're a budding graphic designer or a person who enjoys designing, you don't have to spend a lot of time learning how to use the tool.
However, if your design entails adding text, and you want to resize the text box without affecting the font size, you're on the right article.
How to Resize a Text Box in Canva
To resize text boxes in Canva without affecting the text size, click on the desired text box. Then, click & drag on one of the pill handles (located on the left/right of the box) to adjust it. To make the text & box bigger, click & drag on one of the white circles located in the edges of the box.
Resizing Text Boxes in Canva: 3 Simple Steps You Should Remember
Contrary to what you're thinking, resizing text boxes in Canva isn't something cringe-worthy.
The entire process's so simple that even a grade-schooler who's well-versed with Canva can do it in a split second.
So, if you're still wondering how to change your text box's size without affecting the font size itself, better keep reading below.
Step 1: From your home page, create a new design using the "Create a New Design" button or open an existing file.
Step 2: Once you've opened your design, tap on the text box that you'd like to resize. You'll then see white circles and pills surrounding the text box. Step 3: Click on the white pill handles and drag them either to the right or left to enlarge or make the text box smaller.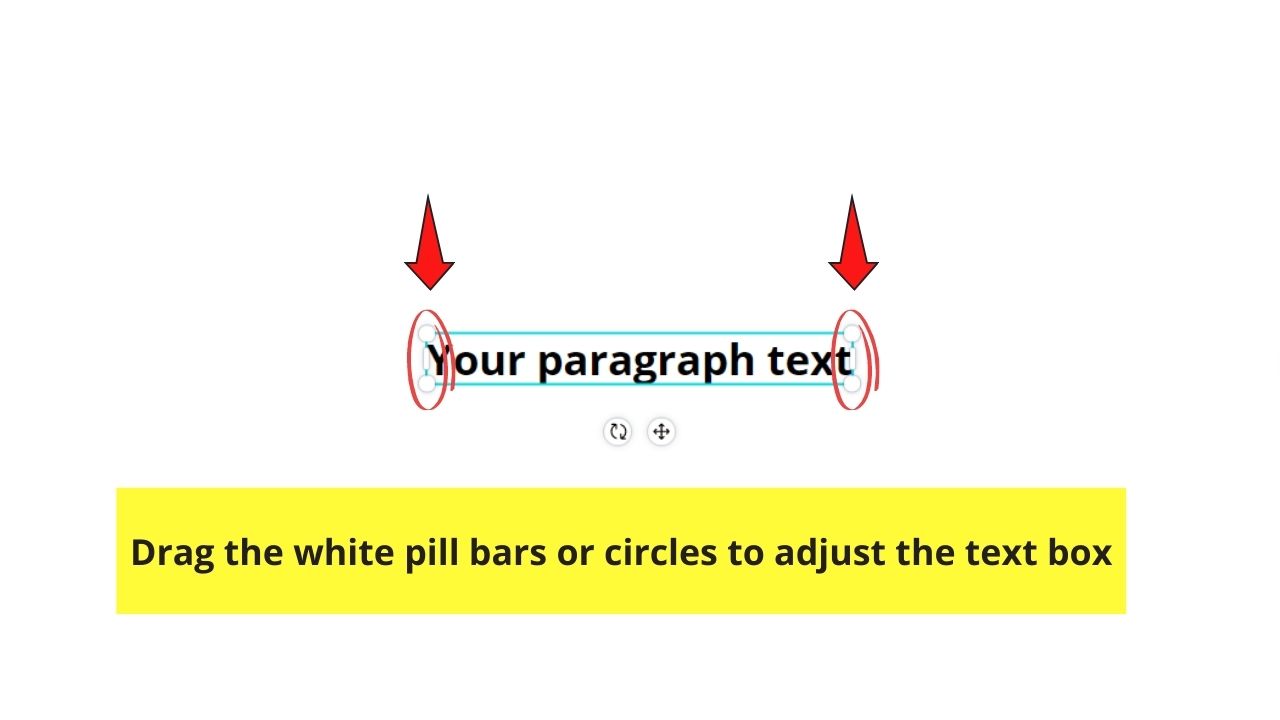 Pretty simple, right?
So, now that you know about it, you can use this nifty tip for your upcoming Canva designs.
Grouping Elements and Resizing Text Boxes: Possible or Not
Sometimes, you'll have to group text with other elements of your design.
In most cases, you'll place shapes behind the text for them to act as color fillers, making the letters pop out more, hence, the increased visibility.
If you don't want to repeat the process if you'll need to create multiple color-filled text boxes, group them before making copies of it.
But, while it is nifty, there's a limitation with what you can do with text boxes grouped with other Canva elements: you cannot adjust their sizes.
Indeed, it is a bummer. However, if you're witty enough, you can have a solution to this dilemma if you know how to do it.
So, for you to adjust the text box size together with the size of the shape you're using, you first have to align the text box with the shape's edges.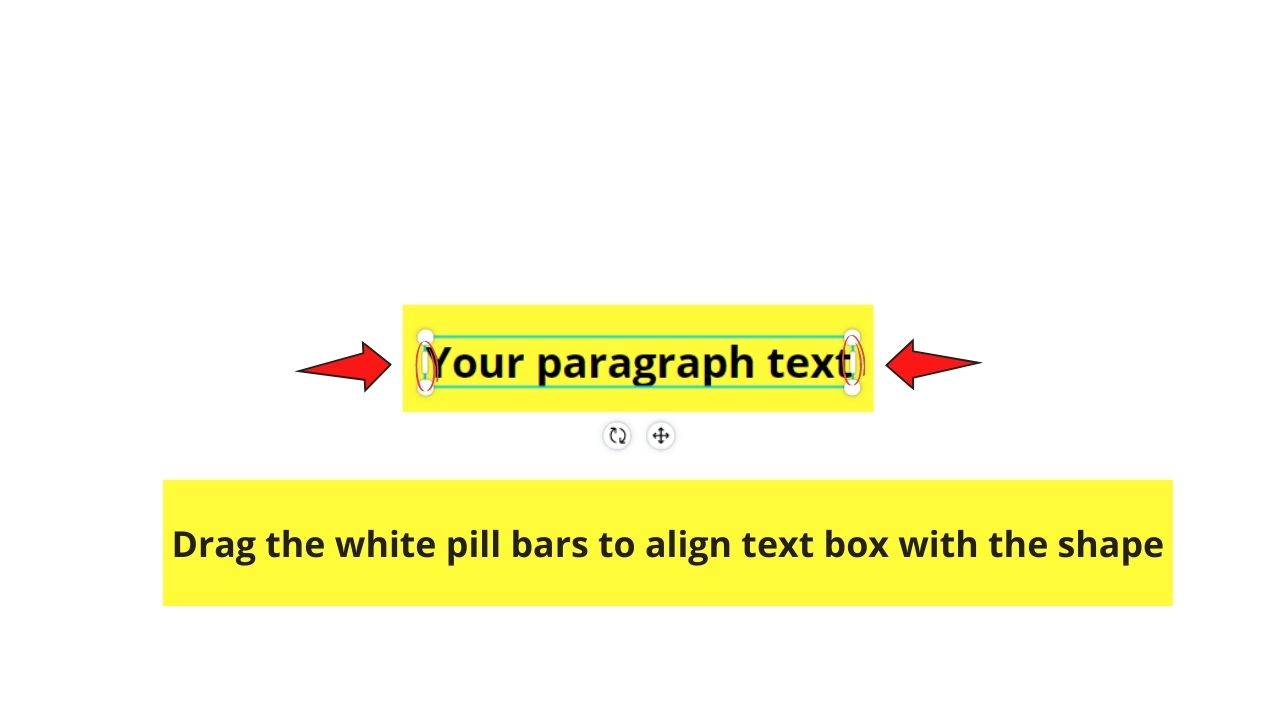 To do this, all you need to do is click on the text box you'd like to resize and use the white pill handles to drag the box towards the shape's edge.
You can even use the white circles at the corners of the text box to enlarge it accordingly if needed.
Once the text box and the shape's edges are perfectly aligned, highlight both of them before hitting the "Group" button in the toolbar.
Now, if you want to save more time, just remember this Canva keyboard shortcut: Ctrl +G for Windows and Cmd + G for Mac. Such a combination of keys will do the grouping effect for you.
If you want to adjust the color-filled text box without affecting the font size, then just go back to the three steps mentioned earlier.
Frequently Asked Questions about How to Resize Text Box in Canva
What will happen to the text if your text box is too small?
In cases of a smaller text box, the text will automatically spill over to the next line. In short, the text will adjust itself accordingly, unless you do some changes to the text box itself.
How can you ungroup your text box from the shape you've used with it?
To ungroup your text box from a shape (or with any other element), you can first click on the grouped elements and click on the "Ungroup" button in the toolbar. If you want to use the keyboard shortcut method, tap on the grouped elements and press the Ctrl/Cmd+ Shift + G simultaneously.
Can you upload your font styles if you're using a free Canva account?
Unfortunately, you can't enjoy the perks of adding personalized font styles on Canva if you're using the free account only. You'll need to subscribe to Canva Pro for you to avail of this perk.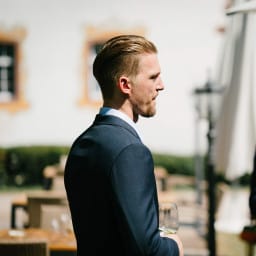 Hey guys! It's me, Marcel, aka Maschi. I earn a full-time income online and on MaschiTuts I gladly share with you guys how I stay on top of the game! I run several highly profitable blogs & websites and love to speak about these project whenever I get a chance to do so. I do this full-time and wholeheartedly. In fact, the moment I stopped working an 8-to-5 job and finally got into online business as a digital entrepreneur, is problably one of the best decisions I ever took in my life. And I would like to make sure that YOU can get on this path as well! Don't let anyone tell you that this can't be done. Sky's the limit, really…as long as you BELIEVE in it! And it all starts right here..at Maschituts!