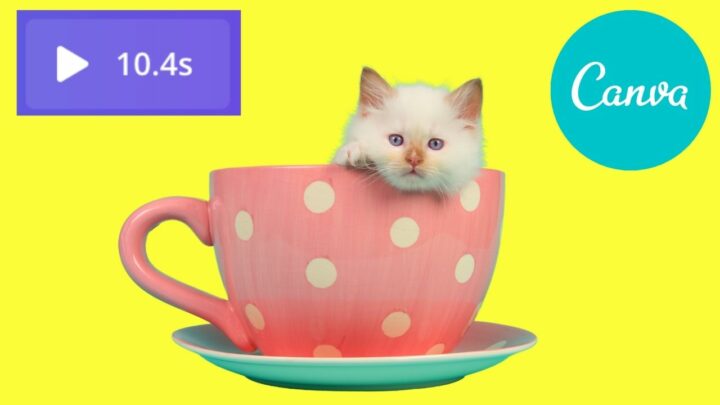 How to Change the Video Length in Canva
You can change the video length in Canva by either cropping the video to a certain length or by extending or reducing the length of a (certain) video. You can't change the video length by speeding up or slowing down the video footage. Canva does not offer this kind of functionality.
Use the Video Crop Function to Change the Video Length in Canva
The easiest way to change the video length in Canva is to crop the video by using Canva's own crop function. Simply click on the video slide and then select the crop function (scissors symbol) on the top left corner of the screen.
Now, drag the video footage to the desired length (drag from the left to edit the starting point and drag from the right to edit the ending point of your video footage.)
Step by Step Instructions
Step 1: In your Canva video project, simply click on the video footage.
Step 2: Click on the scissors symbol in the top left corner of the screen to access Canva's own cropping function.
Step 3: Adjust the starting point and end point of your Canva video by dragging the video footage from the left (= edit starting point) or right (= edit ending point of the video).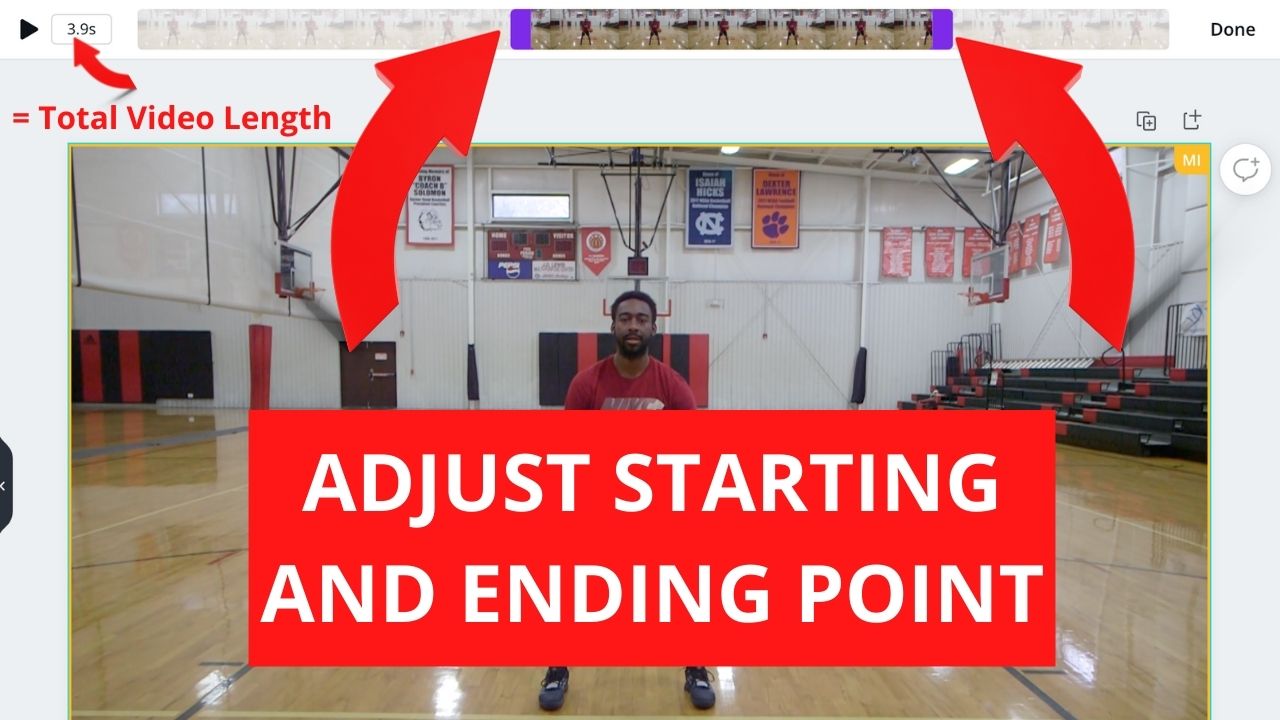 Step 4: Once you are happy with your selection, simply click on done to save the changes.
Step 5 (optional): If you do have several video project slides in your Canva Video project, you might want/need to adjust the starting/ending point of each individual video slide. To do so, simply click on the desired video and then repeat steps 1 to 4.
How to change the video speed in Canva?
Unfortunately, it is not possible to truly change the video speed in Canva. You can change the video length by cropping videos in Canva but you can't change the speed of the video itself. To solve this problem, you would first need to export your video and then use some other software such as Final Cut Pro or Adobe Premiere Pro.
Export your Canva video and change the video length later on
As far as editing videos is concerned, Canva only offers limited functionality. That said, if you do have some knowledge in "true" video editing software such as Premiere Pro, Davinci Resolve or Final Cut Pro, further editing your videos in these programs makes a whole lot of sense.
For instance, in Premiere Pro, you can easily change the video length of your Canva video by speeding up the footage a bit.
To do so, all you need to do is to right-click your video on the video track, then choose Speed/Duration and then just adjust the speed there.
To speed up your footage, increase the speed and to slow down your footage, simply choose a slower speed.
A speed of 50%, for instance, will make your footage run much slower.
A speed of 200% will reduce the video length to half of its original length.
Frequently asked questions about how to change the video length in Canva
Can I speed up videos in Canva?
Well, you can change the duration of (video) slides in Canva, which will obviously change the video length. However, there is no true speed-up function in Canva that lets you adjust the speed of your footage to let's say 1.5x or double speed or so.
Can I slow down videos in Canva?
You can't slow down video footage in Canva. You can reduce the duration of each (video) slide but you can't truly slow down the footage itself.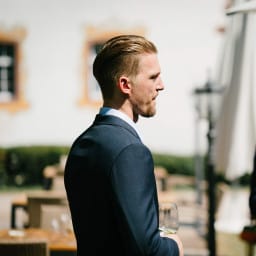 Hey guys! It's me, Marcel, aka Maschi. I earn a full-time income online and on MaschiTuts I gladly share with you guys how I stay on top of the game! I run several highly profitable blogs & websites and love to speak about these project whenever I get a chance to do so. I do this full-time and wholeheartedly. In fact, the moment I stopped working an 8-to-5 job and finally got into online business as a digital entrepreneur, is problably one of the best decisions I ever took in my life. And I would like to make sure that YOU can get on this path as well! Don't let anyone tell you that this can't be done. Sky's the limit, really…as long as you BELIEVE in it! And it all starts right here..at Maschituts!