After giving your work on Canva one last glance for some brush-ups, you save your design on your device.
But a pop-up window suddenly emerges, telling you your device's running out of space.
How then can you lower the file size in Canva?
How to Reduce the File Size in Canva
To reduce the file size in Canva, navigate to "Share" > "Download" and then use the "Quality" slider for JPGs or the "Compress file" option for PNGs. Note that reducing the file size in Canva is only available for people with at least a Canva Pro license.
Compressing a file's size in Canva can be quite daunting, especially for newbie users. However, as Canva's so intuitive, you need not worry much about the technicalities of this process.
If you're a Canva Pro user, you're in luck, as you can reduce your design file's size without leaving the site or using a third-party app.
Follow these steps to compress your Canva design's file size without affecting image quality after editing it.
Step 1: Select the "Share" button on the menu bar and click "Download" on the dropdown menu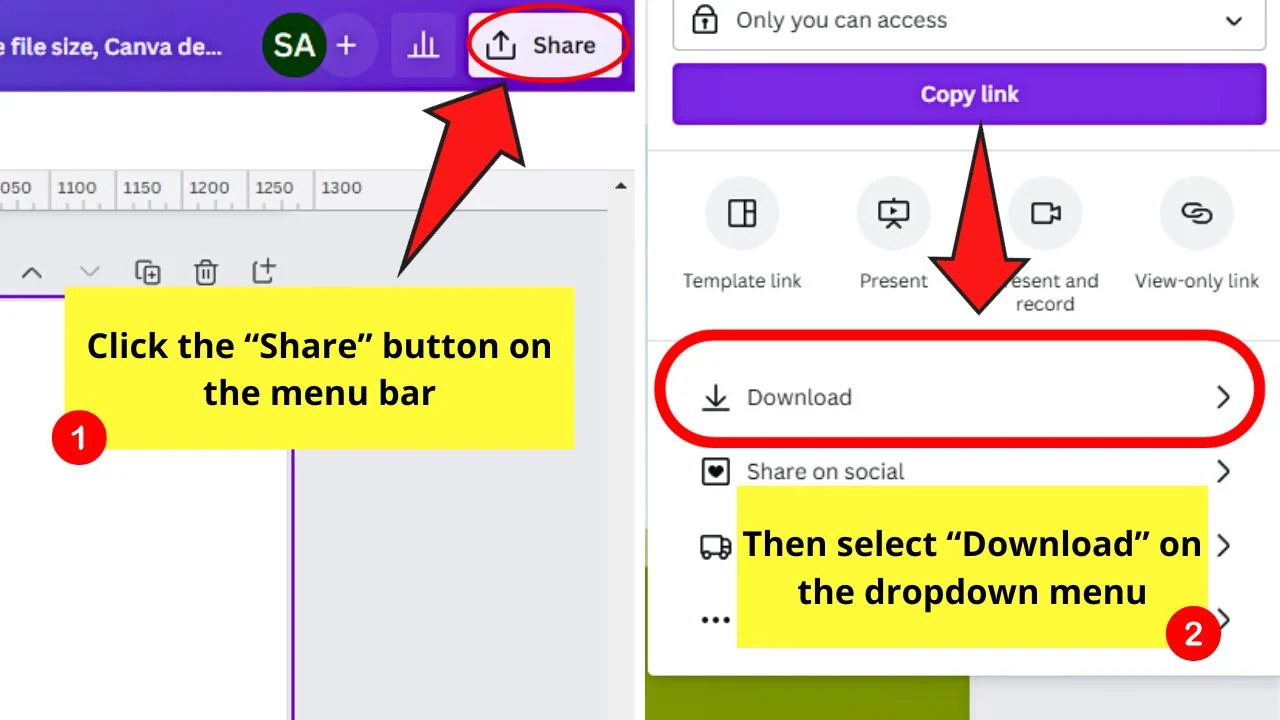 This will then open the "File Type" panel.
Step 2: Select the file type you'd like to save your design as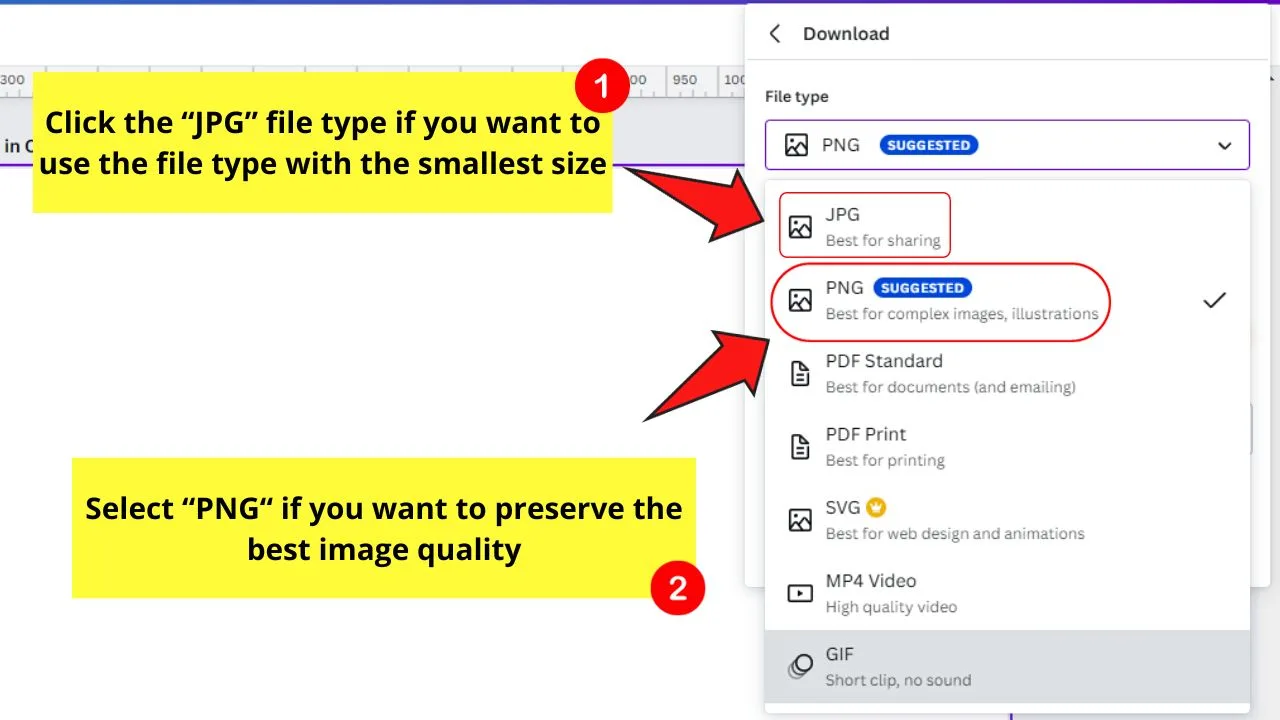 If you want the smallest file size, click on "JPG."
If you want to preserve the best image quality, opt for "PNG."
Step 3: Compress the file sizes of the images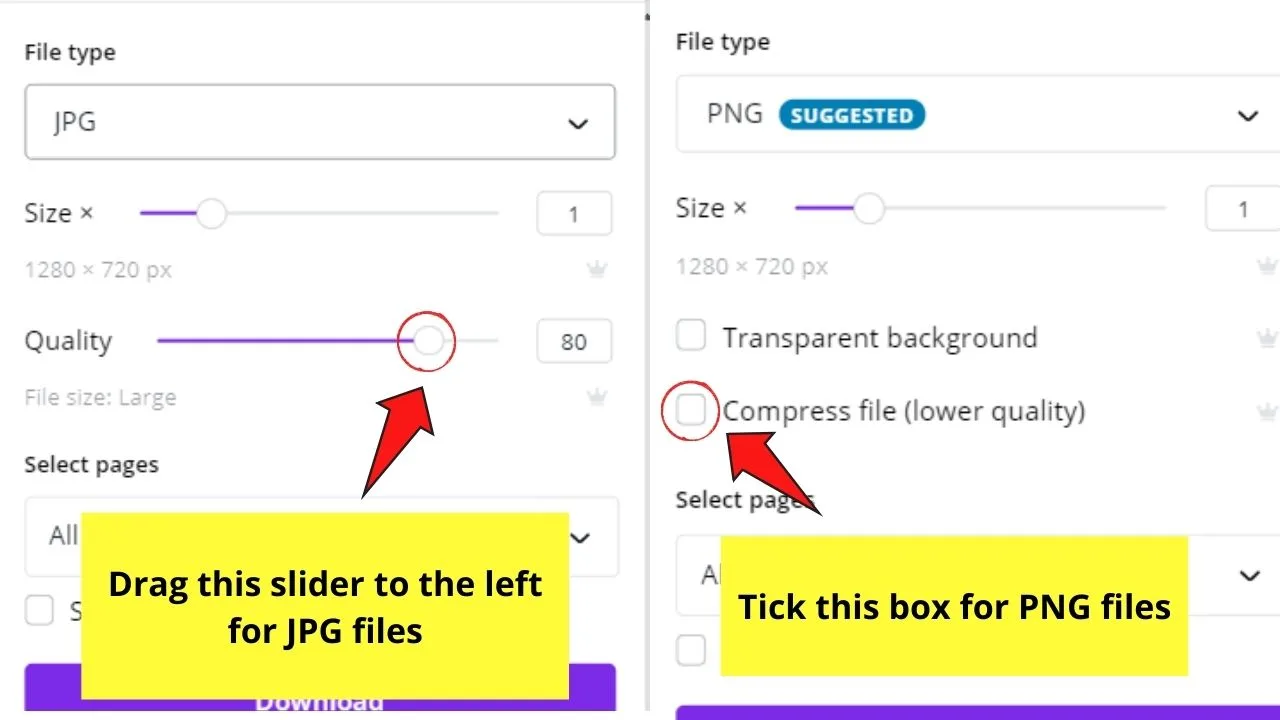 To compress a "JPG" file's size, drag the "Quality" slider to the left.

For "PNG" files, tick the "Compress file" option and select from the following compression ratios: 0.5x, 1x, 2x, and 3x.
But, you can only avail of the "Compress file" feature if you're a Canva Pro user.
Then proceed with selecting the pages you want to save.
Step 4: Click the "Download" button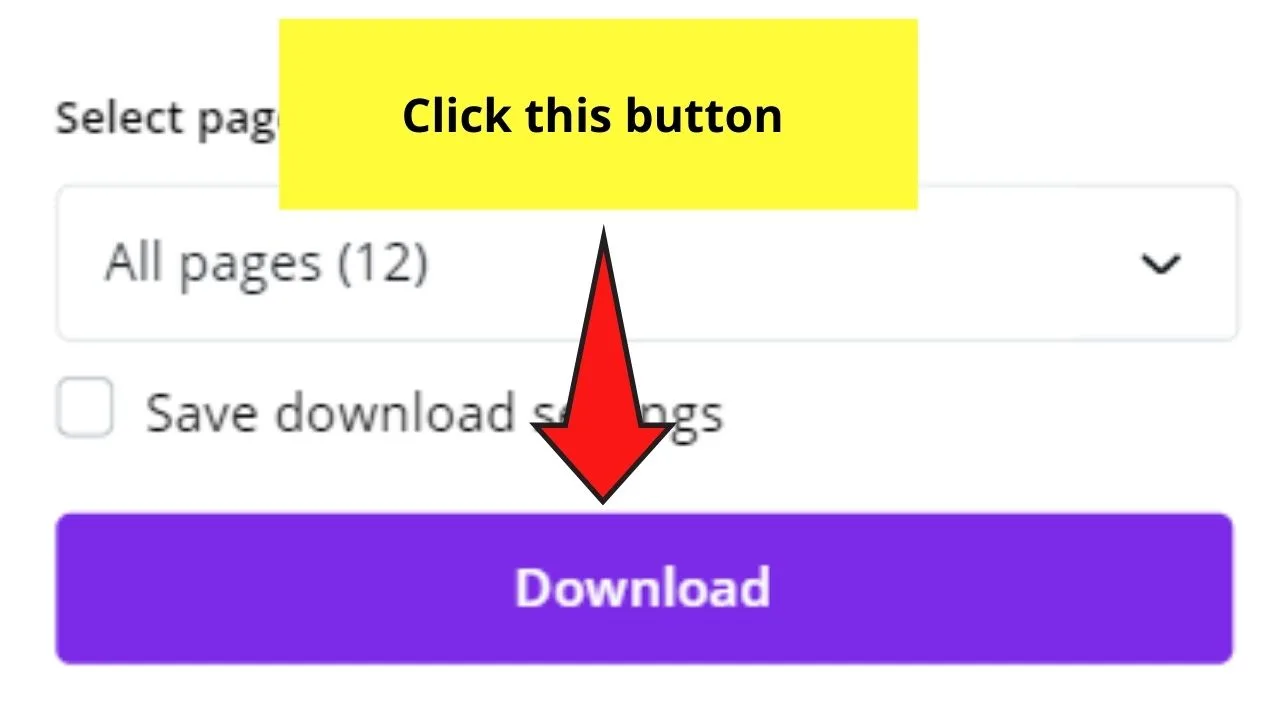 You'll find this button at the bottom part of the dropdown menu.
And with those 4 simple steps, you've successfully reduced the file size of the design you've downloaded in Canva.
But again, you'll need to be a Canva Pro user for you to enjoy this feature.
Hence, if you're a free account user of Canva, you won't find the compression options stated earlier.
This doesn't mean though that you can't reduce the file size of the design you've just downloaded.
How to Compress PDFs in Canva
Compressing PDFs is often desirable, especially if you need to send them to a friend or colleague through email because in these cases, the file size is often limited to a certain size.
We've all been there. We tried to send a PDF via email, but we got a prompt telling us that the file couldn't be sent because it exceeded the size.
Or maybe you need to upload a PDF to some platform that only allows a maximum size of 5 MB for your files.
This begs the question: How can you decrease the file size of PDFs in Canva?
Well, here's the deal.
To reduce the file size of PDFs in Canva, you need to select the "PDF Standard" file type.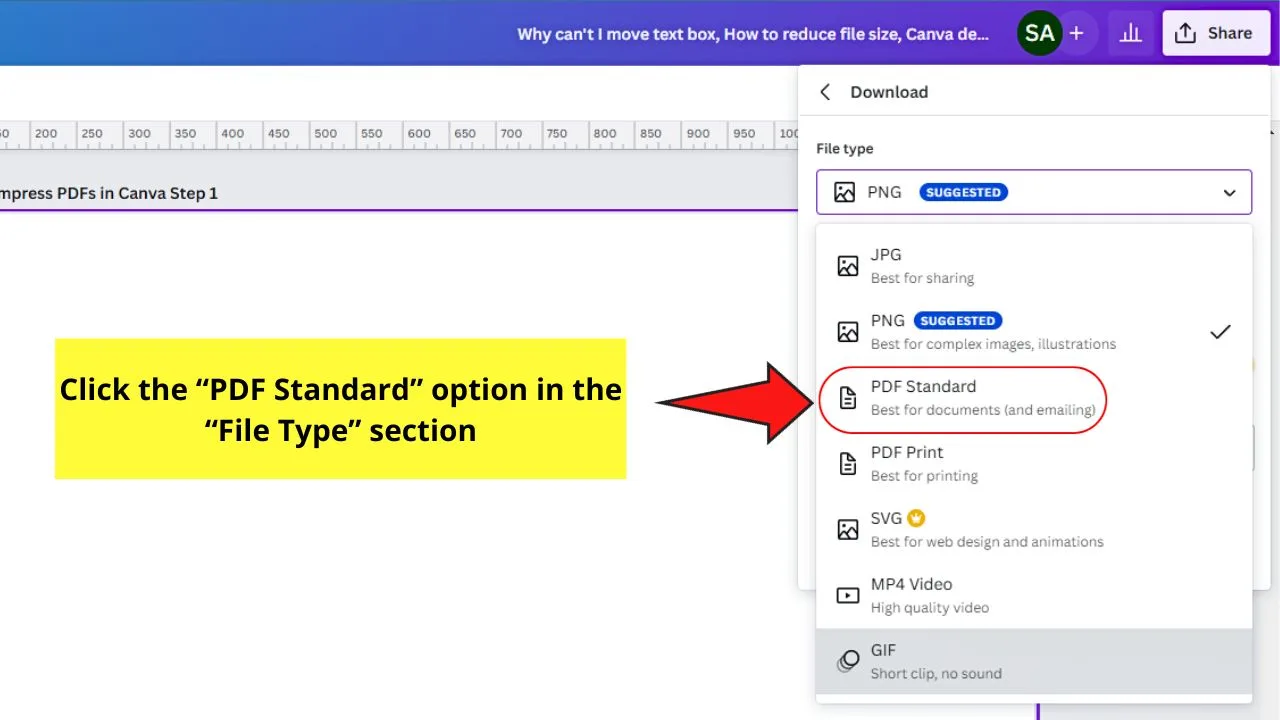 Don't choose "PDF Print" instead because this file type generally creates much larger files than "PDF Standard."
Now, there is no "Quality" slider or a "Compress PDF" option in Canva.

With that said, your best option within Canva is to select the file type "PDF Standard" over "PDF Print" when downloading your PDF from Canva.
However, if the PDF file size remains too big even with "PDF Standard," you will need to use some other software to reduce the file size of your PDF.
For instance, you can compress your PDF with ILovePDF.
It's completely free and online. Works like a charm and just takes you a few seconds and no registration is necessary.
How to Reduce the File Size of Canva Images When You're a Free Account User
Are you feeling bummed that you can't lower the file size of the image you've downloaded from Canva because you did not upgrade to the Pro one?
Don't worry, as there is an alternative method for you to achieve the same feat — with only a few more steps.
So, after brushing up on your Canva design, you're ready to save it on your device. After making sure you didn't use up any Pro elements, tap on the "Download" button to start the process.
Once you've successfully downloaded your design, head over to tinypng.com for PNG image files.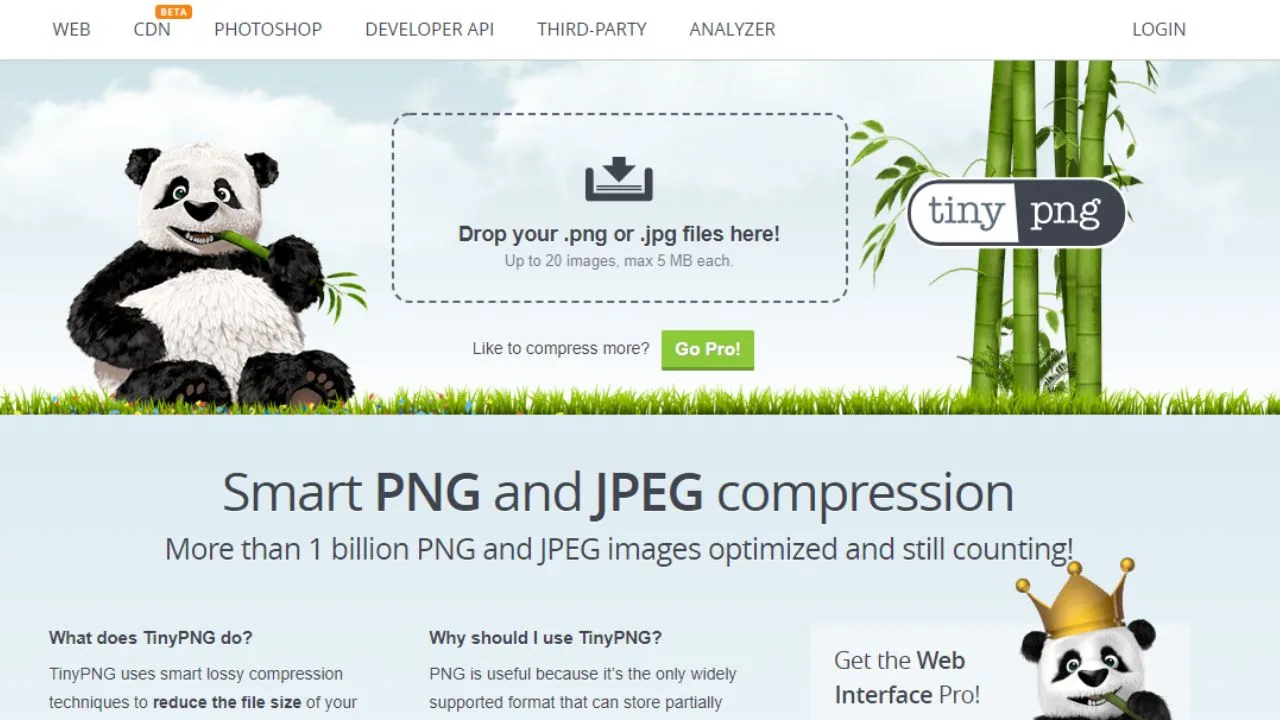 For JPG image files, go to tinyjpg.com.
If you prefer to reduce the file sizes of JPG images in bulk, visit the iLoveIMG website.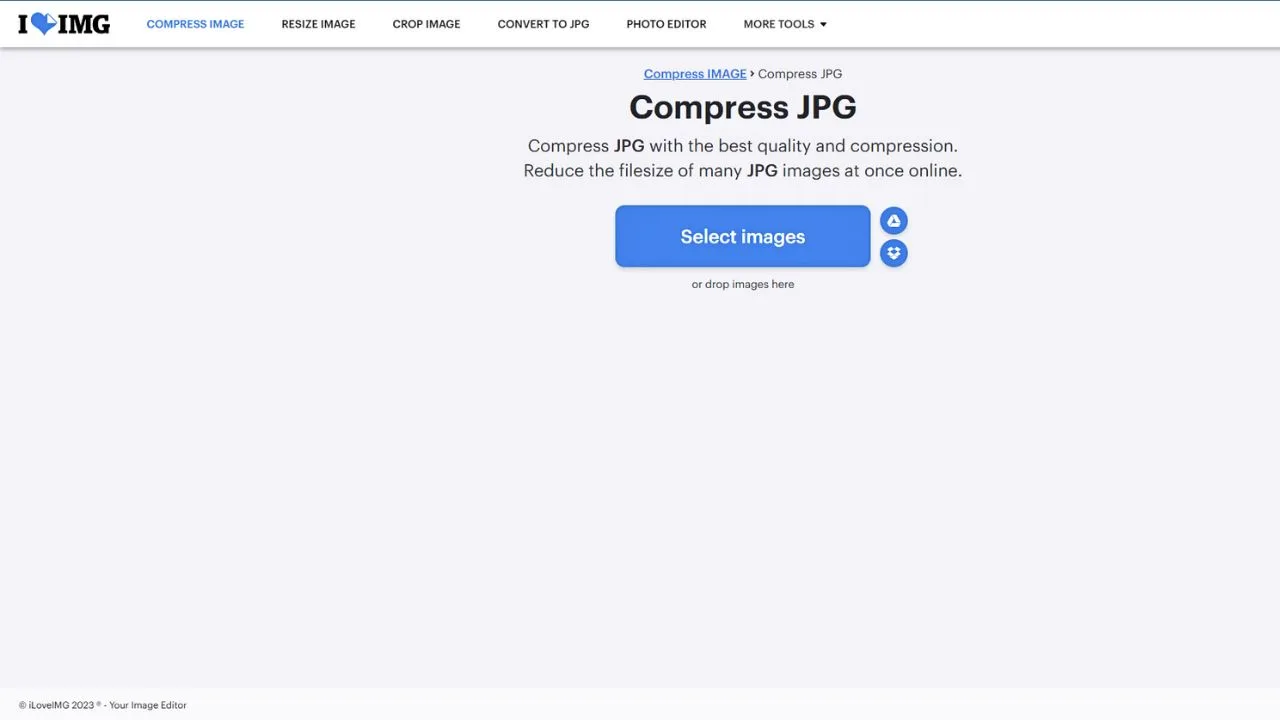 From there, simply drag and drop the file you saved from Canva earlier onto the specified area on the site.
And just let these sites compress the image for you. As soon as the process is finished, you'll see the newly-compressed file's current size and how much the site's managed to compress.
If you're satisfied with your design's new file size, tap on the "Download" button at the end of the gradient bar.
And, with a few simple clicks, you've reduced the image file size of your design. Very cool, right?
Frequently Asked Questions about Reducing File Size in Canva
Will the file type affect the image quality of my design after downloading it?
For those who aren't technical enough, file types in Canva have a bearing on the image quality. If you opt to download your design in JPG format, you'll enjoy a smaller file size but has a lesser image quality compared to when you use PNG. It's because PNG uses a lossless type of compression, perfect for preserving the quality of the photo.
Can you change your Canva design's document size without using the magic resize button?
If you're a keen observer, you'll notice the "Size" option if opt to download your design as a JPG file. Like the "Quality" slider, drag the "Size" slider to the right to enlarge the dimensions and to the left if you want to make it smaller.
Is it possible for Canva Free users to compress file sizes directly within Canva?
Unfortunately, the file size compression feature is a Pro feature. Thus, if you're a free account user, you won't be able to use those options as they'll be greyed out from the dropdown menu. Upgrade to a Pro account first before you can enjoy reducing file sizes without leaving the site.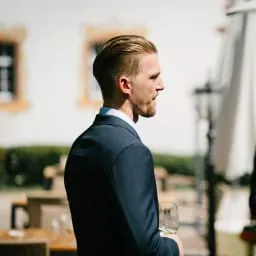 Hey guys! It's me, Marcel, aka Maschi. On MaschiTuts, it's all about tutorials! No matter the topic of the article, the goal always remains the same: Providing you guys with the most in-depth and helpful tutorials!