The rise of the internet and technology has taken modern social relationships online with the use of social media networks and applications.
Online communication has never been more accessible with the amount of top-quality communication software flying around, and Discord is front and center of this.
Discord has taken online texts and audio communication to the next level since its launch in 2015 with its easy interface and usability.
Perhaps Discord's most impressive feature is its chat feature, allowing users to communicate efficiently through text.
This simple yet effective feature has given Discord the edge over many of its market competitors.
It attracts gamers, remote workers, and lots more people who prioritize easy online communication above all else.
Despite its ease of use, newbies to Discord might have a hard time navigating and using some of the app's many hotkeys.
Going down a line while chatting without accidentally sending an incomplete message is a common difficulty for new app users.
If you're in this boat, rest easy, as this article is going to show you the ropes of going down a line on Discord.
With most other social media platforms and instant messaging apps, simply pressing the enter key will take your cursor to another line to continue typing your text.
Even other text-focused applications like Microsoft word and excel are configured this way, so one may be forgiven for thinking it's the same on all apps.
However, Discord is slightly different as pressing the enter key on Discord will immediately send what you have typed out.
How to go down one line on Discord?
Going down a line on Discord is pretty straightforward. All you have to do is press the Shift key and Enter simultaneously. Press and hold down the Shift key first before pressing enter to ensure you don't accidentally press the enter key first. This method works on both MAC and PC as well as any other computer device. For mobile IOS devices and Android devices, you can go down to a new line by pressing the "return" key. Alternatively, you could type out your message in any text app like word or notepad, then copy and paste it into Discord once it's properly formatted.
WHY GO DOWN A LINE IN DISCORD?
Like all text applications, sometimes the need to type out long messages may arise, especially while using Discord servers. In this case, you need to go down a line while constructing your message to have an organized text.
Of course, there's always the option of breaking down your text into several messages.
However, this will break your message into pieces and disrupt the message's context and continuity. This makes it necessary to go down a line while using Discord.
Another reason you might want to go down a line on Discord is to create a bulleted list. In this particular case, you would write a bullet point, then enter your text, then go down a line, enter a second bullet point, add some more text, and so on and so forth.
OTHER HELPFUL HOTKEYS ON DISCORD
How to italicize in Discord
To italicize a text in Discord, all you need to do is insert an asterisk at the start and end of your message.
Sending a message in this format will italicize the text between the two asterisks.
How to bold a text in Discord
To make the text in a message bold, you need to insert two asterisks at the start and the end of the message.
Once the asterisks are inserted, sending the message will result in the text appearing in bold form.
How to underline text in Discord
Underlining text in Discord can highlight specific words or phrases and be used as an alternative to both italics and bold.
To underline text on a Discord chat, place an underscore at the start and end of the text.
How to move down a chat in Discord
If you're a part of a busy channel or server on Discord, you might sometimes log in to find many unread messages.
If you wish to skip scrolling through thousands of messages and skip to the latest message, all you need to do is press the "CTRL + END" buttons together, and the chat will skip to the newest message on your server.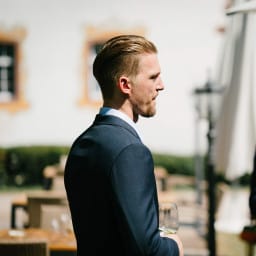 Hey guys! It's me, Marcel, aka Maschi. I earn a full-time income online and on MaschiTuts I gladly share with you guys how I stay on top of the game! I run several highly profitable blogs & websites and love to speak about these project whenever I get a chance to do so. I do this full-time and wholeheartedly. In fact, the moment I stopped working an 8-to-5 job and finally got into online business as a digital entrepreneur, is problably one of the best decisions I ever took in my life. And I would like to make sure that YOU can get on this path as well! Don't let anyone tell you that this can't be done. Sky's the limit, really…as long as you BELIEVE in it! And it all starts right here..at Maschituts!