Uh-oh! Why can't I change my Discord avatar after merely changing its position inside the frame?
Did I click the wrong button?
Well, if you're perplexed with this issue, continue reading and find out what exactly caused it.
How Long Do I Have to Wait to Change My Discord Avatar?
You can update your avatar in Discord without limit. But, if you change it more than 2 times in a row, an error called the Discord avatar cooldown will be activated. Thus, wait for 5 minutes before you attempt changing your Discord avatar to avoid being locked out of this feature.
Profile pictures, though not mandatory, help in establishing our identities on any social media platform that we join.
Think of it as an extension of our personalities on social media.
But, even on Discord, profile pictures, more commonly known as avatars, show a glimpse of our personalities and interests.
With that said, Discord allows its users to change their avatars now and then. There's no limit, literally.
Yet, when we talk about the rate (frequency, specifically) at which you can change your avatar, that's another story.
For those who aren't familiar with Discord, you are only allowed to change your avatars once every 5 minutes.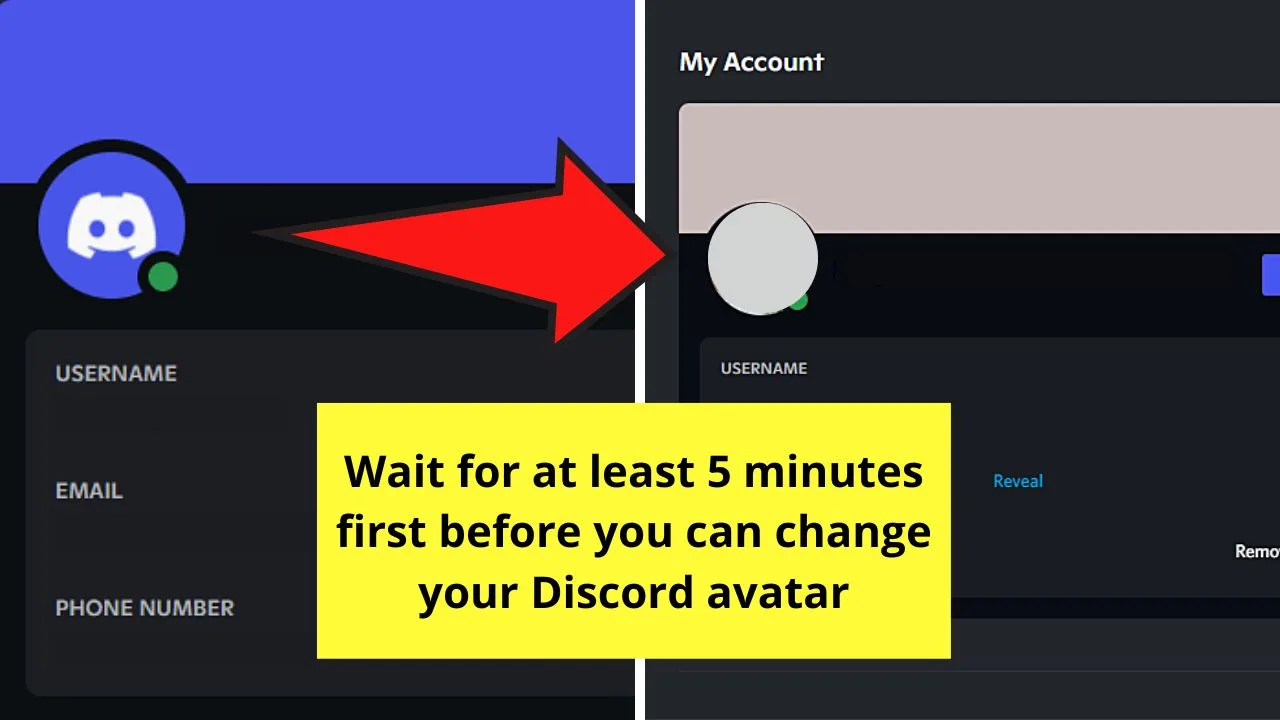 Why that slow?
Does that mean that if I made a mistake on how my Discord avatar is cropped out, I have to wait for 5 minutes to pass before I can change it?
The answer to all that is, unfortunately, yes!
The main reason behind this is that once you make changes on your Discord avatar, it needs to update the said change to all your friends' devices.
Not only that, Discord would have to update the said avatar change to every server you belong to.
If Discord would allow all its users to switch their avatars every minute, it would lead to server chaos.
What Happens if I Change My Discord Avatar Too Frequently
In the event you accidentally changed your Discord avatar more frequently than you should (say 3x in 1 minute), an error message will then appear.
This error message is what is known as the Discord profile picture cooldown.
So, if you see this message, wait for 5 minutes first before you change the avatar you set.
Hence, the safest way to ensure that you won't activate this error message is to wait before you attempt changing your Discord avatar again.
Or, since Discord's avatar is circular, you can make your picture round in Canva first before uploading it on Discord.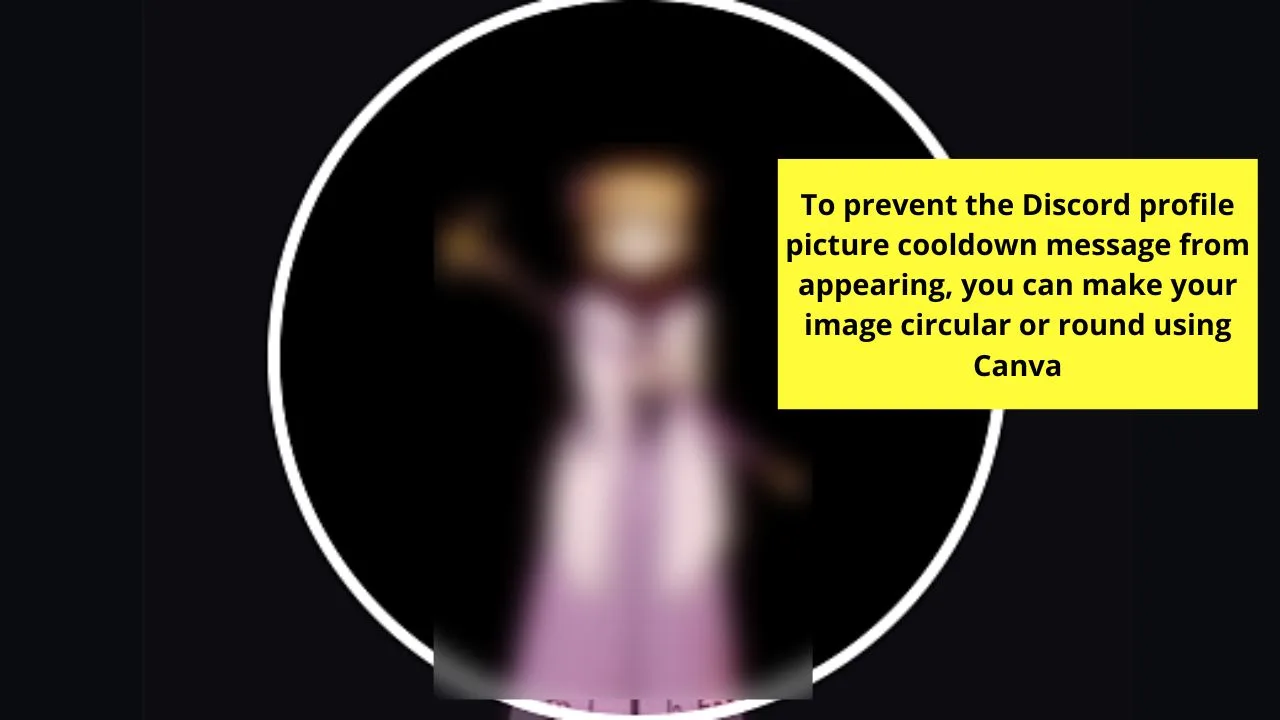 But, in the event you activated the Discord profile picture cooldown error, there are known ways to fix it.
Fixing Discord Avatar Cooldown Error in — 3 Common Ways
Method 1: Restarting the Device You're Using
As Discord's an app, it's expected that you'll experience some bugs and glitches while using it.
Even if you didn't change your Discord avatar more frequently than recommended, you can still face the profile picture cooldown error.
Hence, the first way you can use to troubleshoot this problem is to restart your device.
Simply head to the "Windows" button (if you're using a Windows computer) or "Apple menu" (if you're using Mac) first.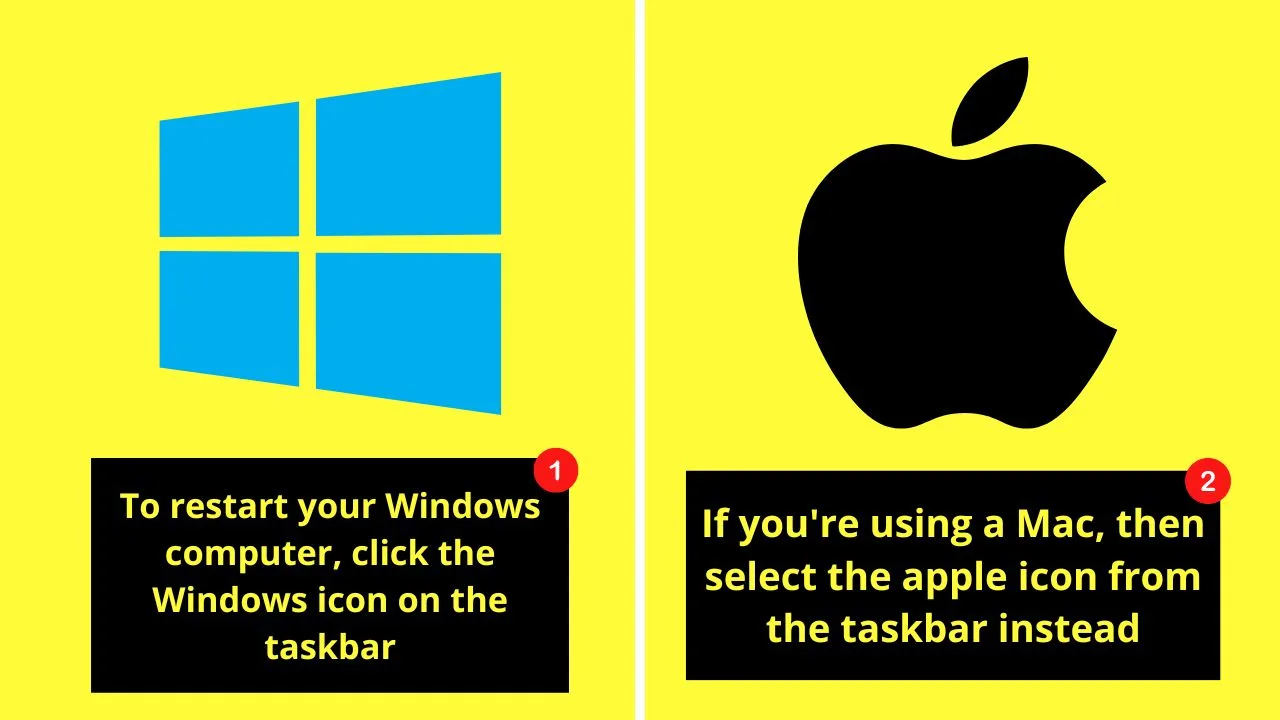 Then, click the "Power" button next before selecting the "Restart" option on a Windows computer.
On a Mac, simply select the "Restart" option.
If you're using Discord on a mobile device, long-press the power button found on its right side before pressing "Reboot."
But, in the event this simplest method doesn't work, read the next method below.
Method 2: Plan Your Discord Avatar Before Saving It
If you've been paying attention earlier, you'll know that the common reason for Discord profile picture cooldown error to appear is frequently changing one's avatar.
And, the most common reason why people frequently change their avatar is that they're not satisfied with how their avatars look in the frame.
So, to avoid committing that error, better plan how you want your Discord avatar to appear.
You can opt to go with creating a picture round in Canva as mentioned earlier.
But, if you don't want to do much editing, then visiting an online avatar creator website like Discord avatar maker can help.
Lastly, checking for the accepted Discord avatar settings can help guide you.
For your Discord avatar to look good and not make the system cut it automatically, make sure the image you'll upload doesn't exceed the 128 x 128-pixel mark.
You can upload your avatar in JPG, PNG, or GIF format. Just make sure to follow the image size recommended for the app.
Now, if you did all these things and you still encounter the Discord avatar cooldown error, then
Method 3: Reinstall the Discord App
On the off chance that you've already put an "X" on the first and second methods, you can try to reinstall the Discord app.
If you're using a desktop to use Discord, head to the "Control Panel."
You can find it either by searching for it using the "Search" button or by pressing the "R + Windows key" on the keyboard, typing "Control" and pressing "Enter" to activate the "Run" window.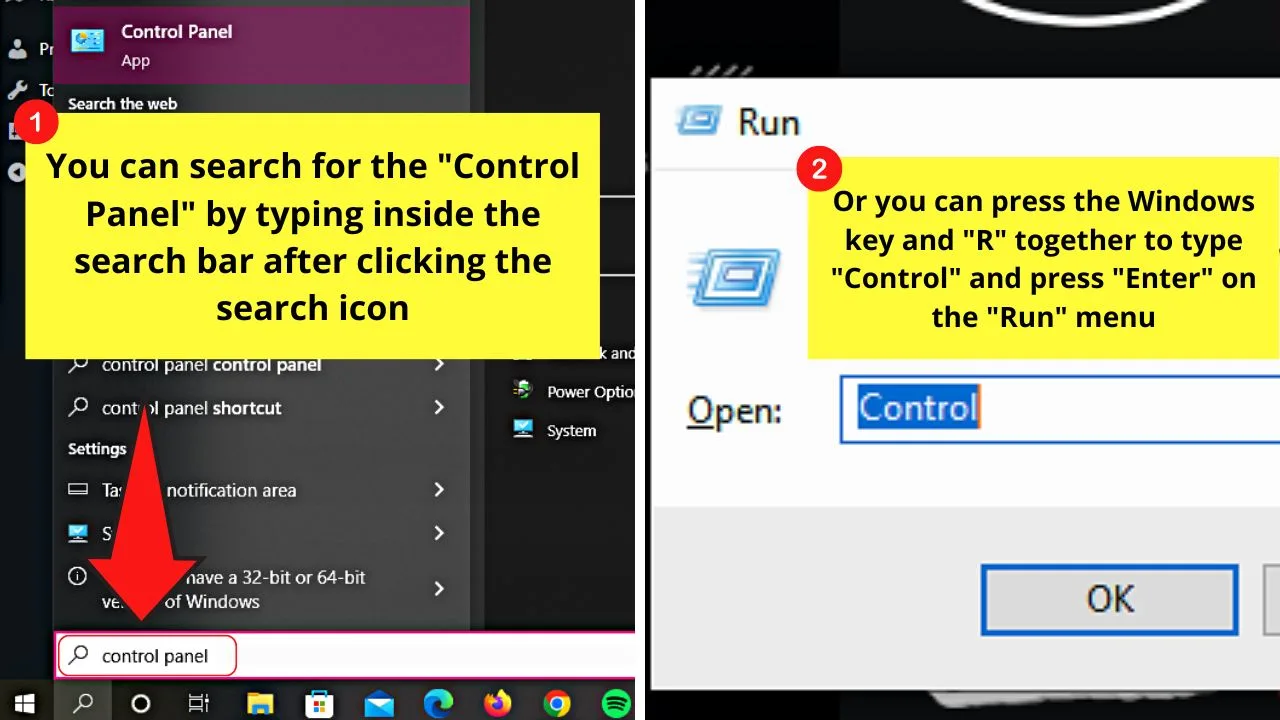 Then, select the "Uninstall a Program" option before choosing Discord on the list.
If you're using Discord mobile, long-press on the app icon on your phone and choose the "Uninstall" option from the menu that appears.
Once you've uninstalled Discord, reinstall it by downloading the Discord app from Google Play Store (Android phones) or App Store (iOS phones).
So, now that you're more knowledgeable about the do's and don'ts of changing your Discord avatar, are you now more confident to upload new ones soon?
Frequently Asked Questions about How Long Do I Have to Wait to Change My Discord Avatar
How come I can't change my Discord avatar?
The most common reason you can't change your Discord avatar is changing it more than twice in a short time (1 minute). If you have changed your avatar 2 times already and you still don't like it, you won't be able to go for a third try as you'll be locked out of the said feature.
What is the best thing to do to avoid Discord from locking me out of changing my avatar?
While there is nothing you can do to get around Discord locking you out of changing your avatar, the best thing you can do is to wait for 5 minutes before making another attempt. Changing your Discord avatar more than twice in succession activates the profile picture cooldown error.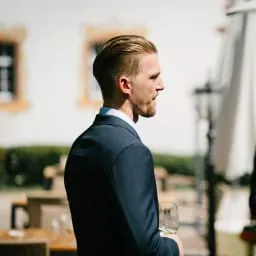 Hey guys! It's me, Marcel, aka Maschi. On MaschiTuts, it's all about tutorials! No matter the topic of the article, the goal always remains the same: Providing you guys with the most in-depth and helpful tutorials!