Discord is an awesome piece of software.
And long gone are the days where only gamers used Discord.
In fact, Discord is now widely popular for all sorts of things and with all sorts of people.
Why's that?
One could certainly argue that Discord is highly popular because it is just extremely easy and convenient to use.
Creating a Discord server is a matter of minutes.
Creating channels (forums) is super easy and only takes a few seconds, given that you know how to actually do it.
If you don't know, there's no reason to worry about it either. Here's how you do it:



How do you add channels to your Discord server?
To add a channel, all you need to do is to click on your server's name (top left corner) and then select "create channel." There will be a popup window appearing on your screen. Now, choose the kind of channel you would like to create (either a text channel, voice channel or an announcement channel). Also, you can make the channel private at this point (and if you do select this option, you can define who actually has access to the channel).
Are there other ways to create channels on your Discord servers?
Yes. Instead of clicking on the server name (top left corner), you can also just simply right-click on any of the existing channels on your server. When doing so, you will see the option "Create channel" popping up.
Also, if you do hav
If you would like to edit a channel, simply hover over the channel's name and click on the gear symbol (edit channel menu).
Make your categories & channels stand out
As you have seen in this article, creating channels on your Discord server is a piece of cake.
In a matter of minutes, you can create various channels & categories, making your Discord server well-organised and user-friendly.
If you have a big number of channels, you might want to make each channel section (category) and channels stand out as much as possible.
A good way to achieve that is to use Emojis. You can indeed add Emojis to category names and channels.
Also, you might want to use some special symbols such as dashes or slashes to make your channels & categories stand out even more.
Here are a few examples:
——— General Chat ———
——— | Mod Chat | ———-
? Voice Chat German ?
?? Study-chinese
If your server features a wide variety of channels and categories, making use of emojis, special symbols and "dividors" can make a huge difference!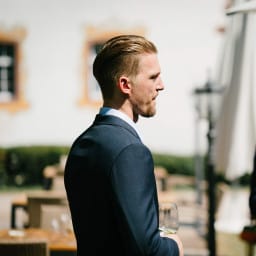 Hey guys! It's me, Marcel, aka Maschi. I earn a full-time income online and on MaschiTuts I gladly share with you guys how I stay on top of the game! I run several highly profitable blogs & websites and love to speak about these project whenever I get a chance to do so. I do this full-time and wholeheartedly. In fact, the moment I stopped working an 8-to-5 job and finally got into online business as a digital entrepreneur, is problably one of the best decisions I ever took in my life. And I would like to make sure that YOU can get on this path as well! Don't let anyone tell you that this can't be done. Sky's the limit, really…as long as you BELIEVE in it! And it all starts right here..at Maschituts!