Downloading images from Canva is a straightforward process that offers convenience for your design needs.
Whether you're creating stunning graphics or enhancing your projects, Canva provides a user-friendly interface to achieve your goals.
In this guide, we'll explore the steps to download images from Canva and uncover some tips and limitations along the way.
How to Download an Image from Canva
To download an image from Canva, follow these steps:
Click on "Create a new design" on Canva's home page
Select "Custom Size" and enter the desired image dimensions
Click on "Photos" in the left sidebar
Drag and drop a photo onto the Canvas
Right-click the image and choose "Set as background"
Input a name for your project (image) in the upper-right corner of the screen
Click on "Share" in the upper-right corner
Select "Download"
Choose the File Type (go for either JPG or PNG)
Click on Download
Can You Download Elements if You Only have the Free Account?
As mentioned in the previous section, there are restrictions on the features you can avail of if you only use the Free version of Canva.
Aside from not being able to download elements with a transparent background, you won't be able to download an unwatermarked version of the photo.
But don't get me wrong here. You can still download the image. But, instead of a "Download" button, it will be replaced with the "Pay and Download" button instead.
If you've got some money to spare and you'd like to download the design with the premium elements in it, then go ahead and click that button. You only need to connect a payment option so you can proceed with the download.
You can also use Canva credits to pay for the Premium photo or element you'd like to download.
However, if you want to use your design for sample purposes, you can still download it.
Right below the "Pay and Download" button, you'll find a fine, hyperlinked text beneath it that allows you to download a draft of your design.
There's just a small catch to it.
Instead of a stunning and clear image of your design, the draft will appear with the Canva watermark splashed across the entire design.
But, if the Canva watermark really bothers you, you'd need to pay for the Premium elements and images you've used in your design.
So, are you now ready to save and download your Canva designs on your device? Whether it's a PC, a laptop, or even a cellular phone, you can still enjoy this Canva feature hassle-free.
Just learn where to activate those features, and you're good to go.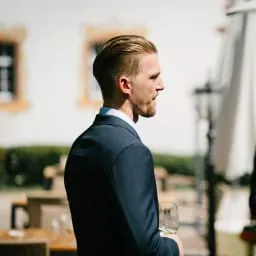 Hey guys! It's me, Marcel, aka Maschi. On MaschiTuts, it's all about tutorials! No matter the topic of the article, the goal always remains the same: Providing you guys with the most in-depth and helpful tutorials!