A simple shape can sometimes be the perfect solution for making a composition look more interesting and eye-catching.
And let's be honest, isn't it convenient to have that shape ready to go? In my experience, I can say that saving time on these little details can make the entire design process lighter and easier for everybody.
This is when a tool like the "Star Tool" comes in handy. It's both effective and easy to use. It also allows you to make a variety of star shapes.
Creating a star shape in Illustrator isn't difficult, and unlike many other actions in this software that can be done in a number of ways, the "Star tool" is the main method. Unless you enjoy doing things the difficult way!
It couldn't be easier! And believe me when I say that once you've mastered the tool, you will want to use it all the time.
After you've uncovered all of the secrets and insights and insights about it, the fun part begins because you can do whatever you want to personalize it and make it your own by using any other Adobe Illustrator tool you want.
How to Make a Star in Illustrator
To make a star in Adobe Illustrator, go to the left toolbar, and select the "Star Tool," normally located under the "Rectangle Tool." Click anywhere on the canvas to define your star by adjusting the radius (1 & 2) and the number of points. Click the "Ok" button and you're done!
What does a star look like to you? Does it really need five points? It can be whatever you want it to be!
Think what you can make out of it. Probably you intend to use this star as part of a simple composition, or maybe you want to duplicate it and make a pattern out of it.
You can use it as a "Clipping Mask", a "Symbol", or even a 3D object if you feel adventurous.
After you've finished making the star, you might want to customize it by adjusting the color, stroke, or size. Perhaps even some shadows or gradients could be added as well?
There are so many options available! The "Star Tool" is perfect for creating a star shape, and like any other shape in Illustrator, it can be edited as you want.
How to Make a Star in Illustrator: Step-by-step Guide
Step 1
Select the "Star Tool".
You can usually find it under the "Rectangle Tool" sub-menu.
Click and hold, you will see a drop-down menu where you can pick the "Star Tool" from.
You didn't find it? Don't be alarmed! You can edit your own toolbar and add anything you are missing by simply clicking on the "Edit Toolbar" button at the bottom of it (It has a 3 dots icon), and dragging any tool you want into the toolbar.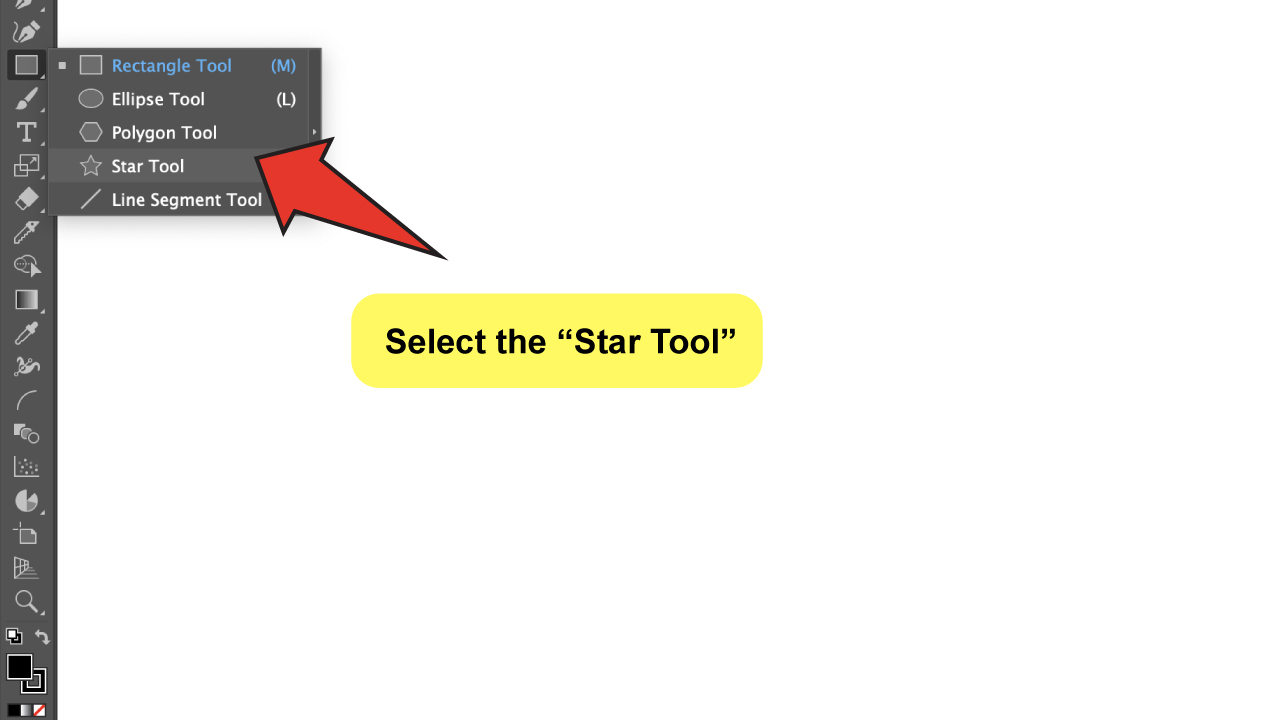 Step 2
Define the Star settings.
Click anywhere on the canvas. You'll notice a "Star" menu box appear there, and pay attention cause here is where the crucial work is done! This is where you will enter all of the values that you want the star to have.
First, you need to define the Radius 1, which is the distance from the center of the star to the tip of the star points. And the Radius 2, which is the distance from the center to the inner core of your star.
Lastly, Points, which is the number of points that you will choose for your star to have.
Step 3
Click "Ok" to create the star.
There you have it! A perfect star, shaped in the exact way you wanted it.
Always keep in mind that the next star you will create will always keep the shape of the last star you created unless, of course, you change the setting again.
I've just shown you what I consider to be the most precise method to make a star in Illustrator. However, it's important to know that you can also build a star by just drawing it on canvas using the same tool.
This will represent a more free way to achieve the same result, but without the accuracy that the other method provides.
You simply need to click and drag, and you can manage the number of points by using the arrow buttons on your computer while tracing it. "Up" means to increase, while "Down" means to reduce.
The nicest part is that you can freely adjust both radiuses by using the "Control" key (or "Command" if you're a Mac user) while the process is going.
You can also press the "Alt" key (or "Option" if you're a Mac user) to instantly reset to a regular star shape.
That's helpful in case you went too far with the experiment and the result isn't what you expected.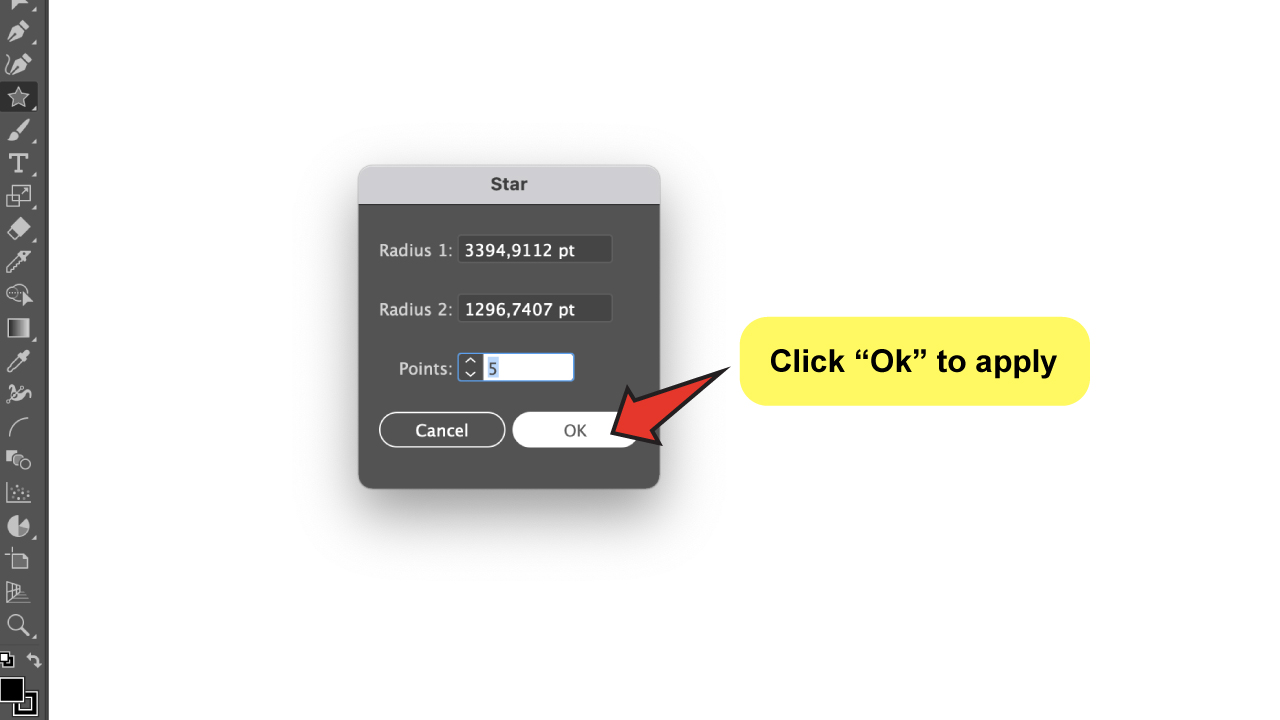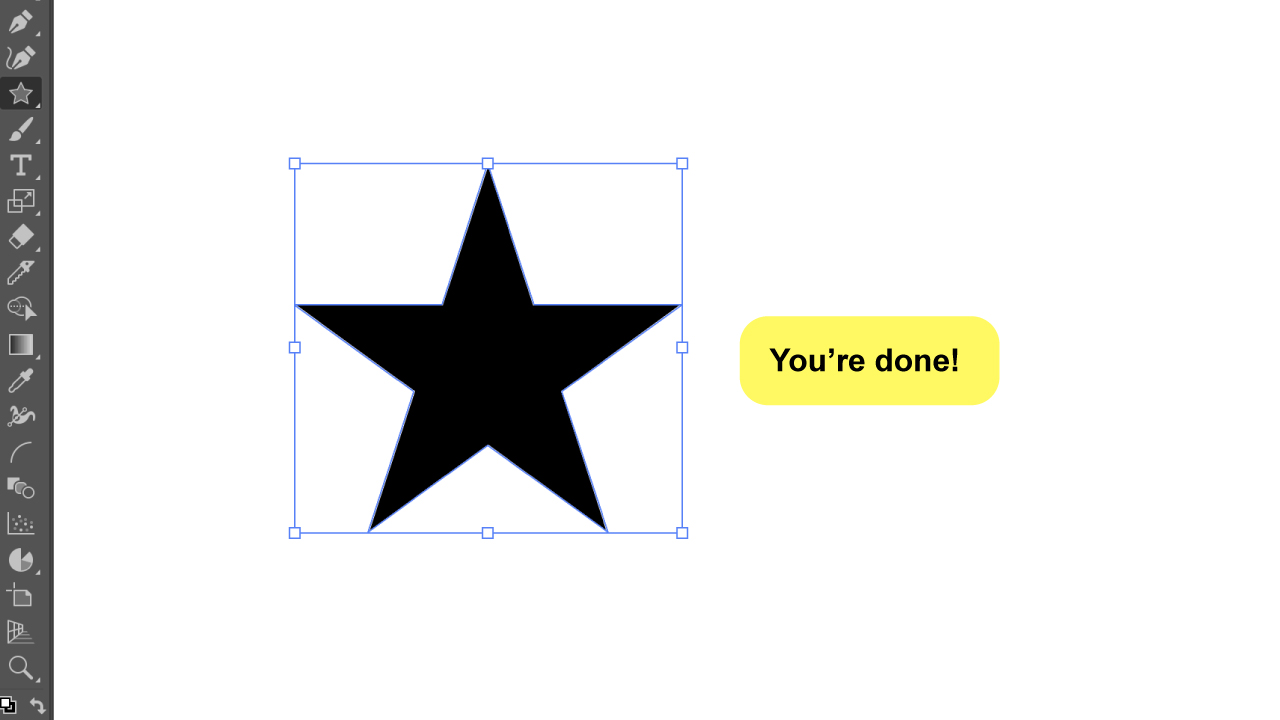 Frequently Asked Questions About How to Make Star in Illustrator
How can I create a star with round corners?
Simple! When you use the "Direct Selection Tool" (A) to choose the form, you will notice the appearance of these small circular nodes inside and outside the shape. You can adjust the shape's curvature by moving the nodes inwards and outwards.
Can I add more points to a star?
You can add or reduce the amount of points in your star by just using the arrow keys on your keyboard while you are drawing the "Star" manually.
How do I keep a star at a straight angle while I create it?
It's really simple! While tracing your star, hit the "Alt" key (or "Command" if you're a Mac user) and voilà! Your star will perfectly align by itself.
How can I make a copy of the star I made?
You can duplicate the star in the same way that you would do with any other object. Choose "Selection Tool" (V), click on the star you just made, hold and press the "Alt" key (or "Option" if you're a Mac user), drag anywhere, and release!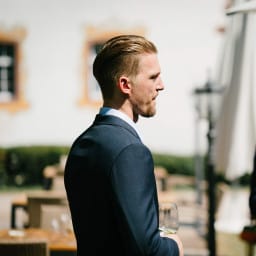 Hey guys! It's me, Marcel, aka Maschi. I earn a full-time income online and on MaschiTuts I gladly share with you guys how I stay on top of the game! I run several highly profitable blogs & websites and love to speak about these project whenever I get a chance to do so. I do this full-time and wholeheartedly. In fact, the moment I stopped working an 8-to-5 job and finally got into online business as a digital entrepreneur, is problably one of the best decisions I ever took in my life. And I would like to make sure that YOU can get on this path as well! Don't let anyone tell you that this can't be done. Sky's the limit, really…as long as you BELIEVE in it! And it all starts right here..at Maschituts!