"Oh, I want to watch this video!"
"This vid seems interesting. Let me click on the link!"
Aren't these the reactions that you want your potential audience to have when they see your video on YouTube?
If you do, and you don't know how to get started with the process itself, it's best to start with creating your thumbnails from scratch with Canva.
How To Create Awesome YouTube Thumbnails In Canva
To create awesome YouTube thumbnails in Canva, first, create a new design with a 1280 x 720 px size or by using a pre-made blank template. Then, add various Canva photos, backgrounds, and elements. Add text using large and readable fonts. Resize, readjust, and move the elements according to how you want them to appear.
Detailed Guide In Creating YouTube Thumbnails
Indeed, there's no easy way on how to make YouTube thumbnails that will wow your audience.
But, with Canva, you can whip up one in a matter of minutes — even if you're still a newbie in this field.
So, let's now get down to the nitty-gritty of this topic and learn how to create YouTube thumbnails from scratch.
There are 2 ways how to design your YouTube thumbnails.
Custom-made YouTube Thumbnails
Step 1: Create a new file from Canva's home page by clicking on the "Create a New Design" button.
Step 2: To ensure you've got the right template size, you can verify it even after you've created a new file. Simply head over to the "Resize" button on the top Canva menu and check your project's dimensions.
Step 3: Once done verifying, search for images you can use as foreground and background of your thumbnail. Head over the left-side menu and click on "Photos."
Step 4: Search for the picture you'd like to use by scrolling down or key in the description of the image you want in the search bar.
Step 5: Once you've chosen the pictures, drop them into your project.
Step 6: To use one photo as the background, simply right-click on that picture and tap the "Use as Background" option from the dropdown menu that appears.
Step 7: If you can't find the perfect picture to use as your background, head over instead to the "Backgrounds" tab on the left-side Canva menu. Scroll down or key in some words on the search bar to find the background image you'd like to use.
Step 8: Blur your background image to make your foreground pop out more. Simply click on your background photo, head over to the "Adjust" tab, and slide the "Blur" slider to the left.
Step 9: To make your foreground image pop out more, remove its background (if it has any) by heading over the "Effects" menu. Click on the "Background Remover" option.
Step 10: Sharpen your foreground by heading over the "Adjust" tab on the toolbar and dragging the "Blur" slider to the right.
Step 11: Once you've selected the pictures, add arrows, shapes, and frames on your thumbnail. Simply head over the left-side Canva menu, tap on the "Elements" button. Scroll down or key in the descriptions of the elements you'd like to use in the search bar. Then, drag and drop what you've chosen on your project.
Step 12: Make your foreground image (1st photo) stand out more by
Step 13: To resize the Canva elements you've added, click on it and drag the white circles and bars that appear on the edges.
Step 14: To change the color of the said elements, tap on it to make the rainbow-colored tile appear on the toolbar. Click on it and select the colors accordingly.
Step 15: Add text to your thumbnail. You can do this by either heading over the "Text" menu and dragging the text holder in the template or simply pressing the "T" key on your keyboard.
Step 16: Adjust the text size by clicking on the text box and dragging the white circles or bars or by selecting from the fonts menu in the toolbar.
Step 17: Change the text's font style by clicking on the font style menu found in the toolbar above the template.
Though the entire process looks tedious, it's pretty easy to create YouTube thumbnails from scratch once you've mastered the basics.
But, if you want a shorter or simpler process, then here's another option you can avail yourself of.
Use of Canva Templates to Create Youtube Thumbnails
Step 1: On Canva's home page, head over the "Templates" tab and click on it.
Step 2: On the search bar that appears, type in "YouTube thumbnails." Tap on the corresponding option.
Step 3: If you want to use a blank template, choose the "Create a blank YouTube Thumbnail" option.
Step 4: If you want a pre-made YouTube Thumbnail design, select from the various designs available in the gallery.
Step 5: Click on the template you've chosen and tap the "Customize this template" button. It will then appear on the editor page.
Step 6: Delete the pictures or elements you won't use and select new ones from the "Photos" and "Elements" menus accordingly.
Step 7: Change the texts by clicking on the words before typing what you'd like to appear on your thumbnail.
Step 8: If you'd like to change some of the colors used in the pre-made thumbnail, simply click on the element to make the rainbow tile appear in the toolbar. Tap on it and select the colors accordingly.
Once you've made enough tweakings — resizing and repositioning elements — to personalize the YouTube thumbnail template you've chosen, save your design and download it on your device.
The Importance of Youtube Thumbnails
Now that you've gone through the entire process of making YouTube thumbnails, it's now time to learn its importance.
For most of us, a YouTube thumbnail simply is an image that tells us what the topic of a particular video is about.
Yet, for those in the vlogging industry, YouTube thumbnails are more than just images to tell the whole world what you're talking about.
If you're a keen observer, you'll find that after uploading a video on your channel, YouTube automatically generates frame snapshots.
From these frame snapshots, you can then choose what image you'll use as your thumbnail image.
Now, if you want to have a more professional-looking thumbnail, it's best to create them yourself following the steps mentioned earlier.
Aside from those reasons, personalizing your YouTube thumbnail gives you more control over what you think best illustrates your video, as well as attracts more viewership.
Plus, you get to add titles to make it more eye-catching to your potential viewers.
Hence, the more attractive your YouTube thumbnails are, the higher the click-through rate. As the click-through rate increases, the more viewers you have.
And, more viewers for your YouTube channel is your end goal, right?
But, if you already are a pro at using the various tools and features in Canva yet don't know what a good YouTube thumbnail is, then stay here and keep reading.
Nifty Tips To Make Your YouTube Thumbnails Stand Out
As mentioned above, the end goal of a YouTube thumbnail is to entice more people to view your video.
And, the best way for you to attract more viewers to your channel is by creating attractive thumbnails.
But, how?
Make your YouTube thumbnail inviting
First impressions last indeed. And, as cliche as it may be, the same principle applies to gaining more viewership to your YouTube video.
To do that, you first have to take note of the technical aspects concerning creating YouTube thumbnails.
With that, let's talk about the sizing.
For the best results, YouTube recommends using a 1280 x 720 px template size as this fits easily into a 720p video clip resolution.
Yet, with Canva, you don't have to worry a thing about this sizing aspect as its templates already are sized according to the technical specifications.
Also, add elements like arrows, lines, circles, and frames into your thumbnail design.
Depending on what design you have in mind, these Canva elements have the power to compel your potential audience to view your video.
If you don't know how to mix and match different Canva elements on your designs, you can always refer to some examples later in this text.
Use Big And Easy-To-Read Fonts
Remember the click-through rate that was mentioned earlier in this text?
If you've been paying attention, you'll have an inkling that this click-through rate has a lot to do with the titles you're putting on your thumbnail.
Of course, you'll have to write a nice and catchy heading first. But, an inviting title isn't merely the thing you'll have to consider here.
What's a catchy headline if you can't even read it from afar, right?
Hence, using the simplest and easiest to read fonts always are the ideal ones to use to ensure the title's visible to your viewers.
Though there are a ton of font styles to choose from, the cleanest and most visible fonts are League of Spartan and League Gothic.
And, you can preview how these fonts fare in smaller sizes compared to other styles by zooming out to 10-25% zoom.
If you can still read the text from such size, then your thumbnail's good to go.
Mix And Match Colors According To Your Branding
Now, what does branding got to do with my YouTube thumbnail?
For the naive ones, branding serves as the identity of your YouTube channel, blog, or product line. And, the best way you can do this is to incorporate a specific set of colors to match your brand.
In that way, your viewers can quickly associate a particular color scheme to your YouTube channel.
Also, colors aren't merely for the branding aspect of your YouTube thumbnail.
Choosing particular hues can also allow your titles to stand out more rather than blend in with the background.
Think of applying the colors that complement whatever hue your background has with your text.
Though it'll mean that you have to review a bit about the color wheel, taking such a step means a lot when it comes to standing out on YouTube.
YouTube Thumbnail Design Ideas
Sometimes, inspiration fails to strike us, and we're running out of ideas on what designs you'll use for your YouTube thumbnail.
But, worry no more, as you can take a look at some thumbnail design ideas here.
Who knows, one of these thumbnail designs will spark that creative flame in you.
Before-And-After Template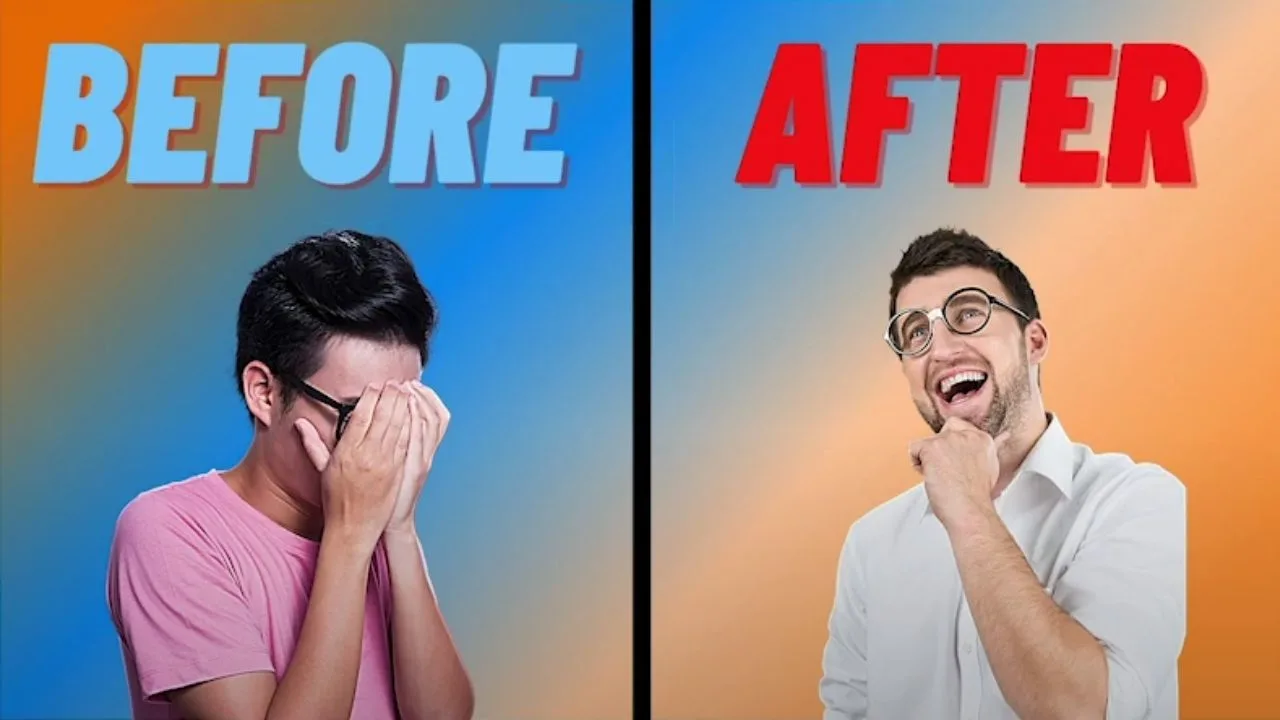 This thumbnail design entails certain changes that happen on a particular topic or product. Hence the need for two sets of designs in one thumbnail.
But, not to worry, as you can easily create this kind of template.
First, you'll have to assign a background. Just visit the "Photos" or "Backgrounds" tabs to find one that suits your liking.
After which, choose 2 different photos to represent the before and after from the "Photos" gallery.
If you're using pictures of persons and you don't want to include the background, you can always click the "Background Remover" under the "Effects" tab.
If you're a free Canva user, don't fret as you can use the remove.bg site to attain a similar effect.
The process will just be a tad longer, but it's worth the effort.
Now, to create the divisions, you'll have to add lines. Just head over to the "Elements" tab and choose from an array of line styles in the gallery that appears.
But, if you want a vertical line instead of a horizontal one, better read up on the "How to Add a Border" text on this site.
Crazy Facial Expression Template
Crazy facial expressions don't mean you'll have to use a picture that's totally out of this world.
What this thumbnail design entails is using exaggerated faces on your project.
Hence, you'll have to search on the "Photos" tab for pictures of people's faces that are either silly, in shock, or whatnot.
The important thing is that such an image will draw the attention of your potential viewers on your thumbnail.
To achieve this effect, you'll have to type the adjectives of what type of facial expression you're aiming for.
If that particular picture of a human face has a background, crop the person out by removing the background photo.
Then, simply resize and reposition the face accordingly.
Lastly, add more elements that go with the theme, and you're all set!
The Arrow Template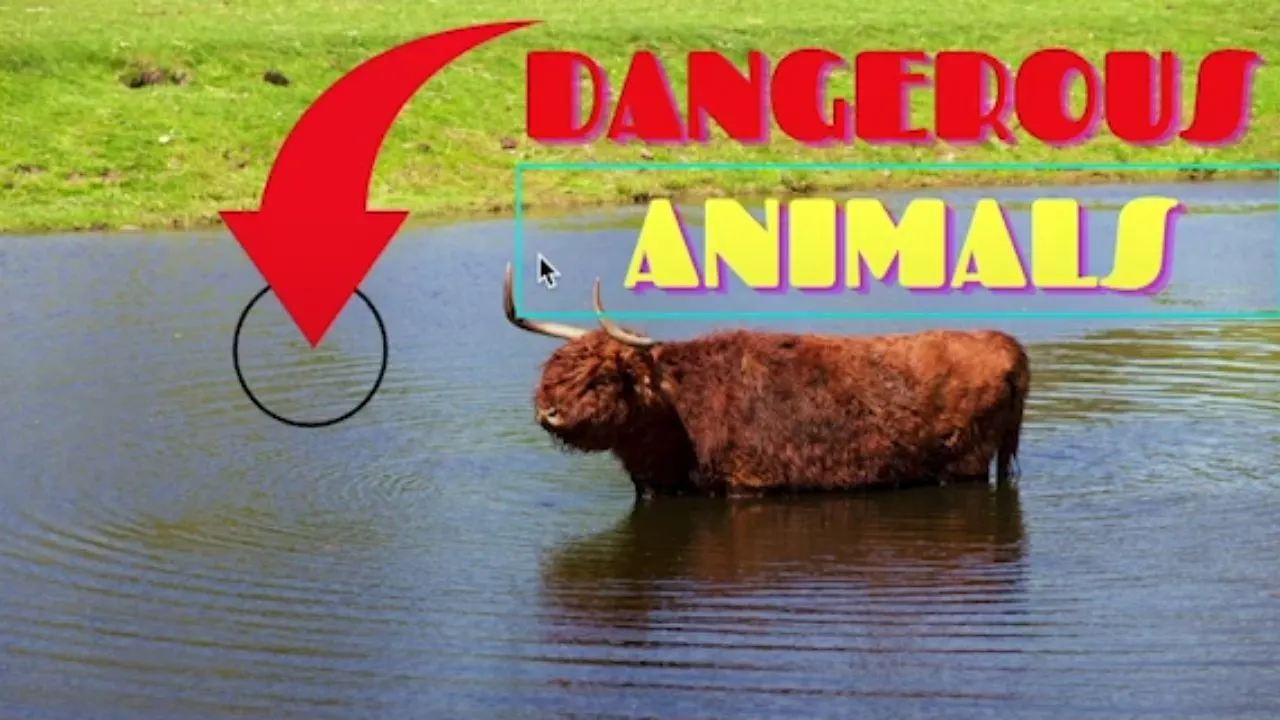 Arrows tell us the direction we're supposed to take to arrive at a particular place, right?
Similarly, arrows on a YouTube thumbnail tell us where to look.
With that, incorporating an arrow will surely compel your would-be viewers to look at your video.
In short, arrows pique the viewers' curiosity, prompting them to click on your video to see what that arrow's pointing at.
So, if you want to try this thumbnail design out, simply head over to the "Elements" tab of the left-side Canva screen and search for "Arrows."
Choose from the wide array of arrow styles, resize, reposition, and tweak its color to make it stand out more.
Another thing you can add to make your viewers zero in on a particular spot more, you can even add circles on your thumbnail.
Just head over to the "Elements" tab again and search for "Circles" instead.
Drag and drop that particular circle style you'd like to use and resize accordingly. You can also change its color if such a feature's allowed in that particular design.
The Reaction Template
Reaction refers to how a person responds to a particular object, image, or phenomenon.
With that said, the reaction type of YouTube thumbnail incorporates a shocked human face to an embedded image.
Now, here's the fun part. Simply head over to "Photos" and search for a man or woman's face that's shocked.
You can use other types of reactions as well, depending, of course, on the design you're aiming to achieve. If there's any background, remove it with Canva's nifty background remover feature.
For the embedded image, you'll have to add frames to the design. These frames will serve as placeholders for the picture you'll put inside them.
To create an embedded image, head over to the "Elements" tab and choose from the frame styles available in the gallery.
Drag and drop the frame you'd like to use, resize and reposition accordingly.
After which, choose the image you'd like to embed from the "Photos" gallery. You can even use your pictures by uploading them through the "Uploads" tab.
Then, if you have the photo, drag and drop it inside the frame. You can even add arrows, and blur or sharpen the background image if needed.
Using Fancy Textboxes To Highlight Text
Now, if you want to draw your viewer's attention more to your thumbnail, adding colorful textboxes is a wonderful idea to highlight your title.
To achieve such an effect isn't too hard to do. But, first, you'll have to add text by tapping "T" on your keyboard. Create more textboxes if there's a need by tapping the "Alt" or "Option" key while dragging the text.
Once you've typed your title on the thumbnail design, head over to the "Elements" tab and search for a rectangle.
After that, drag and drop that rectangle style you've chosen and resize accordingly. Place the rectangle behind the text.
You can even change the fill color by tapping on the colored tile on the toolbar.
Now, if you want to add a border for a more professional effect, head over to "Elements" and choose a hollow rectangle. Resize and position on top of the boxes, and you're good to go!
The Frame Template
Now, if you want to add more than 1 picture to your YouTube thumbnail, you can do so by using frames.
All you have to do is choose the frame style you'll use by visiting the "Elements" tab. After selecting a frame, drag and drop it on your design and resize it to fit your thumbnail.
Then, add the photos you'd like to use from Canva's photo gallery or upload your images through the "Uploads" tab.
Drag and drop those images accordingly and reposition them to your liking.
So, are you now ready to design your very own YouTube thumbnail?
Don't worry; your imagination's the only limit you have in making the best thumbnails for your YouTube videos.
What are you then waiting for? Sign in on your Canva account and begin designing!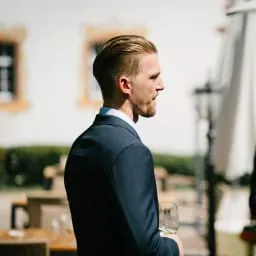 Hey guys! It's me, Marcel, aka Maschi. On MaschiTuts, it's all about tutorials! No matter the topic of the article, the goal always remains the same: Providing you guys with the most in-depth and helpful tutorials!