Canva has become a major player in the graphic design platform space over the past few years.
Rightfully so, we think, because we here at maschituts.com use Canva practically every day.
Especially for simpler tasks Canva is ideal, because the learning curve to master Canva is indeed very low and simpler work is much easier to do in Canva than in professional graphic design software such as Photoshop or Illustrator.
Thus, Canva is especially suitable for beginners and for all those who simply do not have hours of time (or simply do not have the nerves) to learn a software like Photoshop or Illustrator.
As more and more people use Canva, Canva naturally requires more and more employees to maintain the quality of their services and the website accordingly.
With that said, in today's article, we want to address the question of how many employees Canva actually has by now.
A really exciting question when you consider that millions of people worldwide now use Canva on a daily basis.
So let us dive right into it.
How much staff does Canva have?
Canva currently has 2000+ employees. The number of active employees working for Canva is growing very quickly. This should come as no surprise, however, as Canva now boasts over 100 million active users.
Canva locations
Canva is operating globally and has hubs in 8 key locations:
Australia
New Zealand
United States
United Kingdom
China
Austria
Philippines
Czech Republic
Alone in Australia, the home of Canva, the company currently has 120 jobs advertised (as of January 17th, 2023).
Canva staff and the future
With over 100 million active users and just 2000+ employees, it only seems to be a matter of time until Canva will engage even more employees.
Also, Canva undoubtedly has huge ambitions for the future.
While in the first few years the company mainly focused on editing photos and images, the range of services offered is now expanding.
You can now upload and edit videos on Canva and use various applications that are based on artificial intelligence.
One such application is Canva Magic Write, which creates text on demand (= according to input).
And with its text-to-image feature, Canva now also has an app that allows you to create completely new images and pictures using artificial intelligence.
And besides, Canva has just launched Canva Docs, which on the one hand strongly resembles Google Docs, but on the other hand is enriched and linked with Canva's typical elements and building blocks.
One thing is for sure though, Canva strives to do just about everything and doesn't want to be just a photo editing software for beginners.
Frequently asked questions
How can I access the Canva Magic Write feature?
Canva Magic Write is part of Canva Docs. You will, therefore, need to open up a Canva Docs document and then simply type a forward slash (/) and choose "Magic Write" in order to use this feature.
Who is the CEO of Canva?
The CEO of Canva is Melanie Perkins from Australia. She is also the co-founder of Canva.
When was Canva founded?
Canva was founded back in 2012.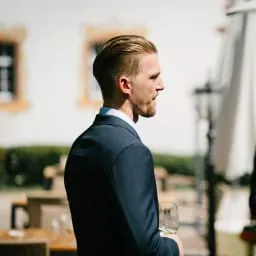 Hey guys! It's me, Marcel, aka Maschi. On MaschiTuts, it's all about tutorials! No matter the topic of the article, the goal always remains the same: Providing you guys with the most in-depth and helpful tutorials!