"Oh, just scan that QR code over there and you'll get to that website I'm talking about."
How many times have you heard of such a response whenever you ask for a person or business' website URL?
For those who aren't that techy, QR codes are now the fad when connecting with people and businesses.
Technically known as Quick Response codes, this pixelated-looking image serves as the modern barcode.
And, you don't need any special scanning device to activate the code. Just get your smartphone camera, place it atop the QR code, and wait for your device to take you to that particular website.
But, can you create one in Canva? Well, we better hurry and continue reading to learn about such a possibility.
How to Create a QR Code in Canva
First, head to the "More tab" on the editor page's left-side menu. In the gallery that appears, tap the QR Code app to install it. Then, once it's installed, copy the website URL and paste it on the white rectangle. Then, click the "Generate code" button for the app to create your QR code.
Creating QR Codes in Canva: 5 Easy Steps to Remember
People used to think that generating QR codes are only reserved for computer geniuses to tinker with.
But, with Canva always taking the step ahead in innovation, you now don't need to be that tech-savvy to create those QR codes.
Just make sure to read follow the steps mentioned below — and don't dare skip on any of them!
Step 1: Open a new design file with the Create a Design button or select a template available in the template gallery.
For this text, I'll make use of the business card format.
Step 2: Once you're inside the editor page, head over to the left-side menu and tap on the More tab.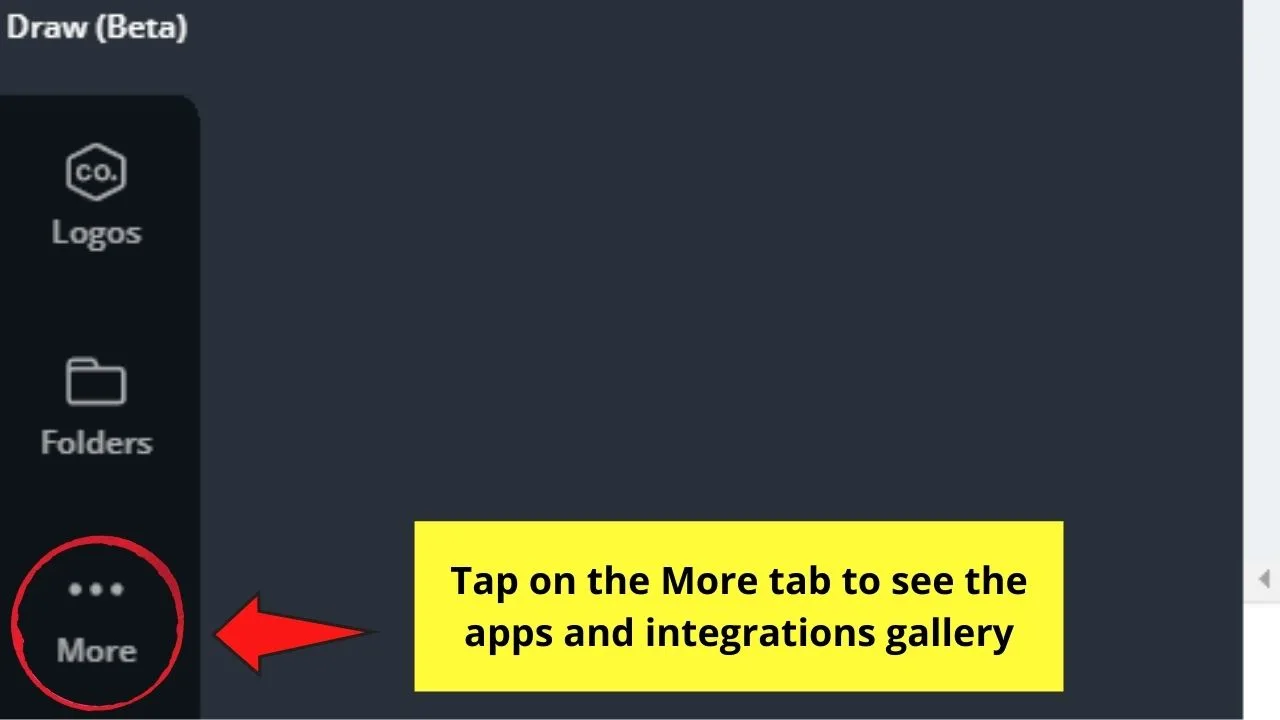 You will then see a gallery of the apps and integrations that you can install within Canva.
Step 3: Browse through the apps and integrations gallery until you see the QR code icon.
Click on it so Canva will automatically integrate this app on your left menu.
Step 4: Once the QR code app's fully integrated on your left menu, you will then see another panel that features a URL box in it.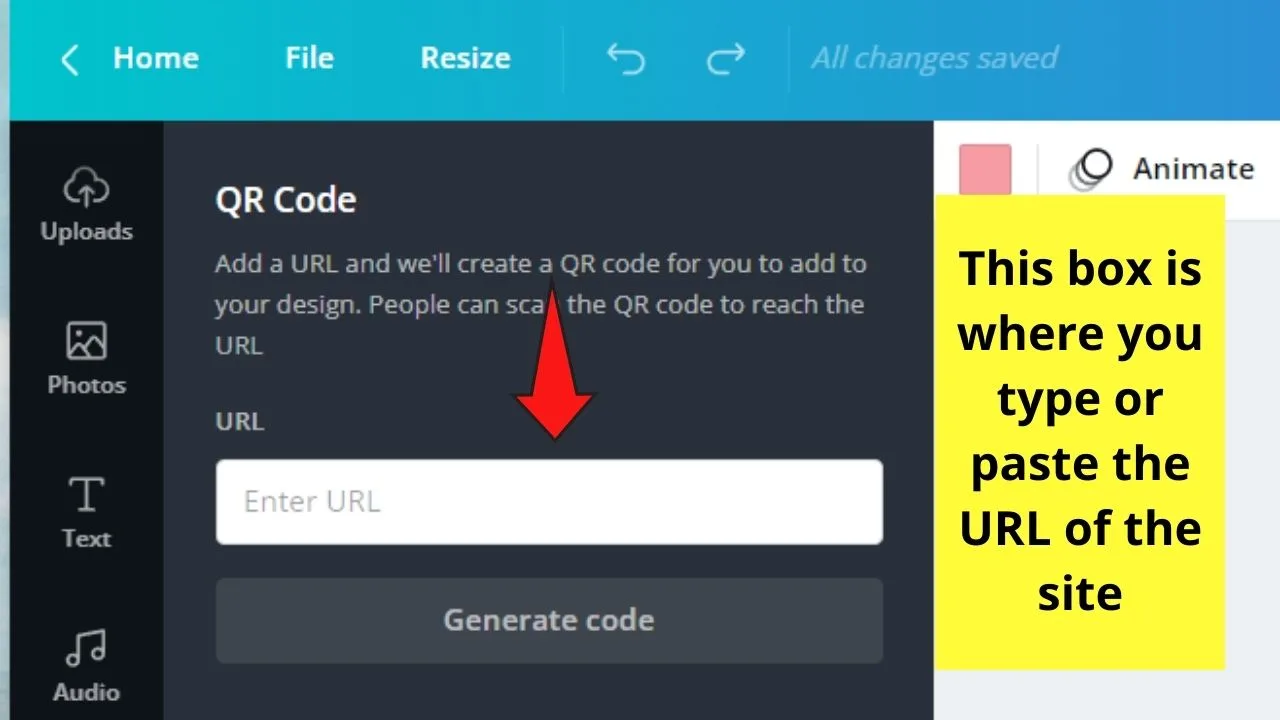 Head back to the website and copy its URL by highlighting and tapping the Ctrl + C buttons on your keyboard.
Go back to Canva and paste the said URL on the designated box.
But, if you've got such a good memory (or are simply familiar with it), just type the URL directly into the URL box.
Step 5: After successfully inputting the URL, just tap on the Generate code button for Canva to automatically create the QR code for you.
Usually, this step only takes a few seconds (of course, it still depends on the internet speed).
And, just like that, you now have a QR code that you can add to your latest Canva project — be it a business card, a Powerpoint presentation, or a digital menu you've created for your customers.
Plus, you can adjust the code's size so it'll fit seamlessly into your design. Then, just type a catchy call-to-action phrase, and you're good to go!
Pretty simple, right? So, why don't you go ahead and try Canva's nifty QR code generator app now?
By the way, did you know that it's actually possible to scan a QR Code even if just have it on your own phone? I personally experienced this a couple of times where I just had access to a QR code on my own phone and I just didn't know how to scan it, as I didn't have a second phone close by. But luckily there a couple of great ways to solve this annoying issue!
Frequently Asked Questions about How to Create a QR Code in Canva
Can I still use the QR code generator when I'm a Canva Free user?
The QR code generator app is available to all Canva users, whether you're on the Free account or the Pro one. There's no need to rush and upgrade to a Pro account for you to use this nifty tool.
Does Canva's QR code generator create dynamic codes?
Currently, the QR code app can only generate what you call the static or permanent QR code types. This means that when the URL you used to input earlier changes, you'll have to create a new one to update the QR code you're using.
Is there an expiration date once a QR code's generated in Canva?
Since the QR code generator creates static codes, it's permanent. Meaning, you don't need to subscribe to a plan for the QR code to be considered valid. Once you generate it and you don't change the linked URL, you can continue using the code for as long as you want.
Can you change the color of the QR code generated to other hues aside from black?
Unfortunately, the color-changing feature in the QR code generator isn't available yet. But, as Canva's a customer-centered team, it's possible that they'll update and incorporate this in the near future.
Is it possible for you to edit the URL you inputted and not change the QR code generated?
As mentioned earlier, Canva's QR code generator produces static codes. Hence, you cannot simply use the same QR code once you edit the URL. You'll have to generate a new QR code using the correct URL this time.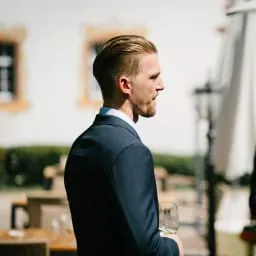 Hey guys! It's me, Marcel, aka Maschi. On MaschiTuts, it's all about tutorials! No matter the topic of the article, the goal always remains the same: Providing you guys with the most in-depth and helpful tutorials!