Social media nowadays isn't merely a source of information. With the world becoming more connected digitally, social media like Instagram is now an extension of our personalities and our daily lives.
Hence, we must customize it in the way that best reflects who we are. This includes adding pronouns that best describe our gender identity.
And the good news is, it's so easy to add pronouns on Instagram — if you know the basic steps to it!
How to Add Pronouns on Instagram
Tap "Profile" on the bottom menu of Instagram's home page. On the profile page, press "Edit Profile." Tap "Pronouns" and type the pronouns in the "Add your pronouns" field. Press one of the pronouns on the list. Press "Done" (iPhone) or "✓" (Android) thrice to save the pronouns added.
Whether you're using an iPhone or Android device, you can add up to 4 pronouns that best describe you on Instagram.
Here's how you can quickly add pronouns on Instagram.
Step 1: Tap the "Profile" icon on the bottom menu.
You will find this button on Instagram's home page after launching the app from your phone.
Step 2: Press the "Edit Profile" button on your "Profile" page.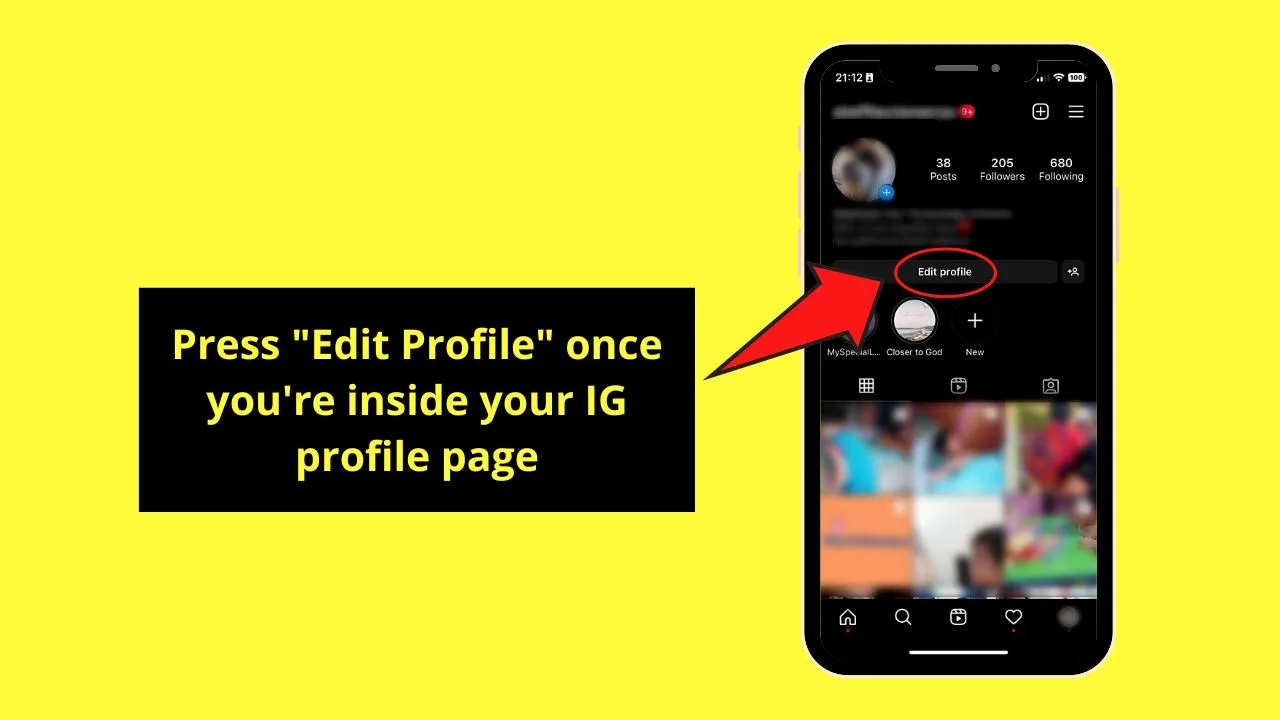 You'll find this button below your IG profile picture, username, and bio.
Step 3: Tap the "Pronouns" section on the "Edit Profile" page.
Since you haven't added pronouns yet, it appears black by default.
Step 4: Press on the field labeled "Add your pronouns."
An on-screen keyboard will appear below the screen so you can begin typing your pronouns.
Step 5: Tap the pronoun that appears on the dropdown list.
Pressing the pronoun will confirm your choice and add it to the field for "Add your pronouns."
However, the dropdown list only appears after typing a pronoun, so make sure to manually type the first few letters of your preferred pronoun.
Step 6: Repeat the 4th and 5th steps until you have added 4 pronouns.
Step 7: Press the "Done" or "✓" button on the onscreen keyboard.
Don't be confused though why there are 2 buttons presented here; they have the same function still. The button used only differs based on the device you're using to access IG.
On Android devices, the "✓" button is used. On iPhones and other iOS-operated devices, the "Done" button is used.
You'll both find these buttons on the onscreen button's lower right corner.
Step 8: Tap the toggle for "Show to Followers only."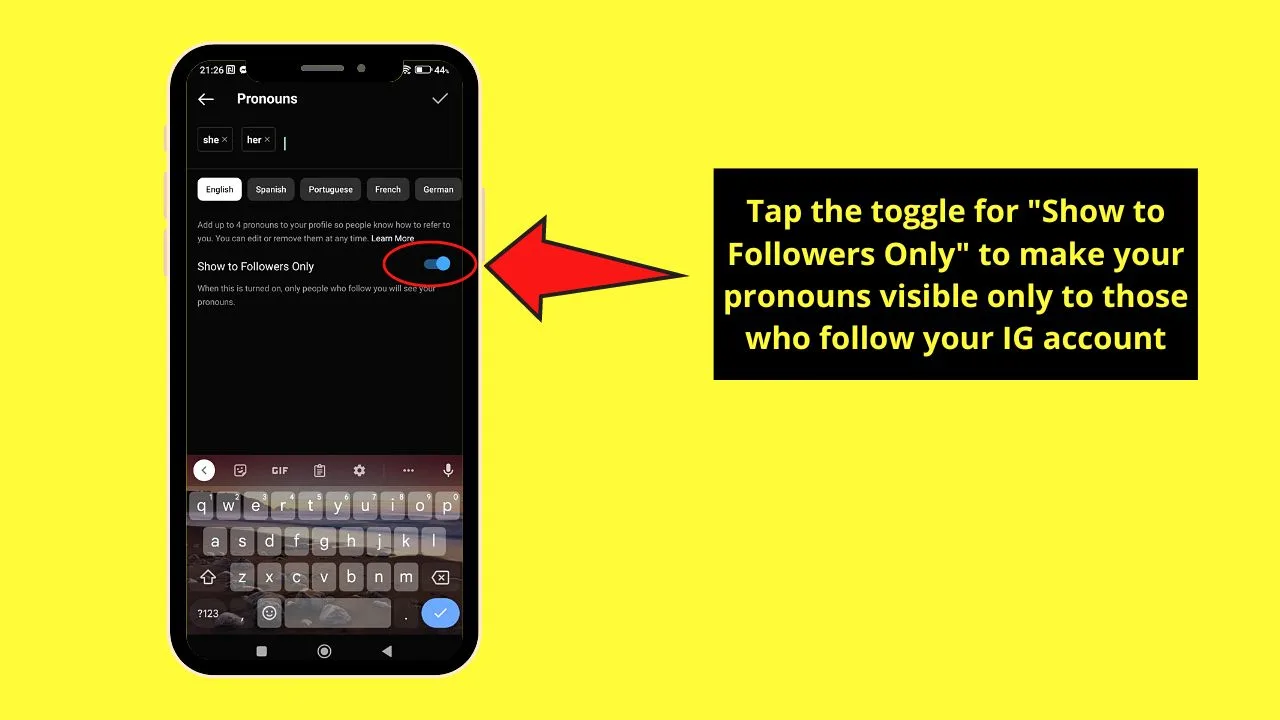 This button allows you to control who sees the pronouns you added, which as stated, are only limited to those who follow you.
This step is optional though. If you have a business account, you can always turn this toggle off so even those not following you know how best to address you.
After all, some Instagram usernames aren't too obvious in revealing the gender of the account holder.
Step 9: Press "Done" or "✓" on the upper right of the "Pronouns" page.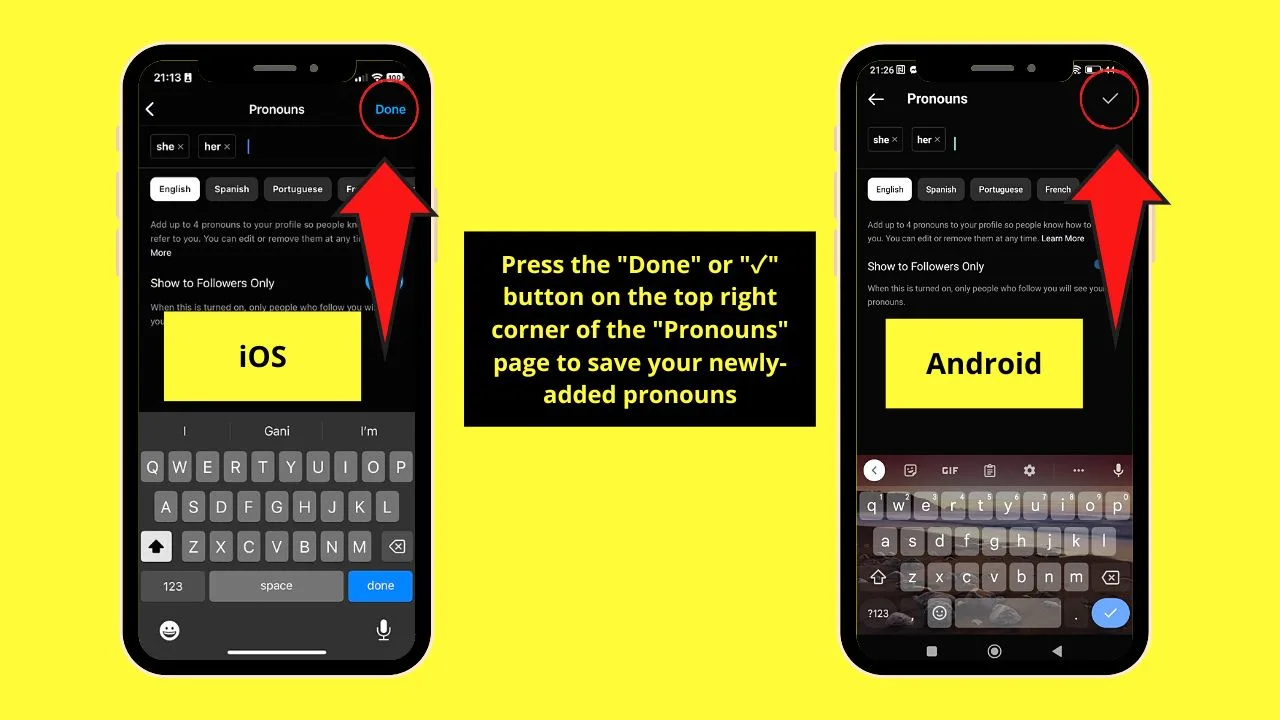 Again, "Done" is used for iOS-operated devices, while "✓" is used for Android devices.
Step 10: Tap the "Done" (iOS) or "✓" (Android) button on the "Edit Profile" page.
This move will save your newly-added pronouns.
If, however, you want to add your location or put a Discord link to your Instagram bio, go ahead and tap the "Bio" section.
Aside from that, you can also add pronouns that you can't find in the "Pronouns" section on your IG bio.
Just type your preferred pronouns manually and save it like how you would save any bio you made before.
Step 11: Swipe down the screen to refresh the "Profile" page.
You should by now see the new pronouns you added appear beside your Instagram username.
So, try this cool feature out and make your Instagram profile more customized.
Frequently Asked Questions about How to Add Pronouns on Instagram
Can I delete the pronouns I previously added on Instagram?
You can delete any pronouns you added on Instagram. Just press "Edit Profile" on your IG profile page and tap "Pronouns." Then, press "X" on the upper right of the pronoun you'll delete. Save the recent changes by tapping "Done" or "✓" three times before refreshing your profile page.
How do I add my preferred pronouns on Instagram if they're not available on the list?
If you don't find your preferred pronouns, go back to the "Edit Profile" page and tap "Bio" instead. Manually type the pronouns and save them by tapping "Done" or "✓" three times, making sure to leave the "Pronouns" section blank. Then refresh your IG profile page to reflect the recent changes made.
Is the "Show to followers only" setting for pronouns needed?
If you're above 18 years old based on the birthday you added to your IG account, the "Show to followers only" setting is optional. You can turn it on or off by tapping the toggle after adding your preferred pronouns. If you're under 18 though, this setting becomes a default.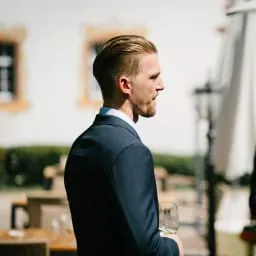 Hey guys! It's me, Marcel, aka Maschi. On MaschiTuts, it's all about tutorials! No matter the topic of the article, the goal always remains the same: Providing you guys with the most in-depth and helpful tutorials!