Instagram's reverse video trend was shorter-lived than the TikTok craze. It never was as widely adapted by users as Snapchat's reverse feature.
Snapchat has a reverse feature. You can use that to record a video, then tap on the three reverse arrows (<<<) to reverse the video and the audio, then share that on Instagram.
Instagram used to have a similar reverse audio feature but decided to do away with it.
There are workarounds though that do not require a Snapchat account.
Hours of fun can be had on Instagram playing word games where each player takes turns recording a word spoken backward. It is a trick from music producers that has gained steam on social media.
Read on to discover a new stunt you can add to your Instagram bag of tricks that will impress your followers, and ramp up engagement.
Both for your own audios, and music videos. Keep this tutorial handy because around Halloween, there is always a spate of song videos that are played backward and shared across social media.
Some sure can sound creepy.
Reversing audio on Instagram
Instagram lacks a reverse feature for audio. Third-party tools can download videos, edit the file to play audio backward, download, and then you can upload the remix to your Instagram feed. Free audio editing software that works for this are Ezgif, InShot, Audacity, or any online MP3 reverser.
Understanding Audio Reversal and the Technologies
The term for reversing audio is called backmasking.
It is a creative process that has been used for decades by screenplay writers for horror movies, and by famous musicians like The Beatles who popularized backmasking in 1966.
John Lennon played the track "Rain" backward, decided he liked it, then recorded messages in reverse throughout the album 'Revolver'.
Back then, it was done with tape recorders and cassette decks. Today, backmasking can be done by anyone without expertize, just by using point and click audio editing software.
The process below goes through not only how to reverse audio on Instagram videos, but also how you can create your own backmasked audio tracks to upload and share on Instagram.
A note on policies for Instagram, ALL social media platforms, and content creator's copyright
Part of this tutorial involves downloading Instagram videos to reverse the audio.
This is purely for entertainment purposes.
Even at that, you should always get the content creator's permission before proceeding to download the content.

Checking the Terms of Service on Instagram, they do not claim ownership. Content creators are the owners, therefore, they hold the copyright. Not Instagram.
Instagram does restrict doing anything with content shared with you privately.
Only publicly shared videos should be used, only with permission of the creator, and always for entertainment purposes only. Not for commercial gain.
How to download videos from Instagram to edit the audio file
This is assuming that you do need to download the video. If you are wanting to reverse the audio on a video you made, skip this step.
Instagram does not have a native download option. All you can do is save videos in your account. Not to the camera roll on your smartphone.
Keep in mind users' privacy should be respected. In most cases when you need to reverse audio on Instagram, it is because someone you follow has uploaded a weird video that needs to be decoded to play it backward.
If it has been stated by someone that you need to reverse the audio, it is safe to assume that they have granted permission for you to download the video. It is the only way to reverse audio on Instagram videos.
A handy website for downloading Instagram videos is igram.io.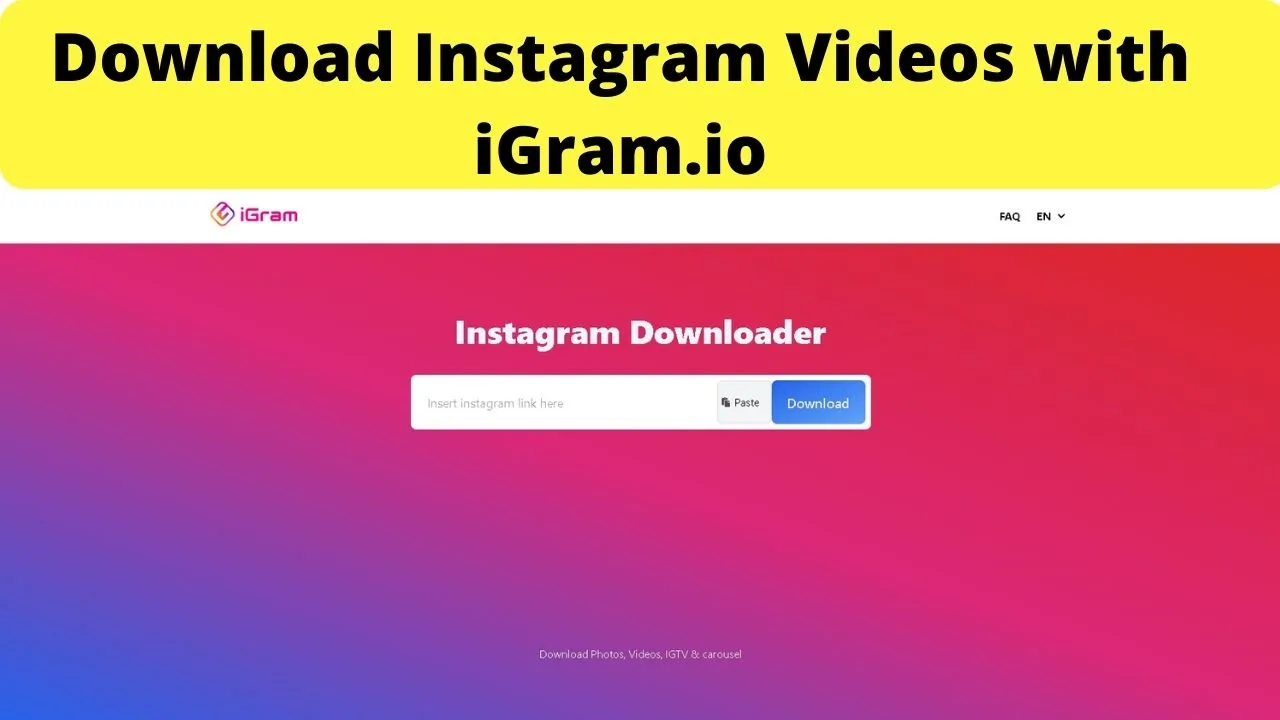 In your browser
Copy the URL of the Instagram video
Paste it into igram.io
Click download
In the Instagram app:
Tap the three vertical dots on the top right
Select "link". This will copy the video link to your clipboard.
Go to the website (igram.io), paste the link, then tap on download.
The video will be saved to your device.

Reverse the audio (and video) with Ezgif or the InShot App
Ezgif.com does much more than Gifs. It has a reverse sound feature within the reverse video option.
Open a browser on your phone or laptop and go to the web address ezgif.com/reverse-video
Tap the "choose file" button
Upload the video that was downloaded in the previous step.
Click or tap the "upload video" button
Once the video is uploaded, a sound options menu appears beneath it.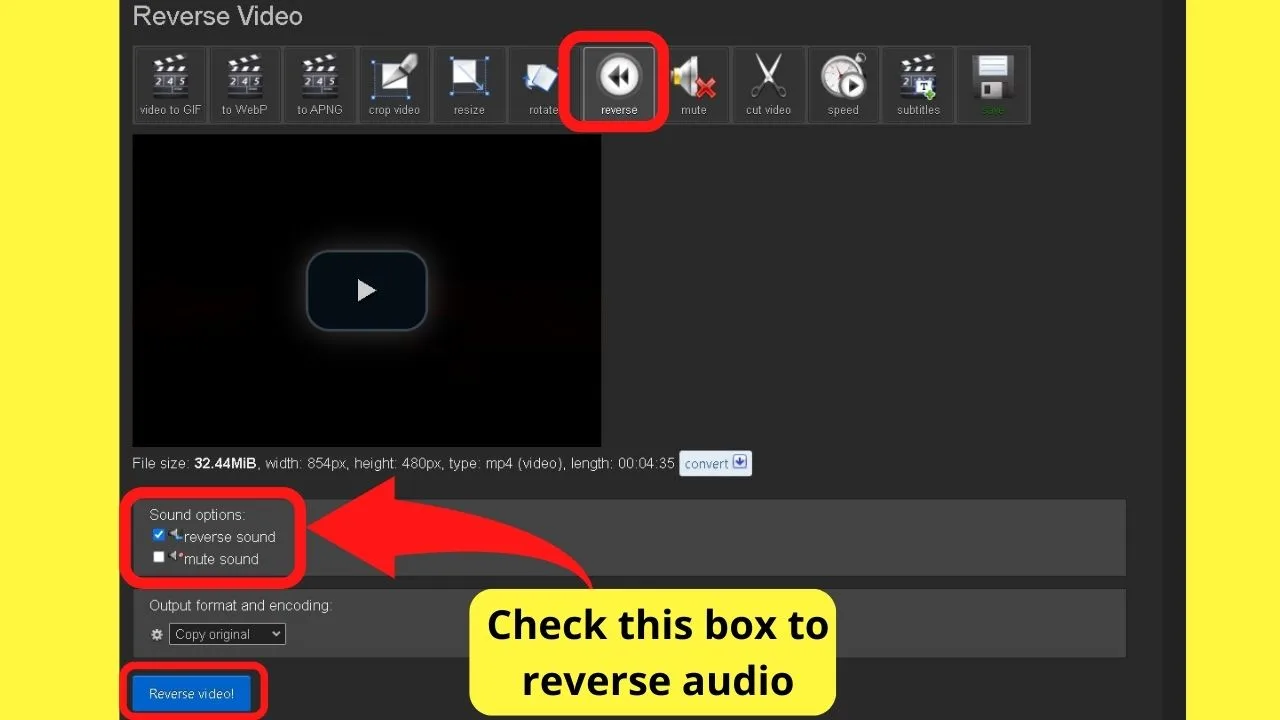 4. Select the "reverse sound" option
5. Then click or tap on the "Reverse Video" button.
6. Once it is ready, click on the three vertical dots in the bottom corner of the video, then select "download".

Alternatively, install the InShot app, or an alternative "reverse audio" app.

Instructions to reverse audio using the InShot app (Android and iPhone)
Download the InShot app at inshot.com.
1. Open the InShot app
2. Tap "Video"
3. Tap "New"

4. Select the video from your album
5. Tap the green check mark
6. Swipe left to scroll through the video edit options. Select "reverse"
7. Save the reversed video
With this option, both the audio and video are reversed. Give your edited file a recognizable name so you know which version to upload and share on Instagram.

Reverse audio from an MP3 file
For creating your own reverse audio tracks, such as voiceovers to add to a video that plays the sound in reverse, you can do that with online audio reversal software.
One tool is the online MP3 reverser from Audiotrimmer.com. (https://audiotrimmer.com/online-mp3-reverser/)
All you do here is upload the MP3 track, click the "reverse it" button, then download the audio file. That will make your audio play backward.
Reverse audio with Audacity
Audacity is a free, open-source audio software. It can run on Windows, macOS, and Linux.
To put this into action…
Go to https://www.audacityteam.org/
Download the version for your system
3. Once installed, open the file menu and select "open"
4. Open the MP3 file you want to reverse the audio on
5. Press CTRL + A to select all
6. Click on the "Effects" menu
7. Select "Reverse".
Something else you can do with the Audacity audio software is select only sections of your audio to reverse.
This would be handy if you wanted to upload a video to Instagram for your followers to guess a word or phrase that was played in reverse, but not the entire clip.
The tools available, either online (or in the app stores) make backmasking a breeze for anyone, regardless of your technical prowess.
Reversing audio to share on Instagram is as simple as recording a video (mp4 file) or voiceover (MP3 file), editing it with an audio or video editing software to reverse the audio, then downloading the remix to share via Instagram.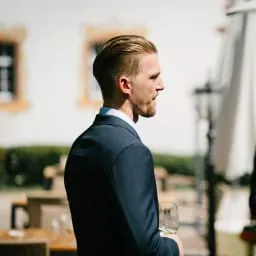 Hey guys! It's me, Marcel, aka Maschi. On MaschiTuts, it's all about tutorials! No matter the topic of the article, the goal always remains the same: Providing you guys with the most in-depth and helpful tutorials!