Wow! I love this picture that we captured during our vacation.
Can you tag me on this photo?
Well, if you're an expert on tagging your friends on Instagram, this task is merely a cinch for you.
However, if you're an ultimate newbie, brace yourself as we'll learn the basics of tagging — including the number of persons "taggable" on Instagram.
How Many People Can You Tag on Instagram?
Whether you're uploading an image or a video as a regular post or a story on Instagram, you're only allowed to tag up to 20 people. Once you exceed Instagram's tagging limit, you can't proceed with uploading the post or story.
Tagging People On Instagram — The Limits You Should Know
Most people would think that tagging people on Instagram is the same as mentioning them in a comment thread.
While these two features allow Instagram users to mention their friends on the platform, they don't necessarily mean the same thing.
For one, tagging someone on Instagram means you mention him or her directly on the image of the original post.
Mentioning, or @mentioning, someone on Instagram means that you're getting his or her attention to the post itself, not on the photo.
Hence, you need to know not only the basics of tagging IG users but also how many you can tag in a particular post or image.
Tagging People on a Regular Instagram Post
When you create regular posts on Instagram, you're allowed to tag up to 20 people on the said image you're uploading.
If you go more than that limit, Instagram won't allow you to publish that post.
Other than tagging people, you can add up to 30 hashtags to your IG post for it to reach more people that have the same interests as you.
So, now that you know the number of people you're allowed to tag on Instagram, here's how you can activate such a feature.
Step 1: Tap the "→" arrow After uploading the photo or video for your Instagram post
Step 2: Press the "Tag People" option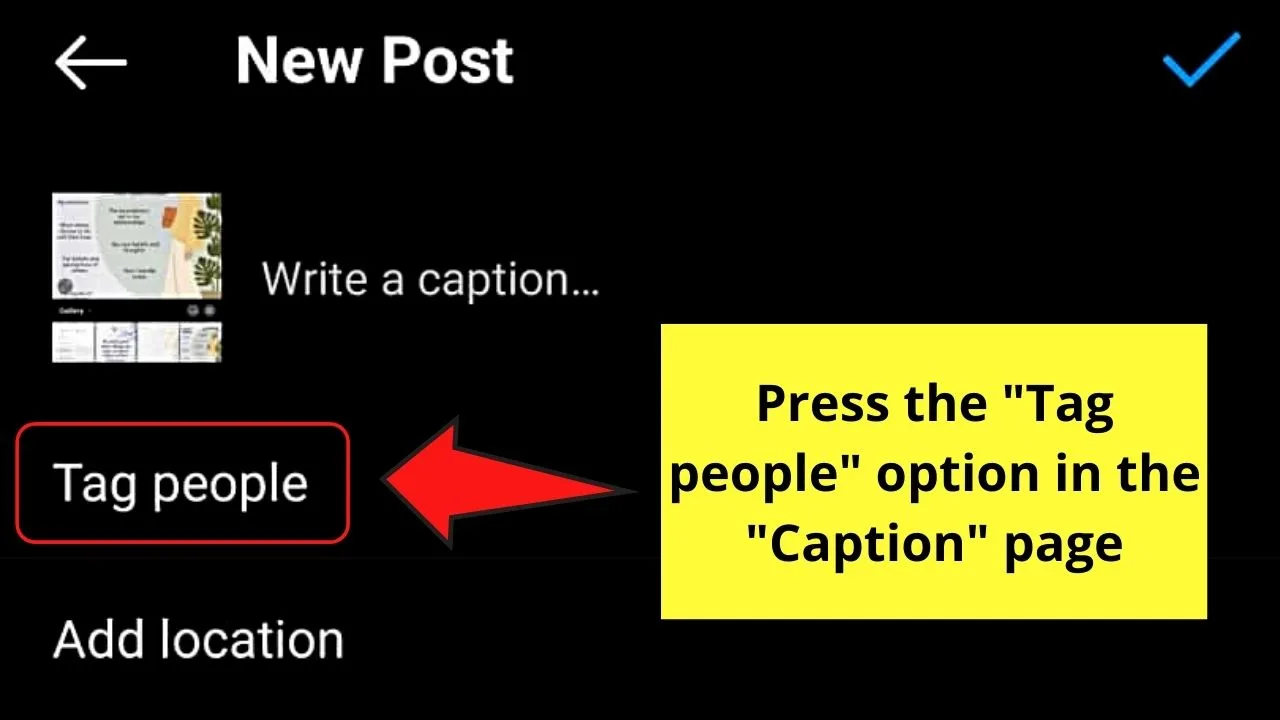 Step 3: Tap the search bar and begin typing the usernames of the persons you wish to tag into the post
Step 4: Tap once on the photo to tag someone directly on the IG post's image
A pop-up box then will prompt you to type the username you wish to tag.
Step 5: Press on the IG username of that person for the tag to be created on that image.
Pretty simple, right?
But, do the same tagging rules apply when I'm creating an Instagram Story instead?
Tagging People on an Instagram Story
When you tag someone on an Instagram story you created, the process is basically the same for regular IG posts.
The only notable difference is you need to add the "@" symbol before typing the username next to it.
Step 1: Press the "Aa" icon after uploading a video or photo on the "Create a Story" page
This icon will allow you to type text on your IG story.
Step 2: Begin typing by first adding the "@" symbol
After which, type the username beside the "@" symbol. A list of usernames will then appear at the bottom of the image.
Select the username you wish to tag by pressing on it once. Repeat this step until you've tagged all the people you want to tag on that story.
The person's username will then appear in the story with an underline.
Step 3: Press "Done"
This will save any changes that you have made.
Step 4: Tap the "Your Story" button after editing the Instagram story
But, if you wish to make your Instagram story exclusive to your close friends, then tap "Close Friends" instead.
Just do take note of the 20-person tagging limit so you won't be barred later on from publishing your IG story.
Now that you know the tagging limit that Instagram has set, are you now more confident to use this feature?
Frequently Asked Questions about How Many People You Can Tag on Instagram
When I tag someone on Instagram, will he or she get a notification as well?
The moment you tag someone on Instagram, that person receives a notification. Apart from the notification, they'll also be sent with a direct message featuring a preview of the story you created.
Can I untag myself from a post on Instagram?
It is possible to untag yourself from a post you're tagged on in Instagram. Simply tap the kebab menu on the upper right of that post. Then, on the menu that appears, press the "Tag Options" button and choose "Remove Me From Post."
Is it possible to tag someone on an Instagram post after I publish it?
In case you forgot to tag someone on an Instagram post you recently published, you still can add a tag to it. Tap the kebab menu on that particular IG post before you press "Edit." From there, tap on the "Tag People" option and follow the steps in tagging someone in an IG post. Then, press "Save."
If I forgot to tag someone on an Instagram story I published, can I still add that person?
Though you can tag people on an Instagram story, you can't do so after you published it. There currently is no "Edit" option for Instagram stories once you publish them.
Can I tag people on another person's Instagram post?
Only the creator of the Instagram post can tag people into it. Tagging is a feature only available to the content creator itself. With mentioning, anyone can avail of this feature regardless of whether you're a creator or a commenter of that post.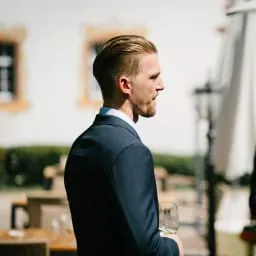 Hey guys! It's me, Marcel, aka Maschi. On MaschiTuts, it's all about tutorials! No matter the topic of the article, the goal always remains the same: Providing you guys with the most in-depth and helpful tutorials!