In many ways, the future of blogging is uncertain.
While good texts are certainly still needed in 2021 and onwards, the momentum is very much shifting towards video content.
Instagram, Tik Tok, Youtube and many other video platforms are at an all-time high and this trend will certain also continue after we are finally done with this goofy year 2020.
Now, over the last couple of years, I have personally established a handful of successful blogs.
I have invested a considerable amount of time in these projects and will certainly continue to do so in 2021 and beyond.
However, I must admit that I always wanted to get into videos. And that said, in 2021, it's finally time for me to jump on the hype train.
In 2021, as I have a strong preference for long-form content (it might be my age), I will go all-in on Youtube.
It's not that I never published any videos on Youtube. In fact, I published around 100 videos up to this date, with very little success.
Fair enough.
To be totally honest with you guys, I never really expected success on Youtube in the first place, as I simply didn't focus enough on videos up to right now.
But it always intrigued me, that's pretty much for sure.
And this is why I will double down on video in 2021.
And what better way would there be than actually torturing yourself with a little challenge?
Well, this might not be for everybody. But I like to come up with impossible gameplans and then try to stick with it.
So, what the heck is the plan?
Well, please read on, we will get into this right about now!
1 Video a Day
If I really learned anything in this business, then it is that you need an incredible amount of discipline and perseverance to succeed.
That said, if you are looking for immediate gratification, please keep your hands off of blogging.
Especially if you are about building niche websites in the very same fashion as I do (building a passive income over time with blogs and blog monetization mainly through ads), immediate success is just not in the books. It just doesn't work that way.
Now, what I just mentioned is both true for traditional blogging and also for video creation on Youtube and such.
More often than not, it will take years to become somewhat successful.
And because it takes that long, we will better be going…RIGHT ABOUT NOW!
As stated in the title, my goal is to upload a video a day.
EVERY SINGLE DAY.
But for how long?
Well, for as long as I possibly can.
Here's the Thought Process Behind the Experiment
Perseverance and discipline. Those are the core skills every blogger and vlogger should have, if not say MUST have.
I would like to throw a third one to the mix though, consistency.
Consistency in your work is incredibly important as far as blogging goes…
…and even more so, as video creation on Youtube goes.
In fact, it is no secret that the Youtube algorithm will favor publishers that will publish videos on a regular basis.
But what does it even mean to publish regulary?
Well, it really depends (argh, I really hate answers like that myself, but it's just the truth, after all).
It depends on your niche.
It depends on the style of your videos.
It depends on how YOU approach the topic.
It depends on the length and depth of your videos.
For some topics, one video a week might be a great way to go about it. Yet, in other niches, 3 videos a week might yield even better results.
And you have probably guessed it by now…In some niches, producing (or let's say publish) videos on a daily basis probably couldn't hurt.
With Maschituts, I want to go down this hardcore route, as I do believe that publishing at least a video a day will yield the best results.
Here's what I'm Trying to Do
The MaschiTuts Youtube channel is geared towards tutorials. To be more specific, tutorials about pieces of software that I use on a daily basis to get the most out of my business: Canva, Premiere Pro, Discord, WordPress and a handful of others.
I am trying to PUBLISH A VIDEO A DAY on these very topics. FOR AS LONG AS I CAN. And, as I do believe that DISCORD in specific has a very bright future and is really about to take off, I mainly focus my efforts on this piece of software for the time being.
That said, in this experiment, I will focus on Discord tutorials…and then later on, it might happen that I get too tired about this software, and then I might throw some other tutorials into the mix (about Canva, Premiere Pro, etc.).
Here's What I already Did
I must confess that at the point of writing this article (December 22th), some of the work has already been done.
I started with this experiment on December 3rd, which means that I uploaded a daily tutorial video beginning on this very day.
In fact, I have already scheduled videos until the end of the year. YAY. This gives me at least a little bit of piece of mind.
However, I don't want to fool myself and know for certain that time will pass VERY VERY quickly.
Here are the videos that I already uploaded so far (will be updated daily):
December 3, 2020: Infinite Scroll: Infinite Scroll: Here's the EASIEST Way to get it Running on WordPress
December 4, 2020: GROW Your Discord Server like CRAZY with these 3 KILLER Tips
December 5, 2020 : Canva: How to FLIP Elements (Pictures, Graphics & Videos)
December 6, 2020: How To Make Discord FULLSCREEN (And How To Exit That Mode again)
December 7, 2020: How To Leave A Discord Server (both on Desktop & Mobile)
December 8, 2020: Discord: How To CREATE Roles (on both Desktop and Mobile)
December 9, 2020: How To Add BOTS on Discord (both on Mobile & Desktop)
December 10, 2020: How To DELETE Discord Bots (both on Desktop & Mobile)
December 11, 2020: How to BOOST a Discord Server (using Discord Nitro)
December 12, 2020: How to CHANGE your NICKNAME on Discord (both on Desktop & Mobile)
December 13, 2020: How To Change your Discord Username (Desktop & Mobile)
December 14, 2020: How to INVITE People to a Discord Server
December 15, 2020: How To Change Your Status on Discord (Desktop/Mobile)
December 16, 2020: How To Search for Servers on Discord (Desktop/Mobile)
December 17, 2020: How To Send GIF's on Discord Mobile iOS IPHONE
December 18, 2020: How to ITALICIZE Text on Discord
December 19, 2020: How to Get Discord CHANNEL ID
December 20, 2020: How to Make Someone a MODERATOR on a Discord Server
December 21, 2020: How to STRIKETHROUGH Text on Discord (Desktop/Mobile)
December 22, 2020: Discord: How To Reorder Roles on Mobile
December 23, 2020: How To Leave a Discord Server on ioS Discord App (iPhone)
December 24, 2020: How to DELETE a Discord Server
December 25, 2020: How to block people on Discord Mobile
December 26, 2020: Discord Backup Codes in a Nutshell
December 27, 2020: How to Bulk Delete Messages on Discord
December 28, 2020: How to unblock people on Discord Mobile
December 29, 2020: Canva: How to Create Awesome Youtube Thumbnails
December 29, 2020: How to Make Polls on Discord Mobile (Ok, I broke the golden rule of 1 video per day here…but it was in favour of even more videos, so that's fine)
Time Management and Scheduling
So how long am I going to torture myself doing this?
Well, as long as I can.
I hope this will be at least 6 month.
A year would be amazing.
To increase my chances of succeeding, I allow myself to schedule videos ahead of time.
What is that supposed to mean?
Well, it simply means that I need to make sure that a video gets published every day but I will allow myself to create multiple videos on some days while creating no videos on other days.
Whenever I manage to create multiple videos in a single day, I will be able to schedule them and spread them over the week.
This allows me to get a break from actually creating videos on some very rough days and, at the same time, it still ensures "publishing consistency."
(Delusional Expectations)
First of all, the main goal of this experiment is to finally achieve 1000 subscribers on MaschiTuts.
Right now, MaschiTuts has 316 subscribers.
I am very confident that MaschiTuts will reach 1000 subscribers if I stick to the gameplan and create a video a day for a meaningful period of time.
To be honest, 1000 subscribers is a super modest expectation. However, it is definitely an important milestone, as 1000 subscribers are needed in order to monetize your Youtube channel.
But I obviously want to achieve much more than that with this experiement.
Here are my hopes on what publishing a video on a daily basis would do for the MaschiTuts Youtube Channel:
Get the MaschiTuts Youtube channel close to 10'000 subscribers. As far as money goes, this should mean an extra 100-200 dollars income per month.
But at the end of the day, even if I won't achieve these goals, every single video will bring me a bit closer to Youtube success. That is pretty much for sure.
And the more videos you'll produce, the better you'll get.
Hard to debate on that, right?
I am just really glad that today's video is already done. It will be published to the MaschiTuts channel on 11:45 PM CEST.
I like the feeling and I am wondering how far I can take this!
Time will tell, I guess! Fingers crossed.
Progress Log Book
December 30:
The experiment has been running for almost a month at this point (starting point was December 3th). The MaschiTuts Youtube Channel has seen a growth of 30 subscribers over the past 30 days. 1 subscriber a day basically.
To reach a 1000 subscribers that way, it would take me forever.
But this kind of result is expected after just one month. I have new posts scheduled until January 9th already. I guess I will have to keep on grinding.
A month of work is absolutely nothing in this business. At least not as far as results go. More often than not, success is heavily delayed as far as blogging and also vlogging is concerned.
January 30:
Things start to look a little bit brighter on the Maschituts Youtube Channel front.
I have now published almost 60 videos in a row (1 video daily). However, I must admit that in two cases, my upload was a little bit late (a few minutes after midnight), so that, in the strict sense, I already failed to follow through with this project.
However, there were some days I even published 2 videos and this kinda makes up for it right?
In any case, the channel is seeing some more success now.
The MaschiTuts Youtube Channel now gets 2k views a day. That is certainly much more than 1 month ago.
After one month, we have been at around 1k per day.
Also, in terms of watch hours, we are now at 3.7k, which means 300 hours to go (because 4k is the threshold to reach to actually enter the Youtube ad program).
However, subscriber-wise, MaschiTuts is now only at 383 subscribers. And this means that we will need another 627 subscribers before actually getting into the YT ad program because 4k watch time as well as 1000 subscribers are needed.
That said, things are speeding up a bit but there is still not much going on on MaschiTuts.
I am staying strong, though, as this is, after all, exactly what I expected.
As David Goggins would say: Stay Hard!!!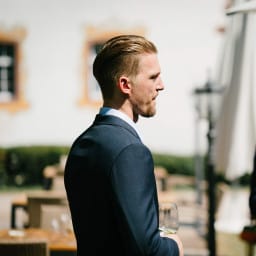 Hey guys! It's me, Marcel, aka Maschi. I earn a full-time income online and on MaschiTuts I gladly share with you guys how I stay on top of the game! I run several highly profitable blogs & websites and love to speak about these project whenever I get a chance to do so. I do this full-time and wholeheartedly. In fact, the moment I stopped working an 8-to-5 job and finally got into online business as a digital entrepreneur, is problably one of the best decisions I ever took in my life. And I would like to make sure that YOU can get on this path as well! Don't let anyone tell you that this can't be done. Sky's the limit, really…as long as you BELIEVE in it! And it all starts right here..at Maschituts!