You urgently need to restart your Android device, but the power button is not responding, or worse it's broken, and you have no idea how to function your phone without it.
Most users believe you can only restart your phones and tablets using the power button, but that's not entirely true.
There are a few other ways to restart the device without the power button, let us show you how.
How to Restart Android Devices without the Power Button
Android users have several options to restart their devices, but the easiest method is to use the auto-restart feature in the Settings app to restart within an hour. Third-party apps and rebooting using a computer are complicated methods, but they also guarantee to restart your device.
Three Fool-Proof Ways to Restart Android without Power Button
The method for restarting your Android will depend on whether the device is turned off or on before the restart.
If your phone or tablet is off due to the low battery you should immediately connect the device to a charging cable. Once the device is sufficiently charged, it will automatically turn on.
If you are simply looking for ways to wake up your screen without the power button, try the following tricks. You should also read our 4-step guide about 'How to unlock the home screen on Android.'
Make someone call you on your android phone to wake up the screen

Use Gestures or double-tap options to wake up and sleep on the screen
Now let's dig deeper and learn what you should do to restart your Android in case of a missing or damaged power button. Please note that all the methods shared in this article are temporary fixes, not long-term solutions, and it is crucial to get the power button fixed as soon as possible.
Method 1: Using the Built-in Schedule Restart Feature
If the power button of your device is broken, then performing any task that has chances of your phone not turning on is risky.
The safest and most convenient method is to take advantage of the built-in auto-restart feature in your phone.
This method does not involve installing additional apps, rebooting your phone, or changing power button controls.
Step 1: Open the Settings app on your Android.
Step 2: Scroll down and look for an option named 'Battery and device care.' If you want quick results, I would recommend using the search option.
Step 3: You will see useful information like battery, storage, and memory under Battery and device care. Click on the three tiny dots in the top right corner of the screen for a few more options.
Step 4: Tap on automation to find the auto-restart option. For some devices, this auto-restart is present as one of the choices once you click on three tiny dots.
Step 5: Click on the Auto restart at set times to schedule the restart time. In the schedule panel, you can set the days as well as time for automatic restarts. You have to first click on the toggle bar to turn on the restart feature, and the device activates the scheduling options.
Each device has its own set criteria for auto restart, such as the minimum battery percentage, phone not being in use, etc.
Method 2: Using Third-Party Apps from Google Play Store
Several third-party apps are available to assist you in managing the controls of your device. But it is important to only use tried and trusted apps since these apps have special permissions in terms of accessibility.
Assistive Touch for Android
If you have ever used an iPhone, you already know about the floating control panel, which allows you to quickly access your favorite options and apps.
You can have the same for your Android using third-party apps like 'Assistive Touch for Android.'
This app will also protect the power, home, and volume buttons on your screen from excessive use and damage.
Step 1: Start by searching and installing Assistive Touch for Android in the Google Play Store app.
Step 2: Once you open the app, a notification pops up saying it needs accessibility permissions. Make sure you allow all the necessary permissions; otherwise, assistive touch will remain disabled.
When assistive touch is enabled, you will see the floating symbol on either side of the screen.
Step 3: Now, you have to customize the apps you need on the panel for assistive touch. Click on the custom menu to place your favorite and most used apps on the panel. If you need the restart feature, you should add 'Power' to one of the boxes.
Note: You can add or replace apps to these boxes by simply clicking on them.
Step 4: Click on the assistive touch symbol, and the control panel for your selected apps will pop up. Tap on the power icon to open the three main features power off, restart, and emergency mode.
Step 5: Click on restart, and your device will restart in no time.
Method 3: Reboot by Connecting your Android Device to a PC/laptop
You can also restart your phone or tablet using the Android Debug Bridge (ADB). You will have to activate certain developer options to perform this method, but the developer options are hidden in the Settings app.
Step 1: Move to the end of the Settings app and click on About phone to access the model number, name, serial number, etc.
Step 2: Click on the second last option to get the software information in the About phone section.
Step 3: You should look for the build number in the software information. Start tapping the build number, and you will get a message stating the number of steps you are away from being in the developer mode.
Step 4: You have to click on the build number 7 times to unhide the developer options. You will also get a message on the screen saying, 'Developer mode has been enabled.'
Step 5: Move back to the Settings menu, and you will now find the Developer options right below About phone.
Step 6: Click on the toggle bar to turn on USB debugging in the Developer options. Now you will have to install the ADB on your computer. Copy the directory path for the ADB.
Open the command prompt or cmd and type cd and add a single space. Paste the directory path. The last step is to search for ADB devices and type adb reboot to restart your phone.
Frequently Asked Questions about How to Restart Android Without Power Button
How can you restart your Android using the recovery method?
This method is for when your phone is turned off. Press both volume buttons or volume and home buttons to activate the rebooting menu. After that, use volume buttons to move up or down and click on the reboot system now.
How can I protect the power button of my Android from damage?
As the device gets older, the volume and power buttons will wear with continuous use. However, you can minimize damage by using assistive touch options, fingerprint sensors to unlock, and gesture control for everyday functions.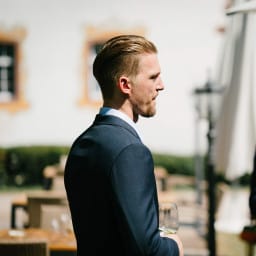 Hey guys! It's me, Marcel, aka Maschi. I earn a full-time income online and on MaschiTuts I gladly share with you guys how I stay on top of the game! I run several highly profitable blogs & websites and love to speak about these project whenever I get a chance to do so. I do this full-time and wholeheartedly. In fact, the moment I stopped working an 8-to-5 job and finally got into online business as a digital entrepreneur, is problably one of the best decisions I ever took in my life. And I would like to make sure that YOU can get on this path as well! Don't let anyone tell you that this can't be done. Sky's the limit, really…as long as you BELIEVE in it! And it all starts right here..at Maschituts!