Whoah! I've finally created my Instagram Reel with Canva, and I can't wait to see what it looks like on Instagram itself.
Yet, when I log in to my IG account and view the reel I made, I can't seem to find the pause button.
Is this just a glitch or Instagram doesn't feature a pause button when watching reels?
How to Pause Instagram Reels
When you're watching Instagram Reels on your desktop, click once in the middle of the reel to pause it. A white Pause icon then appears. But, there's no pause feature in the IG mobile app. But you can tap the 3-vertical-dot icon instead to make a pop-out window appear, pausing the reel.
How Do You Pause Instagram Reels — Here's The Answer!
For those who aren't familiar with Instagram reels, these are short-form videos that entertain or inform the audience of a certain topic.
Compared with regular videos on Instagram, these Instagram reels only have a duration of 15-30 seconds, sometimes even up to 60 seconds.
Like Tiktok videos, you can even make multi-clip footage and add effects and audio with the creative tools available.
But, how exactly can I pause an Instagram reel in case I need to do a quick errand?
Pausing Instagram Reels When Using a Desktop
Step 1: Granting that you've already logged into your Instagram account, it's time to search for reels to view.
You only need to browse through your timeline or feed to search for the reels.
You can also encode the name of the Instagram account in the search bar to find a specific Instagram reel.
Another way you can search for a particular Instagram reel is by clicking the compass icon on the upper right corner of the screen.
You'll then be redirected into a gallery where you can browse through the latest reels.
Step 2: Now that you found an Instagram reel to watch (unless you're only casually surfing), click on it to make it play.
Step 3: If you need to pause on a particular scene (regardless of the reason behind pausing it), click in the middle of the reel.
You'll know you successfully paused the reel if you see a white Play icon splashed across the screen.
Then, if you want to unpause the Instagram reel, just click on the middle part again to play it.
Very simple, right? But, what if I'm viewing an Instagram reel through my mobile phone?
Do the same steps apply even on a smaller screen?
Pausing Instagram Reels When Using the Mobile App
Step 1: Once you're logged into your Instagram account, head to the lower part of the screen and press the Reels button.
The Reels button appears as a video icon and can be found in the middle part of the lower menu bar.
Step 2: Once you're in the Instagram Reels gallery, scroll down until you see the reel you want to watch and tap it.
The reel will then start playing on your mobile phone's screen.
Step 3: Now, if you want to pause the Instagram reel for a bit, don't tap in the middle of the screen.
This move will only unmute the reel, but it won't stop it from playing.
So, instead, head to the lower right of the screen and press the three-vertical-dot icon. A pop-out window will then appear.
However, don't press on any of the options in the window as you only aim to pause the reel, not alter or do anything to it.
And, if you want to resume watching the reel, just press anywhere outside of the reel once for it to continue playing on your screen.
So, now that you know how simple it is to pause an Instagram reel, go ahead and show your not-so-techy friends how it's done.
Frequently Asked Questions about How to Pause Instagram Reels
What are other ways of pausing an Instagram reel in case the tap-and-pause feature isn't available in the mobile app?
In case the tap-and-pause feature for Instagram reels isn't available, locate the 3-vertical-dot icon on the lower right of the screen. Press on it once to make a pop-out window appear, which coincidentally pauses the reel you're watching.
How do I upload the Instagram reels I created on my IG account?
Uploading Instagram reels can only be done in the mobile version of the app. To do so, press the Your Story icon on your feeds page. Then, press the camera button and then the Reels icon. Then, record, edit and add captions to your reel before tapping the Share button.
How long should an Instagram reel be?
Since Instagram reels are short-form videos, 15-60 seconds is the recommended timeframe.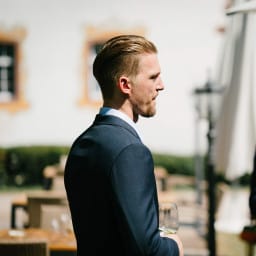 Hey guys! It's me, Marcel, aka Maschi. I earn a full-time income online and on MaschiTuts I gladly share with you guys how I stay on top of the game! I run several highly profitable blogs & websites and love to speak about these project whenever I get a chance to do so. I do this full-time and wholeheartedly. In fact, the moment I stopped working an 8-to-5 job and finally got into online business as a digital entrepreneur, is problably one of the best decisions I ever took in my life. And I would like to make sure that YOU can get on this path as well! Don't let anyone tell you that this can't be done. Sky's the limit, really…as long as you BELIEVE in it! And it all starts right here..at Maschituts!