Adding music to Instagram Stories helps to make it engaging. Good times!
A 5-second clip that cuts off midway through your best lyric selection though? Bad times!
There are some limitations to Instagram Music, and there are tweaks you need to do to get music tracks to play for longer.
The audio selector bar is restricted to the clip duration shown on the left. Without changing the duration of the clip, you will be stuck with a 5-second music clip.
Instagram stories can play through multiple photos as a carousel with each clip lasting up to 15-seconds per photo and 60-seconds per carousel.
The more photos you need, the longer you need your music to be.
You can mix and match different songs, or you can edit the soundtracks to splice them up for continuous play for the duration of your Instagram Story.
Continue reading to discover how to easily customize your Instagram Stories with music of different lengths, and even different parts of multiple tracks for added interest.

Making Instagram music longer than 5 seconds
Tap on the number 5 with a circle around it to open the clip duration menu. Swipe down to make Instagram music longer. The maximum is 15-seconds. Tap "Done" to save the clip, then move on to the next slide. Add another music track, or the same track but start it where the previous music clip ended.
Where is the Music Duration Shown on Instagram?
When you add a music track to a photo or video slide on Instagram, only a partial selection of the music is added. The shortest is 5-seconds, and the longest is 15-seconds.
The music clip duration is shown as a number inside a circle on the bottom left of the screen. Just above and to the left of the audio selector bar.
The number 5 within a circle on the bottom left of the screen means that the Instagram Music will play for 5-seconds. This can be increased to 15-seconds by tapping on the number.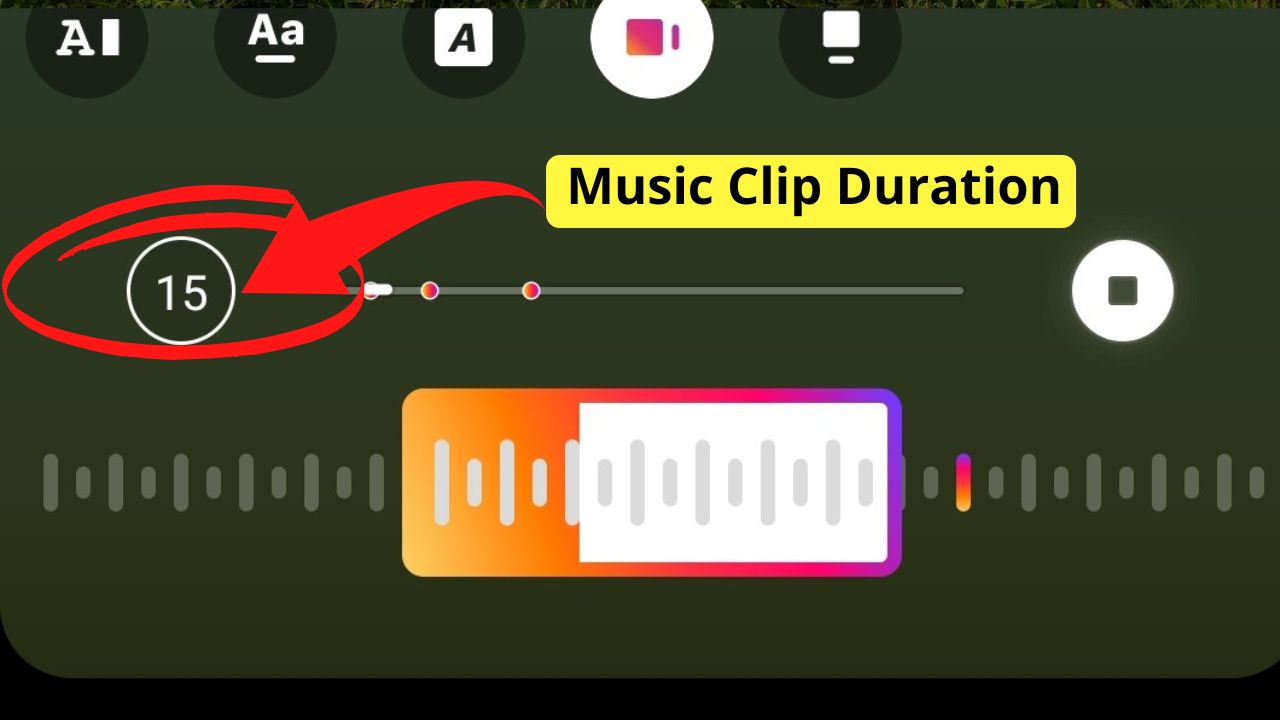 Tap on the number and a menu will appear on your screen that gives you options to choose for the duration of the music clip.
It is this menu that lets you make Instagram music longer than 5 seconds.
The clip duration menu increases in 1-second increments starting at 5-seconds and then ending at 15-seconds.
15-seconds is the maximum music clip duration you can use on Instagram.
You can make the music play for the entire duration of your Instagram Story.

Makig Instagram Music longer than 15-seconds
Instagram Stories can run up to 60-seconds in duration. With the music being restricted to 15-second clips at a maximum, clips need to be edited for continuous music to play through your Instagram Story.
There are two ways you can do this.
Use multiple music clips in an image (or video) carousel on Instagram Story.
Use the slider toggle to select the exact start and end times of each music clip.
Method one: Add a mix of different songs and lyrics to each slide
Step 1: Select up to 10 images or 4 x 15-second video clips from your camera roll
Select each image you want to include in your Instagram Story. The maximum number of photos is 10.
Keep in mind that ten photos in a carousel would transition equally at 6-seconds max. (6-seconds x 10 photos = a 60-second Instagram Story).
To select multiple photos from your phone, tap, and long-hold on the first image, or press the "select" button on the top right of your screen.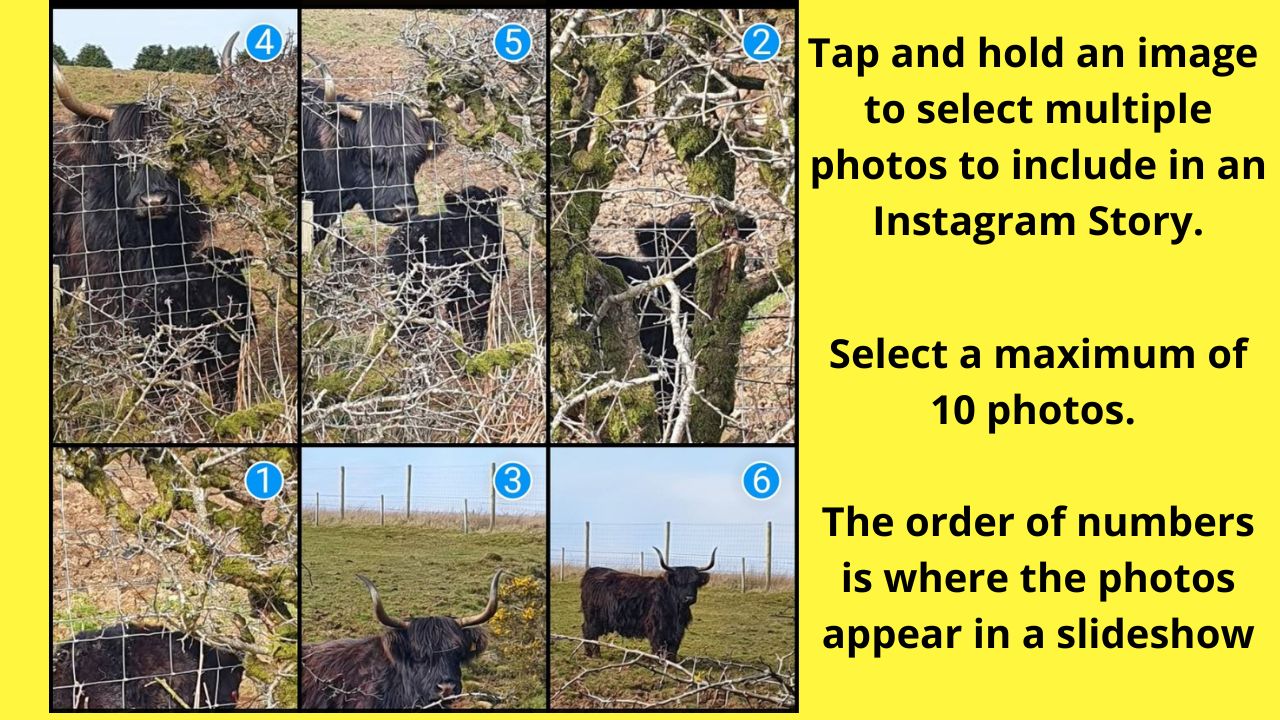 As each photo or clip is selected, a number appears at the top right of the image. This tells you two things.
The first is how many images you have selected, and the second is the slide position the image will appear in your Story.
Once you have your photos selected, tap on the "Next" button to the bottom right of your screen.
Step 2: Choose a layout
On the next screen, you can choose to show all of your images together in a single layout or to show the full size images seperately with a slider.
Select "Separate" to add multiple songs with up to 15-second sound bites per photo or video clip.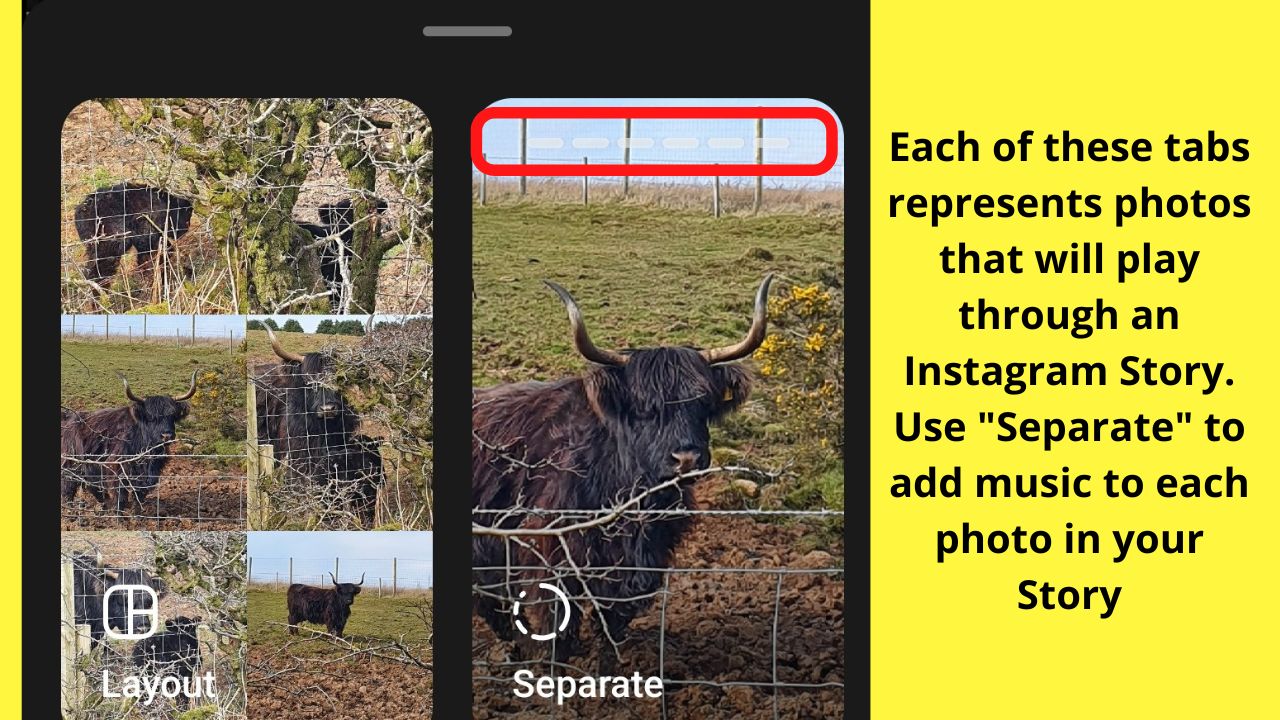 Step 3. Add a music track to each photo or video slide
On the bottom left of your screen are where to select each image or video clip to edit. You can add a different music track to each slide.
1. Tap the photo you want to add music to
2. Tap the sticker icon
3. Select "music".
4. Add a track.
5. Tap and slide the highlighted toggle bar at the bottom of the screen to select a different start and end point.
Method 2: Customize the start and end points of single music tracks
Use this method to continuously play a single track for longer than the maximum 15-seconds.
The only difference here is that for each photo or video clip in your Story, you are not adding a new track.
The process for the first method is repeated to add the same track. Rather than starting from the beginning of the track, your second photo would have the audio begin where the previous music ended. Either 5-seconds, 6-seconds, or more.
The audio selector bar can also be used to trim out only certain lyrics you want to include in your Instagram Story.
Simply swipe forward, find the lyrics you want to include, and select that part of the music track to include.

Frequently asked questions related to Instagram Music
Why is my Instagram defaulting to play music for 5-seconds?
Instagram, like many apps, tries to save users time by saving preferences. If your previous Instagram Stories were published with audio clips lasting 5-seconds, chances are, those will be stored in the app cache for your future settings. Try clearing the cache for the Instagram app.
Why can't Iadd music to my Instagram Stories?
There are two scenarios when the "Music" sticker will not be available. The first is based on your location. Not all regions are able to access the Instagram Music library. Only regions that Meta (Instagram's parent company) has deals with the records label have access. Even then, it is only on personal accounts. Business accounts cannot add music because of licensing rights for commercial use.