WordPress is terrific for self-publishing, but for social interaction, there are far better options. Discord is often used as a separate community extension.
Without integrating the two services though, you need to use a call to action to encourage users to join your Discord community.
Both WordPress and Discord run on servers and by linking the two servers together, much of what happens on WordPress can be sent to Discord.
The same can be reversed by configuring the setup for WordPress to receive data from the Discord server.
Connecting the two can help grow a Discord community faster, and make managing the group discussions easier because much of the updates can be automated.
How to link WordPress with Discord
The simplest method is to install the WP Webhooks plugin. Each Discord server has the ability to create unique webhooks based on different triggers. Create the webhook in Discord, then connect to WordPress by pasting the unique URL into the WP Webhooks plugin.
An overview of Discord functionalities
Discord is a chatroom app that is primarily focused on connecting gamers. Gamer communities connect to the discord server. Once connected, group members can chat by text, share screens, perform video calls, and audio calls.
Although the platform is targeted to gamers, like any free platform, customers find ways to adapt it.
It is not open source like WordPress is, but it is free, and since the chat app runs on a server, the same as WordPress does, there are ways to connect those two servers together.
Why connect Discord to WordPress
Connecting servers is not the simplest way to add chatroom functionality to a WordPress website.
Forum scripts can be added, or any of the bigger platforms swapped out in the comments section. Like "Comment via Facebook".
There is a mighty big advantage to it though, and that is to add a micro-community group chat. It is a free method that lets small businesses engage better with their audience, or provide enhanced support.
For larger websites, Discord servers can also be a free alternative to Slack channels that have a pay-per-user pricing structure.
Discord is free, no matter how many users there are in your community. Users can choose to upgrade to Nitro, but that only adds premium features like more emojis.
The entire functionality is free to use.
The biggest advantage to Discord for businesses using WordPress is to create user-centric focus groups. Facebook is ideal for large groups, but running a large group has multiple disadvantages. The main one is keeping things organized.
To counter that, Slack communities and Microsoft Teams offer similar chat functionality but they do not directly integrate with WordPress, and they come with a price.
Something a solo fitness coach, business advisor, nutritionist, or yoga instructor would find the price to be too high.
Connecting Discord to your WordPress website lets you create user-centric focus groups. It is a free way to enhance engagement with your audience or even charge a fee for niche group coaching and support.
Discord is a free chat app to create focused groups within.
Linking a Discord server to your WordPress server lets messages received on your contact forms or blog post comments be sent directly to your discord server.
From there, you can grow your Discord community.
As an example, you could have a fitness group on Facebook, then invite those struggling with motivation to a Discord community exclusively focused on that topic.
Another chatroom could focus on nutrition. Another could be used for relaxation advice to encourage a better night's rest.
Once Discord is integrated with WordPress, there is an abundance of possibilities.
How to connect Discord to WordPress
Install the WP Webhooks plugin
Go to plugins, select "add new", search by keyword for "WP Webhooks" and install and activate it.
Then go to your Discord server
You can have numerous channels and each of them will require a unique webhook.
To find your server settings, click the server icon on the left sidebar, displayed below the "Spidey Bot" logo. It will have the initials of what you named the server.
In this case, it is WordPress Demo, so the logo displays "Ws"… the initials for WordPress Server.
Configure the chatroom server settings
Once in your server settings, select the channel you want to connect with WordPress.
Like most web services, settings are displayed with a gear icon. There will be a gear icon beside all of your Discord channels.
Select the one you want to connect to WordPress. More than one can be connected, but you will need a new webhook for each.
Once you have your channel selected, then select the "integrations" options.
Select "integrations" then "create a webhook"
This is the section to create new webhooks.
It should be noted that webhooks are based on triggers. If you want to have more than one trigger, you will need more than one webhook.
As an example, a trigger could be when a new post is created, a message gets automatically sent to the Discord community. Another could be used to update the Discord server when a new comment is left by someone.
To keep things organized, describe the webhooks when naming each.
Give each webhook memorable names
Numbering, such as webhook 1, webhook 2, etc. will leave you lost.
You need to know which webhook does what. Like, a new post added, new comment, post revised, etc. Every trigger needs a unique webhook and you can have as many as you want.
Have Discord send data to WordPress
The above settings are how to send data from WordPress to the Discord Server.
If you want to reverse that process and have content sent from the Discord server to the WordPress server, go to the WP Webhooks settings, click on "receive data" and paste in the webhook URL from Discord to connect the two.
The plugin is on WordPress so the "send data" option sends data from the WordPress server. The option to "Receive Data" is for another server (in this case, Discord) to send the data to WordPress.
If you want WordPress to receive data, enter the webhook into the "receive data" settings option within the WP Webhooks plugin.
Frequently Asked Questions related to how to link WordPress with Discord
Can forms send data from WordPress to Discord?
WP forms and the forms element in the premium version of Elementor can be integrated with Discord. Both are paid services and each service has instructions on using Webhooks to connect either WP Forms or Elementor forms to Discord servers.
Does Discord link with any WordPress website?
To link Discord with WordPress you will need administrator access to install plugins, or edit scripts on the WordPress server. Websites built on WordPress.com will not be able to be paired.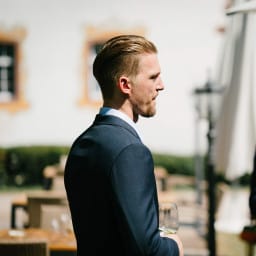 Hey guys! It's me, Marcel, aka Maschi. I earn a full-time income online and on MaschiTuts I gladly share with you guys how I stay on top of the game! I run several highly profitable blogs & websites and love to speak about these project whenever I get a chance to do so. I do this full-time and wholeheartedly. In fact, the moment I stopped working an 8-to-5 job and finally got into online business as a digital entrepreneur, is problably one of the best decisions I ever took in my life. And I would like to make sure that YOU can get on this path as well! Don't let anyone tell you that this can't be done. Sky's the limit, really…as long as you BELIEVE in it! And it all starts right here..at Maschituts!