Ooh! Canva's so much fun!
Who would have thought that working with layers is so easy thanks to Canva's intuitive drag-and-drop feature?
For those who don't know what a layer means, think of it as stacking objects on top of each other to achieve a creative effect.
After adding the elements you'd need for your design, the only thing you have to figure out is how to arrange each of these layers creatively.
But, is it possible to group and move the layers as a single unit in Canva?
How to Group Layers in Canva
To group layers in Canva, you need to select the elements or layers you'd like to bring together. Head to the toolbar and then tap on the "Group" button. You can also use the keyboard shortcuts Cmd/Ctrl + G for faster grouping of layers.
Grouping Layers in Canva: 6 Steps
Grouping layers in Canva aren't entirely different from grouping individual elements together.
It just seems different because, technically, you're trying to move layered elements as a single unit.
So, how indeed can you group layers in Canva?
Step 1: Open an existing design file or create a new one using the "Create a New Design" button on Canva's home page.
Step 2: Add the elements you'd like to use on the blank canvas by visiting the left-side menu on your Canva screen. Choose from photos, elements, etc.
Step 3: To layer the elements according to how you want them to appear in your design, tap on it and head over to the toolbar to click on "Position."
Step 4: In the dropdown menu, choose how you'd like to layer the elements. You can select from "Forward," "To Front," "Backward," and "To Back." The options will vary depending on how many elements you added.
Step 5: Once you've finished layering and aligning your elements, select the layers you'd like to group by clicking and dragging the cursor over them. You can also tap the "Shift" key while clicking on the layers one-by-one.
Step 6: After highlighting the layers, go to the toolbar and tap the "Group" button. You can also use the keyboard shortcut Cmd/Ctrl + G to execute that command.
And, with those six simple steps, you can now move Canva layers as a single unit. Gone are the moments wherein you'll adjust the layers individually.
But what if I don't want to group those layers anymore? Can you still undo such action? Yes, indeed! To reverse such action, click on the grouped layer and tap the "Ungroup" button in the toolbar.
You can also use the keyboard shortcut Cmd/Ctrl + Shift + G for easier ungrouping of the layers in Canva.
Frequently Asked Questions about How to Group Layers in Canva
What does layer mean in Canva?
Layering in Canva means stacking elements on top of each other. The front layers appear on top of the ones you've placed behind them.
Can you group all Canva elements?
Though Canva is pretty flexible, there are some design elements that you cannot group, namely charts and grids.
How are layering and alignment different in Canva?
Layering means stacking Canva elements on each other, making sure the front layers stay on top of the back ones. Alignment, on the other hand, refers to the element's position in relation to the design page itself.
How do you change the layering of elements in Canva?
To layer Canva elements, you'll need to tap on the Position button on the toolbar. Click the arrow up icon to bring the element one layer up, and click on the arrow down icon to bring the element one layer down.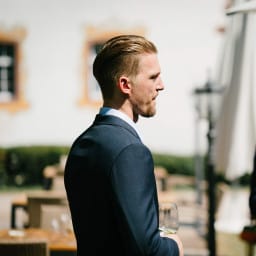 Hey guys! It's me, Marcel, aka Maschi. I earn a full-time income online and on MaschiTuts I gladly share with you guys how I stay on top of the game! I run several highly profitable blogs & websites and love to speak about these project whenever I get a chance to do so. I do this full-time and wholeheartedly. In fact, the moment I stopped working an 8-to-5 job and finally got into online business as a digital entrepreneur, is problably one of the best decisions I ever took in my life. And I would like to make sure that YOU can get on this path as well! Don't let anyone tell you that this can't be done. Sky's the limit, really…as long as you BELIEVE in it! And it all starts right here..at Maschituts!