If there's one thing that makes Canva a world-renowned graphic design website, it's their user-friendly interface!
Though you'll have to learn the basic functions of the tool, its intuitive design will allow you to design like a pro with a few clicks.
You can even create YouTube thumbnails in Canva and design a logo here if you're running a business!
But, how exactly can you create one? Do you need to use a blank canvas, or you can simply edit a logo template?
Well, you don't need to wait any longer, as we'll get down to the nitty-gritty of this feature in a bit.
How to Design a Logo in Canva
To design a logo in Canva, start by selecting a logo template from Canva's homepage. From there, you can customize the colors of the elements, as well as change the text and font styles. You can also start from a blank template and then add elements & images from Canva's vast graphic library.
Designing Logos in Canva: 2 Methods to Learn
Creating a logo is never easy, especially if you're still a budding designer.
After all, you need to have a good grasp of the designing skills aside from incorporating what you or your client wants the logo to look like.
But, Canva makes things simpler and easier for everyone who wants to venture into the world of logo designing.
Feel free to learn how you can design logos in Canva using any two of these methods:
Method 1: Use of Logo Templates
Step 1: Log into your Canva account.
Step 2: On Canva's home page, head to the search bar and type there "logo template." The template gallery will then appear.
Step 3: Select from the template logos available in the gallery. Click on the template you've chosen to open it on the editor page.
Step 4: Once you're inside Canva's editor page, you can begin customizing your logo. Start with tweaking the background color by clicking the rainbow-colored tile on the toolbar after tapping on the background.
Choose the color you want to use. You can even add specific hues through hex codes (which you can find in the changing color of uploaded images in Canva text on this site).
Step 5: Once you're satisfied with the background color, add elements that reflect your brand by selecting one from the "Elements" menu. You can search through the gallery either by scrolling down or typing an adjective or term in the search bar.
Step 6: Click on the element you've chosen and drop it on your design template. Position it in the center (or whichever way you want it) by tapping the "Position" tab in the Canva toolbar. Also, resize the element you're using by dragging the white circles at the corners of the element. You can also select by tapping on the rainbow tile in the toolbar.
Step 7: Once satisfied with how the element looks, it's time to add or change the text. To do this, you can either tap on the letter T on your keyboard to make a text box appear.
Encode the brand name first inside the text box before you can tweak the font color and font style accordingly. You can even adjust the font size if needed.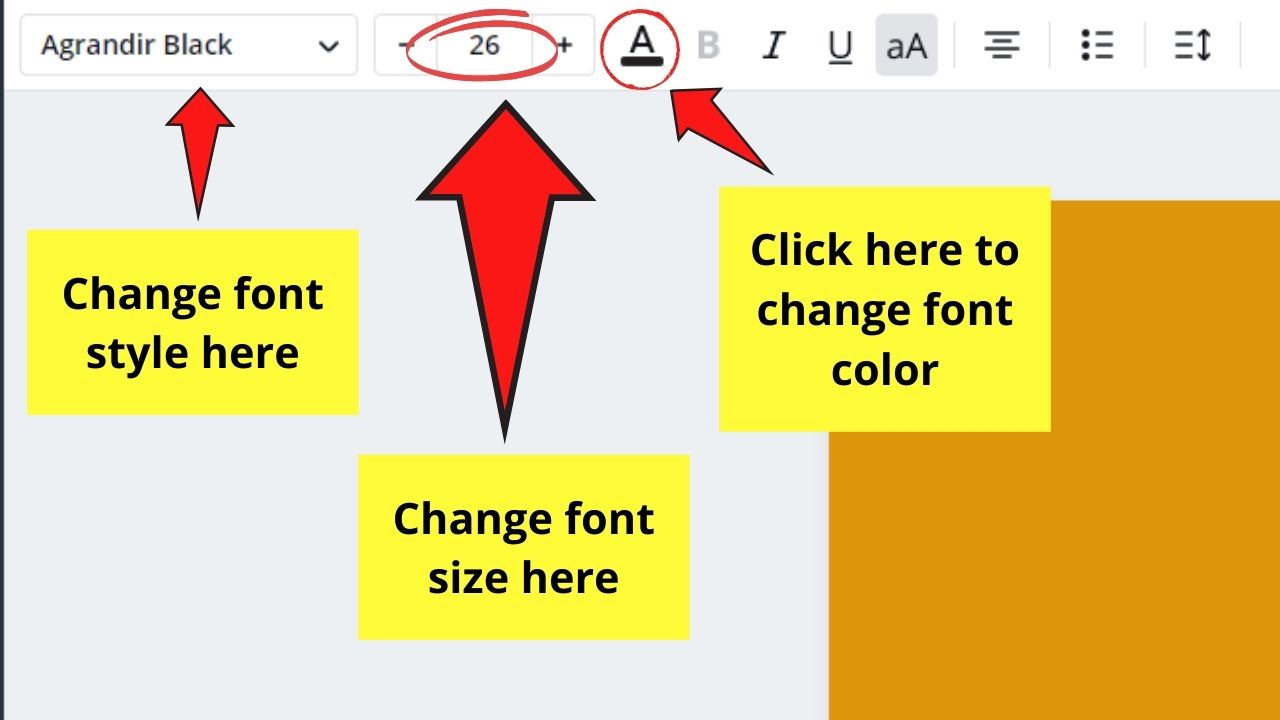 If you want the longer method of adding text boxes in Canva, go to the left-side Canva menu and tap on the "Text" tab. Click and drag the font style you'd like to use for your logo design and edit.
Step 8: If you're satisfied with the result of your logo, download your new logo on your device by tapping the "Download" button.
Choose what file type to use (though you might want to select PNG if you want a transparent background) before hitting Download.
No matter what file type you choose, ensure that it's of good quality. In Canva, it's even possible to download your logo as a PDF on your Android device if you're currently frolicking outside.
So, you've finally learned how to design logos through a template.
But, is it possible to use a blank template for logo making instead?
Of course, anything's possible in Canva! So, let's learn the second (and much more challenging) method of designing logos from a blank template.
Method 2: Designing Logos from Scratch
Step 1: After logging in to your Canva account, head over to the search bar in the top part and key in the words "logo template."
Choose the "Logo" option in the dropdown menu that appears.
Step 2: In the logo gallery page, instead of selecting from the templates available, select the "Create a blank logo" option. It will then redirect you to the editor page.
Step 3: Select the background color by tapping the rainbow-colored tile to activate the color gallery panel. Tap on the color you'd like to use to make it appear on the canvas.
Step 4: Add your brand name by creating a text box. You can do this by heading over to the "Text" gallery in the left-side Canva menu.
Tap on the "Add a heading" option to make a text box appear on the canvas. You can also directly add a text box to the design by tapping the "T" button on your keyboard.
Step 5: Change the font style by clicking on the font style menu in the Canva toolbar. You can also change the font color as well.
Step 6: After adding your brand name, head over to the "Elements" menu and choose the element that coincides with your brand theme.
You can either scroll down or narrow down your choices by typing in keywords in the search bar.
Step 7: Once you've found the element that best represents your brand, click and drag it to your design. Take your time with this step. After all, you'll have to pick out the icon that will best depict to your potential customers what your brand is about.
Step 8: Position the element you've chosen by tapping on the "Position" button. Once done, change the element's color by tapping on the rainbow-colored tile again (if such an option's available).
Step 9: Keep adding text and elements by following steps 4 through 8 until you achieve the look you're aiming for your logo.
And, just like that, you've made your first custom logo! Though it sure is tough on your brain cells, you definitely learned this amazing skill.
Now, all you need to do is constantly practice to hone your skills more.
Top Tips in Designing Logos: What Every Beginner Should Know
After learning the basics of designing logos in Canva, it's time now to know what makes up an eye-catching logo.
Aside from the obvious intriguing design, there are several factors you need to consider before the actual logo-making process.
For one, you need to know that your logo is your company's visual representation.
Since it's your company's face, you'll have to create a logo that your customers will remember, making them associate that logo with your brand in a jiffy.
For you to effectively convey your brand, you need to study — a lot — the latest trends in the industry your business is in.
With this crucial step, you'll be able to actually determine what clicks for your target market. But, of course, you also have to put into perspective what YOU actually want your logo to look like.
If you're having trouble trying to design a logo, you can definitely take a trip around the city and find your inspiration. Browsing the internet can also help.
Keep looking for inspiration until something finally clicks! Then you can start delineating what makes your brand unique from what the market currently has.
Also, when you're finally done creating your logo, it's wise to create various versions of that logo.
Especially when you're presenting to a client your logo drafts, it allows him or her to have a variety and flexibility of choices.
Frequently Asked Questions about How to Design a Logo in Canva
How many variations of the logo should I make?
There's no definite rule as to the number of logo variations you can make. But, three to five will do. Take into account where you're planning to use that particular logo.
Can I use a logo template from a different industry to create my logo version?
Definitely a yes! There's no rule that states you can't use logos from other industries or categories as your inspiration. And, since it's a template, you can simply swap out the colors, elements, and text that better suits your brand.
Why can't I move a text box in the logo template I'm using?
When you can't move a text box in a logo template, it's highly likely that it's locked. To unlock the text box, simply click on it before tapping the lock icon on the toolbar.
Are there preferred file types to download your logo in?
Though you can save your logo designs in any file you like, the best file types to download them are PNG, SVG, and PDF Print. Use PNG if you don't want to lower the image's quality or if you want to use a transparent background. You can also do the transparent background thing in SVG, but this file type's best for ensuring that the image quality doesn't change no matter its size. Use PDF Print if you want to print your logo on any printed material related to your business.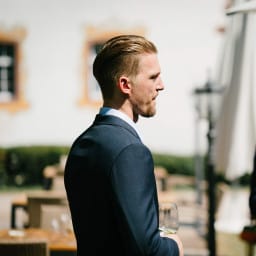 Hey guys! It's me, Marcel, aka Maschi. On MaschiTuts, it's all about tutorials! No matter the topic of the article, the goal always remains the same: Providing you guys with the most in-depth and helpful tutorials!