Ooh, am I seeing Tiktok-like videos on Instagram now?
Well, you might have just encountered what everyone now knows as Instagram reels.
Instagram reels are short videos that usually last 15-30 seconds and aim to inform or entertain one's followers.
But, if you're thinking you need to use complicated video editing software, you're completely wrong!
Because if you're a Canva user, you'll be pleased to know you can create Instagram reels right from this graphic design platform.
How to Create Instagram Reels with Canva
To create Instagram Reels with Canva, you can either make one using a blank template or a pre-designed one. Then, add photos, text, graphic elements, and video clips to your reel. Edit the videos as you need them to be, and you can even add an audio track on it before you hit the "Download" button.
Instagram Reels in Canva — How to Make Them
As mentioned earlier, you need not become a pro at video editing in Canva to create visually impactful Instagram reels.
Even just the mastery of the basic functions is enough for anyone to create their own Instagram reels — you just need to know what content to post.
So, whatever idea you have in mind, here's how you create Instagram reels with Canva.
Step 1: On Canva's home page, head to the search bar and type Instagram reels or simply reels.
This will then activate a dropdown menu showing you the closest design options. Select the Instagram Reels Video option which is automatically set at 1080 x 1920 px size.
Step 2: From Canva's home page, you'll then be redirected to the Instagram Reels Video template gallery.
If you prefer using a pre-designed template, click one from the gallery and select the Customize this template button.
But, for example, we'll start with selecting a blank template. Hence, select the Create a blank Instagram Reels Video template.
Step 3: Once you're on the editor page, the first thing you need to do is add pages to your design.
An Instagram reel needs 3 components — a cover slide, tips/tricks slide, and the call-to-action (CTA) slide.
The cover slide tells the audience what the reel is about.
The tips/tricks slide tells the audience more about the topic.
The CTA slide invites the audience to do something like comment or follow a particular link.
To create them, you first have to add pages to the design file by selecting the Add page button.
Step 4: After adding pages, click on the first page and add a background to it.
You can opt to add a static image to your background by selecting a picture from the Photos tab on the left side panel.
It's also possible to your photos to your Instagram reels by clicking the Uploads tab instead.
If you prefer a moving background, you can also add a video by selecting the Videos tab on the same left side panel or by heading to the Templates tab and search for a video background.
Just make sure that the video background has the same length or timing as the video you'll add later on.
Continue doing these steps until you added a background to every slide on your reel.
Step 5: After adding a background, it's time to add graphic elements to your design.
To do so, simply head to the Elements tab and use the search bar function to find the graphic elements you're looking for.
You can add a frame of your choice that will house the footage you'll add later.
The frame can either be a shape that you adjusted its transparency to serve as a placeholder. It can also be a Frame element that you can use to insert a video clip later on.
Resize the frame you added by dragging the white circles surrounding it. Select the gray area of the editor page to save the changes made.
Step 6: Once you've properly resized the frame on your design, you can begin adding other elements to the design.
If you prefer a voice-over type of reel, then adding text and other graphic elements can be enough to get your message across.
To add text, you can opt to directly add a text box in Canva by pressing T on the keyboard.
But, if you prefer using a particular font combination, head to the Text tab and scroll through the various font combinations available.
Keep adding, moving, and resizing text boxes in Canva until you added all the key points needed for all the slides.
Just make sure to add page numbers to your tips/tricks slides so your audience is guided on which part of the video they're in.
For adding graphics to your reels, just head to the Elements tab and choose what kind of elements to add.
Step 7: After adding all the elements to your design, animate your slides.
If you want to animate an entire page, click anywhere on the canvas before selecting the Animate button on the editor toolbar.
Then, choose what page animation you'll use for that slide.
For text animations, click the text components before heading to the Animate button and choosing the text animation to use.
Keep adding animations until every page on your reel's animated.
Step 8: Adjust the timing of the page animations so the whole reel will fit into the 15-30 second rule.
To do this, simply click on the stopwatch icon on the editor toolbar and encode the duration of that page in the box.
Then, on your keyboard, press Enter to save the page timing.
Step 9: Instagram reels aren't Instagram reels if they don't contain either footage or audio.
If you're creating a voice-over type of reel, you can add your audio clip through the Uploads tab on the left side panel.
Or, you can directly create a recording in the Uploads by selecting the Record yourself button.
If, however, you prefer adding stock audio tracks from Canva, head to the Audio tab and choose a music clip.
Then, adjust the part of the clip you want to be featured by selecting the trim button in the editor toolbar. Drag the slider across the audio track and choose Done.
You can also watch this incredible video here on how exactly you can trim audio in Canva.
Step 10: Now, for video-type Instagram reels, you can insert one to the frames you added on your slides.
Just head to the Uploads tab to import the file, and drag it towards the frame you added to make it fill the space.
Then, trim the footage in the same way as you do an audio track.
Do the same for all the slides you're adding videos into until you have the Instagram reel you want.
Step 11: Once you're done designing your Instagram reel, watch its preview by clicking the Preview button on the menu bar.
If it's good to go, select the Download button, making sure to choose the MP4 Video file type before exporting the design.
If you still need to edit something, just click the Close button to get back to the editor page.
And, from there, you can simply open your Instagram app or account upload the Instagram reel you just created with Canva.
Aside from reels, you can create Instagram puzzle feeds and Instagram highlight covers in Canva.
You just need to know how you can use Canva for Instagram to keep you at the top of your design.
Frequently Asked Questions about How to Create Instagram Reels with Canva
What is the recommended dimension of an Instagram reel?
Instagram reels should assume a 1080 x 1920 px dimension. You can directly encode this when you click the Custom size button.
Can you add music and video directly on the Instagram app in case you don't find a suitable track in Canva?
You can add footage or audio to your Canva-designed reel on the Instagram app instead. Just open the Instagram reels app on your device, select the Music button to add audio or the microphone button to do a voice-over, before uploading the file.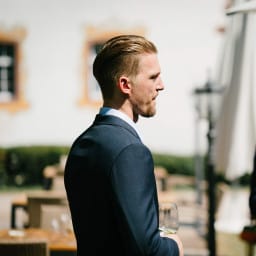 Hey guys! It's me, Marcel, aka Maschi. I earn a full-time income online and on MaschiTuts I gladly share with you guys how I stay on top of the game! I run several highly profitable blogs & websites and love to speak about these project whenever I get a chance to do so. I do this full-time and wholeheartedly. In fact, the moment I stopped working an 8-to-5 job and finally got into online business as a digital entrepreneur, is problably one of the best decisions I ever took in my life. And I would like to make sure that YOU can get on this path as well! Don't let anyone tell you that this can't be done. Sky's the limit, really…as long as you BELIEVE in it! And it all starts right here..at Maschituts!