Oh! I've got some report to do!
Is there a way for me to create a hip yet informative presentation of those data?
Well, if you've been looking around lately, gone are the days you create dull charts-and-graphs presentations with lengthy explanations.
Infographics are the way to go now!
So, how can an infographic help me in my dilemma?
Well, for those who don't know yet, infographics sort of visually present the data you want to relay to your audience in bite sizes.
Meaning, you're going to tell the "report" using photos, icons, graphs, and many more that you can think of!
You can even create tables in Canva if you need to relay your data using a tabular format.
But, if this makes you hear alarm bells ringing, you better not fret. Canva has got you covered on this with their easy-to-use and newbie-friendly way of creating fun infographics.
How to Create an Infographic on Canva
First, search for an infographic template. Select the template you'd like to use. Pick at least 3 colors for your infographic's color scheme. Edit the text inside the text boxes and add icons, graphs, and charts that will represent the info you'd like to relay. Lastly, download your infographic by tapping the Download button.
Creating Infographics on Canva: Steps You Shouldn't Forget
As mentioned earlier, you don't need to be a pro at designing to create an infographic with a WOW factor. Though you can start creating one from scratch, most newbie Canva users wouldn't go that just yet.
So, let's focus first on creating infographics from Canva's extensive template gallery.
Using Infographic Templates
Step 1: After logging in to your Canva account, create a new design for your infographic.
First, you tap on the Create a Design button and input the document size through the Custom Dimension button.
If you want an easier method, you can just type the words "infographic" on the search bar on the home page.
Step 2: On the infographic template gallery that appears, browse through the various templates that you can use for your project.
Once you've found your infographic template design, click on it once. This will then direct you to the editor page.
Step 3: On the editor page, you'll then see that your infographics template's zoomed out.
Thus, to make it breezier for you to edit it, zoom it in. To do this, tap on the infographic template and click on the Zoom option at the lower right of your editor page.
In the Zoom menu, select the Fill option. This will then make your template bigger, which is an easier method of customization.
But, if you want to see how your overall design looks, you can always zoom out using the Fit option.
Step 4: Begin customizing your infographic by first editing the text written on it.
First, double-click the text box to highlight the text inside it.
Copy and paste or manually type the information you want to put before changing the text color and size accordingly.
You can select the fonts you'll use if you don't want to retain what's given on the template by tapping on the Font Style menu.
However, to resize your text box quickly without changing the font size, just tap on the text box and drag the white circles and pill bars on the edges.
If you like to add more flair, you can even indent your text for a more visually appealing style.
Step 5: Now that you've edited the text, change the infographic template's color scheme.
To begin with, first, click on the first block of color on the template to make the color picker tile appear. Tap on it to make the color gallery appear.
On the color gallery, select from Canva's default color selections. If, however, you know the particular hex code of the hue you want to use, encode it on the search bar.
You can also just encode the color name if you want to make your color searching task simpler.
Then, tap on the color you'd like to use to change what's currently on your project. You can opt to do this step manually by repeating it across all blocks.
But, you can always tick the Change all option to automatically change the original color in one click.
Repeat the process until all the template's colors are changed according to your brand kit or style in mind.
Step 6: Once you've changed all the colors on the template, it's time to add some graphic elements.
But, you don't want full-on pictures as these would steal the limelight from the information you have on hand.
So, head over to the Elements tab on the side-panel Canva menu and tap on it.
In the Elements gallery, search for icons to use. You can opt to search through the search bar, or you can scroll down until you see the Icons menu.
Step 7: If you've found the icons you'd like to use, click on them to make them appear on the canvas. You can also drag and drop on your design.
Step 8: Customize the icons you've selected by changing their color. Simply tap on the icon before clicking on the color picker tile on the editor toolbar.
Step 9: After changing the icons' colors, resize them to make them fit your design by dragging the white circles diagonally.
Repeat the same steps until you finish customizing the icons on your design. You can even mirror the graphic element for an orientation change.
Step 10: After adding icons, you can choose to add graphs, tables, and charts to your infographic (if it's needed).
To do this, click on the Elements tab again and key in the word graphs, charts, or tables on the search bar. Or scroll down until you see those categories.
Similar to adding your icons earlier, you can click on the illustrations or drag and drop them on the canvas.
Step 11: Once you're satisfied with what you've created, save and download it already. Tap the Download button on the menu bar.
Select the file type, size, and other options before clicking the Download button at the bottom of the dropdown menu.
If you're not too sure about what file type to use, you can read how to download pics in good quality article in this blog to have a better idea of what to use.
So, those are the steps you'll have to master for you to create awesome infographics in Canva.
But, those steps aren't too stiff that you need to follow them chronologically. Think of it as a guide for you to familiarize the entire process without losing your mind.
Once you've mastered the process, then you can now venture into creating an infographic with a blank template — or, in other words, from scratch.
How to create an infographic in Canva from scratch
Creating infographics from scratch isn't too difficult if you know the right steps to follow.
However, you first need to plan out the overall design — font style, color scheme, icons, charts, graphs, and the information to use.
Then, it's best to organize the icons you'll use for your design before the actual designing process in a folder.
This will eventually speed up your overall creation process.
Step 1: On Canva's homepage, type templates on the search bar. This will then direct you to the template gallery.
Step 2: On the template gallery, select the Blank Template.
Step 3: Once you're on the editor page, start dividing your design into multiple blocks or parts. To do this, head over to elements and add a rectangle through the Shapes gallery.
Or, you can simply add rectangles by pressing your keyboard's R button. Better read on the Canva keyboard shortcuts to simplify your designing life.
Then, change the fill color by tapping on the color picker tile on the editor toolbar. Repeat this for the other divisions on the design.
Once done, resize and position the rectangles accordingly.
Step 4: Add text boxes and input text on it.
Type directly inside those text boxes, or copy and paste it if you've already prepared the information you're going to put beforehand.
Step 5: Layout the graphic elements (icons, graphs, charts, etc.) on your design.
It will be better for you if you organize these elements into a single folder for easier retrieval.
And, once you're all set, rename your file, download, or share your newly-created infographic if needed.
So, whichever method you opt to use, let your imagination lead the way when designing your infographic.
Frequently Asked Questions about How to Create an Infographic on Canva
How big should my infographic be?
Technically, the size of your infographic depends on where you're planning to use it. If you'll upload it on your blog or a website, use the 663 x 2000 px size. For LinkedIn posts, 1104 x 736 px should do. For social media posts like Facebook, the go-to is 1200 x 628 px. But, if you're using a template, you don't need to encode the size dimensions as Canva automatically sets the document size after selecting a template.
Is it a must to add graphs and charts in an infographic?
Charts and graphs are a concise way of relaying the necessary information visually so that your readers can easily remember it. However, the data you put in your infographic depends on your topic. So, if your topic doesn't warrant the use of graphs and charts, then don't add one.
Can I still change the infographic template I used after editing some of the elements on the design?
Though it'll be quite of a hassle, you definitely can change your template design in the middle of editing. Just visit the Templates tab on the side panel menu and select the new infographic template design you'll use. However, this will not save the changes you made on your current template, so think before you decide on switching templates.
What makes an infographic effective?
Infographic is the shortcut method of relaying necessary information with the use of visual elements. Thus, an effective infographic uses high-quality graphics while making sure they stay organized. Plus, you should balance the text and graphics components of the infographic.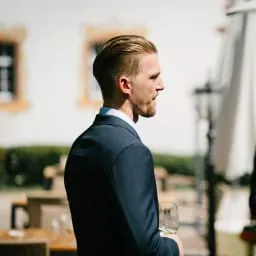 Hey guys! It's me, Marcel, aka Maschi. On MaschiTuts, it's all about tutorials! No matter the topic of the article, the goal always remains the same: Providing you guys with the most in-depth and helpful tutorials!