Argh, the frustration… being sent a form to fill in as a PDF attachment.
Print it, fill in the blanks, scan, save, upload, attach, and send the completed form back. What a hassle!
When you know how to convert a PDF into a Word document (and back again) you can be done with it all in a fraction of the time.
And with no handwriting needed at all!
Does that sound like a terrific time saver?
Stick around and discover the 5 best (free) ways to convert a PDF into an editable Word document.

How to convert a PDF into a Word document
Converting a PDF to Word can be as simple as copy and paste. That strips formatting though. To keep the formatting, you can open a PDF using Word. The MS Word app for Android, or iOS converts PDF to Word too. Alternatively, send a PDF to Google Docs or use an online PDF to Word converter tool.
Each of these methods is helpful for converting the odd PDF into a Word document. Some are fast, others time intensive.
For frequent file conversions, there are paid products (mostly for desktops) that make these types of file changes a cinch.
If you have the time, the information below goes through ALL of the free methods to convert a PDF into a Word Document.
Moreover, it is likely easier than you think.

Method 1: Open the PDF with Word
On a Windows machine, when you right-click on a PDF file, options are available to select how you open the file.
Most of the time, the default browser will launch the PDF when you double click to open it.
PDF files cannot be edited in a browser. They can be in MS Word.
To open the PDF with Word, right-click and select "Choose another app".
Use the scroll bar to scroll down through the available apps. Word is usually near the bottom.
Select "Word" then click "Ok".
The MS Word program will launch, then show a prompt to alert you that the file will be optimized.
"Optimized" in this instance, is Microsoft speak to inform you that it will extract the text as best it can. The results may not be perfect.
Click "OK" and see how the PDF to Word conversion goes.
Sometimes it is a decent conversion that can be worked with. Other times, it results in a complete formatting nightmare. Spacing is usually problematic.
In our example below, a web page was saved to PDF, then opened in Word. The first noticeable issue was the spacing in the header title of the document.
Word split the header into two pictures, instead of one complete header. This is to be expected as Word is a text editor. It does not play nice with pictures.
Other than that, the rest of the document could be edited. The built-in spell-check was recognizing the words too.
As spacing is an issue that usually gets messed up with PDF to Word conversions, look for words joining together that should not be.
For speedy checking, run the Grammarly app. That will show the errors Word makes during the conversion and let you fix conjoined words easily.
Method 2: Use the Microsoft Word App (Android and iOS)
Microsoft Word has apps in the App Store and the Play Store.
To convert PDF to Word using the App, the process is similar to the desktop method.
Install the app from the Play Store or App Store
Tap "open"
Sign in to your Microsoft Account
4. Tap on the "Open" button on the bottom left of the screen
5. A prompt will appear asking for permission to access your files. Tap on "Go to settings"
6. On the next page, tap on the toggle button beside "Word" to grant the app permission to your files
8. Tap the back arrow on the top left
9. On the "Places" page, select the folder the PDF is located in. (Documents, Downloads, or Storage)
10. Tap on the PDF to open it with Word
11. Tap the "edit" icon on the top toolbar (it looks like a page with a pencil)
12. A notification will appear for "Converting to PDF", stating that it may be slightly different. Tap on "Ok"
13. The app converts the PDF to Word, but it displays as "read-only". Up top, click on the down arrow to expand the menu, then select "save a copy".
Rename your file if you like, otherwise, it will use the title of the PDF, only this time, with a .docx file extension instead. The .docx file extension is the Microsoft Word format. .doc is the older version of Word.

Method 3: Upload to Google Drive or Google Docs
Google Drive (or Google Docs) is handy for pesky tasks like file conversions on the go. You can upload one file type, then download another. It handles files conversions okay.
What it does not do well is images. Like MS Word, Docs is a text editor. Not an image editor.
Pictures may be dropped from the file completely. Still, you can get the Word file, make edits, export it to PDF, then edit the PDF in Canva to add the images back in. Likely get it to turn out better too.

To convert PDF to Word using Drive or Google Docs (on your phone or desktop)…
Go to Drive.Google.com or Docs.Google.com
Sign in to your account
Click on the "+ New" button on the top left
Select "File Upload"
Navigate to the folder that has your PDF file and double click on it
The progress bar shows on the bottom left of the screen.
Once uploaded, it shows "one upload complete".
8. Click on the file to open the preview
9. Above the preview pane is a button to "Open with Google Docs". Click that.
10. From here you can edit the file in Docs, or download it as a Microsoft Word Document.

To convert to Word with Google Docs
Go to the File menu
Select "Download"
Select "Microsoft Word (.docx)"
Click "Save"
Google Docs does a good job at text extraction, but images can break during the conversion.
When images break during the PDF to Docs conversion, the image placeholders remain in place within the Microsoft Word download.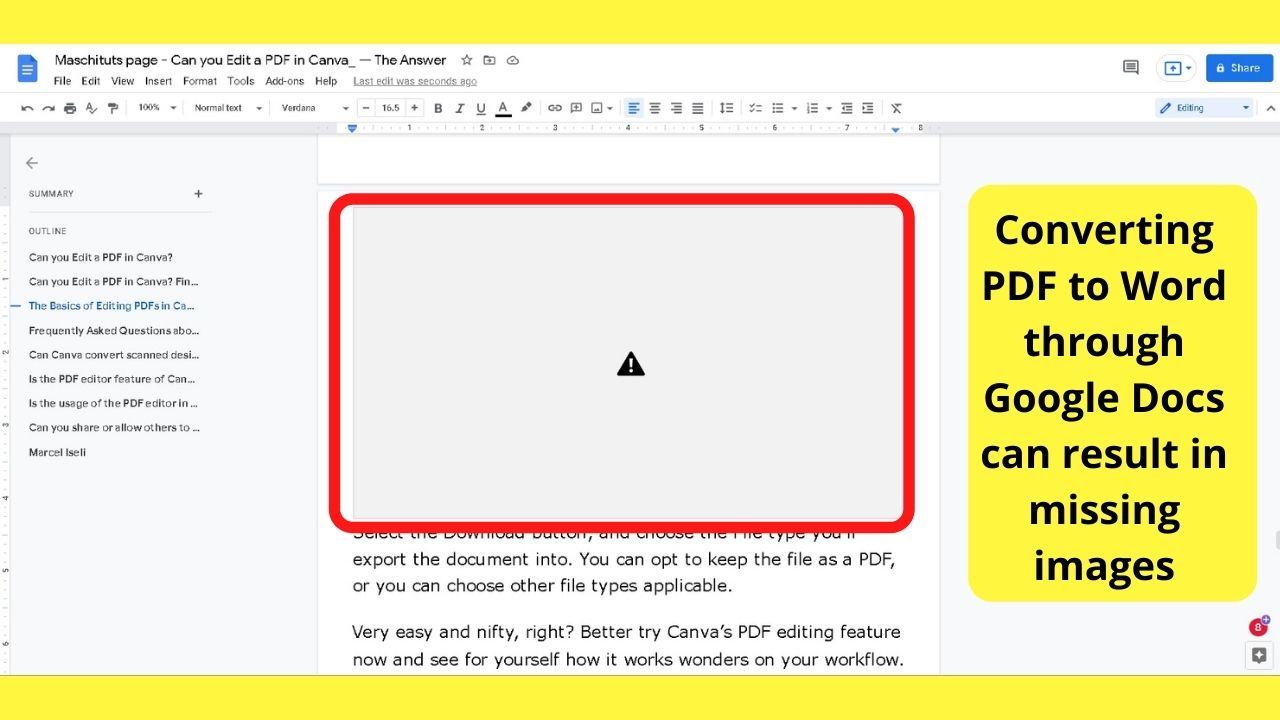 You can make text edits with Word, then export the file to PDF, then use that to edit the PDF to drop the images back into their placeholders once all edits are complete.

Method 4. Use an online PDF to Word converter
There is numerous PDF to Word converter tools online, and they all work similarly.
Upload a file, click "convert", then wait.
What happens behind the scenes is anyone's guess. Where does the data that is extracted from your file go? Is it stored, and if so, for how long? Who has access to it? and is the data encrypted?
For any files with confidential or personal data, it would be wise to be cautious over which PDF to Word converter you use.
A respected name for PDF files is Adobe. They pioneered the file format in the 1990s. Subscribers with a paid plan for Adobe Acrobat Pro can edit PDFs and convert them into multiple file formats. Even without it, you can still use the free tool.
Go to Adobe.com
From the navigation menu, click the "PDF & E-signatures" tab".
Select "online tools".
Scroll down the page, then select "PDF to Word" in the "Convert from" footer menu of the website.
Click on "Select File" or drag and drop the PDF into the upload area
Wait while the file uploads then convert it into Word format. It is fast, but that will depend on your connection speed.
Once ready, you can either download it right away or if you want to save it online, you can sign in or sign up.
There is a message displayed under the download and the sign-in button stating that if you are not signed in, the file will be deleted to respect your privacy.
This works for first-time users. If you select the option to "convert another file" after downloading, you may be prompted to sign up for a free account to access your download. Try again and the tool may look like it is locked to account holders only.
For now, it looks like the Adobe PDF to Word converter (likely more of the converter tools too) is to encourage users to sign up for a free account.
Many online businesses do this with software. It's a marketing funnel that uses your browser cookies to remember that you have used the tool before.
Scrub your cookies for the domain, go back and start again.

Method 5: Copy and Paste
This method can be a nuisance, depending on how you go about it.
The most common method is to right-click, select all, copy, then paste it into a Word document.
The shortcut keys to select all, copy, and paste are
CTRL + A to select all,
CTRL + C to copy,
then CTRL + V to paste.
Do this though, all formatting is stripped. For a short paragraph or two, it may not take long to sort out spacing and formatting paragraphs. A lengthy PDF could take ages to fix the formatting.
You can insert part of a PDF into a Word document as a picture.
Copy the contents of a PDF,
Right-click in the Word file,
Then on the expanded menu under "paste options" select "paste as picture".
This will insert a screenshot from the first page of the PDF.
All other paste options in Word will lose formatting.
The only effective way to convert PDF to Word without losing formatting is to either convert it through Google Docs or use an online PDF to Word converter, such as Adobe.
Even opening a PDF with Word moves some of the words and letters in or around the words.
It should be noted that all the above methods are based on extracting text from PDF. To do that, the text must be accessible. Scanned documents may be JPG files, or have security settings enabled by the creator to disallow copying.
To convert JPG to PDF, software that uses Optical Character Recognition (OCR) technology is required.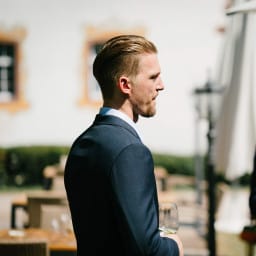 Hey guys! It's me, Marcel, aka Maschi. I earn a full-time income online and on MaschiTuts I gladly share with you guys how I stay on top of the game! I run several highly profitable blogs & websites and love to speak about these project whenever I get a chance to do so. I do this full-time and wholeheartedly. In fact, the moment I stopped working an 8-to-5 job and finally got into online business as a digital entrepreneur, is problably one of the best decisions I ever took in my life. And I would like to make sure that YOU can get on this path as well! Don't let anyone tell you that this can't be done. Sky's the limit, really…as long as you BELIEVE in it! And it all starts right here..at Maschituts!