Canva's getting better and better by the day as it hosts a ton of new features for its users, including the new tables feature.
But, while it's incredibly nifty to create your designs through the web version of Canva, sometimes, you just got to use your phone.
Good thing that the Canva app's latest update features an interface that looks akin to its web version.
So, if you plan to create a design on the Canva app and you need access to your uploaded files, you won't have to search for long.
Yet, if you're a beginner and don't know where to access Uploads on the Canva app, read on to find out.
How to Access Uploads on Canva Mobile App
To access Uploads on Canva app, tap on the Menu button on the bottom menu bar. Press on the Uploads folder to see your uploaded files there. If you're on the editor page already, you can access your uploads by pressing the purple "+" icon and tapping the Uploads option on the toolbar.
Accessing Uploads on Canva App: 2 Nifty Methods
As mentioned above, accessing your uploaded files — images, videos, and audio — need not be so confusing.
Even if you're a new Canva app user, you won't have to adjust to a new interface as the layout's almost like that of the web version.
Do note, though, that there are two ways on how you can find your uploaded files.
Method 1: Accessing Uploads from Menu Bar
Step 1: Log into your account in Canva.
Step 2: On the Canva app's homepage, head to the menu bar at the bottom and tap on the Menu option.
Step 3: Head to the All your Folders option. You'll then be redirected to another page.
Step 4: On the succeeding page that appears, head to the Uploads option. It's found after the Purchased button.
Step 5: Tap on the Uploads option. From there, you can view all the files that you've uploaded on Canva.
Scroll down to choose the file you'd like to use for your design.
Step 6: As Canva's got limited storage (even if you're a Pro user), you might want to manage your uploaded files.
If there are some images, audio, or videos that you're not using, tap the ellipsis icon found on top of that particular file.
Press the Trash option to successfully remove the file from your Uploads folder.
Step 7: You can also upload new images, videos, and audio directly to this folder by pressing the ellipsis button on the upper right corner of the screen.
Then, tap on the Upload option.
Very simple, right? But, let's say you're already inside the editor page.
Where then can you access your uploaded files if you're in the middle of designing?
Method 2: Accessing Uploads in the Editor Page
Step 1: Tap the purple "+" icon on the lower-left corner of the editor page.
Step 2: On the menu bar that appears at the bottom of the screen, swipe until you see the Uploads button.
Step 3: You will then be redirected to the Uploads section where all your imported files are stored.
Press the Images section to access your pictures, Videos for footage imported to the app, and Audio for any music files you've used on your designs.
Step 4: You can upload new files directly from the Uploads section by tapping the Upload media button.
Impressive, huh? So, you don't have to worry if you need to create a quick adjustment on your Canva designs and you only have a phone on hand.
Frequently Asked Questions about How to Access Uploads on Canva App
Can you move your files from the Uploads folder to another custom folder you created?
You can move your uploaded files from the Uploads folder. Just tap on the ellipsis icon on the upper-right of that file and select Move to folder. You will then see the other folders you created on the app.
How can you make a folder on the Canva app?
From the Menu option on the homepage, select the All your Folders category. On the screen's upper-right corner, tap the "+" icon and fill up the details accordingly. Choose who can access your folder before pressing the Create button.
What's the storage limit for your uploaded files on Canva?
If you're a free Canva user, you're only allowed to store up to 5 GB of media files. If, however, you're a Pro, Education, or Nonprofits user, you can store up to 100 GB of media. Enterprise users enjoy unlimited media storage.
Can you undo deleting a file from the Canva app?
While it's easy to delete media files you've uploaded on your Canva app, you cannot, unfortunately, do it. It's final and such an action cannot be undone.
Is it possible to save your image from the Uploads folder?
You can save your photos (or any media file) back to your device from the Uploads folder. Just tap the ellipsis icon on the upper right of the file and select the Download Original option on the dropdown menu.
How do you select multiple files on the Uploads folder on the Canva app?
Unfortunately, you can't select multiple media files on the Canva app. You can only select one file at a time and choose what actions to do either by tapping directly on the file or pressing the ellipsis icon.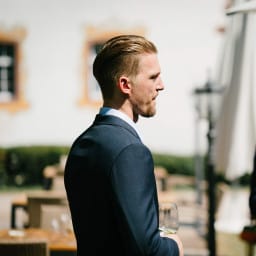 Hey guys! It's me, Marcel, aka Maschi. I earn a full-time income online and on MaschiTuts I gladly share with you guys how I stay on top of the game! I run several highly profitable blogs & websites and love to speak about these project whenever I get a chance to do so. I do this full-time and wholeheartedly. In fact, the moment I stopped working an 8-to-5 job and finally got into online business as a digital entrepreneur, is problably one of the best decisions I ever took in my life. And I would like to make sure that YOU can get on this path as well! Don't let anyone tell you that this can't be done. Sky's the limit, really…as long as you BELIEVE in it! And it all starts right here..at Maschituts!