Maybe you have lots of blogging ideas in your mind and you were thinking about starting a blogging career many times before.
The question is:
Why don't you just do it?
Maybe you couldn't find the time to do so (ok, most of the time that is just an excuse if you ask me) or maybe you just don't like the idea of having to setup a whole (WordPress) website (blog) all by yourself?
Do I smell some fear here, maybe?
Or are you maybe just worried that setting up a website like that will be a very time-consuming task?
Ok, that's fine. I will stop now….
…because at the end of the day, we all have our fears and doubts about all sorts of things.
But let me at least demistify the myth that setting up a website (based on WordPress) is a time-consuming task!
So, how many hours does it take to set up a WordPress website?
Depending on your web hosting company, setting up a website based on WordPress can be done in under one hour. The WordPress installation on your server will typically just take a couple of minutes. The same goes for installing a custom theme on WordPress. However, it might take a couple of hours (at most like 48 hours, usually much much less) until your WordPress website will be accessible from all over the globe (due to nameserver propagation).
Setting up a WordPress website is an absolute piece of cake
WordPress is absolutely everywhere on the web. Everybody is using it, so it shouldn't come as a surprise to you that many web hosting companies are focusing on websites that are indeed based on WordPress.
For publishers like you and me (welcome on board on WordPress! You took the right choice!) this is a great thing because it also means that these web hosting companies will try to make it as easy as possible for you to set up your WordPress-based website.
And boy, is it easy to set WordPress up these days.
Almost all good hosting companies have a 1-click-install option for WordPress.
And that's not even far from the truth.
To set up WordPress these days, all you need to do is to decide on which domain and in which folder (usually the root folder) WordPress should be installed, create the login credentials (username & password/database login) and then simply click on install.
A couple of minutes later, your WordPress website will be already up and running.
In some cases, it might take a bit until you can actually login into the backend of your WordPress, but with many hosts these days, such as Bluehost or Siteground (SiteGround is my favorite hosting service ever), this process is pretty much instant.
And that's already it for the basic installation of your WordPress website.
Ok, great, so now I just publish my first blog post, then?
Not so fast, sport!
But don't worry, we are getting there real quick!
A couple of WordPress settings you want to adjust before you are getting down to business
Before you are getting all crazy with your first blog post, we still need to get a couple of things done.
Here's what we need to do:
Set our permalinks structure
Choose/adjust site title and tagline
Make sure your website is gonna be seen by the public (search engine visibility)
Set up SSL to secure your website and to please Google
Sounds like a lot? Don't worry. We are in this together. Moreover, it's gonna be quick and painless. I promise.
Set Permalinks structure
Whenever you are going to write a blog post on WordPress, a specific address (URL) will be (automatically) created by WordPress.
You can always adjust this URL by yourself (usually with the help of a plugin) but it still makes sense to choose the right kind of structure in the first place.
I recommend using what most people use for their blogs, the so called pretty links url structure.
The pretty link url structure will make sure that the url contains the name of the blog post within the URL and not some kind of apparently random numbers (that maybe make sense internally but your visitors won't have a clue what this is all about).
A pretty link url structure is gonna look like this:
[https://maschituts.com/how-to-underline-text-in-canva-in-3-seconds/]
To set your permalinks the way you want them in WordPress, from within your WordPress dashboard, navigate to "Settings" and then select "Permalinks."
Make sure that under "Common Settings" the Url structure is set to "Post Name."
That's it already. Don't forget to save…
…DONE…
Let's tackle the next one.
Choose/adjust Site title and tagline
You might already have this one right as when you setup your WordPress website on your blog host, you can often already adjust this.
But it certainly doesn't hurt to double check. So, to do just that, head over to "Settings" and then "General" and make sure that the Site Title and the Tagline is set properly.
Here as well, keep it short. If this is going to be over 60 characters, chances are that the search result in Google will be truncated. You don't want that.
Make sure your website is public and can be seen by search engines
I actually dedicated a whole blog post to this topic. That sounds a bit scary maybe, but it's actually done in 2 minutes.
Essentially, when you have access to your WordPress dashboard, your site is usually about to get live.
If you can access it from another device (try your phone for example) or even better ask a friend if he can check if he can access your domain (give him the full domain website name, so that he can directly enter it).
If yes, your website is already live.
Now, the second step would be to check if your website can also be indexed by search engines like Google.
There is one main setting you need to check in your WordPress, so head over to "Setttings" and make sure that the option "Search Engine Visibility" is NOT ticked.
If your website is not accessible yet (when directly entering the URL), it could be that the setup process (DNS propagation) is still in progress.
Sometimes, this can take up to 48 hours until completed. But search engine visibility and access to your website (public or not) are basically too different things.
Your website can be accessible but it could still be that your posts are not yet indexed.
Google will need some time for your posts to be indexed, but that's not something you need to be worried about immediately (you can later check if your posts are indexed properly by using the Google Search console).
If everything's ok with your website, Google will find your content by itself (automatically). So this is usually not something to worry about, as long as you adjusted the settings as stated above.
Set up SSL to secure your website and to please Google
The last step that you should take to complete your basic installation and setup of WordPress is to make sure that your domain is SSL-secured.
SSL stands for the security protocol Secure Socket Layers (SSL).
I don't really feel like we need to get into a lot of detail here but let me just tell you two things about SSL:
First of all, SSL is officially a ranking factor for Google now. And as Google is still the big boy in this industry, you should always pay a lot of attention to what Google is telling you.
And in this case, Google is simply telling you: Install SSL and you have better chances to rank better on Google.
So what are we gonna do?
Well, you guessed it. We are going to install SSL on our server. Sounds difficult?
It's actually as easy as it gets.
And the good news is that most hosting providers they offer a basic FREE SSL encryption.
And that's really all you need as a new blogger.
Now, how to install this on your blogging host?
Well, I can't tell you that in great detail because the set up process is always a little bit different depending on the web hosting company.
But let me just tell you one thing and that should already do the trick: In 95% of the cases, support staff can actually install this Free SSL for you on your web server.
And if they don't want to install it for you, they will most definitely tell you how you can personally install it.
And that install is yet another 1-click-thingy. Trust me on that.
Still scared to do this on your own?
No worries, as I said, the staff will usually do that for you.
If you are on Bluehost or SiteGround (go with SiteGround if you don't mind spending a few bucks more), simply connect with their Live Chat (both providers offer 24/7 live chat for their clients) and tell the support staff that you just installed WordPress.
Then, tell them that you would like them to install the FREE SSL option your domain.
One thing you should do yourself though is to adjust the following setting in your WordPress dashboard:
Once again, head over to "Settings" and then select "General" and there under WordPress Address (URL), you will most likely find your domain with just http://. Change this into https://yoursite.com (enter your site where it says yoursite obviously).
That's already it. When you spoke to the support staff and changed this setting in WordPress, it is time for you to clear your cookies & the cache (browser!) and you should then see the infamous black padlock in front of your domain name and it should now connect to https:// now rather than http://.
And now, it is actually TIME TO CELEBRATE for you! The basic WordPress installation is now DONE. Congratulations!
You could now actually start writing content (your first blog post ever…YAY) or go on and install a custom theme (if you already know how your website design should look like there are amazing themes out there you can install real quick).
If you are going with crafting your first blog post ever, here are some great ideas for your 1st blog post.
If you would like to pimp up the design of your website a little bit before you drop that first post, then please read on.
Extended WordPress installation: Adding a custom theme
Ok, let me just quickly remind you first: This step is not a necessity. If you just want to get started, you can just stay on the default WordPress theme and start cranking out content (always a good idea!).
But if you would like to change to another WordPress theme first, then you can do that pretty quickly as well.
There are free WordPress themes and paid WordPress themes.
So wha'ts the difference between the two and which kind of theme should you go for?
Reading my article "The difference between free and paid WordPress themes" should give you a pretty good idea about this topic.
Now, assuming that you made a decision on which theme to install, we shall install this theme together.
In fact, the installation process for both free themes and paid themes is virtually identical (although premium themes sometimes come with additional material that needs to be installed as well).
The basic installation of any theme is done from "Appearance" (choose from the left sidebar within the WordPress Dashboard) and then select "Themes."
By the way, this is also the place where you can see which theme is installed at the moment (will obviously be the default theme if you haven't changed anything yet there).
All that is left for you to do now is to upload your new theme here by clicking the big plus button where it says "Add New Theme."
But wait a minute, I don't even have a new theme yet, where am gonna find that?
Ok, sorry. I missed that.
If you are looking for a free theme, you can check the official WordPress website.
If you are looking for a paid premium theme, I suggest you visiting Themeforest.
Whatever theme it will be in the end, you will want to make sure that you get that theme in a .zip format. But don't worry, when you download it that's exactly what it will be.
And then all that is left for you to do is to upload that zip folder (hit that big plus button that we were talking about before and then there add that zip file).
Once the installation is successful (WordPress will tell you), you just need to click on Activate and your website should now sport your new design (theme).
PURE MAGIC!
How Many Hours Does it Take to Build a WordPress Website: Final Thoughts
We have seen the basic steps that it takes to set up WordPress.
We have also seen, that a typical (basic) WordPress installation is usually a matter of a couple of hours.
Even if you are going with the extended WordPress installation (setting everything up as described in this post and then also switching to a custom theme), your WordPress website should be up and running in half a day.
If you went through this process a couple of times (I wonder how many times I actually did it…must be about 50-100 times at least!), you can get everything done in about an hour (probably even faster).
But in any case, it's gonna be FAST.
And, after all, please remember that your set up does not need to be perfect from the get go.
That's simply impossible!
You'll definitely find yourself working on your installation/setup/theme/design from time to time, no matter how your initial setup is going to look like!
But if there's one good piece of advice that I can give you, it would certainly be:
Focus on your content rather than worrying too much about the appearance of your blog! Content is still king in 2020, no doubt about that! So whatever happens, make sure you to hit that publish button as often as possible!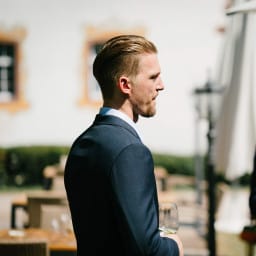 Hey guys! It's me, Marcel, aka Maschi. I earn a full-time income online and on MaschiTuts I gladly share with you guys how I stay on top of the game! I run several highly profitable blogs & websites and love to speak about these project whenever I get a chance to do so. I do this full-time and wholeheartedly. In fact, the moment I stopped working an 8-to-5 job and finally got into online business as a digital entrepreneur, is problably one of the best decisions I ever took in my life. And I would like to make sure that YOU can get on this path as well! Don't let anyone tell you that this can't be done. Sky's the limit, really…as long as you BELIEVE in it! And it all starts right here..at Maschituts!