Speaking instead of writing on the keyboard. This sounds great.
Almost too good to be true, right?
Sort of.
But more and more people are now using Google Voice Typing in Google Docs to get their texts written.
And while still far from being flawless, voice typing in Google Docs actually works pretty well.
Still, there is a bit of configuration necessary to make this a good (enough) experience.
So let us now first have a look at some common problems you are likely to encounter when starting to work with Google Docs Voice Typing.
Google Docs Voice Typing Problems
There are three common problems when working with Google Voice Typing at this very moment:
#1: The speech input itself (speech recognition) does not work well enough
#2: Language settings in your account are not set right
#3: Certain commands (especially "New line command" won't work properly
We will now have a look at how to solve these problems and as a bonus (#4), you will get a nice little workaround that you can use to improve the workflow (make up for problems with certain commands)
1# Get a Decent Microphone to Improve the Input
Chances are you have a built-in microphone on your laptop. If that is the case, you CAN use this micro, be it on a Windows computer or a Mac.
And this might work OK. But just OK. Chances are that the software will get certain words wrong just because the quality of your micro is just simply not good enough.
That said, if you do want to take things to the next level, invest in a new microphone to improve the voice input.
You could go for a USB Microphone, maybe something like a Rode NT-USB (which is what I use at the moment) or you could also buy a headset with an integrated microphone.
The latter is probably your best bet, as you won't need to bother to position your head very closely to the microphone that way. And that is certainly a big relief.
So, for maximum comfort, a headset mic is probably the way to go.
#2 Fix Your Language Settings
If you are not a native English speaker, you might find that some voice commands just simply won't work.
Take the "Add Heading [1-6] command.
I tried that like 50 times and instead of applying a heading to my text, Google Voice Typing just simply wrote "Apply Heading 1" time after time. UGHHH.
Well, while my English is certainly not perfect, I was still pretty confident that the way I said "Add Heading 1" should actually sound good…or let's say sound English enough.
So, I started to figure out what could actually be the problem here.
And I tried a couple of things. And then, I finally figured it out (with some luck).
The problem here might just be that you did not set your Google Account Language to English. And for some weird reason, it seems that this will result in some Voice Commands not working properly.
So, to make sure that these Voice Commands are getting heard by Google Voice Typing, you'll want to dive into your Google Account Settings and change your language there to English (first choose English, then choose the country, either US or UK).
So, how do you do that?
If you are on Google Chrome, in the top right corner of the browser you should see your Google Profile Icon. If you click on that, you can select "Manage your Google Account."
Once you have done that, select the tab "Data & Personalization" and there under "General Preferences for the Web", you can change your language settings.
If they are already set to English, you are good to go. If they are set to something else, then change that into English. Done.
#3 Use Commands That Actually Work
"New Line" sounds like an incredibly important command to me. At least where I come from, when blogging, I would want to use this kind of command ALL THE TIME.
And it turns out that Google Voice Typing does not like this command at all.
And 19 times out of 20, when I would shout "New Line", Google just simply doesn't want to listen, meaning it just simply does NOT work.
That's very sad. But luckily, there is also the "New Paragraph" command.
And this one, on the other hand, works very well. So I just use the "New Paragraph" Voice Command instead.
For my purposes, this is good enough, as I mostly work with paragraphs rather than lines anyway.
U can find a list with Google Voice Commands here by the way.
#4 Bonus Hack: Use The Find & Replace Function after Voice Typing
One thing that you could do, if a specific command is not working for you or if a specific comma does not even exist in the first place, is to use another command instead and then later on use the Find/Replace function in your text editor.
For instance, you could dictate a semicolon instead of "new line" every time you want to jump on a new line (as we have just seen, the "new line" command simply doesn't seem to work anymore) and then later on, in your text editor, you could simply use the Search/Replace function to transform these commas into "new lines."
So, in this case, the semicolon would function as some sort of placeholder. This could obviously also be any other letter or symbol.
Your choice most certainly is not limited to a semicolon. Use whatever you like.
Just make sure that you use something that you don't usually use as a regular text element.
In Google Docs, you'll find the Find & Replace function under "Edit" and then "Find & Replace."
If you are writing in WordPress, you can also make use of this function, at least if you are still working in the WordPress Classic Editor.
But you would need to install the great plugin TinyMCE Advanced plugin for that.
Once activated, when writing a blog post or page, you can simply go to "Edit" and then "Find & Replace" (just as in Google Docs really).
You would have to access this function while being in the "Visual Editor". And as pointed out before, you need the plugin TinyMCE Advanced.
If you don't have this plugin running, you won't see that option.
If you are using the New WordPress Gutenberg editor, you should still use Google Docs own "Find & Replace" function directly after using Google Voice Typing, as there is currently no easy way to use Find & Replace in WordPress Gutenberg editor.
So, to make use of this option, there are currently two ways to do it:
You toggle back and forth between the Classic and Gutenberg editor
You simply copy your text over to another text editor such as Google Docs, use the find & replace function there and then copy the text back to WordPress
If you are on WordPress Gutenberg, to use the Classic Editor, you can just simply install the "Classic Editor" plugin.
You will then be able to toggle between the two editors.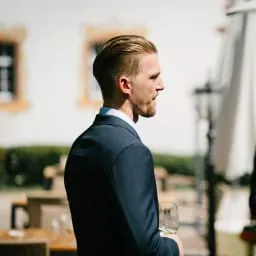 Hey guys! It's me, Marcel, aka Maschi. On MaschiTuts, it's all about tutorials! No matter the topic of the article, the goal always remains the same: Providing you guys with the most in-depth and helpful tutorials!