Creating designs in Canva is such a breeze thanks to its drag-and-drop feature.
Whatever element or text you want to add to your design, you can easily move them across the canvas like child's play.
But, what if while you're in the middle of creating your design, you suddenly find yourself unable to transfer the elements from one area of the canvas to another?
Is something wrong? There may be, but you won't know unless you learn the potential reasons why Canva isn't letting you move anything.
If you can't move any element or text in Canva, then you have most likely locked these items. Another reason is that you only have a "Can View" permission for the project in question. Lastly, Canva locked the editor out due to some technical issues.
3 Reasons Why Canva's not Letting You Move Anything on Your Design
Indeed, it's frustrating to find that you can't move a single thing on your Canva design even if your cursor's working fine.
Most of us by now would've started panicking.
Before we start randomly pushing and clicking on whatever button we can find, let's rule out some possibilities first with this checklist:
Reason 1: You Locked your Elements
Locking your elements in Canva has a similar effect when you padlock your bike to a post. No matter how you tug on the bike, you won't be able to move it anywhere.
But, locking your elements in Canva isn't bad at all. There's a purpose why the graphic tool's developers made this feature.
If you're working with various layers in Canva, their working spaces inevitably overlap.
And, when they overlap, you can sometimes accidentally move the wrong element, prompting you to tap on the "Undo" button and repeat the action.
This can be annoying especially when you're in a hurry. But, once you group the layers and tap on the "Lock" icon, you can move the other elements without affecting the other parts of the design.
So, if you find yourself unable to move some design elements, tap on any element and check for the padlock icon on the toolbar.
If you do, simply tap on the locked elements and click on the padlock icon again.
Reason 2: Can View Access Only
If you already checked for any locked elements on the design, and you still can't move anything, you probably only have a "Can View" access.
For newbies to Canva, do know that there are 3 types of share permissions for folders in Canva: "Can edit," "Can view," and "Can edit and share."
With the "Can edit" access, you can make any changes to the said design. With the "Can edit and share" access, you can create changes, as well as share the said design with other members of the team.
If, however, you only have the "Can view" access, you can neither edit nor share the said design. From the term itself, you can only take a look at the Canva design like a tourist does to artworks in a gallery.
So, if you want to make some changes to that particular design, you better ask your team leader to change your access.
He or she can easily do this by tapping on the ellipsis (triple dot) icon next to the folder and clicking on "Share."
Then, your team leader can then tick the V icon on what access he or she would like you to have for that particular design.
Reason 3: Editor's Locked Out
Third, and I should say, the most uncommon of reasons for not being able to move anything in Canva is the editor page locking out. I say it's uncommon as this usually relates to browser or internet setting issues.
But, whenever your internet connection's lagging (which sometimes happens to me), Canva's blue/violet menu bar would then start turning rainbow-colored.
Then, when that happens, you'll then see a message indicating Canva locking your editor out and its inability to save any changes you've made on the design. And, since the editor's locked, you definitely can't move anything, not even the text box you recently created.
So, if that happens, you can wait for the connection to stabilize. Don't do anything to avoid any unsaved changes.
But, if it's quite a while (say 5 or 10 minutes) and you're still seeing the same prompt, test your browser and internet connection Websockets.
For those who don't know what WebSockets are, these help users save their designs while you're working on them. Think of it like the pathways that send out messages between the browser and the server.
You click on the "Connect" and "Send" buttons, and if they show that the browser and internet connection supports Websocket, then you've got nothing to worry about.
But, if there are any errors, immediately contact your network administrator or IT team to allow Websocket connections.
So, don't panic! Relax, take a deep breath, and run through the various reasons stated earlier.
After all, you cannot do anything if you start panicking.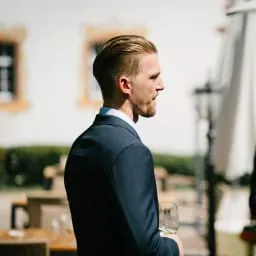 Hey guys! It's me, Marcel, aka Maschi. On MaschiTuts, it's all about tutorials! No matter the topic of the article, the goal always remains the same: Providing you guys with the most in-depth and helpful tutorials!