"Ooh! Canva is so great! I can't wait to try it out!"
Isn't this one of the most common expressions that you hear whenever you introduce Canva to someone new to it?
Since Canva's inception in 2012, this renowned graphic design tool has evolved so much that you can call it a graphic designing powerhouse.
There are still a lot of features that Canva can develop or improve on, but with what they're currently offering, you can say this tool's so lit!
So, if you're having trouble convincing someone to try Canva, here are some of the reasons that you can lay out to him or her.
Who knows, these are what that person needs to jump ship and begin raving about Canva.
10 Reasons Why Canva is Great
Ease of Use
Plenty of Stock Images, Videos, and Elements to Choose From
Availability of Canva Templates
Canva Smart Guides
Background Remover
Brand Kit
Easy Resizing
Fun Animations
Content Planner
The Price
10 Incredible Reasons Why Canva is So Great
1. Ease of Use
Now, most, if not all, of the people who've tried and tested Canva with their very own designs know how super easy it is to use.
With its intuitive and user-friendly design, you're only a few clicks away from finding all you need.
On Canva's homepage, you'll immediately find the "Create a Design" button to create a new file.
From there, you can easily create a design. After you're redirected to the editor page, you only have to look at the left side of the screen to find all the design elements you need.
Simply tap on one of them, scroll down or use the search bar option to search through the different elements you can use.
After you've found something to use, just drag and drop it on the canvas to use it!
Sometimes, you can even use Canva keyboard shortcuts to make the whole process breezier. Add shapes, copy and paste, or duplicate in style without even using your mouse.
If you need to adjust anything to that particular element, tapping and heading over to the editor toolbar is all you need to do.
You can even add text boxes and move them around to position them according to the look you have in your mind.
But, if for some reason you can't move those text boxes around, better find out what exactly's causing it.
If you need to delete an element, simply tap on that element and press the "Delete" key.
Then, pressing the "Download" button on the menu bar and making a few tweaks with the file size and is what it'll take to save it on your device.
What more can you ask for, right?
With the simple and clean design that Canva has, you can find everything you're searching for without configuring too much how to get there.

2. Plenty of Stock Images, Videos, and Elements to Choose From
Canva's so user-friendly that you can find all your graphic designing needs in a few clicks.
It's not surprising as Canva's generous with the choices of elements, videos, and stock images they give their users.
Imagine this. By tapping on the Elements, Photos, and Videos menus, you've got all you need in there to create stunning designs.
You won't need to upload photos from another website (though you definitely can if you choose to) in creating a unique take on your project.
Canva's extensive galleries are more than enough to satisfy your needs.
If you can't find an image through browsing the gallery, there's always the search function button to help you narrow down the listing.

3. Availability of Canva Templates
If you do not know the exact dimensions to use for your design, you don't need to beat yourself for not researching it in the first place.
Just use the search bar function on Canva's home page and key in the design you'd like to make.
But, if keywords aren't your thing. Don't you worry still as you can always tap on the design option buttons found on the home page.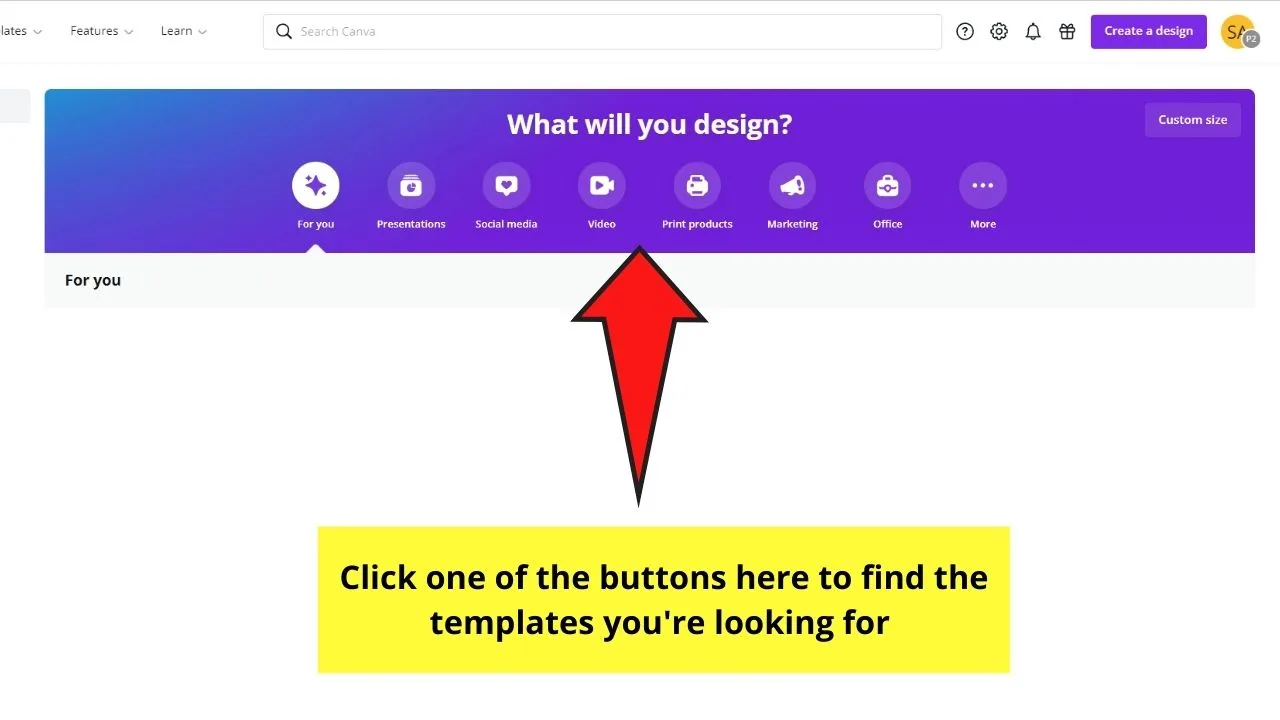 Now, if you're creating your design out of custom dimensions, you can also find templates that will look perfect on that size.
On the editor page, head over to the left-side menu and tap the "Templates" tab. There, you'll find various templates (presentations, videos, etc.) for you to select, edit and make them your very own.
Swap out the colors, change the text, or even delete some design elements — do what you need to do in creating your very own project.
Yet, if you can't edit your text in Canva, you need to uncover what's causing it before you can move forward.
But, if customizing pre-made templates isn't your thing, you can always opt to design using a blank template.

4. Canva Smart Guides
Part of becoming a great graphic designer is attention to detail.
On that note, you'll have to be keen on the spacing of your elements — whether it's a text, icon, sticker, shape, etc.
If on Microsoft Word you can always rely on the ruler to be your spacing guide, Canva also has come with their version of a ruler in the form of smart guides.
These smart guides are the pink lines that appear and assist you with centering and evenly spacing your Canva elements.
Do check out How to Evenly Space Elements in Canva to have a full-on tutorial of how spacing in Canva works.
Now, the good part with these smart guides is that you don't need to activate multiple buttons to make them appear.
Simply tap on the element or text box you want to move, and as you drag it on the canvas, pink lines appear to guide you in positioning them.
The element or text box then snaps into position!

5. Background Remover
If you want to simply use the foreground in an image (whether it's from Canva's gallery or an uploaded photo), Canva's got its very own background remover tool.
Gone are the days where you have to visit another website to do the erasing for you. You simply need to choose a photo, tap on it, and head over to the "Edit Image" button on the editor toolbar.
From there, select the Background Remover option on the Edit image gallery. After which, allow Canva to do the magic for you as you relax while waiting.
Once done, you're left with an image without a background. Now, if you're keen to learn about this trick in detail, read about the how to erase in Canva text you'll find here on the site.
Yet, sometimes, Canva's background remover doesn't work well as it can't distinguish between the foreground and the background.
If you're left with some background and want to remove it, simply tap on the "Erase" button on the left toolbar.
Now, if you've over-erased, then simply switch to the "Restore" brush.
Plus, you can adjust the brush size through the slider tool below both the Erase and Restore options. Pretty cool, right?
So, here's how a picture looks like when you use the Background Remover tool.
But, the downside to this is that only Canva Pro users can enjoy this feature.

6. Brand Kit
Who owns a business? If you're one hell of an entrepreneur, your first goal is to make your product and brand memorable.
With the product, it's all up to you how to perfect it. But, with the branding aspect, you'll need to create a logo that's eye-catching to your target market.
One that will make them quickly associate the logo with your brand and product line.
To ensure your brand's memorable, keep consistency across your posts and designs. In short, you have to stick to a particular theme all the time.
But, designing a logo in Canva is just a cinch with the help of the Brand Kit.
What the Brand Kit does is allow the user to store one's logos, fonts, and colors in one place.
Think of it as creating a special folder that automatically saves your brand presets.
Whenever you create a new design for your brand, there's no need to constantly upload any assets.
Your brand kit will automatically appear on your list of choices. However, you need to upgrade to a Pro Canva account so you can fully explore and enjoy this feature.
Read how to design a logo in Canva to learn all about it.
7. Easy Resizing
Just like the pre-made Canva templates, you can easily switch to another document size for a more optimal result in terms of image resolution.
Well, the ideal way to do this is to set the design's dimensions before you start creating.
However, if you're already in the middle of designing yet you discovered your sizing mistake, no need to fret over it.
Simply use the magic resize button. On Canva's menu bar, tap on the "Resize" option and select whether you'll enter a custom dimension or choose from the sizing options available.
From there, you can proceed with "Resizing" only or "Copy and Resize" with a simple click.
You'll then find the design perfectly customized for a social media post, aligning with your goal of brand consistency.
However, only Canva Pro users can enjoy this magic resize feature.
Plus, resizing in Canva isn't only limited to the whole document itself. Making your photos, text boxes and elements bigger or smaller is such a cinch.
Just tap on the element, photo, or text box and drag the white handles diagonally to achieve the desired size.
Now, if you want a detailed tutorial on text box resizing, read on how to resize text box in Canva.

8. Fun Animations
Now, what if you want to inject a bit of a fun element into your Canva design? Is there a way to further your already stunning design?
If you want to fully catch your audience's attention, then better add animations to your designs.
As Canva's such an easy-going graphic design tool, all you need to do is tap on an image, element, or text box and click on the Animate button on the editor toolbar.
From there, you can choose from various animations available in the gallery. There are even effects that come free; you don't need to upgrade to Canva Pro or pay them before you can fully enjoy it.
Read up on how to animate Canva presentations and how to make GIFs in Canva to learn more about this feature.
And, while you're at it, read up on how to remove animations in Canva as well.

9. Content Planner
Now, for our social media managers there, Canva cares so much about you as they've come up with the nifty Content planner tool.
Gone are the days where you need to use a third-party app to remind you when to post your designs on social media.
All you need to do now is tap on the Content Planner option on Canva's home page and click the "+" icon to add a design you'd like to publish.
What's more, you can create a new one on the spot and publish it immediately on the date you assigned it to. Impressive, right?

10. The Price
Now, for all the features Iisted out earlier, you'll think Canva's such an expensive graphic design tool to use.
With all the stock elements and images, the cool effects, and templates, you'll be surprised to know that upgrading to a Pro account in Canva only costs $12.99.
Amazing, right? I mean, it's almost like a steal already, especially if you know how expensive it is to pay for a subscription that only involves images.
Now, if you still think $12.99 is still steep for you, then call up your buddies, form a group of 5, and form a Canva team so you can split up the bill among yourselves.
That brings the price down to $2.59 — too affordable for something so incredible!
But, if you're content with being a free Canva user, then by all means remain in that type of subscription. There's no pressure to upgrade as Canva allows you to use their tool for free — forever!
But, if I get the chance to upgrade, I'll do, as there are endless design possibilities I can do with the Pro subscription.
Trust me, you'll never regret upgrading once you've tried out all Canva has to offer.
So, with all the things I mentioned above, do you think you now understand why everyone's raving about Canva?
Now, if you're a Canva fanatic and looking for a fun way of earning on the side, then by all means join the Canva affiliate program.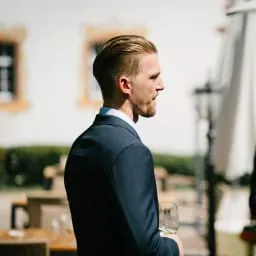 Hey guys! It's me, Marcel, aka Maschi. On MaschiTuts, it's all about tutorials! No matter the topic of the article, the goal always remains the same: Providing you guys with the most in-depth and helpful tutorials!